Island Hopping in Croatia, Part II
Set off the coast of Croatia's mainland just north of Hvar is the island of Brač, a destination made most famous for its oft-photographed Golden Cape, a white spit of sand that juts out into the clear blue waters of the Adriatic. My in-laws had spent a week on Brač in the past and we were determined to head over for a visit to see what the island had to offer. Our first day of island hopping from Hvar took us on a day trip to Korcula aboard the Jadrolinija, Croatia's public ferry service. For our following island hopping expeditions we went aboard a private boat to devise our own itineraries and allow us the flexibility to sightsee in the secret nooks and crannies of the archipelago. We coordinated our boat charter through our villa concierge but charter options are widely available at affordable rates for groups. Armed with beach towels and rosé (the necessities), we said goodbye to Hvar around 10AM and headed off on a day trip to Brač to exploring the town of Bol and the island's most iconic beach.
Brač is the largest of the central Dalmatian islands and also one of the closest islands to Split, which makes it a relatively easy day trip from the mainland. The island sees fewer tourists than the better-known islands of Hvar and Korcula, so for those looking for a slightly less touristed island escape, Brač may just fit the bill. At the time, we'd been dealing with long days and nights handling Hurricane Irma in Anguilla, so opted to start our day with a bit of relaxation by heading straight for a sun-drenched morning at the beach.
Zlatni Rat
You may not know the name, but take a peak at Google Images and you'll quickly recognize Zlatni Rat, ranked as one of Croatia's most beautiful beaches. From above, you'll glimpse the bright white beach jutting out in a triangle, abutting the vibrant turquoise waters that bleed into the clear, deep blue of the Adriatic.
We exited the boat and made our way towards the beach along a long promenade, taking in the vistas along the way. Your best photo-op will be on the approach, with a bit of elevation that provides that white-meets-turquoise scene with the shape of the beach extending into the sea.

Okay, so here's the deal, guys… I'm telling you this despite the fact that I hate being the bearer of bad news: THAT'S NOT SAND. That iconic photo of that blindingly white beach isn't sand at all. Those who've spent any amount of time on European beaches know that they're a very different sort of beach than the fine powdery sand that welcomes you to the Caribbean. You're often faced with beaches that are rocky and pebbly, and if there's sand it's often a tan or a muddy-colored variety. Everything that I had seen of this stunning slice of sand though had me absolutely believing that this was going to be Croatia's best (and yes, sandy) beach.
It took me a minute to reconcile the photos that I'd seen with what I was actually seeing in real life (surely this wasn't the same beach?). There's no sand in sight and I wouldn't even qualify these rocks as pebbles; the beach is a sea of mid-tone grey rocks that cover the landscape. From a distance, with the bright sun bouncing off of their smooth surfaces, it really does give the illusion of white sand. Up close, not so much. The entire scene still makes for a gorgeous backdrop, especially from a distance, but it's worth knowing what you'll be seeing when you arrive. If you're looking to pop in for a dip, bring water shoes since getting in and out while walking on sizzling rocks can be a challenge. During mid-September when we were there it was moderately crowded, but I imagine the number of tourists surge during the hot summer months of July and August.
The beach has a few eateries and beach bars to choose from, but we opted for Auro, a vibey place that's a perfect spot to plunk down on a beanbag for a couple of hours while you soak up the sun with a cocktail in hand. Generally speaking Croatia is a good value destination, and Brač is arguably an even better value than Hvar. Auro does not reflect that – expect cocktails in the $10 – $20 range. The drinks were great though, and you're really shelling out for a hot spot to hang out for the day. If you're looking for a home base to spend a few hours, think of your drink costs as helping pay for the price of lounging.
Bol, Brač
After a few hours of sunshine, we departed for the town of Bol. Bol is near Zlatni Rat which makes it an easy combination for a day trip to Brač. For those coming off of cruise ships and sailing vessels, the town of Sumartin, the main port where my in-laws previous stayed, is about thirty minutes driving from Bol and Zlatni Rat.
Being in a small boat, we were able to pull right up to the dock in Bol, and begin our afternoon exploration. Taking in the town of Bol, including a stop for lunch, can be done in a few hours. The town is relatively small with a handful of boutiques, and a number of restaurants lining the promenade.
It's worth bearing in mind that the Dalmatian Islands are incredibly seasonal, with many Croatians in the service industry heading to the islands in the summer and then back to the mainland in the winter months. The peak season is really July and August, with the season broadly extending from May through September/October. More popular tourist destinations like Hvar seem to stay open a bit later into the season (i.e. into October) but we found that many shops on Brač were beginning to close up, even by mid-September. On the bright side, a visit in the shoulder season will reward you with some great deals at boutiques on the island if you're inclined to take some summer garb home with you.
We opted for lunch on the water at Pumparela, a restaurant serving up Croatian fare (who are we to be in Croatia and let a day go by where we don't have octopus?!). It's worth doing a bit of research before heading in as the choice of restaurants can seem a bit overwhelming if you don't have a place in mind. A number of spots nearby had terrible reviews (Pumparela was amongst the best in the lot), and we could have just as easily been swayed to one of those had we not dug a bit.
We let our lunch settle with a walk through town, popping into clothing boutiques for their end-of-season sales and exploring souvenir shops and stands along the way. Once lunch settled, we each grabbed an ice cream cone for the boat ride. I mean, is there anything that tastes more like summer in Europe than ice cream in a cone on a sizzling summer day?
Stari Grad, Hvar
We ended our day by cruising back to Hvar, slowly uncovering more of the island by water. We had visited Stari Grad during one of our first days on the island exploring Hvar by car but there's something special about getting to see it by water. When you look at a map of Hvar, you'll be tempted to think that Hvar Town is the big, wide inlet shown midway through the island. That's actually Stari Grad, a massive harbour perfect for cruising by boat (it's where the car ferries come into the island). Stari Grad is a bit of a second city in Hvar but it's a stunning area with brightly colored facades welcoming incoming boaters.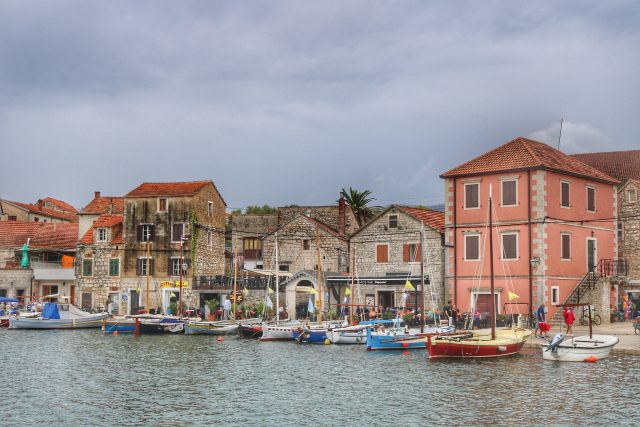 For those looking to spend more time on Brač, there's far more to do than just the beach and town scene that we focused on. For some more inspiration for a day trip to Brač check out Frank's take on things to do in Bol, from wine tasting to bike riding, plus consider exploring further afield to take in Brač's landscape. In case you missed it, you can read up on our day trip to Korcula… and stay tuned for our final day on the water in Croatia, where we spent a day exploring the Pakleni Islands and Vis!
Have you been to Brač? How would you craft a day trip to Brač?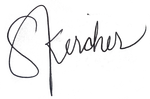 Like the travel outfit? Shop the post: