Itinerary Planning for Dalmatian Island Hopping
When people daydream about a Croatian getaway, island hopping in the Adriatic is often part of that vision. There are a number of Dalmatian islands that make up this yachting haven but Hvar is arguably the most famous of the lot. To be fair, after visiting a number of neighboring islands, I found Hvar to be a great home base for a week of exploring. There's plenty going on for evenings out, from world-class dinners to nightlife hot spots, and there's enough going on by day to keep you as engaged as you'd like to be during your time on the island. Below, I'm sharing how to spend one week in Hvar, including three days of island hopping to neighboring hot spots.
Day 1 ✧ Arrival + Dinner Out
Coming into Hvar from the mainland, you'll either be coming on the Jadrolinija from the direction of Split or Dubrovnik, the mainland ports for departure that hit a range of islands along their route. Ferry rides from Dubrovnik take about three hours, while ferry rides from Split take under two hours. Stay in Hvar Town, the hub of activity with easy access to ferries for day trips. You'll likely arrive well into the evening, so get settled in, cleaned up, and head out to enjoy your first evening in Hvar. Dining in Hvar tends to skew a bit later – they're not on Spanish dining time, but you can comfortably schedule dinner for 9PM and be surrounded by other diners. We had our first meal at Black Pepper, a great restaurant that spills out onto the steps of the Old Town. Other fan favorites include Konoba Menego, Dalmatino and Lola. 
Have energy to keep the night going? Hvar's nightlife scene is world-famous and definitely the most well-known of the Dalmatian islands. Check out the famous go-to Carpe Diem, a night club that has a counter part on a private island. The ferry to Carpe Diem's island doesn't set off until 1AM or later in many instances so be ready to be in for a long night (we didn't get home until 5AM).
Day 2 ✧ Hvar Town Exploration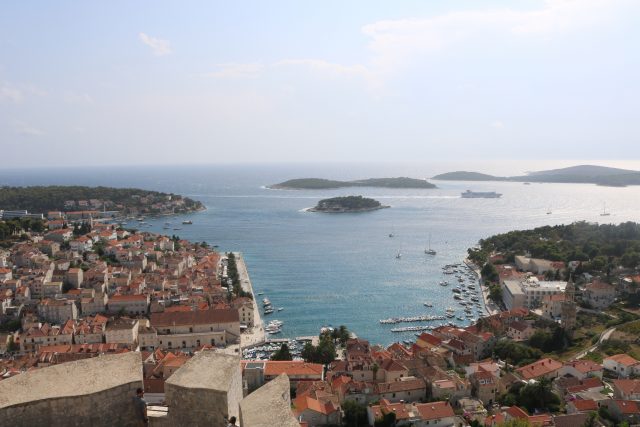 Hvar Town is a pedestrianized space which means there are zero cars allowed within its boundaries so it's primed for strolling and meandering. Day two is your first real day in Hvar Town so it's a perfect day to get out and dig a bit into the island's history. Head up to the Fortica for some of the most stunning views of the harbor below, and meander the maze of stone-laden streets in town to uncover great shops, restaurants and cafés tucked into old world facades.
Need some inspiration on what to do while you're on the island? Check out my round-up of 10 things to do in Hvar.
Day 3 ✧ Explore Hvar by Car
You've already spent a day exploring Hvar Town so your third day is a great day to head out and explore further afield. We rented a car (you can rent cars right outside of the main square) and hit the open road to explore the island beyond Hvar's main port. Beyond Hvar Town, the most popular area for visitors is Stari Grad, a huge port about midway through the island. The roads are simple enough – one main artery that weaves its way across the island with little traffic to cause confusion. Visit the towns of Vrboska and Jelsa plus wineries nearby, and see parts of the island that may day trippers miss out on.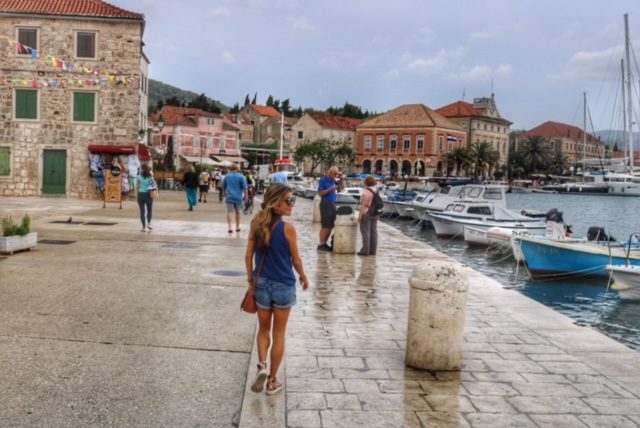 Read about our day exploring Hvar by car.
Day 4 ✧ Day Trip to Korcula
Get ready for day trip number one during your week in Hvar! Head to Korcula, the island of Marco Polo. On the public ferry, Korcula is just a single stop away (towards Dubrovnik) making it easily accessible by public transportation. The ferry leaves at 9AM from the main port in Hvar Town and arrives at 10AM in Korcula, which gives you an entire day to explore the island (ferries depart back to Hvar at 6PM, arriving at 7PM). 8 hours is plenty of time to explore – highlights include climbing to the top of the bell tower to scope out views of the city below. Enjoy lunch on the promenade, a stroll through the old town, and take in the Marco Polo museum if you're interested in learning more about Korcula's most famous explorer.
Read about our day trip to Korcula from Hvar.
Day 5 ✧ Day Trip to Vis + Smaller Islands
Korcula is a breeze to explore by public ferry, but if you want to get out and explore some of the smaller islands nearby at your own pace, consider chartering a boat. We worked with our villa manager to coordinate, but there are plenty of opportunities that are relatively affordable for an island hopping experience. On day 5, head to Vis, home of the Blue Grotto and Green Cave. During our time there, we visited the Green Cave exclusively, where many other boats were tied up for some snorkeling in the cave.
Following Vis, we headed to lunch at Langanini, a restaurant that ranks amongst my in-laws' favorite (and now ours, too!). Lunch is incredible, views are next-level, and their gin & tonics are a must. Head back by boat at your leisure, stopping for sightseeing along Hvar's Red Rocks area and some wine tasting on Hvar.
Read about our boat day on Hvar.
Day 5 ✧ Day trip to Brac
Even if you haven't heard of it, you've seen it. Zlatni Rat is one of Croatia's most famous beaches and it's located on the island of Brac, Hvar's lesser known neighbor. We spent the morning on the beach, followed by an afternoon exploring the nearby town of Bol where we had lunch and strolled the promenade. On the way back, cruise into Stari Grad to see the pretty harbor by boat.
Read about our day trip to Brac from Hvar.
Day 6 ✧ Final Day in Hvar
Spend your final day in Hvar taking in the island scene. We did some shopping in the pedestrianized area and picked up souvenirs for friends and family at home. If you're looking for a daytime beach club, Hula Hula is walking distance from Hvar Town's main square. The drinks and service leave a bit to be desired but for those in search of a buzzy scene, it's a daytime go to. If you're okay with heading further afield for a beach day, check out these top 5 beaches in Hvar.
For those that want to really just relax, enjoy lazy mornings and long lunches, you could easily spend a week in Hvar alone without visiting neighboring islands. In our case, as newbies to the region, taking in the different island scenes was the goal and I think we accomplished it during our week in Hvar without pushing ourselves too much or being too pressed for time. My highlights? Besides our villa, which provided absolutely jaw-dropping views of the harbor below, our lunch at Langanini was a standout – sometimes there's just nothing better.
Thinking about an island based trip to Croatia? PIN THIS for itinerary inspiration! ??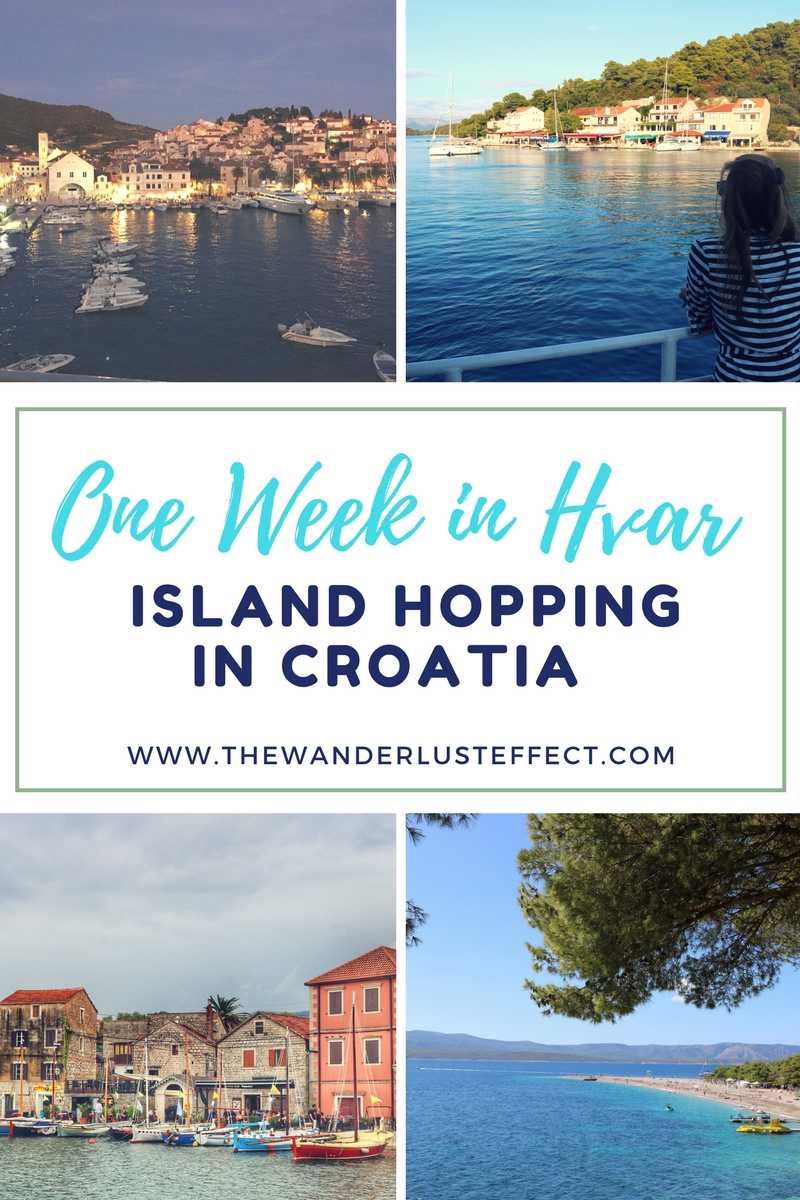 Anyone visited any of these islands or have other favorites to share?