A few minutes' walk around Hvar Town, and you'd be forgiven for never wanting to leave. A pedestrianized cobblestone quarter, you could spend days enjoying long lunches on the promenade, strolling alleyways, and popping into charming jewelry shops. While Hvar Town was honestly the highlight of Hvar for us (admittedly, that's where we spent the vast majority of our time), exploring Hvar by car and zipping out further afield helped us understand the island beyond the main tourist hub. If you're in Hvar for more than a couple of days, consider renting your own set of wheels and heading out on your own adventure. Check out our itinerary below for some inspiration for your own road trip through Hvar:
Depart Hvar Town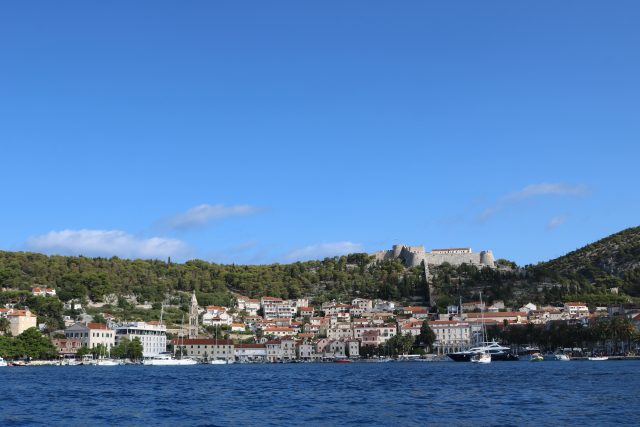 At 76 square miles, Hvar's a petite island that's big enough to keep you captivated and small enough to easily explore by car in a day.
You'll pick up your car on the edge of the pedestrianized old town, where you'll have options to rent scooters, compact cars or larger SUVs for families. At 76 square miles, Hvar is a petite island that's big enough to keep you captivated and small enough to easily explore by car in a day. The roads are simple, with one main thoroughfare, and driving is a breeze.
Wander Around Stari Grad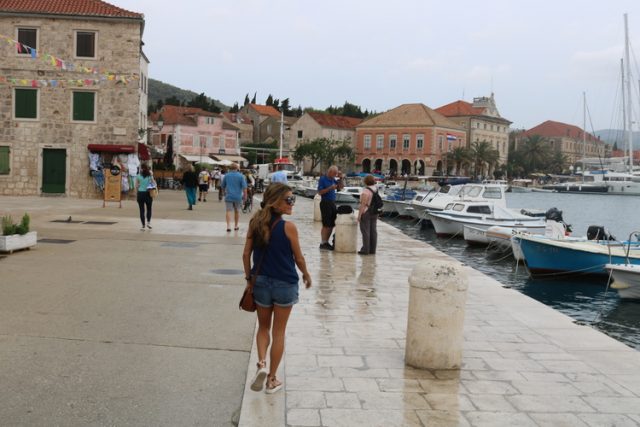 Stari Grad often plays second fiddle to Hvar Town but it's a captivating part of the island that's worth spending the time to uncover. If you're heading into Hvar by car ferry, you'll come in through the major inlet that drops you off in the stunning harbour. It's not quite as sparking as Hvar Town, but that's not necessarily a negative. Despite the many boats in the water, it had a sense about it that felt a bit more authentic and less refined by tourism.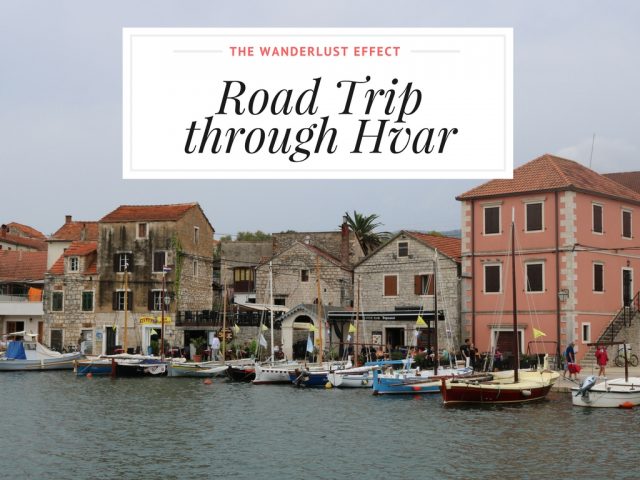 A stroll through the back alleys will lead to old churches, dilapidated doorways and perfectly imperfect facades with a touch of Venetian inspiration (we spent a little over two days in Venice after our time in Croatia so I see the influence more now that I did at the time of visiting Stari Grad). There are plenty of places to eat in Stari Grad – and to stay overnight if you're so inclined – plus shops and boutiques to keep you busy for a couple of hours. If you're looking for a really authentic dining experience in Hvar, check out Tash's take on Hora, a restaurant on the UNESCO-endorsed Stari Grad Plain.
Lunch in Vrboska
The day transitioned from drizzly to overcast to drizzly throughout the morning, and we found ourselves ducking for cover in the town of Vrboska, where had stopped to stroll. Vrboska is a pretty little town (population around 500), set on the water with plenty of forested greenery for good measure. At its heart, it's a fishing village that has some dining and shopping for those that decide to stop in. If you're exploring Hvar by car it's worth a stop in town, whether for lunch or just for a walk along the water. With the relentless rain, our pit stop for a glass of rosé quickly morphed into a search for a place for lunch. Watching the food come out at Trica Gardelin, we made the quick decision to stay right where we were, with some Croatian fare to accompany our mid-day glass of vino. (Delicious decision on our part, for the record.)
Wine Tasting in Jelsa
By the time we finished our lazy lunch, the rain had stopped for long enough for us to get back to our car and continue our exploratory adventure. I continue to be a Croatian wine evangelist after our wine tasting on the Peljesac Peninsula and our day trip to Brac, but Croatia's wine scene was one of the most fun surprises for me! We couldn't be on Hvar and miss out on a tasting experience on the island so we ventured on to Tomic Winery to sip away the afternoon in their stunning cellar.
Jelsa (pronounced YELL-suh) is a small coastal town with a long winemaking tradition. Wine making on Hvar goes back to the 4th century by some accounts, and it continues today bringing a strong sense of national pride to the process. Making a reservation is the way to go if you're able, which will provide you with more options for varietals you can taste and more educational tasting experiences. We popped in rather on a whim but were still taken down to the stately tasting room, allegedly modeled after components of Diocletian's Palace in Split. Expect tried and true favorites like plavac mali, pošip, a dry rosé and prošek, a white dessert wine.
Back to Hvar Town
If the day permits, you could also head to one of Hvar's beaches to soak up the rays, maybe with a new bottle of wine in tow! Our drizzly day didn't lend itself to any seaside basking and after a day of strolling through Stari Grad, a long lunch on the water, and an afternoon of wine tasting, we were inclined to head back to Hvar Town to finish out our night. Hvar Town is a fabulous home base with lots of great dining options, from casual to-go bites to upscale Croatian fare under the stars. If you're back in to time enjoy a drink with a view, head to the bar at the Adriana Hotel for a stunning view of the harbour. After a day of exploring Hvar by car, there's hardly a better way to cap off the evening.
For those that have been to Hvar, any other favorite places to explore beyond Hvar Town?