Croatia Island Hopping, Part III
Our day trip to Korcula kick started our island hopping expeditions from our home base in Hvar, and we were ready for a few more days of exploring the Dalmatian Islands on our own. With the help of our villa manager, we had a private boat arranged for two days of water-based adventures. If you're with a group, chartering a boat of your own can actually be affordable and offers the flexibility of exploring at your own pace and getting into the nooks and crannies that a ferry won't visit. For most people visiting the islands in Croatia, a boat day is practically mandatory. We set off on our second day to visit the Pakleni Islands and the Green Cave on the neighboring island of Vis.
We set off around 10AM with Dean, our captain who confidently helped us navigate the Adriatic through the course of our day. First stop? Vis. 
Vis and the Green Cave
To be fair, our intention was to visit the Green Cave and its more famous sister, the Blue Grotto (side bar: does every country have its version of a Blue Grotto?) but seas made it so that we had to ixnay the Blue Grotto entirely. Luckily half the fun of a boat day is just being on the water and taking in the landscape from a different perspective. The boat ride from Hvar to the Green Cave on Vis took around 45 minutes, a stunning ride zipping across the deep blue of the Adriatic. There were a few other boats lingering around the cave's entrance when we arrived mid-morning but unlike many places we'd visited in Croatia at that point, it didn't feel crowded.
Boats aren't allowed inside the cave, which makes it a safe place for snorkelers to pop in and take a dip. Maybe I've been in the Caribbean for too long but the water looked far too cold me for to take a plunge. The boys went in and the ladies stayed on board to soak up the rays and the views from above the sea. We were fortunate that our boat days were generally well-timed during a particularly rainy month in the region – we had plenty of sunshine for the hours we spent hopping from cave to beach to lunch.
We continued on around the island's perimeter, passing lighthouses and the rugged rocky landscape. We pulled into a few beaches – pebbly, beautiful and crowded – along the way. The island was once a military stronghold and was closed to tourism when it was part of Yugoslavia, not reopened to tourists until 1989. Plus, being set further from the mainland, Vis has managed to stay under the radar a bit more prominently than Hvar and Korcula, which makes it a bit more of a draw for those seeking a destination off the beaten path. Admittedly, we spent really no time on the mainland due to the way we crafted our itinerary but if Vis is your focus, there are day trips and ferry options to allow you a day of exploring by land.
Lunch at Langanini on the Pakleni Islands
Dare I say that one of our main objectives of the day was lunch? I've said it before and I'll say it again: there are fewer things that feel like holiday to me than a long, drawn out lunch with a view. It feels indulgent and it's something that none of us really do in real life when faced with a tight work schedule. For a long lunch, we had our eyes set on the prize: Langanini Seafood Restaurant, a restaurant positioned perfectly on one of the Pakleni Islands right off of the coast of Hvar.
The restaurant was a dream, and cross-my-heart, made our day one of the highlights of the trip for me. The restaurant has an upscale beach club feel, with thatched lounge spaces dotted throughout the property, from the seaside rocky outcroppings up into the cliff side for some elevation (all the better to see that turquoise water). It feels like entering another perfectly constructed world, where the food is fabulous and the gin & tonics are perfectly crafted.
It's a bit of a boaters haven with yachts, sailboats, and dinghies coming in for a day of lunching. If you're not keen on making this part of a larger boat day, you don't have to be excluded from the experience. Langanini (and the Pakleni Islands in general) feel like your worlds away, but in fact they're a short ride from Hvar. Water taxis can zip you out to Langanini or neighboring restaurant, Zori, for daytime escapes or upscale nighttime dining without having to break the bank on transport.
As far as Croatian dining goes, Langanini is a bit of a splurge, though competitive when compared to similar experiences in Western Europe. My in-laws had dined at Langanini on a previous trip and it was such a standout to them that we knew we needed to make it part of our experience this go-around. The food is outstanding – honestly, one of the best meals we had with a great seafood heavy menu – and the views are unbeatable. We spent a few hours lingering over a long meal and a few G&Ts before saying our goodbyes to the Pakleni Islands.
Hvar's Red Rocks
It was mid-afternoon by the time we were done with lunch, and we still had a few hours of sunlight left to explore. Now, this is where a private charter with a in-the-know captain come into play. We jetted back to Hvar, but this time went to the Red Rocks on Hvar's southern side where we could see some of the island's landscape that we hadn't glimpsed before. The rock faces, created through years of erosion, are red-tinged with little cave-like inlets that seem to capture the sun.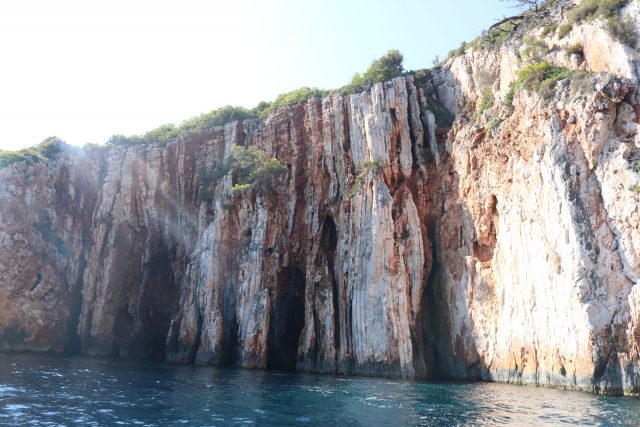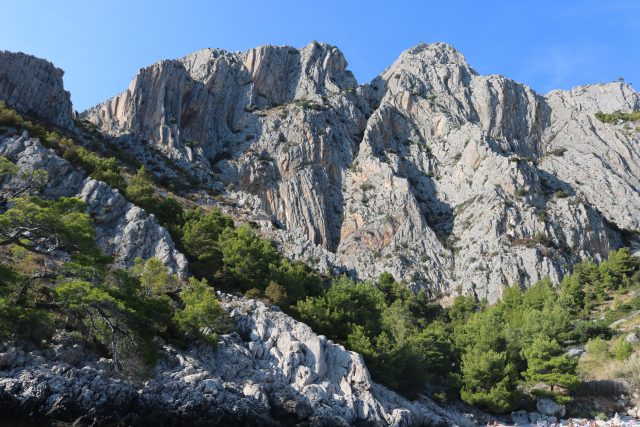 Continue on, and there are stretches of sand with just a handful of people soaking up the rays, plus the dramatic, rocky landscape that feels like you're seeing a world that's truly been unchanged for eons. It's the Hvar away from Hvar in some ways; something peaceful, natural, and untouched.
Definitely the perfect way to end a memorable day of island hopping in Croatia. In case you missed it, check out our day trip to Korcula, and our day trip to Brac for more Adriatic inspiration!
Anyone else been wowed by Hvar and the Pakleni Islands?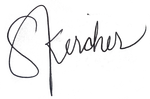 Like the travel outfit? Shop the post: