Tips for USVI Island Visitors
Scott was thoroughly surprised (or so he says) when I revealed that we were St. John-bound to celebrate our first wedding anniversary. We headed to the airport from work, packed up and ready to embark on our quick 45 minute flight to St. Thomas aboard LIAT.
I've flown LIAT once before without any issues so I thought based on that positive experience that this one was bound to be terrible. Statistically speaking, of course. Based on LIAT's rep (sorry, LIAT), there was a good chance we'd: a) leave an hour or more late, b) maybe not even leave at all, or c) arrive only to find that our luggage somehow got diverted to somewhere that makes zero sense (e.g. St. Lucia). I was prepared for this, so when they boarded our 6:20PM flight at 5:55PM and took off at 6PM (this means they took off early), I was astounded. That 45 minute flight that I had planned on was actually only 30 minutes, which meant that we arrived in St. Thomas just 10 minutes after we were supposed to leave Anguilla. All of this was exceptional news. Then our luggage came out just a few moments after we arrived and the customs agent who was kind of scary at first glance was actually very friendly. We were off to a good start. We hopped in a cab with a bunch of other folks headed in our direction and were at the ferry terminal in about thirty minutes time. In hindsight, the drive from the airport to the ferry felt like the longest piece of our journey. Once we arrived at the terminal, we were able to board the 8PM ferry to Cruz Bay in St. John.
A note for those journeying from St. Thomas to St. John: the ferry leaves every hour and people were boarding until the very last minute. We arrived 10 minutes early thinking we'd just barely make it, but we were the early birds.
We arrived in St. John a short fifteen minutes later. Max. The ride was smooth but the ferry was extra crowded as we had arrived the night before the 4th of July, St. John's Carnival celebration (more on that to come).
After arriving, we immediately headed to our villa ('cottage' is a more accurate term), dropped off our bags and headed into Cruz Bay to glimpse what was happening in the streets and in Carnival Village. It was still too early for Carnival's epicenter to be alive so we grabbed dinner at Rhumb Lines, a central spot where we had an incredible tapas-style spread while toasting to our first night out in the Virgin Islands. When we finished, we did one lap around town to take in the energy of the evening and the festivities before heading home. Truth be told, there's only so much soca music I can listen to. Plus, I wasn't in need of an electric lemonade from the Sugar Shack. It was bedtime.
I have lots to share from our short getaway: snapshots from St. John's Carnival, plus spending the 4th on a US island; a day trip to Jost Van Dyke aboard Survivan (and how we almost spent the night there but hitched a ride back to St. John); awesome beaches and snorkeling; plus some great dining and shopping finds on this little gem. Until then, I thought I'd share a few tips for travelers to St. John to kick off the journey. I found some of this information alluded to in my research, but most of the info we discovered through just being in St. John.
St. John is for all travelers.

1. What we saw in St. John ran the gamut. We personally stayed in a cottage for two overlooking Cruz Bay, but there were options that were far more expensive than ours and far less expensive than ours. There's the campsite at Cinnamon Bay that we passed that looked like a fun hostel-like environment for young or budget-travelers. It's close to the beach and can cost you as little as $37 for two people to camp. On the flip side, we did a self-guided walking tour of Caneel Bay which was stunning and decidedly more luxurious than most other places we saw. Rates reflect this of course, but the hotel is really spectacular for those wanting to splurge a bit. In the middle, there are villas, plus places like Cruz Bay Boutique Hotel that offer great value for money. Regardless of what you can spend, there are options for you.
Rent a car.
2. Based on our timing and schedule, we didn't end up renting a car until our final day on the island. We cabbed around as far as possible, but the truth is this: a rental car in St. John is a game-changer. Unlike Anguilla, St. John is super hilly which means walking around is a work out. I had really debated and told myself that we could just cab everywhere or walk where we needed but that's not the case (I wish I would have really understood this before we arrived). Plus, cabs are a different beast than what you're used to and aren't on call and available at all locations (more on that in the next point). If you want to check out different beaches or explore the island beyond just the west side, a rental car will give you a great deal of flexibility in getting to explore. Jeeps are the go-to rentals and we couldn't find a sedan available for rent on the island. $65 & up per day.
Cabs aren't what you think.
3. This is precisely why rental cars are so important. Cabs aren't what you're used to seeing (at least not what I'm used to seeing). I thought it would go something like this: I'd call a cab, the cab would come pick us up and the cab would then deliver us to our final destination. We would pay, be done, and he'd give us his card. Then we arrived in St. John to discover that cabs aren't even cars – they're trucks with converted flatbeds that hold 12 – 20+ people depending on how they're outfitted. For the record, I think this is kind of a brilliant idea, but in the context of this trip it was rather inconvenient when trying to get places. The cabs don't charge by the ride, they charge per person based on where you're going (there are published rates posted, too). The trucks often times wait until there are enough people though and because it's you and your 15 closest friends, you don't really get to go to a precise location. It's more like, 'hey, we're going from Cruz Bay to Trunk Bay'. If you want to go to a beach that's a bit less trafficked, you'll have to suck it up and walk because the likelihood of getting a ride there is slim. Even in doing my research about St. John before our trip, I never really understood that this is how the taxi system works.
A day trip is a great addition.
4. This is a bit of a personal bias and is nothing against those looking to just marinate in the waters surrounding St. John. Being in the Caribbean, though, there's something so great about being out on the water. I think this is especially true in the Virgin Islands, which are renowned for the ease of island hopping and change of scenery from one place to another. While were on island, there were signs everywhere noting day trips to Jost Van Dyke, to Tortola, Virgin Gorda, etc. Take a day – or build in an extra day – to get out on the water and explore another island. We visited Jost Van Dyke aboard a sailboat, but there's also a public ferry option for those looking to get from Point A to Point B without the additional cost. Don't forget to bring your passport!
Consider St. John more than a day trip.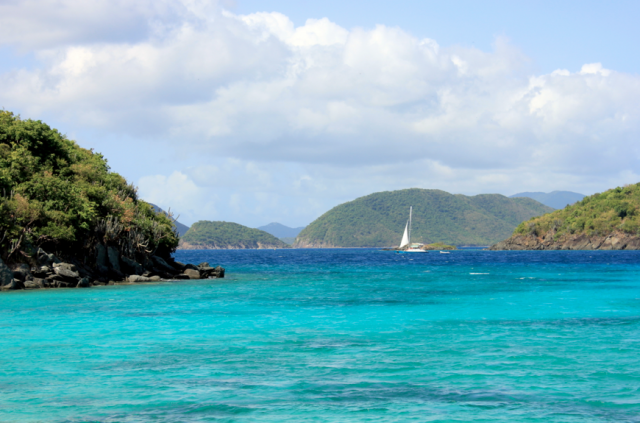 5. St. John is to St. Thomas as Anguilla is to St. Maarten. Being in Anguilla, I can attest to the fact that we get lots of day trippers from St. Maarten just looking to scope out the island and get a taste. Based on what we saw on the ferry from St. Thomas, St. John probably experiences its fair amount of this, too. Despite St. John's small size (20 sq. miles!), there is a lot to do and see. In all honesty, three days felt way too short. We could have easily done 5 – 6 days and have had plenty more to uncover. Water sports are abundant, there are loads of pretty beaches for pure R&R, great snorkeling, delicious dining and a pretty astonishing amount of shopping on such a tiny island. To think that a day or two is enough will definitely leave you pining for more.
For those that have been to St. John – or live in St. John! – do you have any thoughts or tips to share with visitors to the island?
xo from the islands,