Our first day in Dublin was jam-packed and a bit zombie-like for all of us after our long flight from Las Vegas. For our second, and final, day in Dublin we were much more alive and ready to explore a couple of other key destinations. On our radar: the Book of Kells (my one request), plus the Jameson Distillery. During my first visit to Dublin years ago, I didn't make it into Trinity College to see the Book of Kells or Trinity's famous library (4.2 million books housed there). This time, I vowed that I'd make it in to tour the area, and even prepped by watching The Secret of Kells beforehand to get some inside scoop into the history.
Book of Kells, Trinity College
Everything I read urged visitors to head to Trinity College early in the morning to see the Book of Kells to avoid the long queues that can form later in the day. We made Trinity our first stop and easily found the entry point to the exhibition, which houses the Book of Kells in an incredibly informative and educational way. Tickets were roughly €10 each, with discounts for students and seniors. To my mind, this is a worthwhile investment if you're interested in learning a bit more about the manuscripts, the monks involved, the writing process, old Irish script, etc. The book itself was written around 800AD and contains the four gospels of the New Testament. After the exhibition and getting to see the actual book, visitors are led into the Long Room, Trinity's massive library which is 65 meters long and houses 200,000 of the college's oldest books. I felt like Belle from Beauty and the Beast walking through this place, which is a highlight in and of itself.
Read more about the Book of Kells here.
Art, Food + Book Markets in Dublin
After Trinity College we only had one real objective left: the Jameson Distillery. First, we needed food, and I had read about a series of fabulous markets that happen on Saturdays in Dublin. In Temple Bar, there was a book market, a food market and a crafts market to uncover and we were on a mission to find all three.
The book market was small, and of little interest to anyone when we finally found it (located in the main Temple Bar square). The food and art markets on the other hand were of interest to everyone. In lieu of a normal lunch, we meandered to the food market and each found a stall that interested us before reconvening at a central table. Washed down with a hot spiked cider, it was perfection on a crisp fall day. The crafts market, while relatively small, still had a number of fun stalls to explore though we left empty-handed.
Read more about markets in Dublin here.
Jameson Distillery
After lunch, we made our way to the Jameson Distillery on foot. I'll be honest: I don't like whisky. I knew that the boys would want to visit the factory, though, and that it would be an educational experience at the very least.
The tour far exceeded my expectations. We ended up spending hours at the distillery and I actually had an incredible time throughout the entire experience. Unlike the Guinness Storehouse, this is a guided tour and there are a limited amount of tickets available for any given tour. We arrived right before a tour was going and we had to buy five tickets (the last five!) for the following tour over an hour later. If you're looking at visiting, be aware that you'll want to either get your tickets in advance or be prepared to wait (€15.00 each).
No bother, though. The distillery offered free wi-fi, a great gift shop, and a great bar downstairs served up whisky cocktails to keep people entertained during their waiting period. When our guided tour started, we got to watch a brief video on the history of Jameson and its impact within the community, plus toured the old distillery. As many are aware, this is no longer a functioning distillery as they moved to Cork to accommodate the growing production. The only part of the process that happens in Dublin is the bottling, but the factory is still set up in a way that makes the tour super educational so visitors can get an idea of how the whisky is made and what sets it apart.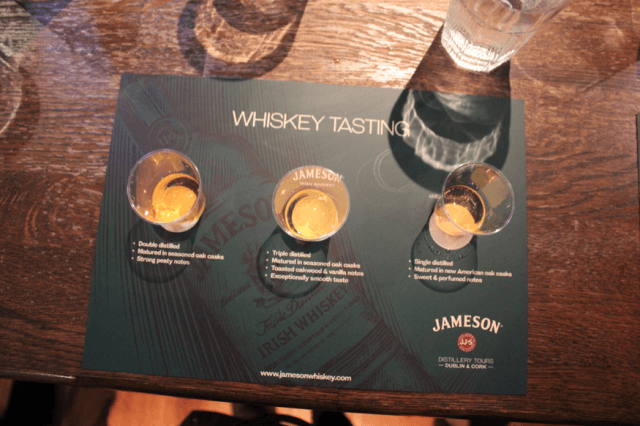 The final room, where six barrels of whisky were highlighted, was very visually interesting (shown above). Each barrel represented whisky of a different age. The lower left was a new whisky (not able to actually be called whisky yet, technically), just a few months old. To the right, a 3-year-old whisky, and to the right of that a five year old whisky. At the top, 15-year-old and 18-year-old whiskies were shown to illustrate how much shrinkage happens over the years as the aging process happens. After the tour, we made it to the final room: the tasting room.
Tables are pre-arranged so groups can mosey on up to a collection of whiskies waiting to be sipped. In the middle, there's a small shot of Jameson, to the left is a Scottish whisky (Johnny Walker Black), and to the right is an American whisky (Jack Daniels), so guests can taste the difference between the types of whiskies. I had originally thought that the tasting was of three different vintages of Jameson but having three entirely different types made it way more useful for me as a novice whisky drinker (I honestly think that there would be little way I could tell the different between vintages). After tasting the Jameson side by side with the other whiskies, Jameson was clearly my favorite, and while I still won't order whisky in a bar, I now know which type I prefer which is a step in the right direction!
The tour ended with a complimentary drink, either Jameson neat or Jameson and ginger ale (my mom's new go-to cocktail). We sipped leisurely before heading to the bar for another cool Jameson-based cocktail. I expected the boys to love the experience but I was honestly surprised at how much all of the ladies ended up loving their time there. Beyond the tour and tasting, the distillery itself is a very cool setting and a great place to grab a cocktail.
Our evening was quieter for our last night in Dublin, with dinner at Gogarty's in Temple Bar before heading in for the evening and packing to embark on our road trip.
Highlights
The Jameson Distillery ended up being a highlight for most everyone during our second day in Dublin. For my sister, the Book of Kells held second place, but the distillery still won out. For my dad, the Jameson Distillery was extra special in that he purchased a bottle of whisky only available at the Jameson Distillery in Dublin and had it specially packaged with his name on the bottle. For my mom, it was 'learning how to drink', and recognizing that she actually liked whisky when it's mixed with ginger ale. For me, it was a bit of a tie honestly. I had an incredible time at the Jameson Distillery mostly because my family made it such a blast, but I absolutely loved Trinity College, too. Needless to say, it was a great final day in Dublin had by all.
Stay tuned for photos, videos and stories as we begin our road trip through the country!
xo from Ireland,