Heading to the Out Islands of the Bahamas and looking for things to do in the Exumas? For being a barefoot beach escape, the islands have plenty to do for the active lot. As you'd imagine, most revolve around the sea with a healthy dose of seafood and sea life but things to do on land, too, or for those that want to stick to solid ground for a few days during their trip. Below I'm sharing a round-up of 10 things to do in the Exumas, along with grand finale #11 that ties it all together.
If you've been to the Exumas feel free to leave your comments on what are must sees and dos in the region!
Swim with the Sharks
1For those that love a small dose of adrenaline, swimming with the sharks at Compass Cay is for you. It's no secret that there's a large shark population in the Bahamas (we saw a few during random snorkeling excursions) but Compass Cay is the go-to destination for swimming with nurse sharks. You'll fork over $10 per person to hop in the sea with these beauties and you'll have a unique opportunity to get up close and personal with them. Take a mask and snorkel to see them beneath the surface, or if the idea of being in the water with them is jarring, you can sit on the pier to see the sharks that swim up and bask in the shallows.
Sip a Goombay Smash
2Bahamians will tell you that the Bahamas are not the Caribbean (technically they're not) but they do share some commonalities with their counterparts further south. Rum, for one, is a go-to spirit in the region and it's the main ingredient in the de-facto national drink, the Goombay Smash. Using dark rum, coconut rum, apricot brandy plus some tropical juices, it's the perfect drink for a daytime sipping. If you're looking to mix it up and wanting to order a cocktail for those in the know, ask  your bartender about "Sky Juice", a blend of coconut water, gin, and a dash of sweetened milk. Don't let the milk scare you – it became our family's go-to concoction once we tried it. We never saw it on a menu but the bartenders always knew what it was!
Get Your Fill of Conch
3I'd argue that there is nothing more Bahamian than conch. You'll see it in a million forms, made with fresh conch straight from the sea. Chat n' Chill's conch burger was the hands-down winner as far as burgers went, but there's nothing that beats a fresh, zesty conch salad. You'll see it on many menus either in a traditional version (done more in a zesty ceviche-style) or in a 'tropical' version which includes pineapple and mango. Bonus: it's bikini friendly.
Hit the Links at Emerald Bay
4If you're looking for things to do in the Exumas that don't involve the water, hit the links! The Emerald Bay Golf Course (owned by Sandals) undoubtedly ranks amongst the world's most beautiful, with roughly half of the holes located on the water where your views are epic. The rounds are surprisingly affordable even for non-Sandals guests. 18 holes costs $125 including the cart rental (golf clubs are extra).
Charter a Boat + Chill at Your Private Sandbar
5Here's a secret: a lot of the items I've outlined on this list of things to do in the Exumas can really done on a well planned boat excursion. If you're doing a boat trip that touches on the region's highlights you'll get to experience #1, 5, 6, 8 and 9 on this list. And let's real, you'll probably also get #2 and #3 as well! Of all of the highlights from boating that felt so special and unique though, the 'private' beach experiences were probably my favorite. I use the term 'private' loosely because nothing's truly private. It all hinges on having a boat captain that knows the secret coves and little sandbars that you can visit during the day where you'll truly be the only people around.
On our first day boating in the Exumas we pulled into a sandbar where our captain served up fresh conch salad while we lazed in the shallows. On our second day visiting Sandy Cay, Stocking Island and Little Exuma by boat, Sandy Cay was the most unreal gem of an experience ever. The five of us and our crew felt like we'd stumbled upon the most beautiful slice of nature, untouched by anyone before us. Honestly, just existing in those places was one of my highlights!
Scope Out a Prehistoric Island
6Want to hear something funny? Of all of the pictures that I posted on Instagram in my stories and feed during our trip, more people were freaked out by the iguanas on Leaf Cay than by the sharks (#1 above). I had multiple respond by saying that a stop at Leaf Cay was essentially their worst nightmare but I found it fascinating! The iguanas are huge here and looked totally prehistoric, like baby dinosaurs covering the sandy expanse. You can get up close to feed them and pet them, or if you prefer to gaze from your boat, that's okay, too. Fun fact: Leaf Cay – where the iguanas live – is privately owned by Nicholas Cage.
What are your guys' thoughts on visiting the iguanas vs. sharks in the Exumas? I'd love to see your comments below!
Enjoy the Beach Bar Vibes at Chat n' Chill
7I received some awesome inspo for things to do in the Exumas from my Exuma lovers out there! There was one beach bar that everyone said was a must: Chat n' Chill on Stocking Island. Funnily enough, when I heard Scott's family wax lyrical about the beauty and perfection of the Exumas from their previous trip nearly two decades ago there were two things they'd speak of: the color and clarity of the water, and the better-than-life conch burger at Chat n' Chill. So, I'll echo everyone's sentiments here: you must go to Chat n' Chill for lunch. And go early enough if you want to order their famous conch burger ($7 at the time of writing this). The first time we pulled in (rather late, around 2:30PM) they were out of conch burgers and we were just BESIDE OURSELVES trying to figure out what to do. Luckily their other food options are good too but let's be honest: you're there for the conch, so get there early enough to enjoy their famous burger! Their sides are wonderful as well, particularly their garlic cole slaw which keeps all vampires away for days.
ALSO, if you make it to Chat n' Chill on Stocking Island, you'll see a tiny stand on the beach where a chef is whipping up fresher-than-fresh conch salad to enjoy on the beach. It's the perfect appetizer! They offer traditional and tropical. We tried one of each and they were great ($25 for the two).
Snorkel at Thunderball Grotto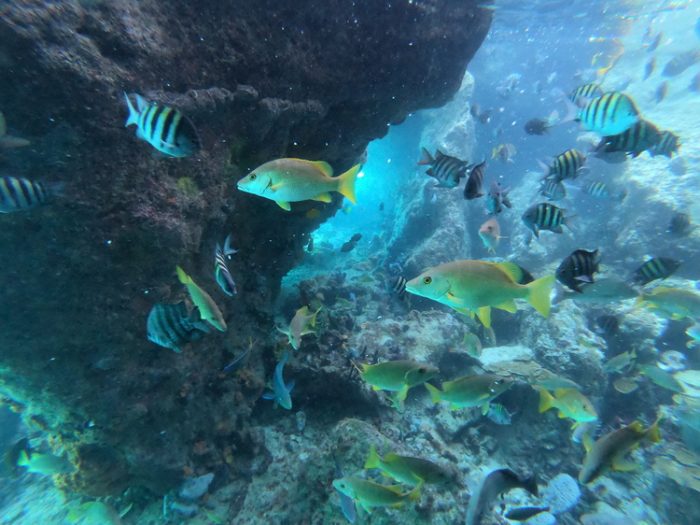 8If you read my post about boating in the Exumas with Sugar Adventure Company, you know that I was a bit anxious about snorkeling at Thunderball Grotto. I'd had these visions of it being advanced snorkeling, difficult to get in and out of the grotto, etc., etc. It turned out that during low tide the snorkeling wasn't difficult (there's a reasonable sized opening to get in and out) and it was beautiful inside. For those that are advanced snorkelers and confident swimmers, there are underwater cave systems – you can snorkel in, out, and through them!
Swim with the Pigs
9On Instagram, I mentioned the sharks being the most famous residents in the Exumas (well, the Bahamas in general maybe) but someone challenged that actually the swimming pigs could very well be the most famous draw in the region. After looking at the Swimming Pigs' Instagram account (yeah, it's a thing), I don't think it's an unreasonable bet. There is some serious love for these guys. There are wildly huge pigs (like, 3x my size) and the tiniest, cutest little piglets and you can swim with all of them! If you go on a boat trip, they'll likely have some scraps for you to feed the pigs. You'll be their new best friend for the moment!
Get Your Dose of Pampering
10Lastly, opt for some pampering! You're on vacay after all, and truth be told my skin was in serious need of some TLC after the long days on the water. Between the sun, salt and sand I was dry and a bit on the well-done side. Enter Grand Isle's ELEMIS Spa, perfect for facials, massages and body scrubs. Sandals' Red Lane Spa offers treatments as well, and their services are available to outside guests upon appointment. If you're staying at a private villa and in search of more spa inspo, check out treatment options and facilities on TripAdvisor.
---
Not-So-Secret #11: See the Exumas by Boat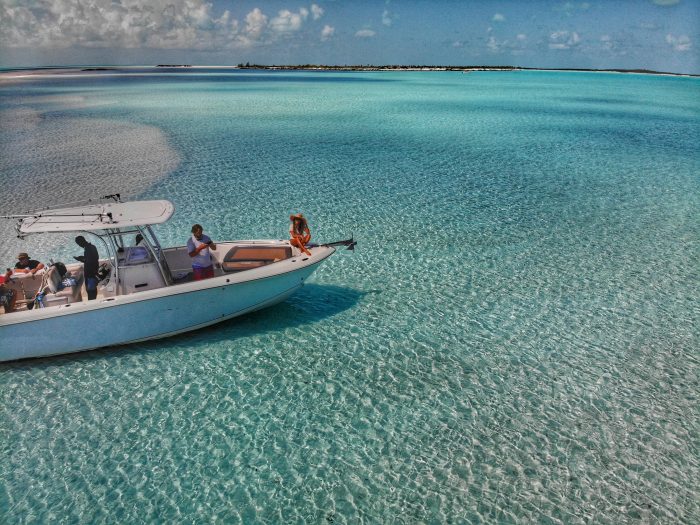 I mentioned it many times above, but if we're talking about things to do in the Exumas the one overarching experience is exploring the Exumas by boat! That really ties in to so many of these highlights above and is both a vehicle – literally and figuratively – for creating memories as well as being a memory in and of itself. I didn't originally include it as a bullet point for that very reason. It's more than one of the many things to do in the Exumas; it's really the thing to do in the Exumas and it yields a wealth of experiences as a byproduct.
I left absolutely adoring the region but I wouldn't have had the same experience – not even remotely – if we hadn't done our two days on a boat. Many of the true gems and hidden beauties are beyond the boundaries of any specific island. You could spend a week in the Exumas based on Great Exuma, Little Exuma, Staniel Cay, etc. but what you'd see within the boundaries of one specific island can't compare to what you'll take in beyond that. The Exumas are a destination designed to be seen from the sea, so factor that in timing and budget-wise to really maximize your getaway!
---
Alright Exumas-lovers, it's your turn: what are your top things to do in the Exumas, whether for first-timers or veteran visitors?