Exploring the Exumas by boat with Sugar Adventures
For those that aren't familiar with the Out Islands of the Bahamas – the smaller, lesser-known islands that sit further afield – Nassau is typically what comes to mind, and with it an over-touristed mass market experience. We spent a week in the Exumas, an island chain consisting of over 365 islands (some very tiny) over a length of about 130 miles. The region is famed for its brilliant turquoise color which is due in large part to the shallowness of the water (the word 'Bahamas' comes from Bajamar, which means 'shallow water' in Spanish).
So, what's the best way to discover the ins and outs of these tiny gems and find the secret coves amidst this spattering of islands? By boating of course! If you do one thing and one thing only in the Exumas, this is the boat trip you have to experience. We set off with Sugar Adventure Company on two separate days but our first day boating in the Exumas was what I'd dub 'The Highlights Tour'. We covered some major ground and the hot spots that most visitors to the region want to take in. Jump on a shared boat or charter a boat like we did to enjoy each stop in your own time. Below, I'm sharing details about the key stops on this route, plus some of our highlights!
Leaf Cay 〰️ Iguana Island
We departed from the pier at Barreterre where we set off on a full day of adventures beginning before 9AM. First stop: Leaf Cay, an island privately owned by Nicholas Cage that's home to a sea of iguanas (and not much else). If you're not a reptile fan, this is a stop you may want to skip, but if you're intrigued by this rogue iguana population and want to get up close and personal, the team on Sugar Adventures will give you some bread to bring them right up to you. They're huge, well-fed and look totally prehistoric. It was the first of many wildlife-focused stops and a cool way to start the day!
As I mentioned above, the water in the Bahamas is shallow and the seas were extremely calm while we were boating so we routinely backed right up to shore which made getting on and off the boat simple. If you're concerned at all about getting on and off the boat due to mobility, chat with the team about weather conditions… in our experience, it was a breeze!
Snorkeling Thunderball Grotto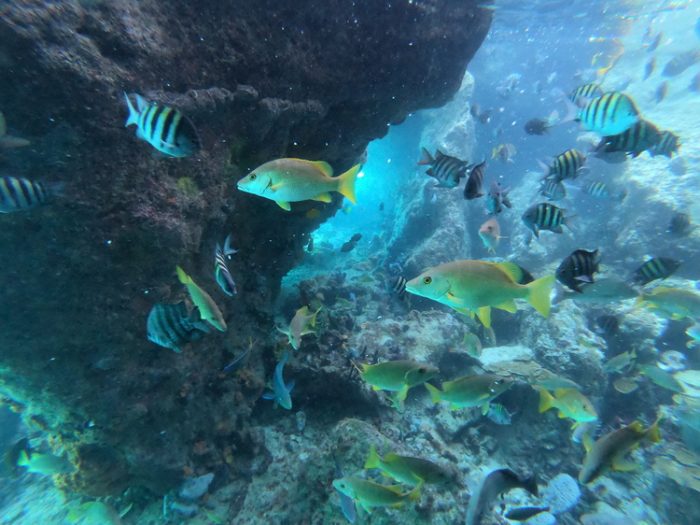 Next stop: Thunderball Grotto, made famous by its feature in the 007 film by the same name. If snorkeling at Thunderball Grotto is on your radar at all, go with an experienced guide to make sure you're timing your snorkel adventure right. The tides shift hugely in the Bahamas and the tidal patterns affect your ability to get in and out of the grotto. Go during low tide (local guides will time this accordingly) and there's enough room to get into the grotto entry without having to dive under the rocky edge. The snorkeling is gorgeous inside, and for experienced swimmers and confident snorkelers there are underground cave systems that you can zip between.
I'll be honest here: I get a bit anxious in the open water (it's a recent development over the last few years) and I was very anxious when we pulled up to Thunderball Grotto. In my mind based on what I'd read, I thought we'd have to hold our breath to go under the jagged lip to enter the interior of the grotto. During high tide this could very well be the case. During low tide, this wasn't an issue at all. I took fins which made me much more confident as well (if you don't bring your own fins, ask the tour company if they'd be able to provide them in your size). Inside there are plenty of ledges to grasp if you feel at all uncomfortable but if your experience is anything like mine, you'll be too mesmerized by the sea life to feel any anxiety. In the complete video highlighting our day below (scroll to the bottom of this post), you'll see some of the underwater caves but here's a clip that Scott took while snorkeling under the sea.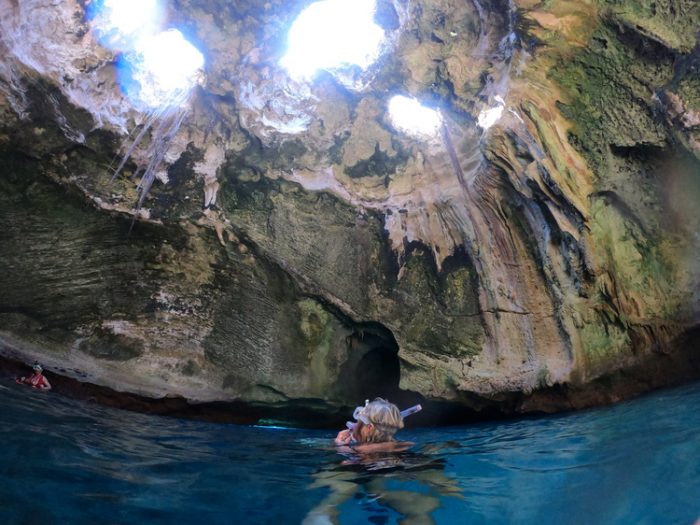 Pig Beach
Timing is everything when it comes to hitting the hot spots when boating in the Exumas, but the reality is that there are many people who are in search of the same highlights that you are. Unless you leave particularly early to avoid peak crowd times, you're going to see other boats on your adventure. We avoided crowds entirely at Leaf Cay and we arrived at Thunderball Grotto with other visitors but it wasn't overwhelming.
By the time we visited Pig Beach, there were definitely other boats there and quite a few other visitors but it didn't affect our ability to interact with the swimming pigs or to enjoy our time there at all. As soon as we pulled in a few of the larger pigs (Dumpling, for one) approached the boat for fruits and veggies — they've definitely learned where some of their snacks come from! It was the babies that drew me in though; there were a few piglets on the beach during our visit that were so precious (watch the video below to see this little guy get up close and personal with our GoPro).
Boating in the Exumas 〰️ The Conch Stop
Drinks were included in our charter price (beer, soft drinks, and the signature 'Sugar Smash' – basically an icy rum punch), along with conch salad. If there's any food that is truly Bahamian, it's conch. You'll find conch options everywhere in the region: conch burgers, blackened conch, cracked conch, grilled conch, and conch fritters, but there's nothing better to me than a fresh and zesty conch salad. At mid-day, our captain whipped up a tropical version right on board with fresh-cut tomatoes, pineapple and mango thrown in with freshly caught conch. It's divine, and it's made even better when sitting on this perfect sandbar that's accessible even as the tide comes up. We marinated in the shallow water, Sugar Smash + conch salad in hand, for about an hour just soaking it all up. Truly, this stop was an absolute highlight for me because it felt entirely surreal. You've seen photos of the pigs, iguanas and sharks before, but when you land at a place that feels like you've veritably discovered it, there's something incredibly special about it. Oh, and did I mention that our captain, Sugar Jr., makes the best conch salad?
Lunch at Little Farmer's Cay

That conch salad that I loved? That's just an appetizer to keep hunger at bay until the main event. We left lunch plans up to the team at Sugar Adventures who better knew our day's timing and the secret gems that most visitors aren't aware of. Enter Little Farmer's Cay and Ocean Cabin Restaurant where we dined for lunch. Lunch was around $25 per person (not covered in charter) for a huge Caribbean spread of lobster, fish, rice and peas, chicken and homemade macaroni pie that is the pièce de résistance for those okay with ingesting their day's worth of carbs (worth it, for the record).
On your walk from the boat to the restaurant you'll pass by this lovely lady (above) who weaves some gorgeous bags out of silver palms. My mother-in-law and I each took home a beach bag from the island. If you're in the market for something local, this is a great option. We opted for the simple unmarked bags but there are a number marked with 'Exuma' and 'Farmer's Cay' if you want to commemorate your stop.
Compass Cay 〰️ Swimming with the Sharks
As far as animal highlights go, swimming with the sharks in the Exumas was it for me. Compass Cay is an island dedicated to swimming with nurse sharks and despite the number of visitors, it's a really cool experience. The water is fairly shallow (about 4 – 5′ surrounding the pier) and you have a choice to walk the pier to see them up close or to jump in the water and swim with them. The fee to visit Compass Cay is $10 per person (not covered by the boat charter) so be prepared with some cash for entry.
I've had a healthy respect for sharks for as long as I can remember (read: I'm deathly afraid of them) but really wanted to swim with them to see them up close. Honestly, it gave me a whole new appreciation for them. Nurse sharks aren't generally aggressive (though there have been tales of little nibbles happening occasionally) but for most people with a fear of sharks, the idea of getting in the water with them is borderline crazy. If you're wavering on whether to go in or not, do it!  It's awesome. You'll be able to pet them as you swim around or bring a mask and snorkel and watch them from beneath the surface to see them up close.
As an aside for shark lovers: We happened to visit the Bahamas during Shark Week 2019 when Grand Isle Resort (where we stayed) offered the opportunity to go shark tagging with Beneath the Waves, an NGO dedicated to shark research and conservation. We didn't participate this year but for anyone interested in learning more about shark conservation and marine life, it's an awesome opportunity (a 'donation' of $500 per person is required to participate).
Snorkel Site 〰️ Rudder Cut Cay/Musha Cay
Here's something we quickly learned while boating in the Exumas: a lot of these tiny island are privately owned by celebs you're familiar with. We passed by Tim & Faith's island, an island owned by John Fry (of Fry Electronics), Nicholas Cage's island (Leaf Cay, above) and a number of islands owned by David Copperfield (Musha Cay is one such island). Within the spread of islands Copperfield owns is a famous snorkeling spot that the crew will introduce you to, and your focus is going to be something beyond sea life. Throw on a mask and snorkel (and some fins — the current is real here!) and pop under the sea to see this underwater mermaid + piano scene. For confident swimmers, you can dive down and sit at the piano on the sea floor (that's how Scott captured this picture). For those less inclined to free dive a bit, you can see the scene from just below the surface, too.
---
Booking Your Adventure Boating in the Exumas
The two-minute video below captures some of the highlights from our day – press play to watch everything unfold!
Like I said first and foremost, if you do one thing during your trip to the Exumas, do this boat trip. The beauty of the Bahamas is best captured on a boat where you can discover stunning little coves and tiny islets that can't be seen from a traditional resort setting. If you only have time for one boat day, the stops on this tour allow you to hit the highlights in the region. If you have a private charter, you can discuss with your captain options for mixing up the order if you're so inclined but heed their advice on best hits based on tidal shifts, too. I'll be sharing more about our second day boating in the Exumas with Sugar Adventures, which provided some off-the-beaten-path sightseeing opportunities as well.
Charters range in price but expect to pay upwards of $3000 per day for a private charter (which can comfortably seat 10, and possibly more). Our charter brought us a full day of adventures, departing before 9AM and not returning until about 5PM. There are options for jumping on a shared boat experience, too, which might be more suitable for couples, singles, or small groups. If you're able to swing a private charter, the flexibility it provides is great, and you'll have room to spread out comfortably. 
Have you been boating in the Exumas? What were your highlights?