What I had intended to write before today and what I'm writing now are very different tales. Our trip to France – both Paris and the Alsace region – was incredible. As my mom said, it feels like I went to sleep, had the most magical dream, and am now waking up. The memories were rich, the experiences were plentiful, and the trip allowed me to fully disconnect in a way that I hadn't done in quite some time. On our final day in Paris we visited the Catacombs. It was my first time visiting the ossuary, the world's largest necropolis, set just a 10-minute drive from the Latin Quarter.
We walked through the dark tunnels, surrounded by skulls and bones stacked ceiling high, reading stories of centuries past and understanding how the ossuary came to be. Six million people are buried in Paris' catacombs and it's easy to see the stacked bones and forget that those six million people were once living, breathing people – not just bones – living lives of their own. Rich, poor, educated, uneducated, long lives, short lives, men, women, children… their lives boiled down to the same thing in the end, which is a rather abrupt and deep thing when you take it in. It could be morbid and disheartening but it wasn't —  it served to remind us that we're fortunate to have the time on earth that we do; to make memories and leave behind a legacy of our own.
Then yesterday happened, and unbelievably Notre Dame Cathedral went up in flames. We were there last Friday, watching a special mass going on to observe Lent as parishioners took their communion. It's hard to believe that this place that has witnessed so much and endured so much history could be devastated in an instant. The Cathedral has been a constant, and something many of us took for granted. No matter how many times we've seen it, we assume it will be there, greeting us for our next visit to the French capital. It's a lesson in fragility and another reminder for us to live life to the fullest as much as we can and for as long as we can.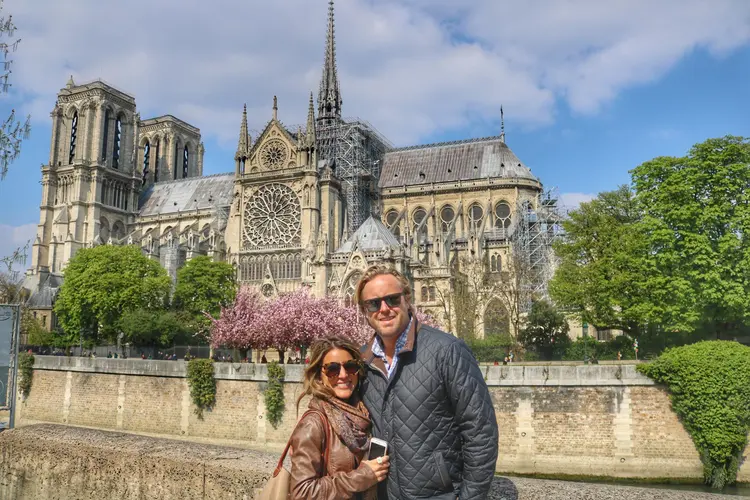 We've embraced the idea of never putting off for tomorrow what we can enjoy now. Sometimes (*cough* many times) that means fewer dollars in our savings account but up to now, we've never regretted our choices of investing in experiences over things. This family trip was pivotal for us. It was the first trip with just my parents, and it was one of the first trips that I saw a change in them with their increasing desire to trot the globe with us. In part we celebrated a milestone birthday for my mother who had never been to Paris before. She was wowed by our getaway in every way but it was watching this beautiful church on fire that was a bit of a wake up call: we are so fortunate to have had the opportunity to see it when we did. Had we waited years, months or just days longer, she would have missed that opportunity. I think the world is taking solace in the fact that much remains of this sacred and beloved site and that the cathedral will be restored to its former glory in time. Personally, I've taken this is a cue to begin brainstorming our next family trip — we're not missing any opportunities to make more memories in places that we've always dreamed about, and we've especially learned not to take any of those memories for granted. ♥️
Did you have a chance to see Notre Dame before the fire?