After spending two days on Jost Van Dyke, we boarded our yacht, a gorgeous 59′ Fairline that would be our home base for the following four nights of our journey through the British Virgin Islands. There's no doubt about it, staying on land is fun but seeing the islands by boat is the way to explore the BVI properly. The archipelago is dotted with some stunning little swathes of sand that are unreachable – or extremely difficult to reach at the very least – using the public ferry system. We opted to hire a captain and were lucky enough to be set up with Captain Malcolm Herman, a St. Lucian-born, BVI resident who was probably far too well equipped to be toting our little family around. For us, captaining the yacht on our own wasn't even an option (experienced captains do have the option of taking the helm on their own), but we felt extremely fortunate to have been assigned an incredibly experienced captain with an in-depth knowledge of the surrounding islands. Our first stop after leaving Jost Van Dyke? Visiting The Baths on Virgin Gorda, preceded by an evening out in the North Sound.
If there's one natural site in the Virgin Island that reigns supreme, it's The Baths. Located on Virgin Gorda's southwestern side, a sea of prehistoric boulders dominate the landscape, creating little pools where visitors can take a dip and swim through a maze that's been created by the rock formation.
After spending our first night exploring Saba Rock and Bitter End Yacht Club in Virgin Gorda's North Sound, we headed to The Baths early on our first morning to get a mooring and head in. If you're boating in the area, make it your objective to head to The Baths as early as possible. We arrived shortly before 9AM and were already greeted by a number of tourists off of a small cruise ship. If you can get in before 8AM, you'll have a better chance of experiencing The Baths on your own. Dinghies stay further afield to prevent the shoreline from being crowded and to protect snorkelers and swimmers. It was a red flag day on the morning we visited so we jettisoned the idea of snorkeling. On a calmer day, swimming and snorkeling near the boulders add to exploratory mission.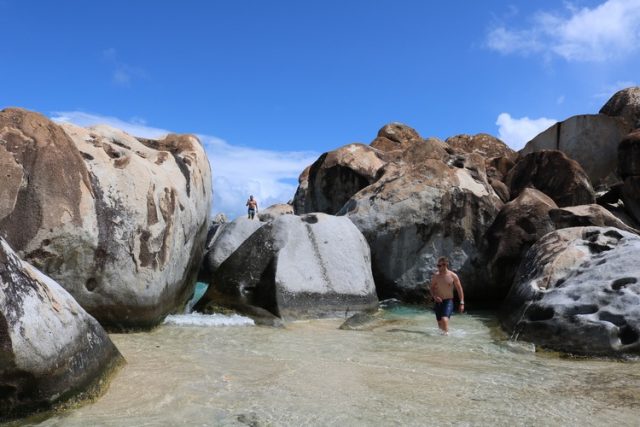 … The Baths are an absolute adult playground.
The Cathedral is the iconic shot that many have seen from The Baths; a few huge boulders that create a perfect triangular pathway. The Cathedral allegedly got its name from the acoustics within the space, and from the colors of the lights that reflect off the boulders that create stained-glass effect. The Baths National Park is expansive though and includes much more than just The Cathedral. Set off with the intention of exploring, crawling, and climbing and you'll almost certainly find little protected coves free from other people. We found ourselves playing in pools on our own, and swimming through shallow water passages created by the rocks. If you're traveling with young children, you'll want to keep a watchful eye on where they're meandering (there are plenty of little nooks to climb into and currents that can be a bit strong on rougher days). If you're traveling in an adults-only group with a desire for more adventure, The Baths are an absolute adult playground. Prepare to climb, duck, and army crawl your way through to find some stunning areas that will have you absolutely believing that this was a pirate's haven.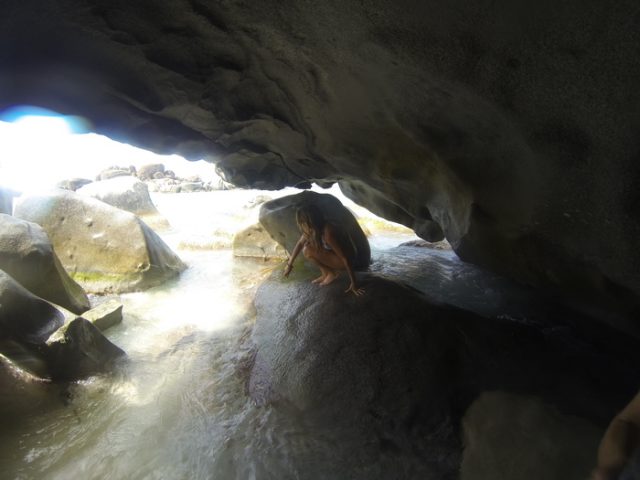 Tips + Takeaways for Visiting The Baths
Go as early as possible in the morning and dedicate at least a couple of hours to exploring The Baths, perhaps nearly double that if it's a calm day where you're able to swim and snorkel nearby. If you're entering by boat, know that you'll need to swim in from the dinghy moorings. On a calm day, this should be fairly easy for most swimmers but on a rough day, novice swimmers may want to stick to the buoy line or take assistance (e.g. a noodle) to make the swim a bit less intimidating.
If you're swimming in from a boat, less is more since you'll be lugging everything with you as you meander through the boulders. We brought a huge dry bag with us to bring coverups, cameras and footwear, and I'd suggest the same to anyone that has to swim in. A dry bag is absolutely key if you have items that you don't want to get wet (we have a 10L dry bag and a backpack version that are both great for different reasons).
In terms of photography equipment, a GoPro in a waterproof casing will be a lifesaver, though I did find that the photos weren't as great as video since the camera had a hard time handling with the lighting through the boulders (see images above). I took my Canon T6i in the dry bag and I found our photos to be better, though I was more concerned about getting my camera wet or dinged up on the rocks. With a DSLR that doesn't have waterproof casing, you'll likely find yourself putting it away and pulling it out constantly, which can get a bit tedious. Towards the end, I relied more on GoPro footage due to ease but wished I had taken more photos with my Canon for quality.
If you're exclusively playing on the sand and in the park area, you don't need footwear. If you're planning on heading to the Top of the Baths, an area with a restaurant and gift shop that's about 10 minutes walking from the boulders, you'll want shoes and a coverup for the walk. For shoppers, the store has some fun swag for those that want a takeaway from their time on Virgin Gorda.
No doubt, The Baths are an absolute must-see and were probably the most awe-inspiring sight during our entire time in the BVI, which is saying a lot. Give yourself time to enjoy the experience. If you're anything like us, you'll be scheming on how to get back as soon as you say goodbye.
Have you been to The Baths? Wowed or not?