Our first full day on the Ring of Kerry brought a number of highlights, two of which ended up being genuine highlights for our entire time in Ireland. We had allocated the entire day to explore Killarney National Park, beginning with a private horseback riding excursion with Killarney Riding Stables, an experience that we had scheduled to have captured by [ K ] Photography. Stay tuned for an entire post on our experience with vacation photography in Ireland. For us, it was a hands-down highlight and ended up being such a fun experience in and of itself. I know that the thought of hiring a photographer on vacation can seem intimidating so I'm excited to share our personal perspectives and more photos from our day in Killarney National Park.
Horseback Riding in Killarney National Park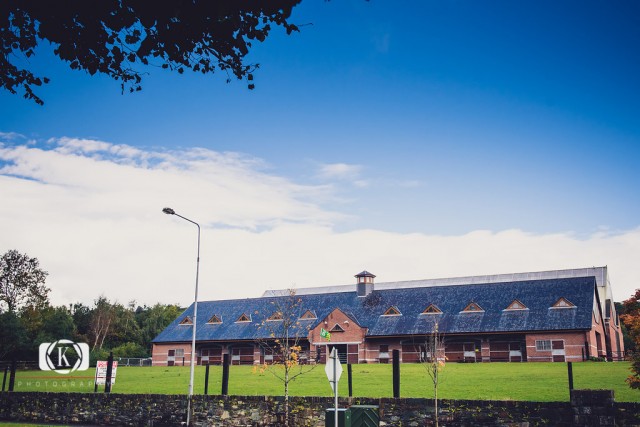 My mom, the Bachelorette watcher that she is, was captivated by the idea of horseback riding in Ireland, and I was very much on the same page. The idea sounded magical, and what better place to explore on horseback than within Killarney National Park? Having heard about the depth of the landscape and the vast area of the park (26,000 acres), we thought it would provide the perfect way to get us out exploring in a fun format.
We coordinated a private riding time with Killarney Riding Stables to begin at 11:30AM. The sun was out and highlighted a landscape that is jaw-droppingly beautiful. I expected the park to be impressive based on the photos that we had seen, but I didn't expect it to be nearly as beautiful as it is in reality. In hindsight, Killarney National Park, along with the Ring of Beara and the Conor Pass on the Dingle Peninsula, were standouts when it came to absolutely amazing vistas.
When we arrived at the stables, we suited up with riding boots and helmets. The staff also gave us each a rain jacket to help dispel any rain that may head our way, and while we avoided getting wet during our ride, the coat was a welcome layer of warmth when the sun went into hiding. We were given horses based on our size and experience (all novices): two of the smaller horses for my sister and I (named Harry and Joey, respectively), a gorgeous grey horse for my dad (Peter), a stunning stallion for Scott (James), and a sweet horse with some personality for my mom (Mystery).
None of us are riders. I had ridden once, Scott and my mom had each ridden twice, my sister had never ridden before besides a quickie ride at the fair as a child, and my dad had ridden a handful of times years ago. Our guide made us feel incredibly comfortable and the horses were absolutely amazing to ride with. Besides the occasional rogue moments for each of us (with distracted horses wanting to nosh on some nearby grass), the horses easily followed our guide at a slow and comfortable pace.
The views are permanently emblazoned in my mind: vast expanses of green and brown-tinged grass with sparkling lakes in the distance. Collectives of deer, with domineering bucks within feet of us during our ride, interacting naturally and dancing around the area. Moutains lined the backdrop to add an extra layer of drama to the landscape. Since we hired a photographer I opted to leave my camera in the car (I was also concerned about where I would put it while on the horse) but I had to stop throughout our ride and just stare. We did this in cycles, each of us in utter awe of the landscape, which was made even more spectacular in the sunshine. A huge thank you to our photographer for capturing such amazing moments and this stunning landscape. It's awe-inspiring to say the least.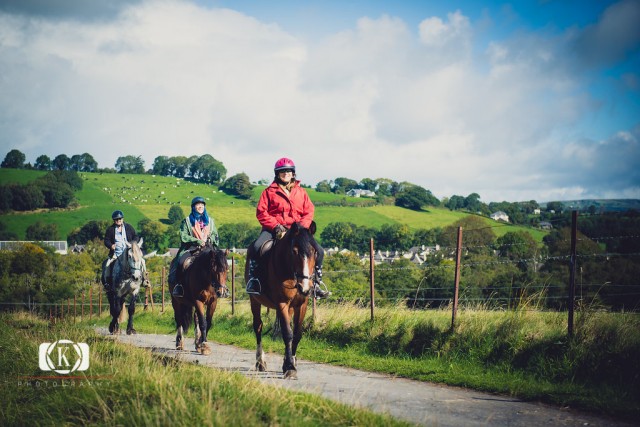 The guide took us through a couple of brief series where we could trot through the area and feel something a bit faster than the slow-paced walk; we all bounced up and down, holding tightly and catching air as the horses picked up a bit of speed before slowing down. The scenery here isnt' meant for galloping anyway; a slow walk is exactly what you want in order to take everything in and just enjoy the unadulaterated beauty of the park.
Nearly anyone can ride. We were all novices, as I had mentioned, and are all different sizes and different ages with varying fitness levels. We were all absolutely fine (though trotting was a bit hard on my dad's back after the second go around), and all found horseback riding to be a highlight of our entire time in Ireland. In that hour-long moment, everything conspired to make our experience amazing: the weather was perfect, our horses were incredibly beautiful and well-behaved, we had a photographer capturing our experience for posterity, the landscapes showcased utter world-class beauty, and we were all together creating new memories that were unlike anything we'd ever experienced before. I've used the word 'magic' to describe so many of our experiences in Ireland and while I would like to mix up the descriptors a bit, there is absolutely no better word than magic to describe so many of our moments together.
What to Know
What to wear
Our weather was incredible but even with sunshine I would still suggest pants (fitted seemed best for women) and a jacket, even something lightweight if it's on the sunnier side.  For shoes, go close-toed. Riding boots and helmets are provided by the stables so footwear doesn't really matter but if you'd like to wear your own shoes they need to properly protect your feet.
What you can take
This was where I had questions – can I take a camera? A purse? I ended up leaving everything in our car since I was unsure, but you can also leave excess items with the office staff at the stables. I could have easily taken a small cross body bag and a camera around my neck fairly comfortably. As you may imagine, there's no where to put anything when you're riding so if you can't comfortably take it on your body then leave it.
If you're taking a camera and going the novice route like us, do know that you'll go through a few brief periods where you may be trotting which will make your camera bounce a bit. I would make sure to have the lens cap attached to the camera so you don't lose it if it ends up coming loose!
What to expect
The ride is an hour and takes you through the Knockreer Estate so you can expect to see what is shown in the images above: gorgeous views of the lakes, local animal residents, and a great selection of flora and fauna (including berries which my mom had to taste, naturally). Whether or not the deer always make an appearance like this, I'm not totally sure, but they were out en masse during our ride which added some serious splendor to the experience!
As I mentioned above, our ride took place at an incredibly leisurely pace. Our guide knew that we were all novices and treated us accordingly which was very comfortable for all of us. She gave us the option to trot which we were all keen on but you could easily opt out if you're concerned or have back problems that may interfere. Our horses were all lovely to work with and the entire ride was totally comfortable for me. I had recalled my previous horseback riding experience in Hawaii as being rather uncomfortable and a bit painful by the end. This was not like that at all; very comfortable from start to finish.
We were fortunate to have a 'private' ride with the five of us, but normally rides take place at set intervals throughout the day so you'll likely be with other riders which adds to the fun!
Who can ride
In terms of skill level, anyone can ride. As I mentioned above, we were all novices with little to no experience riding. I provided that information to the stables in advance but there was absolutely no issue for them to pair us up with the right horses and give us a brief overview on using the reigns when we arrived. You don't need your own equipment as they can provide it for you, and their sizes comfortably accommodated a range of riders. I can't be sure what the age limits are on this, though I would imagine children old enough to take instruction and ride responsibly (perhaps age 10+) can likely go with parents involved.
We left our ride on an absolute high that day. In hindsight, that hour together riding through the park on horseback was a highlight of our entire trip in Ireland. If you're considering scheduling a ride, do it. I can't imagine a better way to explore Killarney National Park for an hour!
Have you been horseback riding in Ireland? Where did you go? What were your thoughts on the experience?
xo from Europe,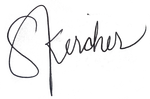 All photos featured are courtesy of [ K ] Photography based in Killarney, Ireland. I'll be talking more about our family vacation photo shoot in Ireland in a forthcoming post so stay tuned if this is something you're considering. I have tons of fabulous images to share!