After surviving our frightening journey crossing Lake Kivu by boat, we woke up the following morning in Kibuye with vigor. It was 3AM and we were heading to Gisenyi, the area that marks the border of Rwanda and the DRC. We had a four-hour drive ahead of us (fortunately we had a great driver and could sleep for a few hours during this journey), and after rearranging our scheduled permits for traveling to Virunga National Park – two gorilla treks and a volcano hike – we sorted out our schedules for the Congo portion of our trip.
We were still shaken from our near-death experience but committed to putting that hiccup behind us and enjoying the remainder of our time in the Congo and Uganda. With our schedules sorted, we were on our way and decided to spend our first day in the DRC exploring Mikeno Lodge and the Senkwekwe Gorilla Orphanage.
DRC Arrival Logistics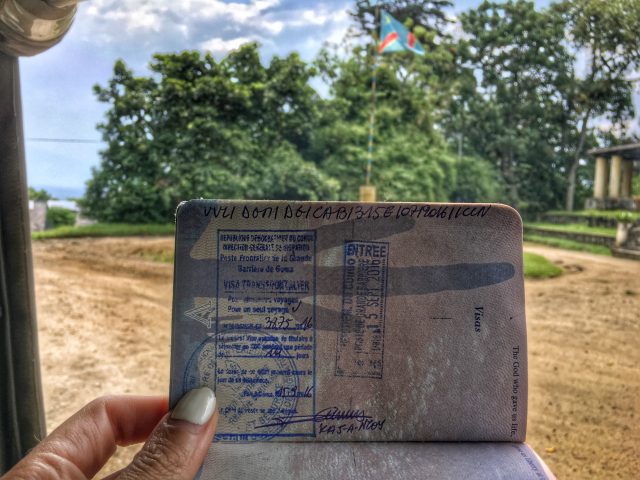 Before we had booked this trip, still in our daydreaming-about-the-Congo phase, it was the logistics element that got us hung up. How does one get to the DRC? Do you fly to Goma? Side note: WHAT CARRIERS FLY TO GOMA?!  What's the border crossing like? Will they let me in?
Well, you've already read about us crossing from Rwanda to the DRC via Lake Kivu and the perilous journey that was, but this seems to be the popular route suggested by tour operators on the ground. When I was still in the exploratory phase in this planning process, other tour operators recommended this as well as the fastest and more unique way of getting from Point A to Point B. Plus, when someone offers you the opportunity to cross Lake Kivu into the Congo by speedboat, it's hard to say no. My advice considering our experience would be to vet your boat driver and vessel well if you're doing a solo adventure. So, for those wondering: the best way seems to be to fly into Kigali and then cross over into the DRC. You can also cross by land in a car (in hindsight, this would have been faster for us), and will cross the border at Gisenyi, Rwanda.
Here's what you'll need to present at the border if you're traveling to Virunga National Park:
Your passport
A printout of your DRC Visa order confirmation (this will be provided to you in advance through your tour operator or through Virunga National Park if you booked with them directly)
Your Virunga reservation summary detailing what you'll be doing while you're in the DRC
Proof of Yellow Fever vaccination (they won't let you in without this); they'll take you into a small room to document your Yellow Fever vaccination and will take your temperature to note.
From our experience, the process was fairly swift. We'd heard horror stories of the crossing taking hours, but it took us about 30 – 40 minutes in total to check out of Rwanda and check into the DRC.
For those still in the planning phase, bear in mind that there are two different visas in the DRC: a Virunga-specific visa and a DRC general visa. The Virunga visa is valid for traveling to Virunga National Park only and is good for 14 days upon entry.
We booked with Inspired Journeys, a tour operator that works heavily in the Democratic Republic of Congo and understands the logistics of the region in-depth. Scott and I have never used a tour operator before in our lives but we found it helpful to have someone meet us at the border and scoot us through the process. We could have done it on our own, but being our first time in the area we felt an added sense of comfort. I would highly recommend that anyone traveling to this region (specifically to the DRC) use a local operator to assist with border crossings and other logistics, at least the first time. In an area where the security situation changes from day-to-day, there's peace of mind in knowing that you're working with a team on the ground that intimately understands the realities. If you choose to not going with a tour operator, you'll find that Visit Virunga site is exceptionally well done. You can book your lodging and activities directly through them and work with their team on logistics.
Bukima Tented Camp
Since our plans had changed after our issues crossing Lake Kivu, we spent our first day visiting Senkwekwe Gorilla Orphanage at Mikeno Lodge (more on that to come) and having lunch there before moving on for the night to Bukima Ranger Post and Tented Camp.
Bukima is the starting point for gorilla treks in the region so overnighting at the camp makes it extra simple for a morning start.
Before arriving we had met another couple on our chimp trek in Rwanda that had just come from the Congo. They mentioned that Mikeno was really nice, but that Bukima was nothing much to talk about. I'll politely disagree with that statement.
No, Bukima is not a five-star resort but that's not why we came to the DRC. When they reference this is a tented camp, it's in fact a very nicely put together campsite. With six total tents, they can accommodate 12 guests at a time. During our visit to Bukima – two nights – we were the only two people at the property and had the campsite to ourselves. The tents are large, equipped with a king-sized bed, a sink, a toilet and a shower (they can provide hot water with notice). Though there's power for lights, there are no outlets in the rooms and it probably goes without saying: no wifi. We actually enjoyed the forced disconnect for a couple of days! In addition to the six tents, there is a main tent with a lounge area, a charging station, and a dining table for what looks to be family style dining (there were only the two of us so it was just us at dinner). The camp provides breakfast, lunch and dinner, and all of our meals impressed us – good, locally sourced food with attention to dietary restrictions. The portions were large (too large for me in fact) and include three courses.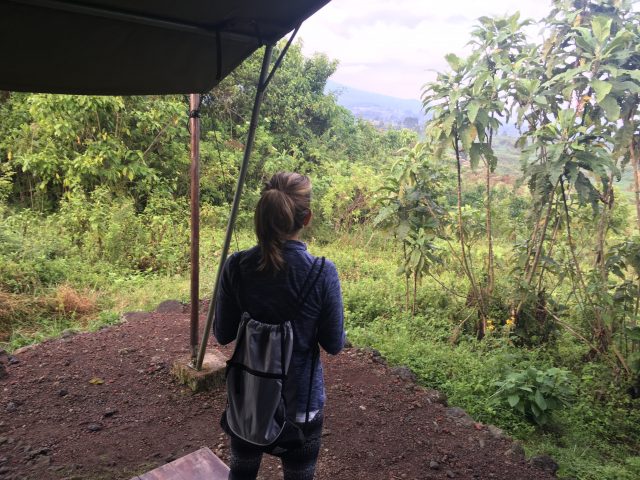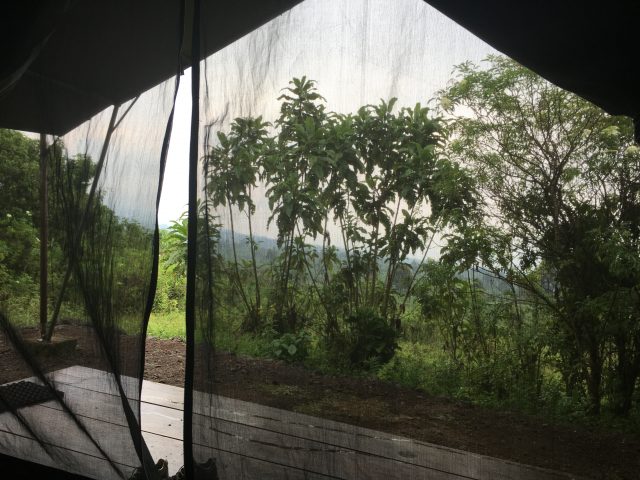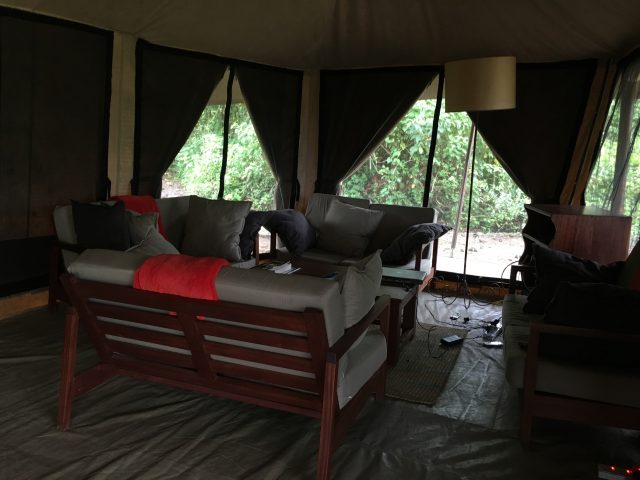 We had mistakenly thought the Congo to be a hot destination but in fact it's cool during the day and cold at night (like what?! This is Central Africa – isn't it supposed to be hot?!). When we hopped into bed after dinner we were pleasantly surprised to have hot water bottles to keep us warm during our sleep. After the week we'd had with traveling, trekking and some serious stressful situations, we had the best sleep we'd had in a while.
We found the service to be exceptional and were impressed with how much English was spoken by the staff. We had assumed that most Congolese would have French and local languages but most staff had conversational English skills or better which helped us with communication. With just the two of us at the camp, we were wowed when we walked to breakfast on our first morning at Bukima: a table for two set amidst the park with stunning views of Mt. Mikeno in the distance. There are some moments where you have to take serious mental snapshots and pinch yourself to make sure you're actually seeing what you're seeing. This was one of those mornings.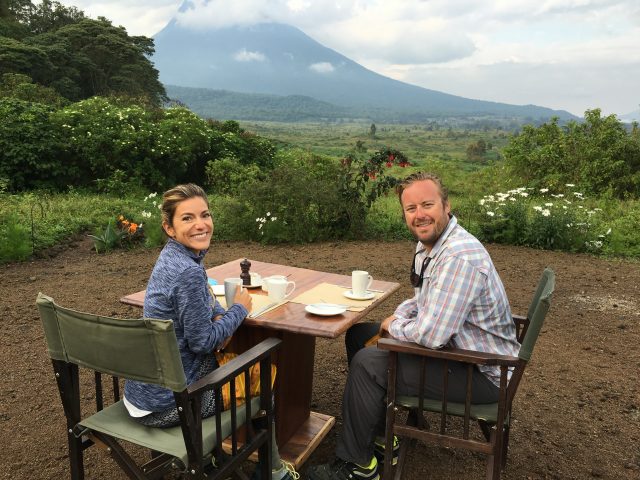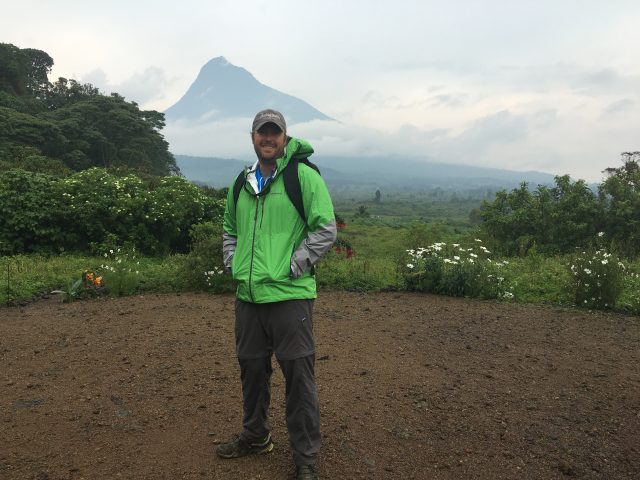 The Congo utterly wows me in so many ways. The landscape is Virunga National Park is so lush, so dense and so diverse it's hard to not be utterly captivated at every turn. As a visitor to this area, you're in the thick of verdant jungle surrounded by volcanoes, with the sounds of birds, goats, cows and children in the distance. The main activities for those touring the park are concentrated within a relatively small part of Virunga and even here I'm amazed by how much there is for visitors to experience: gorilla trekking, chimp trekking, the hike to Mt. Nyiragongo, hikes to villages and caves, visiting the world's only gorilla orphanage (Senkwekwe), visiting Virunga's Congohounds, and visits to a coop for the wives of fallen rangers. The staff has been so warm and so welcoming, and driving through the DRC is a very raw experience.
"This is Africa. It's real and it's raw, and for us it exceeded expectations from the get-go."
This is Africa. I mean that in the sense that this isn't Kigali or Nairobi, major African cities with huge expat communities, ever-present wifi and decent restaurants around every bend. This isn't a place with multi-story buildings and sparkling infrastructure. This isn't a place with paved roads and with brick homes (we saw that often in Rwanda and were impressed). It's real and it's raw, and for us it exceeded expectations from the get-go. I'm feeling exceptionally grateful to be experiencing this unique slice of the world. Stay tuned for our adventures from two gorilla treks and our Mt. Nyiragongo hike!
Have you been to Virunga National Park? What was your experience like?
xo from Africa,