Nestled in the southwestern corner of Slovenia lies Postojna Cave, a karst cave system that runs for 79,130 feet. It's undoubtedly the most comprehensive cave system I've ever seen, and ranked amongst the world's best. I mentioned in a previous post detailing things to do at Lake Bled, that generally I found that Slovenia felt like it flew a bit under the radar. There were tourists at Bled, and a few in Ljubljana but it never felt overrun; nothing even remotely close to what we saw in Dubrovnik or even Hvar. Postojna Cave was the most impacted place that we visited during our time in Slovenia, and undoubtedly the most expensive attraction that we visited, possibly during our entire time in Europe.
Going in, we had done enough research to know that we were interested in seeing the cave system, but not enough to understand the full scope of it or options that exist for visitors to the area. Driving is the best way to reach the cave, and signs to Postojna Cave and Predjama Castle are frequent as you cruise along Slovenia's motorways. When you approach the caves, guides will give you options for packages
Entry to the caves only is €25.80 per person, but bigger packages include combinations of the cave tour, plus either Predjama Castle, the museum, the vivarium or everything in a single, slightly discounted package. Our arrival time dictated our plans a bit. Cave tours go regularly between 9AM and 6PM (sometimes a bit more limited, depending on the season).
This isn't a self-guided scenario. Tours are led by sanctioned guides employed by the Postojna Cave, with options available in English, French, German, Italian and other languages. If, like us, you happen to stroll in a couple of minutes after a tour has gone, you'll have a bit of time to kill before the next guided tour. There are restaurants and shops to meander while you wait, but we opted to purchase the package that included the Vivarium, where we could learn a bit about the cave system and the animals that make their homes there.
You'll walk through passages that highlight how animals have adapted for cave living, but the main draw when visiting is seeing the olms, small dragon-like cave-dwelling creatures. They're clear, almost iridescent, with no ability to see (they've adapted for their surroundings where there's zero light). They're actually are a variety of salamander but they're unlike anything you've seen before. Dragons are a huge part of Slovenian folklore (you'll see dragons splashed everywhere in Ljubljana), so there's no wonder how that legend grew stronger at Postojna. When residents saw olms for the first time, they assumed they were baby dragons and that their full-sized counterparts dwelled deep beneath the earth's surface.
Postojna Cave
After getting our primer for the first forty-five minutes, we lined up to join our English-speaking tour. The tour takes a couple of hours, so plan your timing accordingly. The first part involves a train for 5- 10 minutes through a portion of the cave system. The caves are cold, about 50ºF, so bring a layer of warmth for the journey below the surface. The cave has its own ecosystem, and isn't really susceptible to external weather fluctuations, which means it stays chilly year round, whether it's the heart of summer or the depths of winter. For those with mobility issues, the beginning of the tour involved a bit of an incline, but nothing involving stairs. The remainder of the tour was mostly flat, making it comfortably accessible to those needing assistance.
Once you exit the train, you're in for a guided tour on foot that takes about an hour and a half. Our guide helped us weave our way through and pointed out some of the highlights from the cave, plus the caves history and evolution. According to geologists, stalactites and stalagmites are formed at a rate of about 1 cm every 100 years, which helps them determine the relative age of a cave system and a particular formation. We continued on, room by room, each opening into the next little world of stalagmites, stalactites and columns that looked like oversized melted wax candles. The color of the cave system changed as we worked our way through: from an orangey-red hue where the system was rich with iron to a blindingly bright white where the formations were composed of nearly pure calcite.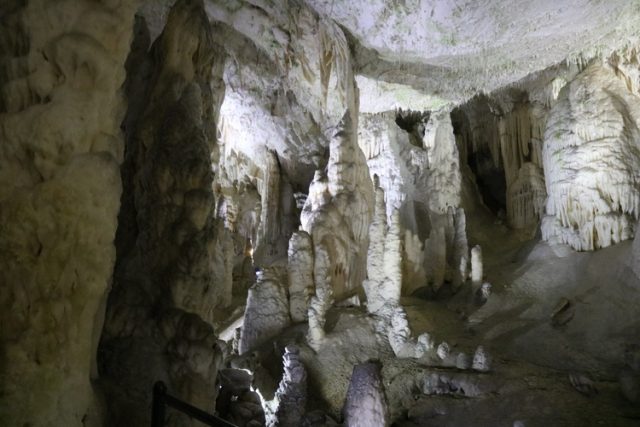 The two columns shown above are the logo for Postojna Cave, one thick red column adjacent to a study five-meter white stalagmite referred to as 'the Brilliant', which is the cave's most famous formation. It's impressive to be sure, but after making your way through a pretty spectacular cave system, it's really just part of the grandeur of the entire space.
At the end of the cave, visitors will see the cave's underground post office and enter the Concert Hall, a large space that can accommodate thousands of people for performances in a subterranean setting. The hall hosts a blues festival and a 'Living Nativity Scene' amongst other events that take place throughout the year. Can you imagine a cooler setting for a concert?
Predjama Castle
For those that purchase tickets that include both the caves and castle, Predjama Castle sits down the road a few miles, tucked neatly into a rugged rock face (reminds me a bit of Mar Saba Monastery in Palestine, which is a similarly impressive feat). Our focus when en route to Istria's hilltop towns was Postojna Cave, knowing that we were armed with limited time. We made a pit stop to admire Predjama Castle (it's worth many moments of admiration) but didn't have the time to go inside. Perched high on a 400-foot cliff for 800 years, it's worth putting on your radar when visiting the region. Tours are available throughout the year, and audio guides are available in a host of languages. To keep the spelunking alive, visitors can visit the cave system that sits below the castle, which has tours at set intervals throughout the day.
For those heading to Slovenia, don't miss this food tour through Ljubljana and a stay in magical Lake Bled.
Anyone else been to Postojna Cave? Were you as impressed as we were?