Riga lovers will tell you that the Latvian capital deserves far more than a day to properly explore the Old Town along with the city's off-the-beaten-path gems. If you're strapped for time however, a day is still worth the stop for medieval immersion in this colorful and architecturally artful slice of Riga. From Latvian cuisine and drinks with a view to Old Town highlights and historic immersion, you'll have a solid primer with even just a full day to explore. After a few days spent touring Latvia, here's a run down on how I'd spend a perfect day in Old Town Riga.
Breakfast at Rigensis
I'm not a big breakfast person, but starting my day with a cup of coffee is a must. Paired with a local treat – whether savory or sweet depends on the day – it's a perfect way to kick off a day of exploring while delving into the local café scene. We had breakfasts at a few spots during our trip but Rigensis was my favorite, with a range of baked goods (anything from cabbage-filled pastries to freshly baked cakes) to pair with your morning pick-me-up.
Visit Old Town Sights
… or set out on an Old Town tour. A UNESCO World Heritage Site, the Old Town of Riga is well-preserved with a number of historic sights that are worth exploring. If you're anything like us, your knowledge of Latvian history may be somewhat non-existent but the sites and museums in the Old Town will quickly remedy that issue. Head out with a map, ready to absorb and learn. The Old Town itself takes a couple of hours to walk around, but you'll want to hit a few key sites to make the most of your day.
The House of the Black Heads is a must see; it was one of my absolute favorite sites in the city, in part because of the architecture and aesthetic, and in part because the museum inside is incredibly well done. We had heard about the Brotherhood of the Blackheads during our time in Estonia (they were key in erecting the first Christmas tree in Tallinn's main square) but we didn't fundamentally understand what or who they were. This museum delves into their history; essentially a fraternity in the region where unwed men could convene to do business, network, and socialize. Pop in for the full history, and don't miss a snap with this stunning facade.
Other key sites in the city include St. Peter's Church, where you can buy a ticket to the tower (€9) which allows you sweeping views of the city below. Beware: in winter months it's frighteningly cold so bundle up! Other churches, like the Dome Church, dot the main city streets. Be aware of opening hours so you can time your visits accordingly.
If you're someone who prefers to be led around and fed information, try a free walking tour in Riga. Free tours that explore the Old Town's main sites leave from St. Peter's Church daily at 11AM and will give you some insight into the key landmarks that grace the city.
Lunch at St. Petrus Restaurant
If you're a value-seeker, you've come to the right city, especially as far as lunch is concerned. Many of Riga's restaurants offer options for a 'business lunch' during the weekdays and you'll be hard pressed to find a better value anywhere. As far as lunch was concerned, our favorite for meal, value, setting + service was St. Petrus Restaurant, where you'll glimpse stunning views of the Old Town with a two-course lunch option that's unbeatable. The two of us each had soup to start (the vegetable soup is great), an entrée + a side of our choice, and we split a dessert at the recommendation of our server. Add in a large bottle of water and a beer and our grand total was €34. Did I mention the food and setting were both exceptional?
Visit the Latvian War Museum
It's time to continue that primer on Latvian history, and the Latvian War Museum (Latvijas Kara Muzejs) is worth carving out a couple of hours to properly explore. It's a multi-story museum with the heart of the building centering around World War I, the war that was most impactful to Riga. The WWI section is incredibly well done in both Latvian and English, and will easily occupy an hour of your time. The first levels will give you a deeper primer dating back to the history of the Balts along with earlier wars that shaped the region. English booklets are available to help provide some insight into what you're seeing as other exhibits (not the WWI) are done exclusively in Latvian. History buffs or those with a particular interest in Latvian history will want to give this museum at least two hours to take it all in.
Wander the Streets of Old Town Riga
Riga's historic heart is on UNESCO's World Heritage list, and you'll be mesmerized with how well-preserved the Old Town is. The facades are straight out of a story book, brightly colored and smushed together like a Christmas village. Part of the charm is just wandering the old city and taking it all in so allow yourself time to do just that. Pop into handicrafts shops and Baltic amber stores to window shop and take in the vibe of the town.
Drinks at Skyline Bar at Radisson Blu
If you made it to the top of St. Peter's Church (above) then you'll have scored some pretty views of the city below. That being said, it's hard to beat the views at Skyline Bar, located on the 26th floor at the Radisson Blu. From one side you'll have unparalleled views of the Old Town, overlooking the gilded Orthodox church and the many spires that dot the landscape. Cross the  bar and you'll be facing the other side of town with lovely panoramic vistas of other parts of Riga. They have a great range of drinks and a happy hour that runs from 5 -7PM with €5 specials on beer, wine, and G&Ts.
Dinner at 3 Pavāru Restorāns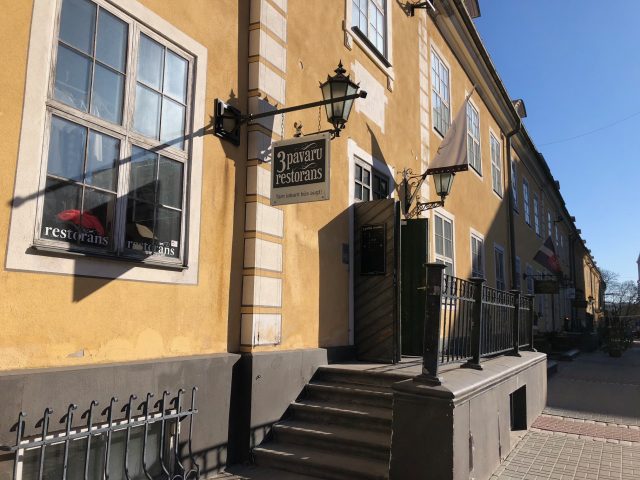 One thing that may pleasantly surprise you? The sheer number of great restaurants available in Riga. There's a range of cuisine available, but if you have just one day in Old Town Riga, focus on trying local flavors. We had Latvian cuisine each of our three nights to get a feel for different interpretations of local fare. Our standout from Latvia – and a stand out in general on a global scale – was 3 Pavāru Restorāns (translates to '3 Chefs' in English), a restaurant bringing a super innovative twist to local inputs.
Latvians will joke about their relatively anti-social demeanors, and to be totally honest, there's truth in that. The majority of locals we came across, even in service industries, weren't very engaging or overly friendly. Some tried – and it was obvious that they were making an effort – but many didn't give us more than a head nod or a brief answer. 3 Pavaru was the exception to that. The hospitality was outstanding, with incredibly outgoing and engaging service that challenged our whole idea of the straight-faced Latvian. Their wine list included one of my favorite ever wines (a red primitivo that's a must if you're there), and each course had something mind-blowingly innovative; so much so that it would be talked about even in a city like New York or London. The bread course, for example (pictured above), started our night off right. The 'placemats', which were pieces of parchment paper, turned into a canvas for the chef who brought over a range of sauces and painted the mats in front of us before bringing our bread out for dipping. The night ended on an equally high note: a dessert course made of onion sponge, black sesame ice cream, fermented garlic + white chocolate. Yes, DESSERT. Mind blown.
Overnight at the Grand Palace Hotel
Finally, it's time to head home, and I can't think of a better place than the Grand Palace Riga, one of the country's finest properties located in the heart of town. Part of the Schlossle Hotel Group, we've stayed at their sister properties in Tallinn (Hotel St. Petersbourg and Hotel Schlossle) and the Grand Palace didn't disappoint. Rooms are spacious with luxe touches, service is friendly, and Pils Bar and Restaurant is the perfect place for a pre-dinner drink or a nightcap.
---
I'll be sharing an itinerary outlining three days in Riga for those that have more time to spend in the area. No doubt, we enjoyed being able to explore slowly and unhurriedly but if you only have a day to spare – or you're coming off of a cruise in Latvia – one day is better than zero. Grab your camera and hit the ground running!
How would you spend your perfect day in Old Town Riga?