What to Consider + 10 Boutique All-Inclusives On My Wish List
For travelers in search of a unique experience, the idea of an all-inclusive resort generally doesn't hit the radar screen. There's a sense that all-inclusive properties provide cookie-cutter experiences to the masses, while doling out mediocre cuisine and a packaged experience to a captive audience. I say that largely because that's how I've always perceived these properties personally. It's taken me a long time to wrap my mind around what's captivating about all-inclusives and my aha moment has been a long, slow period of experiencing a few boutique all-inclusive hotels myself. Here's the crux of the matter: all-inclusive resorts are not all created equal. Just like any hotel experience, there's a massive range in what you can expect, and there may be instances where an all-inclusive experience makes sense. Below I'm sharing some thoughts on all-inclusive properties, what to take into consideration, and how to evaluate value. Plus, 10 boutique all-inclusive resorts on my wish list.
Consider Your Motivation
1By motivation, I mean, what's the objective of your trip? Is this an adventure trip, a cultural immersion foray or a beach getaway where you want to set up to totally unwind? If you're on the hunt to find a place to just let go, all-inclusive options may be more captivating because they're designed to take decision-making out of your vacation. As I mentioned above, one of the most difficult realities when choosing an all-inclusive option is that it's a bit of a commitment. You're choosing to spend your vacation tied primarily to one place. If it's a beach getaway for example, you'll be spending most of your time at the hotel's beach, pool, and spa, and dining almost exclusively on site. You'll want to make sure that you've done enough research to understand the vibe and offerings, and that you're ready to embrace your new surroundings fully for your getaway. If you're looking for cultural immersion, you'll be looking for properties that are activity intensive with excursions and sightseeing opportunities that enhance your stay.
Consider the Destination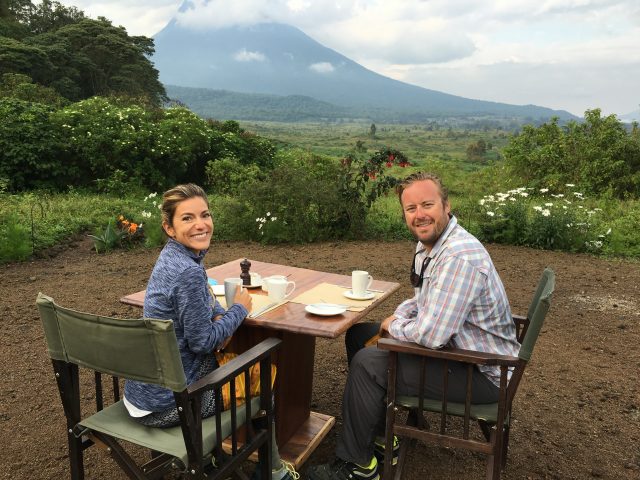 2This is a big one, and arguably the deciding factor for me. Destination will play a big role in deciding whether or not an all-inclusive experience makes sense. For example, safari camps (like the ones we experienced in the Democratic Republic of Congo, Kenya, and Uganda) are all-inclusive experiences because of their remote locales. A safari camp may sound like the extreme but the same is true with other off-the-beaten path destinations where an outside food and beverage scene doesn't really exist (you'll see similar options in desert locales like Oman and the UAE). If you're visiting a destination that necessitates staying on site for your meals and experiences, an all-inclusive is the obvious choice if not essentially required in the booking process.
Some rather remote island destinations create a similar need. There are plenty of resorts that occupy an island themselves so the reality is that enjoying all of your meals on site is part of the private island experience. Choose wisely because this is your home. If you're going to be extremely isolated, it's probably worth splurging on a place that will provide the options that you need to make your stay comfortable and exciting, not lackluster and monotonous.
Then there's a matter of a destination that perhaps doesn't feel safe enough to explore independently. If you're choosing a destination that falls into this category, my assumption is that you're part of small groups that assist in exploring beyond the property (to be totally honest, I don't get why you'd choose to visit a destination where you didn't feel safe or excited enough to explore beyond a hotel – that's the all-inclusive bit I don't totally understand). In this case, having a comfortable home base may make sense. Some properties offer half board options as well, so you can choose to enjoy some meals off property during your getaway.
Consider the Hotel Size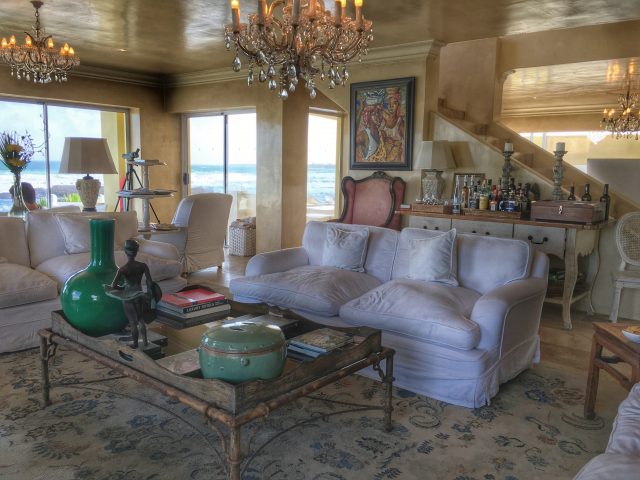 3We tend to think of all-inclusives as these large corporate operations (e.g. Sandals, Couples, etc.) but there are independent all-inclusive resorts that blend the beauty of a boutique hotel with the offerings of an all-inclusive property. The all-inclusive properties that I've experienced have all been small-scale and have all challenged my idea of what an all-inclusive hotel can be. Birkenhead House in Hermanus, for example, quickly skyrocketed to our favorite hotel on the planet. It's an all-inclusive done to the nines with just 11 rooms and no expenses spared. The team there addresses you by name immediately, there are cool craft cocktails, a range of South African wines, and Michelin-star quality meals, plus a cool experiential component for those wanting to delve into South Africa's coastal region. There was a palpable sense of community, and at the end we felt that our offerings at the hotel were higher quality than we'd get beyond its boundaries.
On my girls recent trip to Hermitage Bay, we had that same sense of five-star quality. With thirty suites on site and a focus on high quality food, it felt easy in a zenned out vacation way. We seamlessly moved from beach to lunch to pool deck without having to give anything too much thought.
Consider Your Travel Companions
4Are you off on a romantic escape? A girls/guys trip? A family vacation? A family reunion/group getaway? The 'who' of your getaway is an important element and it ties in hugely with the idea of budget which I've included below. There are times where the idea of an all-inclusive is just easy, plain and simple, especially where groups are concerned. It may not be the least expensive option from the outset but when it gets down to the nitty-gritty with meals out, cocktail hours, activities, etc., the idea of splitting bills may end up being more stressful than fun. Having an all-in price at the beginning takes some of the guess work out of it, and allows people to budget a bit more accurately from the get-go. When non-accommodation expenses are up in the air in a group setting, it can be difficult to ensure everyone's on the same page with spending and what they've determined for personal budget. On a recent girls trip to Antigua, we better understood the pros and cons of the all-inclusive offering. While our stay at COCOS Hotel offered lackluster cuisine (definitely a con and reason why delving deep in your research is important), we did find the idea of never having to pull out a credit card pretty refreshing. When it's just my husband and I on a trip, the conversation is a bit different. We know the budget we're working with and we're okay with making those decisions on where to dine, when to splurge and when not to (and we can have that conversation candidly).
Consider the Food & Beverage Scene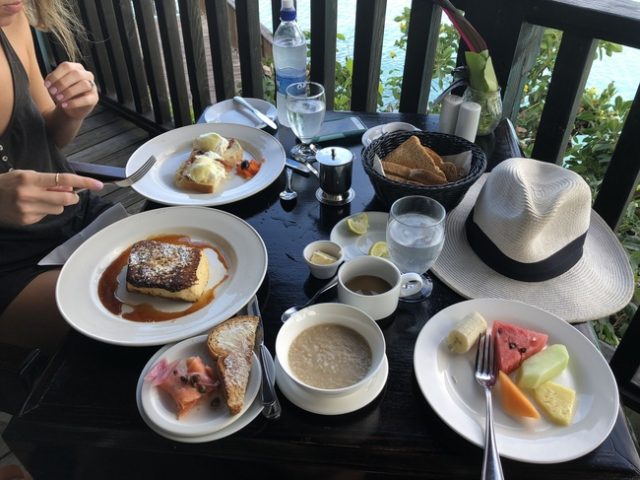 5I started this entire post with the premise that not all-inclusive hotels are created equal. If you're a foodie, even in the slightest, the food and beverage element is an extremely important component to consider, and my recent trip to Antigua was the prime example. We were fortunate to experience two hotels during our stay, one three-star property and a five-star property. Yes, the price points on these were quite different (not negligible) but again, when you're considering that this resort is your home for your time away, having good food and drink options can be an important factor.
If we had been at a normal hotel with the choice of eating out for each meal, it would have been a non-issue. We would have simply gone off site and eaten at other places for lunch and dinner (which we were tempted to do still). In reality, half of our room cost was dedicated to food and drinks so we felt bad 'wasting' that hefty expense. Now, I promise you that I'm a pretty easy-going traveler and we totally went with the food flow (think bagged French fries and vegetarian burgers out of a box) but were down right disappointed in most of our dining there. When I asked the bartender for a Kir Royal, I had to explain what it was… plus they had to look up the recipe for a margarita. ?
By contrast, Hermitage Bay brought out the big guns on dining. We enjoyed pre-dinner drinks with handcrafted cocktails paired with perfect little hors d'oeuvres. The menu changed regularly with fresh inputs and a focus on creative cuisine. But let's set the five-star experiences aside because with five-star prices the expectation of greatness is there. We also had great meals during our time at camps in East Africa, from Kasenyi Safari Camp in Uganda to the string of camps we were able to enjoy in the DRC. Our morning at Bukima Tented Camp in Virunga National Park wasn't fancy but it was local, it was fresh and they went out of their way to make it great (think fresh fruit, French toast to order and a table for two in the forest).
Consider Your Budget and Understand the Value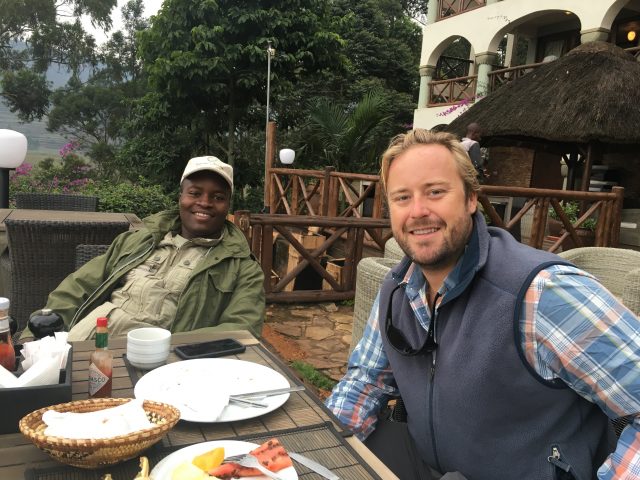 6Obviously one of the most critical factors for most of us: budget. Generally, if you want great quality you're going to pay for it, but it's worth bearing in mind what your initial expense includes. Be realistic with your budget from the get-go. What would you typically allocate for breakfast, lunch, and dinner? What would you spend on pre-dinner drinks or a nightcap? Are there any activities included in your rate? What would you normally dedicate to those if you were paying for them independently? To really evaluate the value, it's important to drill down and understand what's included and how much that's worth to you. Does your beach hotel also include free water sports? Or does the cost of a desert camp include a unique experiential opportunity? Those things can equate to major value if they're something you're interested in any way. Flexibility in choosing your destination may be an important factor, too. If your budget doesn't allow a particular getaway, consider your alternatives. There are often many lesser known and up-and-coming gems that offer great value for money if you're willing to explore.
10 Boutique All-Inclusive Hotels on My Wish List
The one thing I know about my personal preference in choosing an all-inclusive: it must be boutique. That personalization and small-scale experience is something that I prefer, and having an experiential component really ups the ante for me. These ten boutique all-inclusive hotels are on my wish list:
Spice Island Beach Resort
?Grenada, West Indies
1If we were to limit this conversation to Caribbean hotels, Spice Island Beach Resort may very well top my list of places to stay. It has the whole boutique luxury element dialed, plus with local fare and yoga, it's currently one of my number one Caribbean dream destinations. Plus, Grenada is a destination on the rise, which means it's a must sooner rather than later.
Twin Farms Resort
?Vermont, USA
2As a California girl, there's something about New England that always draws me in. The region has a sub-culture all its own and there's something about a luxury farm stay that never fails to captivate the imagination. Enter Twin Farms, set on 300 acres in Barnard, Vermont, where activities include everything from super active (think cross-country skiing, ice skating and cycling) to the more laid back (croquet, fly fishing, and picnicking).  Plus, with a menu focused on the seasonal and locally grown, it's a win on all fronts.
Explora – Patagonia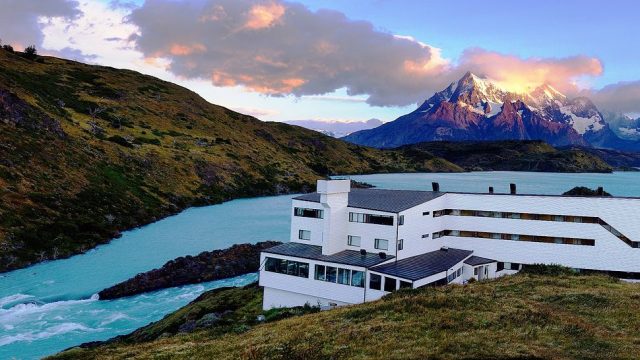 ? Torres del Paine, Chile
3I can't quite convince my husband to do the W Trek on a camping excursion in Patagonia, but I think Explora would tick all the boxes for an escape to Southern Chile. Set in Torres del Paine National Park, guests can trek or horseback ride through the iconic landscape with plush accommodations to return to after days of exploring.
&Beyond Sossusvlei Desert Lodge
? Namib Desert, Namibia
4Namibia and Botswana are both on my Africa short list, and when it comes to choosing a camp in either country visitors are spoiled for choice. Set within the landscape of the Namib Desert, &Beyond's Sossusvlei Desert Lodge covers any safari lover's dream setup: dune dining, nature drives, stargazing with an astronomer, hot air ballooning and once-in-a-lifetime excursions.
Peter Island
?Peter Island, British Virgin Islands
5I wasn't shy about sharing my love for the British Virgin Islands during our BVI island hopping adventure with my family in 2017. We absolutely adored our time scooting from one island to the next in this gorgeous archipelago and having the time to get a feel for each island and its distinct vibe. Peter Island topped the charts on the beach front, and their resort was one that I swore I'd return to one day. It's a Caribbean getaway with all of the right elements in place for the ultimate in laid back luxury. *Peter Island is closed for repairs following Hurricanes Irma and Maria – sending best wishes their way for a swift recovery!
Blackberry Farm
?Tennessee, USA 
6Alright, so you get that I'm kind of jonesing for a US farm escape? Set in the Great Smoky Mountains, Blackberry Farm embodies the beauty of elevated simplicity. I dare you to take a peek at their site and not dream of booking immediately. Ranked as one of the US' best resorts, it's a haven for escaping into a slower pace of life, complete with exceptional farm-to-table cuisine, and activities like archery, horseback riding, fly fishing, shooting, culinary experiences, and options for health and wellness.
Jade Mountain
?St. Lucia, Caribbean
7Jade Mountain continues to make my list year after year. St. Lucia is an island that's markedly different from our home island of Anguilla with its dramatic mountains and lush landscape. At Jade Mountain, it's all about the views of the Pitons, with stunning accommodations that celebrate its location. With rooms referred to as 'sanctuaries', it's a romantic escape that always tops lists as one of the Caribbean's finest. Jade Mountain isn't necessarily all inclusive but pricing skews towards including meals in your package.
The Brando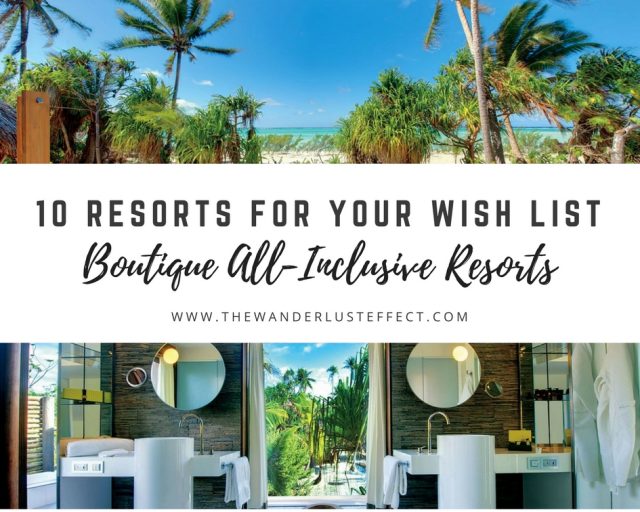 ?Tetiaroa, French Polynesia
8Set a hop away from Tahiti, Tetiaroa is home to The Brando, a resort that became the domain of jetsetter fantasies as soon as it was conceived (being real, the rates will keep it a fantasy for me pretty much forever). There are guided marine tours, snorkeling, paddle boarding and sailing on offer, but the resort also celebrates Polynesian culture with a library and cultural center and an environmental research center with programs for guests.
Al Maha Desert Camp
?Dubai, United Arab Emirates
9THIS PLACE. I can't get enough! Scott and I are planning our grand adventure for 2018 and we thought about including a week in the UAE or Oman purely for a desert camp experience. Ever since discovering Al Maha Resort & Spa years back, I've been utterly enchanted with the Arabian nights vibe. With luxury tents and activities like falconry, camel rides and horse back riding, it seems worlds away from the buzzy glitz of Dubai.
Four Seasons Golden Triangle Tented Camp
?Golden Triangle, Thailand
10That grand adventure I mentioned above? We've set our sights on Southeast Asia  to bring something entirely different this season. Within our mix of destinations and highlights is the Golden Triangle, the border area that connects Thailand, Myanmar and Laos. We've been captivated by Four Seasons' and Anantara's offerings for delving into the region with its wildlife component and opportunities for cultural immersion in Northern Thailand. The biggest draw is the elephant rehabilitation experience, but Four Seasons also includes tour options for exploring Chiang Rai, craft markets, tea plantations and more.
I swear my dream destinations list just keeps getting longer…. anyone else have that problem?
---
Your turn to share some inspo! Have you ever stayed at an all-inclusive hotel that knocked it out of the park?