A day exploring Sigulda, Cēsis + Turaida Castles
For real though, who doesn't love exploring a castle? Whether they're renovated masterpieces or castle ruins, there's something rather magical about wandering through the fortified spaces, being able to visualize the same environment centuries ago. If we played a game of word association with a geographical twist and I said the world 'castle', I can almost guarantee that the first word that destination that would come to your mind would not be Latvia. England, yes. Scotland, yes. Ireland, yes. Latvia? Probably not.
Yet tucked into northern Latvia there are a number of castles that still exist, each providing an anchor to the given towns that dot the region. I set off on a road trip with Sixt Estonia to explore Latvia, down to Riga, and then back up on a castle hopping expedition to take in a lesser-visited sites of Latvia on our way back to Tallinn. For those looking for a day trip from Riga to take in a real off-the-beaten-path experience, here's our experience exploring castles in Northern Latvia:
Sigulda Castle
First and foremost, when it comes to exploring sites that are scattered about like these, rent a car. We're always fans of mini road trips for added flexibility and autonomy, and fortunately Scott's always happy to drive internationally (side bar: always get the GPS to prevent marital rifts). Being confined to the boundaries of a guided group experience is a bit anxiety inducing for me, so we loved the freedom of going at our own pace. Our first stop: Sigulda Castle. Built in 1207, what remains today are ruins of the castle, but history lovers may still want to venture in (entry fee is €2 per person) to explore what remains. The castle ruins themselves won't take much time to explore, but are a good add-on to visiting nearby Turaida Castle, which is in a much better state.
Like all of the towns I'll share here, there's far more to do than just visiting the castle ruins (check out Sally's post from Passport & Plates for more on Sigulda), and the ticket agent will provide you a map of the town, which includes the castle at the center along with churches, a creative quarter, a main square, and outdoor adventure activities. Baltic winters can be frigid and even as spring melts off the winter snow, temps remain rather low. Summer gives way to more options for the adventure-inclined so you'll want to plan travel accordingly if spending time outside is a priority.
Turaida Castle
Set just a couple of miles from Sigulda castle is Turaida Castle, the more formidable and restored of the two. The castle is part of the Turaida Museum Reserve, a protected cultural monument that includes the castle structure, the church and church hill, and a number of exhibitions in converted buildings (click here for an English map). If you're pressed for time, the main castle structure is one of the main draws, but you could easily allocate hours to uncover all of the buildings and history that lives in this area.
With a drive to Tallinn in our future, we were short on time and didn't have time to really delve into everything on offer in the complex, which was a shame. During our visit in early spring, it was quiet on the estate but it's clear that summer would bring more tourists to the region. This is Latvia though, so – luckily for you – you're not going to be fighting crowds like you'll find at more famed British castle estates. It's worth noting that the complex opens to visitors at 10AM. If you're like us and are looking to hit the ground running early, be aware of timing here – anything too early won't be terribly fruitful as we discovered. Entry for adults is €3 in the winter and €5 in summer.
Cēsis Castle
Our main event for the drive back to Tallinn was Cēsis Castle. Scott and I each discovered the town of Cēsis and its impressive castle independently and knew we had to work it into the trip. As with the other spots, perhaps even moreso here, allow yourself sufficient time – maybe even a half day – to uncover the castle complex along with the charm of Cēsis itself.
Cēsis was the highlight of our day, as we knew it would be, and the town deserved more time than we were able to carve out for it. Walking through Cēsis feels like a real castle experience, with hidden pathways, dimly lit passages, and towers with incredible views. Upon entry, you'll be equipped with a lantern and set off on your way to explore. If your day is anything like ours, you may very well be exploring independently with virtually no one else in sight. I mean, where else can you have a stunning castle complex to yourself?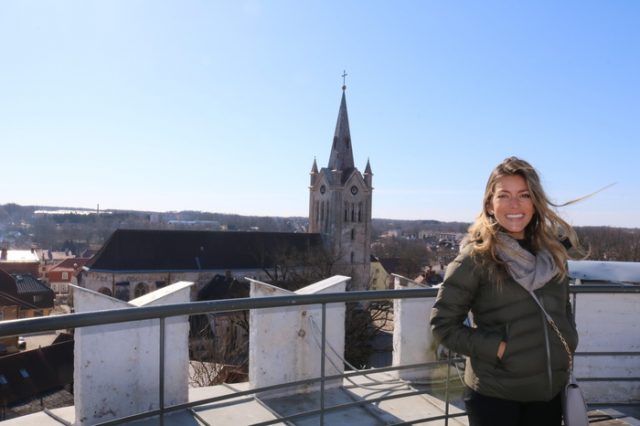 Where we really fell short on time was at the castle exhibition and the town of Cēsis itself. We spent the majority of our allocated time exploring the castle grounds (no shame in that) so didn't get to really take in the museum that's associated with it. There's a huge amount to discover if time permits, and the tower (accessed in the exhibition space) is a must if you're able to climb the stairs to the top. From the terrace at the peak, you'll have gorgeous views of the complex and the church. For more information on the area and what you can see with enough time, pop over to read about David Johnston's experience in on the Cēsis tourism site.
In case you missed it, check out my perfect day in Old Town Riga, a stunning city in the Baltics worth a weekend!
Anyone else have off-the-beaten-path gems in the Baltics that wowed you?