Snapshots + Reviews from 15 Restaurants in the Estonian Capital
Tallinn surprised us in a host of ways, from an impressive, beautifully preserved Old Town and a spectacular range of five-star properties, to incredibly friendly locals (many of whom speak perfect English) and an impressively progressive and digitized society. It shouldn't come as any surprise that dining in Tallinn impresses in equal measure. Estonian cuisine is defined by its history; much of the local fare reflects a confluence of Russian, German, and Nordic cuisines mashed together with a sprinkle of elements that are distinctly Estonian. Estonian black bread ('leib' in Estonian) can't be beat – the Latvian and Finnish versions didn't compare, in my opinion – and is a staple at every meal. Each restaurant will serve up its own incarnation of black bread with its own twist to start the evening. Even those eschewing carbs will have a hard time turning down the ever-present starter.
Nouveau Estonian cuisine is seeing innovative chefs taking the staples of the Estonian food culture and elevating it in a lovely way, focusing on the season and locally sourced (think mushrooms, berries, kale, plus game meats and seafood). Beyond Estonian, dining in Tallinn includes a fair bit of Russian influence as well, owing to their proximity, the former Soviet connection, and the large number of Russians still living in Estonia today. International cuisine is available and seems to be an ever-growing area, including in areas like Telliskivi, Tallinn's 'Creative City' where you'll find taco trucks, Mexican restaurants, and quirky cafes. Let's put it this way: when it comes to dining in Tallinn, no one's going hungry.
Leib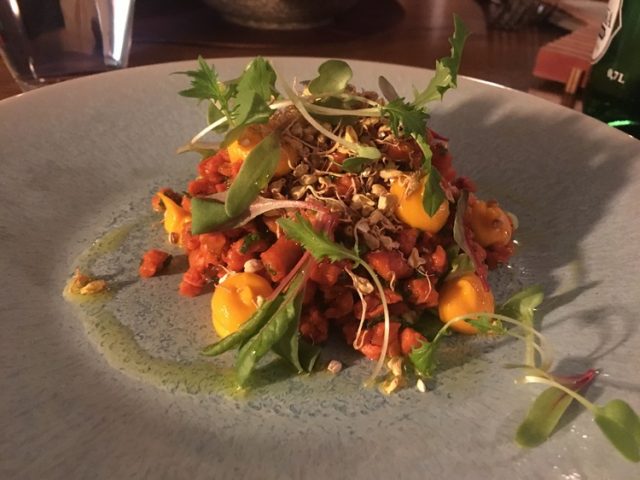 1Leib was the one restaurant that we had on our repeat list. After visiting Tallinn for Christmas in December, it was such a standout that we chose to visit again during our recent return trip to Estonia. It was their vegetarian options that I adored on the first go around that kept me going back for more: a carrot tartare that'll have you wondering how on earth they've done it, plus a great squash entrée that seems to celebrate all things earthy and Estonian. Their staff is wonderful about assisting with pairings of local beers or wines so don't be shy!
NOA
2The setting at NOA is breathtaking. Take away the exceptional food and you'd still have a restaurant that captures people's interest. Add in the fact that NOA is putting out some of the city's best cuisine, and it's a hot spot for visitors and locals alike for a special evening out. Set about 15 minutes from Tallinn's Old Town, expect to drive (or Uber, which we did, which set us back $14 there and $7 going back) but the journey is rewarded with lovely views of the Old Town in the distance, plus sunset hues during the evening hours. For those wanting a more fine-dining slant, NOA Chef's Hall is in the same building with its own space serving up a tasting menu. For those with dietary restrictions, let their team know in advance and they can accommodate with a custom tasting offering.
Rataskaevu 16 + Vaike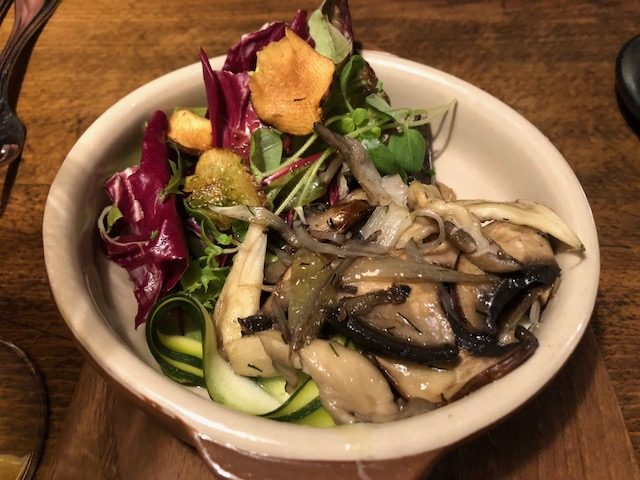 3Consistently ranked as one of Tallinn's top dining experiences, we were surprised when we couldn't walk in to Rataskaevu 16 for lunch during our visit in December. We knew that we'd need to make reservations on our recent trip to Tallinn so finally had the opportunity to try it for dinner this spring. The food is solid, with played up Estonian fare like mushrooms, goat cheese, earthy greens and game meats, but it's the service that clearly makes this place a fan favorite. The same menu is served at their sister restaurant, Vaike (below), if you're unable to get into the original establishment. The eel soup and the mushroom starter were standouts!
Vaike is Rataskaevu 16's sister restaurant and it shares the same menu. Like, the exact same menu. So if Rataskaevu 16 is a no-go, you can pop over to Vaike just around the corner and enjoy similar fare. We visited on our first trip to Tallinn (when we couldn't get into R 16 for lunch) and loved it. I didn't feel like we compromised on food, service or experience by going to Vaike instead of Rataskaevu 16. We shared two starters and an entrée for lunch, and everything was great and exceptionally reasonably priced. The lunch and dinner menus are the same, so it's worth considering going for lunch if you can't squeeze in a dinner.
Babulja
4Oh my gosh, you guys, Babulja is kind of one of my secret favorite places in Tallinn. It's a super casual Russian tea house/cafe concept open for lunch and dinner. The menu includes a range of Russian fare but blinis are the stars here, with options for savory or sweet varieties. These aren't your traditional Russian blinis; these are super thick and doughy, like nothing I've ever had before, with a choice of sourdough or buckwheat. Babulja was the only restaurant we went to twice during our stay because I needed more blini in my life (my recent blini/caviar obsession borderlines on the unhealthy). I steer clear of meat but the salmon was the rock star of the bunch to me; a thick sourdough blini loaded with chunks of salmon + slices of salmon and a dash of roe. For under €10 per person, it was a great value option and one of my favorite bites of the trip.
Tchaikovsky
5If you're looking for upscale dining in a posh setting, Tchaikovsky nails the uber-fancy Russian experience. Everything feels opulent in the evenings; the dark walls, the gilded frames, the formal service, and fine dining setting. It's the kind of place where you feel inclined to order a martini or a glass of champagne to wholly embrace the vibe. Start with the blinis + your choice of caviar or roe – it pairs perfectly with that bubbly or vodka – then move on to the perfectly presented Russian fare. Before my time in the Baltics, I hadn't really had proper Russian cuisine at a restaurant so Tchaikovsky helped indoctrinate me in the best way possible.
Finlandia Caviar
6Remember my recent caviar obsession that I mentioned above? Yeah… well, it's not something that makes a regular appearance in my life because I'd never forgive myself for spending a small fortune on a few decadent bites. That being said, you can enjoy a dose of luxe dining for a decent value in Tallinn at Finlandia Caviar (there's a sister property in Helsinki which we also visited). We've tried a variety of options here, but my favorite for a first-timer to the bar is their caviar tasting. For €75, you'll get a tasting of four different caviars (10g each) including the prized Kaluga variety. Served up with truffle toast and typical accoutrements, it's perfect for two and can be paired with champagne or vodka, both of which the team can assist with.
Farm
7I wanted to love FARM, but Scott enjoyed it far more than I did. The setting is cozy and romantic, with a focus on modern Estonian cuisine. Of all the menus we scoured before our first trip, it was the one that was I was most intrigued with off the bat and was the first reservation we were sure to secure in advance. The menu celebrates all things local: regionally sourced deer, beef and duck, along with cod, pike perch and earthy inputs like kale, mushrooms and buckwheat. I paired my dinner with a local Estonian wine which was made of berries (not of grapes). Suffice it to say that while it was interesting and unique, there's a reason that Estonia isn't known for their wine. All in all, I found the food – at least my selections – to be good, but not great. Scott would disagree with that sentiment, and loved his duck order at FARM. Perhaps carnivores will have better luck than the non-meat eating bunch?
CRU
8Tallinn has quite a few notable restaurants and CRU definitely falls into that category. It provides a more upscale slant, and while you'll notice pricing is only slightly above the average in Tallinn, you'll also see that portions are a fair bit smaller than what you'll typically find in the city. The standout from the entire night was their leib, their take on the classic Estonian black bread, which is served like a mini cake. No question in my mind, the best black bread of our trip. I'd say the dinner started on a high note with that, continued fairly high with our appetizers, and then left us a bit unfulfilled from our entreés. The quality of the food itself was great but the portion sizes were a bit off. My grilled avocado entrée (I mean, how do I not order that?!) was a half of a small avocado with some pizzazz. For the hungrier of the bunch, it's worth being aware – a starter is key if you don't want to leave hungry.
Tabac
9I was seriously kicking myself that we didn't discover Tabac earlier in our trip. Tabac was our final meal in Tallinn and we only discovered it during our last few days in the city thanks to the team at Three Sisters, who raved about the setting and cocktails. It's easy to assume that Tabac is a cocktail bar because they're mixing up a mean drink (plus their cocktail list is quite literally a book) but this brasserie is about so much more than just libations. They've nailed the French brasserie feel and clearly take pride in the food they're putting out, as well. Service was spot on, and the vibe was one of my favorites (great buzzy atmosphere). Of all the dining establishments we visited in Tallinn, it's arguably the spot I'd feel most comfortable recommending to anyone since it can easily cater to all travel styles and vibes.
F-Hoone
10Set in Telliskivi, Tallinn's Creative City, F-Hoone captures the spirit of this up and coming part of Tallinn. It's hipster central, and the place is jam-packed with diners at all hours of morning into mid-day. The menu is wonderful, with plenty of veg options (naturally), plus great craft beers and specialty coffees. There's everything from pelmeni to ramen to tofu & avocado tartare (my order), and everything we had was perfect. Add in the fact that it's incredibly reasonably priced (most entreés are sub-€8) and it's a winner. Reservations are accepted in advance, otherwise be prepared to linger at the bar while waiting for a table.
Kaerajaan
11Set in Raekoja plats, Tallinn's main square, it's easy to assume that all of the dining is tourist-focused and sub-par. Generally speaking, that may be true, but Kaerajaan fights that stigma with some great local offerings. We visited the restaurant during our food tour in Tallinn and I was impressed enough to want to go back again! Looking out over the plaza, it's a prime location to watch the Christmas tree glittering during the holidays or watch events unfold in the main square. We noshed on appetizers one evening, and lunch on a separate occasion and enjoyed both. If you're looking for a little pre-dinner stop, you can pop in for a Kir Tallinn (like a Kir Royale but using Estonian produced Vana Tallinn in lieu of créme de cassis) paired with an appetizer.
Vegan Restaurant V
12Situated right across the street from Hotel St. Petersbourg on Rataskaevu Street (just down from Rataskaevu 16), Vegan Restaurant V piqued my interest off the bat. I'm a pescetarian but I'd be totally plant-based in a perfect world and am a sucker for a good vegetarian restaurant. Vegan Restaurant V is very close to perfection for me. Serving up items like seitan tacos and black bread crusted tofu, there are a heap of items that I'd happily order for lunch or dinner any given day. There are also vegan desserts and coffees available for a quick sweet treat if you're so inclined. The food was good enough to wow my carnivorous husband so it's a success in my mind!
Bordoo
13There's a major stigma attached to hotel restaurants, and we had that very conversation with the staff at Bordoo. Located at Three Sisters hotel, it's easy to dismiss the restaurant as a mandatory hotel add-on, but it's so much more than that. Truth be told, it was probably our best dining experience in Estonia. It's a bit on the quiet side (I prefer something a bit buzzier), but that reflects the fine-dining slant of the restaurant. Everything we had here, from the amuse bouche and my starter (the 'mosaic' featured here) to the complimentary macarons as our grand finale was perfection. The service was equally great; fun and engaging, and not stuffy in the slightest. There's no doubt, Bordoo is gourmet. With tiny details and perfect presentation in every course, you'd expect the price points to be higher than they are. Appetizers are in the €8 – 13 range, and entrees are mostly in the €20s, plus portion sizes are substantial. For a fine dining experience, we thought the food was hard to beat!
Tai Boh
14Set just outside the borders of the Old Town, Tai Boh seems to be the place for in-the-know diners looking for Asian cuisine. The place is eclectic, vibrant, and incredibly atmospheric, and even on a weeknight it was crowded with a mix of couples and groups. Asian fare may not be top of mind when it comes to dining in Tallinn but Tai Boh is knocking it out of the park with Thai specialties like pad thai, and with sushi platters that are incredibly generous and super fresh. For cocktail lovers, their bartenders are whipping up fun cocktails with inputs like sake, lychee, lemongrass and yuzu. The place gets busy during prime time – reservations are useful.
Stenhus
15Located at Hotel Schlossle, Stenhus, which translates to 'stone house', is an upscale restaurant located downstairs from the hotel in what's best described as a 'cave'. The setting is romantic and cozy with little tucked away corners perfect for dinner a deux. Our food was very good and the menu is incredibly creative and inspired, taking a cue from art in both the food monikers and the presentation. That being said, food-wise it didn't quite stand up to the competition of Bordoo, which was available at a similar price point.
Up for a Drink?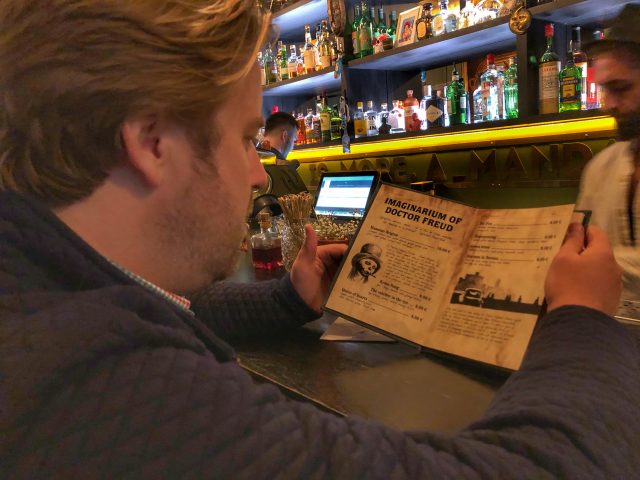 In addition to dining, there's a cool craft beer scene in Estonia and some cool cocktail bars that are setting the bar (no pun intended) in the region. If you're a beer drinker, don't miss Hell Hunt, where you can order one of the beers produced by their brewery or order one of many local craft beers. For cocktail lovers, Sigmuend Freud is a must. We discovered this far too late in our trip sadly, but their cocktail list – the content and the aesthetic – is enough to draw you in; the setting is perfect for post-dinner (though we went twice before dinner), and their mixologists are top-notch. If you needed more convincing, they were recently awarded for best cocktail list in Eastern Europe.
---
The other element of course worth mentioning is that the Baltics prove to be a great value, and that's true when it comes to dining in Tallinn as well. At a café like Babulja (café is 'kohvik' in Estonian, which you'll see on these more casual establishments), you'll easily find options for €5 – 12. Even at the highest end of the spectrum with fine dining like Bordoo and Tchaikovsky, entrées stay within the €20s generally; not inexpensive, but a great value considering the quality of food, the overall dining experience, and settings. Most places fall somewhere in the middle – a couple can generally dine with appetizers, entrées, and a glass of wine each for around €60.
Any other favorites to add to this list or places we should check out on our next visit to Estonia?