Exploring Tallinn's Luxury Hotel Scene
Tallinn's hotel scene may surprise you.
Scratch that. Tallinn in general may surprise you. For those that don't know a great deal about the tiny nation nestled between Russia, Latvia, and the Baltic Sea, the thought of an incredible dining scene and luxe accommodations may not initially spring to mind. Tallinn is full of surprises, though, and its hotel scene is no different. There are a number of fabulous hotels, B&Bs, and hostels to call home during a stay in the city, and for the luxury inclined, you'll be thrilled to know there are a handful of five-star options that not only deliver, but deliver at a great value.
Over the course of about three total weeks in Northern Estonia, we checked out some of the country's most iconic properties, from a stunning Relais & Chateaux property with world-class dining to a quirky countryside escape set just outside of Tallinn. Check out highlights from Hotel Schlössle, Hotel Telegraaf, Hotel St. Petersbourg, Three Sisters Hotel, and our countryside escape to Kau Manor.  
Hotel Schlössle  | Classic, Cozy Luxury
During our first brush with Tallinn in December, we opted to stay at Hotel Schlössle after a great deal of research. We had it narrowed down to three main properties but the boutique charm and location of Schlössle had me captivated from the get-go. This hotel is actually part of the Schlössle Hotel Group, which includes Hotel St. Petersbourg (highlighted below) along with the Grand Palace Hotel in Riga, Latvia. All bring five-star quality with different vibes. At Hotel Schlössle, the setting exudes upscale rustic and cozy, with a fireplace burning in the lobby and warm, wood beams inside.
The location is ideal, right in the heart of town, a quick walk from Raekoja plats, the main square in Tallinn. We stayed in a standard room during our stay, which suited our needs perfectly. More often than not, we're gunning for a great location plus good common spaces and amenities. In Estonia, sauna culture is alive and well and Hotel Schlössle embraces that with a sauna available on site for guests. With proper notice, you can secure an hour for private use, which includes access to the traditional Finnish sauna, plus showers to cool off after roasting. An hour is excessive, but we gladly bounced between sizzling sauna and cold shower for about a half hour before starting our day.
Breakfast and dinner are served at Stenhus, the property's on-site restaurant that's situated underground in what's best described as a cave (Stenhus translates to 'stone house'). It has all kinds of character and a generous breakfast spread to start your day, included in your stay depending on the package booked. Dinner is lovely as well, though Tallinn's dining scene brings heavy-hitting competition.
STAY: Hotel Schlössle, Pühavaimu 13/15, 10123 Tallinn, Estonia
Room rates begin at €191 per night
Hotel Telegraaf | The Traditional Five-Star
Formerly the Telegraaf House and home to the city's post office and telegraph services, Hotel Telegraaf brings far more character and spirit than what you'd expect from a traditional upscale business-friendly hotel. An Autograph Collection hotel bringing 5-star quality to Tallinn's hotel scene, Marriott and SPG points collectors will be hard pressed to go elsewhere for the value and experience you're able to have here. We stayed at Hotel Telegraaf for five nights using points, which fellow points fanatics will know means we effectively received one night free (when you use Marriott or SPG points on a five night stay, you only pay for 4 nights). Gold members also have the benefit of opting for breakfast or points during check in. Hot tip: choose the breakfast! Located at on-site Tchaikovsky Restaurant, it's a luxe experience in a stunning space with one of the city's best breakfast spreads.
For those looking for a larger property, Hotel Telegraaf absolutely ticks all of the boxes. With 83 rooms including a few suites, it's a large enough property provide lots of luxurious amenities, including a fabulous restaurant and an on-site Elemis Spa, without feeling too large or corporate. We stayed in a junior suite, which provided us with plenty of space, including a small lounge area and a desk. The location is arguably the best out of all of the hotels in Tallinn that we stayed at; just around the corner from Hotel Schlössle, facing St. Catherine's Passage and Masters' Courtyard, two of the cities prettiest passageways for a perfect photo op.
Let's go back to the breakfast for a moment though because it was one of my daily highlights. I always say I'm not much of a breakfast person but our breakfasts in Estonia were working hard to challenge that assessment. We dined at Tchaikovsky for dinner during our stay in December (lovely choice for an upscale Russian dining experience), and enjoying breakfast in the atrium is a fabulous way to start the day, with morning light streaming in to illuminate the space. The spread was extremely generous: fresh salmon, cheeses and meats; fresh-cut fruit; sparkling water plus sparking wine on request; eggs and veggies; porridge and accoutrements; plus hot items available for order (their benedicts looked exceptional). I was too caught up in having my daily dose of salmon to try anything off the hot menu, but suffice it to say that Telegraaf's breakfast spread will make you a lover of the morning meal.
…suffice it to say that Telegraaf's breakfast spread will make you a lover of the morning meal.
STAY: Hotel Telegraaf, Vene 9, 10123 Tallinn, Estonia
Room rates begin at €140 per night; also available using Marriott points
Three Sisters Hotel | History Meets Luxury

During our first visit to Tallinn, Scott was adamant than we should stay at Three Sisters, a Relais & Chateaux property located in a historic 14th century building. We debated and ultimately end up staying at Hotel Schlössle that first time around. During our most recent stay in the city, we knew we had to give Three Sisters a whirl to check it out first hand.
Our first experience at the hotel was actually dinner at Bordoo, their on-site restaurant that's effectively crushing the stigma of what a hotel restaurant is. Arguably our best all around dining experience in Tallinn, every aspect of our meal from the amuse bouche to the macaron grand finale was superb, made better by the service (exceptional service was a common theme here, as we'd come to find out).
The three buildings are smushed together with facades in slightly varying shades of daisy yellow. A historic site in Tallinn and the city's most famous merchants houses, the property dates back to 1362 though it became a hotel more recently in 2005. In true Relais & Chateaux fashion, the property flourishes with little luxe touches. As someone in the hotel industry, I always comment that when you're dealing with luxury hotels the big things are expected; it's the little things that wow people. That was true here, too. The property was lovely, though arguably not any lovelier than the other places we stayed. Yet the details wowed me: all towels embroidered with the Three Sisters 3S logo, a laptop in our room for guest use, a fruit plate in our suite with drinks on arrival, a heating bar to warm our towels in the bathroom, and of course, exceptional service.
At the end of the day, it was the service we'll remember most at Three Sisters. Honestly, from our experience, service everywhere in Tallinn was wonderful. People are generally incredibly friendly and helpful, and that's exceptionally true in the hospitality industry. Even with great service throughout, Three Sisters managed to be a standout with an engaging concierge team and incredible local knowledge and recommendations.
With just 23 rooms, it's perfect for travelers wanting a luxury boutique setting with a huge dose of history. My only less-than-perfect comment on the property  – it's a stretch to call anything a 'con' here – is the location. It's still located within the confines of the Old Town, but it's not quite as central as some of the other luxury properties in Tallinn (a bit more of a walk to our favorite dinner spots). That being said, Old Town Tallinn isn't massive so nothing is ever too far.
STAY: Three Sisters Hotel, Pikk 71, 10133 Tallinn, Estonia
Room rates begin at around €200 per night
Hotel St. Petersbourg | The Posh Five-Star
Hotel Schlössle's sister property, Hotel St. Petersbourg is the sexy swanky counterpart to the more rustic, cozy Schlössle. Both bring the luxury boutique element, but with totally different feels which will cater to very different styles. Hotel St. Petersbourg embraces its name, with Russian-inspired touches, like ballerina-imbued artwork and glittering touches of gold and crystal throughout. The hotel is plush, with a swanky bar on site and a lovely common area with fireplace and gilded details.
The rooms are decorated with played up neutrals; mostly shades of greys, blacks and whites with lots of textural touches like silky pillows, a fuzzy runner, and an artsy chandelier. We stayed in a standard room, which was perfect for our brief stay. We had a mini fridge and tea kettle available, plus Gilchrist & Soames bath products (which seems to be the go-to for all Schlössle Group properties).
Breakfast is served at a down-home rustic diner downstairs from the hotel at a restaurant called Kuldse Notsu Korts, which translates to the Golden Piglet Inn. It's a bit at odds with the hotel's vibe (almost feels like it should be part of Hotel Schlössle) but the buffet is ample and the hot options are similar to what you'd find at its sister property. Tabula Rasa, their bar and on-site dining off the lobby is the real gem on site though. It's totally an extension of the sexy cool vibe that the hotel embodies, with cool artwork, darkly painted walls and touches of glitz throughout. The bartenders are mixing up cool craft cocktails, so it's worth a stop for a pre-dinner drink.
In terms of location, Hotel St. Petersbourg is just as centrally located as Hotel Telegraaf but sits in a different location in the Old Town on Rataskaevu Street. Just down the street from Raekoja plats, the hotel faces fan-favorite restaurants Rataskaevu 16 and Vegan Restaurant V.
STAY: Hotel St. Petersbourg, Rataskaevu 7, 10123 Tallinn, Estonia
Room rates begin at €130 per night
Kau Manor | The Countryside Escape
Not technically in Tallinn, Kau Manor is about forty-five minutes southeast of the Estonian capital for the ultimate countryside escape. I shared our expeirence at Kau Manor recently, and it's lovely though quite isolated. For those wanting a contrast to the capital, Kau Manor is a quiet getaway that can be added on for a night or two. It's an eclectic spot with quirky artwork and antiques sourced from around the globe to give the renovated manor house its flair.
With a history dating back to the 1300s, it's been renovated as an upscale retreat for those wanting to celebrate the quiet draw of nature. Go with a car if you with the flexibility to go off property, otherwise you'll need to commit to being on site for breakfast, lunch, dinner and everything in between for your entire stay. On site restaurant, 8 Legs, serves up a lovely breakfast, and lunch and dinner each include a choice of three appetizers, three entrees and at least two desserts. Read more about our stay at Kau Manor.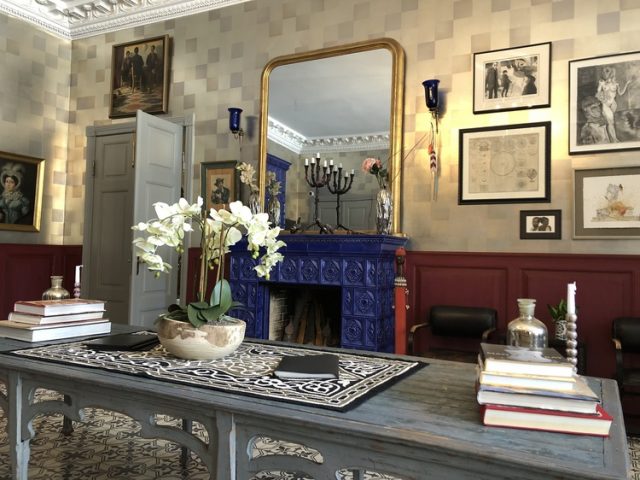 STAY: Kau Manor, Triigi küla, Kõue vald, Harjumaa, Estonia
Room rates begin at $180 per night
---
Ultimately, we tried to evaluate the hotels by asking where we'd stay on a return visit to Tallinn. Truth be told, we had a hard time deciding where we'd choose. Each hotel brought five-star panache but each had its own distinct vibe. For the larger hotel lover (and points collectors), Hotel Telegraaf is practically a no-brainer. For those wanting a more historic and cozy touch, Three Sisters Hotel or Hotel Schlössle would both be fantastic for boutique properties. Of those, I'd say that Three Sisters has the edge on service whereas Hotel Schlössle has the edge on location. For those wanting something that feels a bit more swanky and luxe, Hotel St. Petersbourg brings a sexy cool vibe for a plush stay. Moral of the story: there's no shortage of fabulous hotels in Tallinn to call home.
Which hotel intrigues you most? Or, if you've been to Tallinn, which hotel did you love?