Our food tour through Ljubljana in September sparked our newfound love for embarking on sightseeing adventures through culinary experiences. In smaller countries like Estonia, food influences profoundly represent history and geography. Going in, we were really curious about Estonia in general: is it more Russian, more Scandinavian or something different entirely? Well, the answer is that it's a bit of everything. The food, like the country, bears influences of previous occupiers while having elements that are distinctly Estonian. To better understand the food culture in Estonia and the textured story of the tiny Baltic nation, we set out with Food Sightseeing Estonia on a private food tour in Tallinn, where we sipped + noshed our way through the city.
Peppersack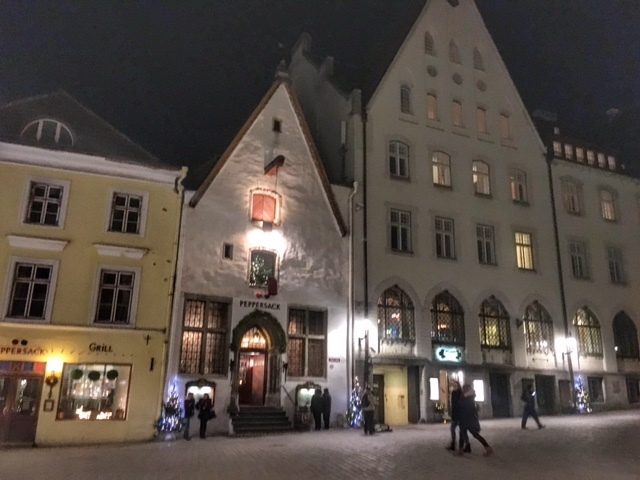 In the day we had leading up to our food tour, I'd commented on the Peppersack building every time we walked by. Could there be a more picture perfect medieval facade? Tallinn, a UNESCO World Heritage Site, is one of the best preserved medieval cities in Europe with its iconic turrets marking the entry point to the Old Town and its old world buildings gracing the maze of city streets. If the 15th century building is beautiful from the outside, it's jaw-dropping from the inside, especially during the holidays. A step inside feels like you've been transported back in time, with chandeliers hanging from the ceiling, thick red drapes hanging over the windows, and an antique tapestry on the wall.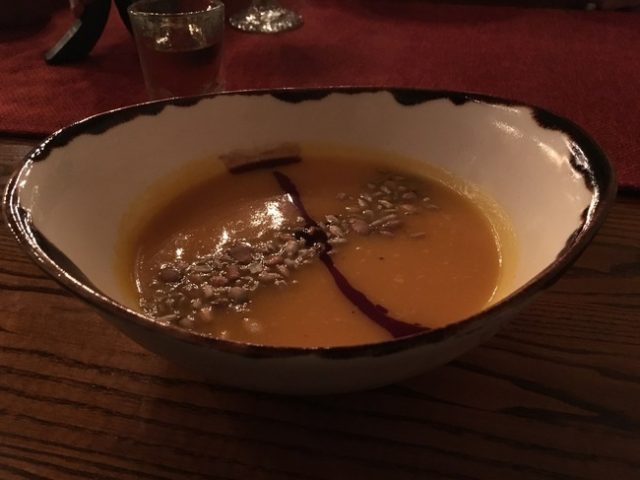 The building's history dates back to the late 1300s when it was a residence, mostly notably of a master mason, a wealthy and prominent resident of Tallinn. The building adopted the name Peppersack as an homage to its former inhabitant. Homes that were wealthy enough to have spices were rare, and the upper echelon that could afford those luxuries were referred to as 'peppersacks' giving the restaurant its current moniker. The inside is warm and cozy without feeling kitschy (yes, the guy at the door is dressed in period garb but it doesn't feel hokey). We sat in the main area, but you can take a walk thorugh and venture into the back room, once used as bedrooms, to get a deeper glimpse of the old home.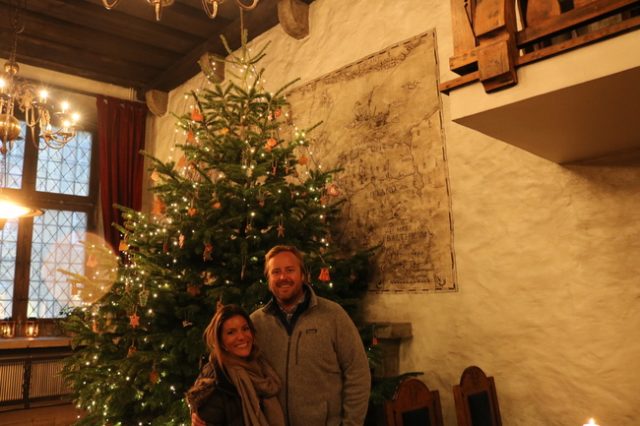 We started our day there around 2PM with a hot bowl of pumpkin soup paired with a shot of pepper-honey Estonian vodka. We'd only been in Tallinn in a day and already had a feel for the flavors of the country: earthy, with a focus on foraged goods. Much of Estonia is forested and covered with bogs and swamps, and local fare includes lots of mushrooms, hearty greens, beets, nuts, seeds, squash, native seafood (like herring and eel) and game meats. I commented to our guide, Lauri, that Estonian food tasted like the earth, and he was in agreement. Estonians broadly seem to have a deep-rooted connection with the land, a sentiment which runs deep from antiquity straight into the new generation of Estonians.
There's a fairly large Russian population in Estonia, and the vodka shot lent a bit of that Russian influence into our meal. Estonia was once a huge producer of vodka (something like 90% of their potatoes were used for this), and it's still a bit of a go-to local libation. My Russian friends may disagree, but there's no shame in sipping it instead of downing it in one go.
FIND IT: Vana turg 6, 10140 Tallinn
Quintessential Estonia in a Bite
For our second stop, we meandered to the bounds of the Old Town where a bakery serves up pastries, sandwiches, dips and a quintessential Estonian staple: black bread. Every single meal we had in Estonia was served up with dense, homemade rye black bread, each with its own twist; typically nuts, seeds and/or raisins. Our guide put it this way: if you were visiting an Estonian friend abroad and wanted to bring them a piece of home, you'd be best suited to bring a loaf of black bread.
The bread we had at the bakery was served up with beetroot hummus (Middle Eastern flavors with that local beetroot twist) and a non-alcoholic malt drink which tasted a bit like a liquid version of the black bread. During our food tour in Slovenia most of our meals were paired with beers or wines. On our food tour in Tallinn, the focus was more on juices and local beverages. Part of that is because Estonia is not a huge wine-producing region. Their local wines often use berries instead of grapes, giving them a tart flavor that doesn't necessarily hit the spot for a wine lover (it's unique, so you should still try it while you're there!). You'll typically see me drinking water or wine with a meal, not juices, but we couldn't pass up a taste of the local flavors!
Maiasmokk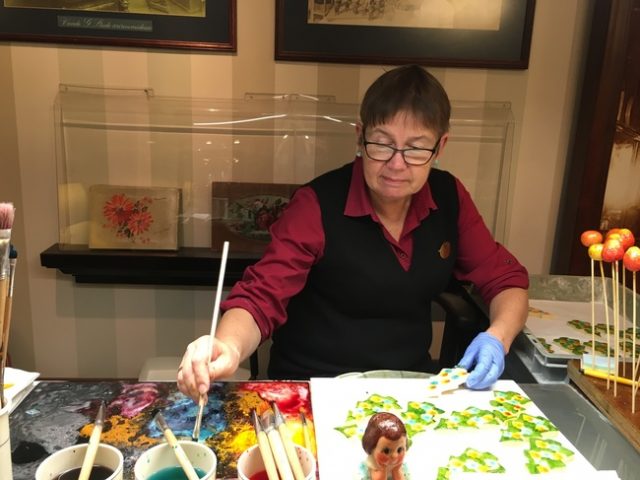 Maiasmokk is a bit of an institution. It's the oldest café in Tallinn, and its biggest draw may be the marzipan production room on the ground floor. If you're the bearer of a Tallinn card, you'll get a free coffee upstairs if you want to pop in separate from a food tour. Marzipan is a Christmas staple, and if you're in the market for some hand-painted pieces to take home, Maiasmokk is your go-to (you'll see plenty at the Christmas market, too, but Maiasmokk is the original). There's an incredible array of completed marzipan pieces, and you can snag a piece with custom verbiage if you're looking for a unique gift to take home. If you're with little ones, they have a marzipan painting workshop to make it even more interactive.
Upstairs is the café, where you can grab a cozy seat and try savory and sweet pastries, plus other local favorites. For us, this meant their potato salad, a cabbage puff pastry (to accommodate my vegetarian needs), accompanied by some sea buckthorn juice.
If you've never heard of sea buckthorn you're not alone. During our first day in Tallinn, I was thinking it was just a really weird translation of the word 'kumquat' from Estonian to English (it's not). It's the super food of the north, kind of like a Scandinavian version acai berry, and you will see it everywhere in Estonia. At Café Maiasmokk we tried the juice straight, which was a good primer for all of the sea buckthorn we would have throughout our trip: juices, schnapps, liqueurs, and aiolis infused with the berry. It's a distinct flavor and if you're like us, you'll be searching for ways to bring some of it back home.
FIND IT: Pikk 16, 10123 Tallinn
Kaerajaan
For one of our final stops in the Old Town we headed to Kaerajaan, a restaurant near the Christmas market that we'd been admiring. The restaurant serves up Estonian cuisine with a modern twist, and we ended up liking it so much we went back later in the week for apps and a drink.
Nestled up in a cozy corner of the restaurant, we shared an appetizer platter that was overflowing with locally sourced ingredients: mushrooms, berries + sprouts on black bread, plus a herring variety with pickled onions. On our return visit later in the week, we opted for the herring tartare which was outstanding. During our food tour, we paired our food with a kefir drink made with kama, a flour that's traditionally used in Estonia, Russia and Finland (it's a unique flavor and it's super filling so we couldn't finish our glass). During our dinner, I opted for their Kir Royale, which was made with Vana Tallinn, a local liquor. If you have the choice, I'd opt for the Kir Royale if you're able to sneak in a little bubbly!
In hindsight, Kaerajaan would have been on my list for full dinner one night and if we return to Tallinn we'll definitely have a full meal there. The menu is fun and locally inspired, the value is exceptional, and it's right in the main square with a stunning view of the market, dripping with lights and bursting with people on the weekends.
FIND IT: Raekoja plats 17, 10146 Tallinn
The Train Station
FIND IT: Toompuiestee 37, 10133 Tallinn
Finally, we headed to the train station – with a bit of sea buckthorn schnapps for the walk, naturally – to see the revitalization happening in the area. Our friend from Estonia mentioned to us that the train station was a bit seedy as far as her memories go from youth, but the city has made a concerted effort in the last few years to make the area into a cool space, with an outdoor + indoor market element, places to eat, drink and shop. We ended our evening there and finished off our tour with a gluttonous sweet treat: an ice cream cone filled with sweet cream (Estonians love their dairy) and a cup of hot coffee from a cool coffee shop at the market.
The train station is just a quick 5 – 10 minute walk from the center of the Old Town, but has a feel entirely different from the Old Town. Down the way sits Telliskivi Creative City, a hub where NGOs, studios, and creative companies have offices. A flea market takes place there and cultural events happen throughout the year. It's a glimpse into the modern element that Tallinn, and the whole of Estonia, exemplifies in many ways. As a tourist, it's easy to be mesmerized by the Tallinn's charming Old Town and totally neglect the modern aspects of the city, but it's worth recognizing that it's there in a major way. Estonia has had a tumultuous history and for many of us it's hard to understand the tiny country's identity and where it's going. It's a place that seems to embrace and celebrate where it's been and what it's overcome while boldly taking hold of the future (think all digitized government and banking operations, e-Residency, and other innovative programs for citizens). The food scene follows that experimental train of thought. Avant-garde chefs are sharing what Estonian food has historically been, while seamlessly incorporating elements of the global landscape that suit the way they're choosing to evolve.
Have you been to Estonia? What was your take on the country's food, feel and vibe?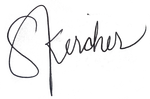 A big thank you to Food Sightseeing Estonia for making this trip possible and for sharing Estonian cuisine with us. As always, all thoughts and photos are my own and are genuine.