An Irish road trip could take any of a thousand forms: it could take you through the Cliffs of Moher and the Burren, up to Northern Ireland, to the scenic drives of Counties Kerry or Cork, or even focus on a tour of golf courses, castles and cathedrals, or distilleries and breweries. Unless you have months and months to explore, you'll have to narrow your focus and figure out what your priorities are for exploring.
For us, finding a home base was our first point of attack (I have a post forthcoming on having a home base vs. jumping from place to place). From there, we were able to bookend our trip with different locations on the front and/or back-end. Below is a sample of what we did for anyone wanting to recreate our adventure or anyone wanting to use this information as a departure point for crafting a trip of your own.
Ireland by the Numbers
Kilometers Driven: 1471
Nights Spent: 8
Castles & Manors Visited: 6
Breweries & Distilleries Visited: 2
Restaurants Experienced: 13
Peninsulas Covered: 3
Hotels Stayed In: 2
Villas Rented: 1
The Itinerary
DAY 1: DUBLIN // We arrived at 6:30AM into Dublin airport and had a full day in Ireland's capital to kick-start our trip. We chose the well-located Cliff Townhouse for our two nights and couldn't have been happier! To maximize our time with two short days, we opted for the Hop On Hop Off Bus, including stops at major cathedrals and the Guinness Storehouse. Read about our first day here.
DAY 2: DUBLIN // Our second full day in Dublin brought us face-to-face with the Book of Kells at Trinity College for a dose of morning scholarship. From there, we enjoyed a local food market for lunch and an afternoon touring and sipping at the Jameson Distillery. Read about our second day at Trinity College and the Jameson Distillery.
DAY 3: CASHEL, CAHIR + DROMOLAND // The road trip begins with a day of castles! We rented our car at 8:30AM with Sixt from the Dublin airport and began our road trip. Our final destination for the night was the Inn at Dromoland, but we mapped a path that allowed us to see the Rock of Cashel and Cahir Castle on the way. As you can see, it took us a slight bit out-of-the-way but it was worth it for us based on our interests. Dinner was a magical night at Dromoland Castle. Read about our castle-filled day at the Rock of Cashel and our fairytale evening experiencing Dromoland Castle.
This marked the end of our hotel experiences. For nights 4 – 8, we based ourselves in the picturesque town of Kenmare on the Ring of Kerry. We stayed at the four-bedroom, five-bath Dromard Villa, which was the perfect place for our party of five to settle in for the week. Keep reading for the rest of our itinerary, highlights, and tips for renting a car in Ireland.
Highlights + What We Would Do Differently
Despite being different types of travelers (you can see our profiles here), we all had similar highlights during our trip. If I could relive a few moments from our trip, they would be the following:
Horseback Riding in Killarney National Park // This was an absolute highlight for us. How could it not be? We spent an hour one morning riding through the Knockreer Estate with stunning views of the Lakes of Killarney in the distance. The vistas were awe-inspiring – some of the most beautiful that we witnessed during our trip.
Skellig Michael // If you're able to experience the Skellig Islands, this is a must-do trip simply because it's a rarity to be able to get out there. The karst landscape is stunning to witness and the spirituality of the space with monastic buildings at the top, make it a world-class experience. Not everyone in our group did so well with the hike but it was still a memorable journey.
Live Music + Pub Crawling in Temple Bar // Cliche? Maybe. But our first night in Dublin (our first night in Ireland in general) started our trip off right. We spent the majority of our night at the Old Storehouse listening to trad music and sippin' Irish ciders and local brews. The pub culture is such a rich component of the Irish culture, and feeling the genuine camaraderie of people was a fabulous start to our getaway.
Our Evening at Dromoland Castle // Dinner at Dromoland Castle was a serious princess experience (and I'm not a princess-y type person, either). It was the biggest splurge night on our trip but it was worth every penny to enjoy the castle and celebrate my dad's birthday. Kids and adults alike will enjoy a castle experience – who doesn't want to live a fairy tale?
That being said, every day came with a slew of highlights, from the unexpected castle run-in on the Ring of Beara, to the stunning vistas of the Conor Pass on the Dingle Peninsula.
What would we have done differently?
Quite honestly, our biggest issue was really time management on most fronts (and we tried really, really hard!). If we could go back, I would have added Valentia Island on to our day after seeing Skellig Michael. I also felt a bit short-changed on the Dingle Peninsula because we spent a bit too much time in Adare which, in my opinion, was unnecessary. The Dingle Peninsula has such a wealth of beauty in the landscapes but also so much charm in the town of Dingle itself. In hindsight, we should have checked out the Adare Manor and then opted out of seeing the town of Adare. It's cute, but I would have rather dedicated those two extra hours of exploring and eating to the Slea Head drive or exploring the town of Dingle more in depth. If we had more time, I would have spent a night in Dingle to get the full experience.
Tips & Thoughts for Renting a Car in Ireland
After months of research and organization we felt fairly prepared going into this trip. Still, when it came to renting a car, there were obstacles we didn't expect and things we simply didn't know going in. There are some rental issues that are specific to Ireland so it's worth knowing what you'll need to make the process as seamless as possible.
Insurance is mandatory when you're renting a car in the country. If you're thinking that your credit card has car insurance built into it (we thought the same), call your company to verify. Ireland is the exception to many rules on this front so there's no guarantee here. If your credit card company does, in fact, offer coverage in Ireland you'll need to talk to your car rental company to see what information they need from you as proof. For example, we have a Chase Sapphire card which does cover cars in Ireland but it wasn't until we reached the counter to pick up our rental that we realized they needed a letter from our credit card company delineating the coverage for their records. We ended up making it work (Chase ended up emailing our car company the letter while we were there) but it was a hassle dealing with it the day of. If they hadn't been able to send the letter as quickly as they did, we would have ended up paying nearly €200 extra for the rental (and that was the super basic insurance option). Look into this in advance to be safe and make the process simple!
GPS is a must. For an additional €10 – 12 a day, you can have a GPS system with your car. If you're road tripping through the country, make the investment! Our GPS made our life so much easier and took so much stress out of navigating the country. Without it, someone would have had to be the navigator in a foreign country, dealing with small back roads and foreign land. If you're wavering, GET THE GPS SYSTEM.
Smaller cars aren't necessarily better. Going in, we thought that the smallest possible car would be the best course of action when dealing with narrow Irish roads, but that's not necessarily the case. Yes, the roads are narrow but they're not that narrow. If you're planning on doing some of the scenic drives like we did, factor in your comfort. You'll be in the car for hours each day and being cramped is not fun. Also, don't forget to factor in your luggage. We had initially booked a Nissan Qashqai and upgraded to a more spacious Volvo SUV for an additional €30 a day. In the end, we all agreed that the extra fee was worth it; it made our driving days more comfortable and we had space for our luggage in the back so no one had to accommodate bags by their feet.
Gas wasn't as terrible as we had imagined. There are so many factors that we were dealing with going in: euros vs. dollars, liters vs. gallons, a diesel SUV vs. gasoline… we truly had no idea how much gas we would go through during our trip, but I had budged somewhere in the neighborhood of $500 in total, knowing we would be renting an SUV and driving a fair bit. In actuality, we filled up twice: once was about €70 and our final fill was €85 or so (from nearly empty).
All in all, I feel that we did a pretty good job of maximizing our time in Ireland and seeing an array of what the country has to offer. We got our city fix in Dublin and two days was perfect for us. We could have spent a week exploring each peninsula, but with the limited time we had I was happy that we got a taste of each (Ring of Kerry, Dingle Peninsula and Ring of Kerry). The reality is that limited time will always be an issue, and you have to prioritize in these situations. There are so many other places that I want to see in this region and so many more drives I want to undertake. I suppose we'll just have to go back one day for round two!
Have you gone on a road trip in Ireland? What were your highlights and must-have experiences? If you only have 7 – 10 days, which spots would you recommend to others?
xo,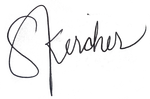 ---
If you're interested in more Ireland talk, stay tuned! I'll be recapping our time in Basque Country next but will float back to some tips on Ireland, a collection of must-sees, and our thoughts on a home base vs. hotel hopping on a trip like this. See the photos on Instagram here!