Highlights from the DRC, Rwanda, Uganda and South Africa
Countries: 4
Days of Travel: 28
Hotels/Camps in Africa: 11
Treks: 5
Transport Used: Planes, Trains, Rental Car,
Armored Vehicles, Legs, Bicycles, Trams
Miles Traveled (to/from Anguilla): 30,701
Somehow it's been over two months since we left on our journey through Africa, and I'm finally getting a chance to recap our adventures from start to finish. We went into the planning phase using insight from a tour operator and lots of knowledge that we had gathered through researching Rwanda, Uganda, South Africa and Virunga National Park online. As I've shared before, the trip initially stemmed from a deep-seated desire to visit the Congo. Using that as an anchor, we built out our trip, piece by piece until it eventually occupied nearly a month, with eleven hotels and over 30,000 miles traveled.
The journey was one for the books, there's no doubt about that, but as always travel has unexpected moments and unplanned highlights. Going in, I was most excited about the DRC, followed by South Africa, Rwanda and then Uganda. Scott had similar views but was initially more intrigued with Uganda than Rwanda. We went in with absolutely open minds, excited to explore and experience and develop our own thoughts on each nation.
Here I'm sharing my recap of our month-long journey, including highlights, takeaways, and what I would do differently after having experienced each aspect.
Rwanda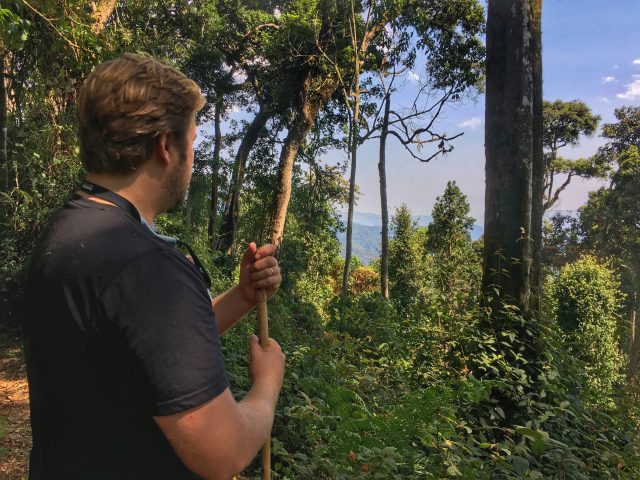 Rwanda exceeded my expectations. It's clean, it's friendly, and it's naturally stunning. Perhaps most notably, it's a country of rules, of contrasts and surprises, and much of that has to do with its very recent traumatic history revolving around the genocide in 1994. Just over twenty years later, Rwanda seems to be a wholly different place than it was then. Booking our flights into Kigali, we started our trip with four days in Rwanda, split between Rwanda's capital city and Nyungwe Forest National Park.
DAY 1: KIGALI, RWANDA // After an overnight layover in Doha, we landed in Kigali in the early afternoon and hit the ground running. Even before going to our hotel we headed to the Genocide Museum, a must for any visitor in Rwanda. The museum is incredibly well done, and time inside is incredibly impactful and emotional. We overnighted in the iconic Hotel Mille Collines, the hotel that gave birth to the movie Hotel Rwanda.
DAY 2 – 4: NYUNGWE FOREST NATIONAL PARK // We had our morning wake up call in Kigali and then immediately made our way to Nyungwe Forest National Park, nearly a six-hour drive west from Kigali's capital. We chose to do this as we were heading into the DRC and Nyungwe worked into our plans directionally (more or less). We spent two nights and 2 1/2 days at Nyungwe Forest Lodge, a stunning property located amidst the stunning tea plantations, and used the lodge as a base for chimp trekking and exploring the forest.
HIGHLIGHTS, TIPS AND TAKEAWAYS // We felt cut short at Nyungwe Forest Lodge. The place is a dream and we simply didn't have time to enjoy it. We felt like chimp trekking was a rite of passage when spending time in East Africa so we planned chimp trekking excursions in both Rwanda and Uganda so we could see primates in different locales. If we were to go back, I would skimp the chimp trekking. We spent 9 hours trekking for 13+ miles and didn't see a chimp (read more about our fruitless chimp trekking in Rwanda). When we spoke with a manager at the hotel, they explained that most of the chimps in the area aren't habituated which means that the chances of seeing them are extremely slim. If we were to return, I would probably add on a tea plantation tour in lieu of the chimp trekking experience, and plan in buffer time to take in the utter natural beauty of the lodge and its surroundings. It's a five-star property through and through.
NIGHT 4: THE NIGHT THAT SHOULDN'T HAVE BEEN // Day four should have been a stunning journey crossing Lake Kivu followed by our first night in the DRC, but instead ended up being a crazy near-death experience culminating in a rescue by the Rwandan military. It was a horrifying experience that left us with a good story to tell (glass half full?). We ultimately ended up spending the night at Cormoran Lodge, a rustic-chic lodge in Kibuye.
Our night four is the perfect example of unexpected travel experiences. Whenever I'm participating in a round-up of 'travel tips', my ultimate piece of travel advice is to be flexible since there are always things that come up to alter your perfect plans. That day on Lake Kivu tested me and my whole 'go with the flow' mentality, but we made it through and ended up having a great experience beyond that incident.
Democratic Republic of Congo
For most people, the DRC conjures up images of poverty, of violence and unrest, of instability, of rebel groups and corruption. Rarely does the idea of the Democratic Republic of Congo evoke images of majestic volcanoes, of verdant virgin jungle, of warm and engaging Congolese, or of lodges set within the confines of Virunga, Africa's oldest national park. Not to sugarcoat anything, the bad certainly exists in the Congo, but for me it's immensely overshadowed by good.
For those that haven't been to the DRC and have only read about it through media headlines, it seems intimidating. Scary even. For me, the memories are some of the greatest travel highlights of my life. We spent days surrounded by baby gorillas and silverbacks, spent a night gazing into the depths of the earth at the world's largest lava lake, and visited the world's only gorilla orphanage. But it goes so far beyond those highlights: it's the nights sleeping at a campsite – just Scott and I – and waking up to a table for two facing Mt. Mikeno (with the world's best French toast, I might add). It's evenings around the campfire at Mikeno Lodge, hearing tales of expats living in the DRC who've traveled to hell and back on missions saving people and wildlife. It's the camaraderie with other travelers and locals, sitting at the top of the volcano thawing our faces, hands and shoes by hot coals. It's meeting people like Emmanuel de Merode and Andre in person (you'll recognize them from the documentary, Virunga), people who inspire others to be their best self in the face of adversity. That was my experience in the Congo, because for all of the bad (little of which we saw), there was still so much good. 
DAY 5 – 6: BUKIMA TENTED CAMP // We spent our first two nights in the DRC based at Bukima Tented Camp and Ranger Post, a campsite that used to be the base for primate researchers in the area. The campsite was basic but perfect, and it acted as the meeting point for those headed out on gorilla treks. We spent two days gorilla trekking in the Congo for the ultimate wildlife experience, and woke up to the most spectacular views imaginable. Scott and I both really enjoyed the camp but we did hear rumblings from others – some couples and some individuals – who found it a bit too off-the-radar. There's no electricity in rooms, no internet, etc., etc., but there are some cool activities available nearby (available with an armed ranger escort) and it's the perfect opportunity to seriously unwind and catch up on some reading.
DAY 7: MIKENO LODGE // After our second gorilla trek, we headed to Mikeno Lodge where we spent the afternoon enjoying our perfect little cottage in the jungle. Mikeno is magical, and it's shockingly comfortable and luxurious considering it's location in the middle of Virunga National Park. The lodge is within the ranger's base so we felt totally safe and were able to enjoy a number of activities nearby.
DAY 8: NYIRAGONGO // With an early morning wake up call, we begun day one of a two-day experience hiking Mt. Nyiragongo. We trekked in hail and rain (not ideal) and it took us about five hours to reach the top. It's a difficult hike but it's doable for anyone that's reasonably fit. (Read more about the difficulty and the Mt. Nyiragongo hike.) We spent the night at the top in A-frame huts that were constructed by rangers who make the trek multiple times per week.
DAY 9: MIKENO LODGE // We made it down from Mt. Nyiragongo in less than three hours and had the entire afternoon to spent at Mikeno Lodge. We were ready for some R&R after a few days of trekking and sadly missed out on visiting the Congohounds and the women's co-op.
HIGHLIGHTS, TIPS + TAKEAWAYS: I could have spent more time in the DRC, and in fact wish I would have had one more day at Mikeno Lodge to get in some of those interesting activities that offer more of a focus on the human faces of the Congo. If you're visiting, it's worth attempting to coordinate a bit of this in advance. The manager at Mikeno is incredibly well versed in all offerings nearby and what may make sense based on your itinerary but it's worth having a fairly strong sense of what most intrigues you so you can help make those ideas a reality.
The DRC as a whole was a highlight for me and far surpassed my high expectations, but the absolute highlight of the DRC and our entire trip as a whole was gorilla trekking. Going in, it was what I was most excited about and it didn't disappoint. I would absolutely return to the Congo and would 100% go gorilla trekking again on a future trip.
Also worth noting, we were shocked by the weather in Virunga National Park. In September we were at the beginning of their rainy season and were startled by the cool weather. Much of the area we traversed was at high elevation so days were crisp and nights were downright cold.
Uganda
I'm not sure why Uganda didn't hold the same allure for me as our other destinations in Africa but it didn't, and while it was a great experience it didn't captivate me in the same ways that the DRC or South Africa (below) did. That being said, we had a great experience in Uganda and had an incredible driver guide who became a friend during the time we spent there.
DAY 10 – 13: SAFARI IN QUEEN ELIZABETH NP // Our focus in Uganda was on more traditional game drives for a contrast to our primate experiences. Uganda's climate and landscape was altogether different from what we'd seen at the beginning of our time in East Africa. We spent three days in Queen Elizabeth NP at Kasenyi Safari Camp where we went on two days of game drives (major successes on both accounts), a boat trip on the Kazinga Channel, and spent a third day chimp tracking in Uganda (not so major success).
DAY 14 – 15: LAKE BUNYONYI // We spent one night (two days) at Birdnest Lodge at Lake Bunyonyi before saying goodbye to East Africa and heading to our final leg in South Africa. Lake Bunyonyi ended up being a highlight for a reason totally different from what I had anticipated. We scheduled a boat tour on the lake involving a stop at Bwama Island, a former leper colony turned school compound where marginalized groups are the focus. The experience was inspiring and reignited my love of international development-related work, and was absolutely unexpected in every way. Our weather was decent – not great – which hindered our ability to really take in the beauty of Lake Bunyonyi but it was easy to see how it could be really spectacular in great conditions. One night there was perfect for us; two would be the most I would spend there.
HIGHLIGHTS, TIPS + TAKEAWAYS: I might be writing something entirely different now had our game drives not been so successful so quickly. Within a couple of drives, we saw lions, a leopard, water buffalo, kob, crocodiles, hippos, a hyena, elephants, warthogs and more. With that being the case, we felt like we had too much time allocated to Queen Elizabeth National Park, at least in the way we fashioned it. If I were to go back and do it again, I would take one of those days and allocate it to a different part of QENP, namely where tree climbing lions are found so we could go on game drives with a different focus. We did our chimp trek in the Kalinzu Forest where chimps are common but not nearly as prevalent as they are in Kibale, the mecca for chimpanzee trekking. If I were to return to Uganda with hopes of seeing chimps, I would skip Kalinzu and make the effort to go to Kibale where there's a better chance of having an encounter.
Lastly, in evaluating our East Africa itinerary as a whole, I would flip it and make a couple of minor adjustments: I'd start in Uganda, move into the DRC (ideally with one extra day), and end in Rwanda where I would add an extra day for some final R&R at Nyungwe Forest Lodge.  Generally speaking, I think we had a solid itinerary for visiting the areas that we did considering the time that we had available. With a couple of modifications, it could be a perfect East Africa itinerary when looking to visit the DRC, Rwanda and Uganda.
ICYMI: Milton, our guide, shared his insights on itinerary planning and highlights in Uganda for visitors.
South Africa
South Africa was our counterpoint to East Africa, a bit of finesse after a rugged couple of weeks, and a bit of fancy after living in sports bras and workout pants. I had long wanted to visit South Africa, and while it was still a long way from East Africa, we figured it was close enough to add on to the trip. From Kigali we flew to Johannesburg via Addis Ababa which totaled about 12 hours of travel time (for the record, Ethiopian Airways left a lot to be desired).
Out of all of the places we visited, I'd be most likely to revisit South Africa again and again. There's an ease about it; a cultural familiarity for many Westerners that makes it more simple to navigate. It's different enough to be exciting but similar enough to make it approachable. Plus there's amazing value to be had for those that operate on the USD or EUR considering the exchange rate of the rand. All things considered, it's a pretty perfect destination for a variety of travelers.
"South Africa is different enough to be exciting but similar enough to make it approachable."
DAY 16: TRAVEL DAY // Journey from Kigali to Johannesburg via Addis Ababa on Ethiopian Airways (other routes are available through South Africa Airways, and flights may also be available to Cape Town). We have an afternoon and evening in Johannesburg where we got to take in a bit of the weekend vibes in the CBD. We overnighted in Pretoria, near Johannesburg, where we stayed at the Protea Hotel.
DAY 17 – 18: THE BLUE TRAIN // After an evening in Jo'burg, we headed out for a 27-hour journey aboard the Blue Train, South Africa's premier luxury train that takes passengers from Pretoria to Cape Town on a scenic, old-world excursion. Read about our experience on The Blue Train – it was a once-in-a-lifetime experience and a must for any rail lover!
DAY 18 – 20: HERMANUS // We started our time in South Africa by renting a car in Cape Town after getting off The Blue Train and making our way to Hermanus, a coastal town famed for its whale watching. In retrospect, I would have added on another day to able to enjoy the Birkenhead House experience even more. Belmond's Hotel das Cataratas at Iguassu Falls won the award for my favorite hotel in the world but the gold now goes to Birkenhead House which embodied perfection from start to finish. Read about, or rather see, photographic proof that you should visit Hermanus.
DAY 20 – 24: CAPE TOWN // I was most intrigued by Cape Town going in to our time in South Africa, and the city is definitely a stunner. It reminded me of Rio meets San Francisco in many ways with its gorgeous beach and mountain landscape, and a laid back city vibe that's approachable and livable. I felt like we had a great amount of time in Cape Town as first-timers. There's still plenty that I would like to do on a return trip, but I didn't feel short-changed with just four days. Read about my perfect day in Cape Town for any traveler.
DAY 24 – 27: CAPE WINELANDS // I've never met a wine region that I didn't like, but Stellenbosch and Franschhoek brought some gorgeous landscapes and unique experiences to the table. Between a Segway tour at Spier Wine Farm to a custom wine blending at Middelvlei Wine Farm, we packed days with great wines and engaging activities. To be honest, South African wines aren't generally my favorite, but I absolutely loved the Cape Winelands. We based ourselves at Akademie Guest House in Franschhoek but spent a day wine tasting in Stellenbosch during the trip from Cape Town to Franschhoek. In Franschhoek we went wine tasting on the Franschhoek Wine Tram and explored the area on bicycles. You could easily spend a week in the Winelands but I found three days to be the perfect balance, and we were very happy with the choice of basing ourselves in Franschhoek which exuded all kinds of charm.
Read more about our time in the Cape Winelands.
DAY 28: DEPARTURE // The long way home on Qatar Airways from Cape Town to Anguilla via Doha, Miami and St. Maarten. Thank goodness we upgraded using points!
HIGHLIGHTS, TIPS + TAKEAWAYS: For the time we had in South Africa and the destinations we chose within the country, I think we allocated an appropriate amount of time. As I mentioned above, I wish we would have had an extra night in Hermanus to enjoy the pampering and views, but I could have happily spent a lifetime there so that's not totally fair. Our four days in Cape Town and three days in the Winelands felt like the right amount of time in the context of our entire itinerary. One of the biggest shocks for me from our trip to South Africa was that Cape Town was actually not the highlight for me. I loved Cape Town, don't get me wrong, but I think I was much more wowed by the charm and beauty of Franschhoek and the quaintness of some of the country's smaller towns (Hermanus for one, but also places like Kalk Bay). On a return trip to South Africa, I would probably include a larger spattering of smaller towns to get a feel for their different personalities and offerings.
One other point to touch on: we didn't do a South African safari since we had spent some much time delving into wildlife experiences in East Africa. If we were to return to South Africa, I would probably carve out a few days for Kruger National Park which is acclaimed not just in SA but in the whole of Africa for its exceptional safari offerings. For this particular trip, I think we experienced the parts of South Africa we were looking for: beachside R&R, city vibes, wine tasting, great food + a more cosmopolitan African experience. One of the beautiful things about South Africa, perhaps more so than any other African country, is that it can be many things. There's a world of experiences available for all tastes and budgets, whether you're interested in shark diving, hiking, safaris, wine tasting, culture and history, or scenic drives. As I mentioned at the start, while I think I was more deeply touched by our experience in the DRC, South Africa is a place that I would return to in a heartbeat. They're not comparable experiences in the slightest and I'm grateful for that. We were hoping to build an itinerary of varied experiences and contrasting travels, and I think we succeeded in doing that. While there may have been some minor changes to our timeline, I was very happy with our trip overall and also very happy with the total amount of time that we had. I was sad to leave South Africa (aren't we always sad at the end of any trip?) but I felt fulfilled. I felt ready. In light of the time and budget we had set aside, I left feeling as though we'd done what we set out to do and left with the incredible memories we had hoped for.
In terms of itinerary planning, I think you can also look at our month in Africa as two separate trips for planning purposes: the first part being an adventurous journey in East Africa, and the second part being the more relaxing South African component. If you only have two weeks available, you would likely be best suited to do either South Africa (possibly including a safari there) or East Africa with a very regional focus (e.g. Virunga National Park and Uganda). It's very tempting to spread yourself too thin and see as much as humanly possible but we tried to strike a balance of being on the go, and still allowing ourselves to enjoy the experiential opportunities available in each area. Mission accomplished. ?
How would you spend a month in Africa?