To be honest, I wasn't totally sure of what I should realistically expect from Toronto. Nearly every Torontonian that I have met is quick to recount the city's merits, and many who have visited refer to it as a cleaner version of New York City. It was clear that we were going to visit a cosmopolitan city, but what vibe and feel would we really experience once we arrived?
Here's the deal: Toronto is MAJOR, but comparing it to New York is unfair. It's unfair to New York, and it's unfair to Toronto. To be honest, it reminded me far more of San Francisco in many respects, but Toronto is a city that stands on its own. It's a North American city with European infused elements, which allows it to have an utterly cool kid vibe with its bustling downtown cityscape and its quirky, character-rich neighborhoods. It's foodie, it's intelligent, it's inclusive, it's clean, it's green, and it's efficient.
If the city wasn't already on your short list, here's why you should visit Toronto now:
Quirky, Captivating Neighborhoods
Beyond the financial district, Toronto is a mosaic of cool neighborhoods that create the city's patchwork. It is one of the most multi-cultural cities in the world, with around half of the population being foreign-born. The city wears its multicultural identity incredibly well: some neighborhoods have their own ethnic identities, but you'll generally see a hodge podge of intertwined restaurants and markets that dole out goods from around the globe. It feels inclusive in that way, in the sense that no one's foreign because everyone is foreign. Add to that the fact that the city is clean and feels incredibly safe, and it creates a beautiful feel of a global city that's altogether welcoming.
It feels inclusive in that way, in the sense that no one's foreign because everyone is foreign.
The Food + Bar Scene
Ask a foodie Torontonian where to go to dinner, and you're likely to hear a dissertation detailing the hotspots in the city, the staples, and the best places to grab a drink. When I chatted with a hotel guest from Toronto and mentioned our impending trip, she shared with us a handwritten multi-page document with her favorite places and must-sees in the city.
It was gold.
Whether Toronto is having a moment or whether it has always been a city for gourmands I'm not sure, but it's certainly competing on a global scale with its world-class destination dining and drinking establishments. With four days to explore Toronto, we had a tough time narrowing it down given all of the options (that handwritten list came in handy). We had some excellent meals, we had some innovative cocktails, and we sipped great glasses of wine in a range of spots. We ate off of menus focused on Eastern Mediterranean (a European meets Middle Eastern theme), Canadian (think foraged ingredients and lots of game), French and Spanish, and we sipped at bars that ran the gamut from old world Europe to a Harry Potter-inspired bar. The best part? They were all distinctly different and all done extremely well.
Green Spaces + Waterfront Views
Toronto is perfectly situated on Lake Ontario, providing a surprisingly captivating waterfront scene. During our sunny holiday weekend, we saw sailboats dotting the water and people lining up to take the ferry to the Toronto Islands. Patios at waterfront restaurants teemed with eager locals and tourists soaking up the sun and the picturesque views. I may be alone in this, but lake vibes are something I never naturally associate with Toronto. With the waterfront practically abutting the Financial District you can't help but bump into serene lake views and the islands in the distance.  What I quickly came to appreciate during our time walking around the city was simply the thought that went into – and continues to go into – urban planning. There's a conscious effort to keep green spaces alive, and there are clearly children, families and pets that regularly use these spaces which adds a sense of community to an otherwise bustling city. There are even green rooftops – we saw the tops of buildings in the city's main thoroughfare dotted with trees as part of an initiative that creates a very cool city-meets-nature atmosphere.
And that waterfront that I thought was surprising? How about a beach in Toronto? Sugar Beach is a small stretch of sand at the edge of the city's waterfront that transports you to a brief zen island escape. With beach chairs and umbrellas, you'd hardly believe you're in Toronto. It's all part of the revitalization of Toronto's waterfront, and it's part of what makes the city's focus on fostering a health, happy community so impressive.
Awesome Day Trips Nearby
You can get a serious taste of Toronto in a few days, so if you're looking for an adventure that takes you further afield, there are options to give you a taste that feels distinctly non-city. The nearby Toronto Islands are a quick ferry ride away where there's a beach scene and bike trails when you're ready to escape to someplace a bit slower paced.
For wine lovers, Niagara-on-the-Lake offers a wine scene that sits around 90 minutes from Toronto. After experiencing a sunny weekend in the area, I can imagine that a day of wine tasting on the lake – with picnic lunch! – would be a great way to spend a relaxing day or weekend. Public transport can get you there, but hiring a private driver is the way to go for efficiency and flexibility. And if you're heading to the area, a visit to Niagara Falls is a natural add-on for anyone who hasn't been before. There are a host of available day trips that take many shapes and forms at a variety of price points.
Art + Culture Scene
In true big city fashion, Toronto has a thriving arts scene and many options for museum lovers. The Royal Ontario Museum, the Hockey Hall of Fame and the Art Gallery of Ontario are marked on maps, but there's also the BATA Shoe Museum (which came highly recommended by a friend) and the Museum of Inuit Art amongst many, many others. The arts scene extends beyond art-focused museum collections into a massively cool street art and a thriving theatre scene. The city is home to a range of theatres for plays, musicals, ballets, and stand-up comedy. There's a fairly constantly revolving lineup available throughout the year if you visit Toronto, but options were sadly limited when we were in town last weekend – I'm typically a fan of catching a show if something great is on offer and timing allows!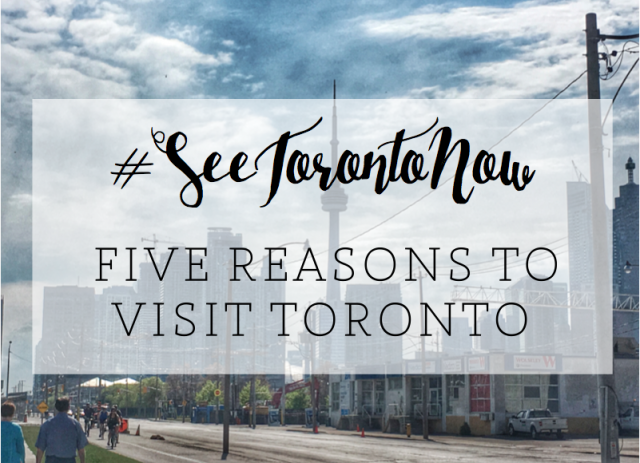 As a first time visitor to Toronto, I was pleasantly surprised. I had naively thought of it a second city to many of the US' iconic world-class cities, but Toronto stands up to the North American competition. If you're looking for the perks and feel of a big city contrasted with distinct neighborhood vibes and a safe, welcoming presence, Toronto is hard to beat. And with quick, direct flights from lots of major cities (including St. Maarten for us!), it can be a simple getaway for those looking for a new city experience.
Have you been to Toronto? What were your thoughts on the city?