I had a hard time wrapping my mind around a 9AM wine tasting, but I was ready for it. Packed up in Cape Town, we had a driver from Winelands-based Adventure Shop pick us up for a day of wine tasting in Stellenbosch, South Africa's most acclaimed wine region.
There are many, many estates to choose from but we aimed for a blend of smaller farms and larger estates, plus a range of experiences that would allow us to enjoy wine tasting in Stellenbosch in different ways. In around 6 hours, we experienced four wine farms, explored vineyards by Segway, watched an iconic duck parade, learned to blend our own wines, plus sipped in a veritable art house. Check out our itinerary for wine tasting in Stellenbosch: 
Vergenoegd Wine Estate // The Duck Run
Vergenoegd Wine Estate was our first stop of the day and I was excited to see their duck run first hand. I was initally intrigued by Vergenoegd because of their blending options, which add a level of interest and education to any day of wine tasting. Visitors can opt for wine blending, tea blending, coffee blending and olive oil blending, and while I'm not sure that my blends would be winning any awards, it's an experience that's pretty unique in the region. During my researching phase, I caught a glimpse of a video from Vergenoegd's duck parade and was hooked: we had to see the duck parade. 
I initially thought that the ducks were set in place as a tourist draw (I mean, I was intrigued, right?) but in actuality, the ducks are an integral part of the wine farm, which makes their presence so much more fascinating. They date back generations and have become an iconic part of the estate, with a few of the estate wines even paying homage to their mascot (e.g. Runner Duck Red). The 800+ ducks on property are runner ducks, working ducks that help the farm by eating snails and insects and allowing the farm to take a more organic approach to their farming. Interestingly, the ducks have had their maternal instincts essentially bred out of them over time, and while the ducks lay eggs on property, they don't understand the part about incubating their eggs. In the ultimate example of a symbiotic relationship, geese on site end up incubating the duck eggs along with their own eggs; the runner duck eggs end up being taken into the incubator on site where they're looked after by an on-site professional.
While we were there, we jumped on the Duck Tour which is a great add-on at Vergenoegd. The ducks are such a large component of the wine farm from operations to branding so it's fun to see the care that goes into their development.  We saw a slew of eggs incubating (each marked up with their hatch date and other tid bits of identifying info), and glimpsed a freshly hatched baby. As full-grown ducks, they join the Vergenoegd fleet and become part of the runner duck parade that has become an iconic element at the estate.
We tasted wines during an incredibly warm and sunny October day and sat outside for our morning sips. We chose to take home their Runner Duck Red but their Cape Colony Vintage was a favorite of mine. For those heading to South Africa for wine tasting, a 'Cape Vintage' is essentially South Africa's version of Port. Port can only be named as such if it's actually from Porto in Portugal so anything made outside of that region has to adopt a name of its own. In the Cape Winelands, 'Cape Vintage' is the moniker and you'll generally find the wines to be a sweet, fortified port-style but a little less syrupy than a traditional port.
Also worth noting, we found South Africa to generally be an extremely family friendly wine tasting destination which is rather unique amongst the wine regions we've experienced. Vergenoegd, for example, is a gorgeous estate that also happens to be a perfectly approachable place for children. Kids and adults alike were absolutely enamored during the duck run. Also, if you're in Stellenbosch on a Saturday, Vergenoegd has a farmer's market that looks incredible!
FIND IT // Vergenoegd Wine Estate
Baden Powell Dr, Faure, Stellenbosch, 7131, South Africa
Spier Wine Farm // Segway Tour + Wine Pairing
Spier Wine Farm is one of Stellenbosch's largest wine farms and you can immediately sense the scale of the production when you walk in. The tasting room is grand and the pairings are masterfully done. But before we get to that, let's talk about Spier's Segway Tour, which is quite possibly the most fun way ever to tour vineyards.
I'll be honest: Scott was apprehensive. He was envisioning a kitschy tour with a leader holding a flag and us neatly following down a paved road for a brief ride around the estate. Our leader, Q, had something totally different in mind. The Segways at Spier are sturdy versions of traditional Segways made for off-roading. After a quick tutorial and a ride through an obstacle course, we were approved for our wine tour. It was just the two of us and it was a blast. Take my word for it: if you're going to be in Stellenbosch, you must do the Segway tour. I can't recommend it enough! We spent about 45 minutes touring Spier's estate, enjoying stunning views of Stellenbosch, and learning about many of the ways in which the estate is ensuring environmentally friendly practices. The information and tour were great, and being on a Segway touring through the stunning landscape of the Cape Winelands is absolutely unbelievable. This will probably be the most scenic Segway tour of your life!
Naturally, they have you do the Segway tour before you wine taste to not add another x factor into the balancing game. After our time with Q, we headed to the tasting room to try out a glass of Spier's bubbly plus a wine pairing with four of Spier's wines. Their pairing was a standout (R100 per person); beautifully done spring-inspired bites that paired perfectly with the wines we were tasting: rosé + a strawberry with lime sorbet, Sauvignon blanc with smoked trout and cream cheese bites, a cab with a biltong macaron, and a Shiraz with a dark chocolate cherry nibble. My favorite pairing – the sauv blanc + trout – was a surprise for me! I'm not generally a Sauvignon blanc fan but it was a great reminder of how much wine and food can work to elevate one another.
Also, on that earlier note about Stellenbosch being extremely family friendly? Spier offers a grape juice tasting (R35) for kids to help keep them engaged while mom and dad are drinking grown up grape juice.
FIND IT // Spier Wine Farm
R310 Baden Powell Rd, Stellenbosch, 7603, South Africa
Middelvlei // Winemakers-in-Training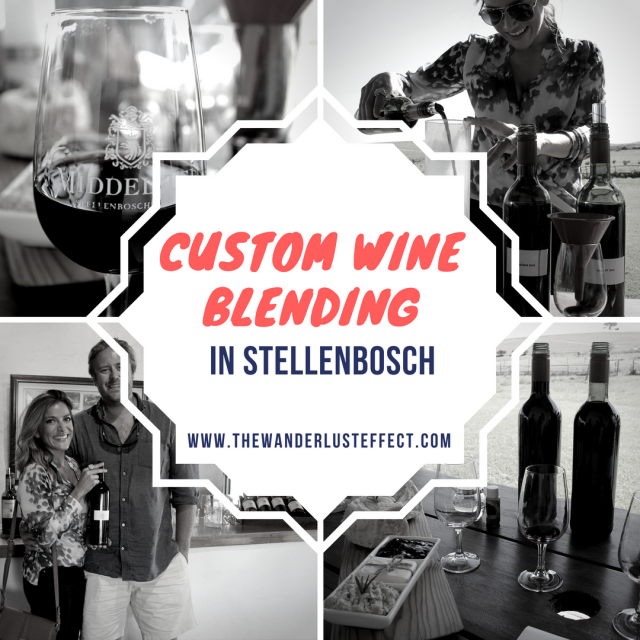 There are some experiences that are absolutely indelible; travel memories emblazoned on your mind as moments that you know are special and unique. That was our time at Middelvlei Wine Estate.
When I was constructing our itinerary, Middelvlei wasn't initially on my list but when the Stellenbosch Tourism Board shared their love for Middelvlei's famous South African braai (a traditional BBQ) and told us about their wine blending option, I was sold. What they delivered exceeded expectations hugely and ended up being a highlight for us. If you followed along with our wine tasting in La Rioja last year, you'll know that I have a soft spot for family owned wineries where there's a palatable passion about the place. For us, this was Middelvlei. Armed with a glass of white wine, we sat down with Ben, one of the owners, while he told us about the farm's history and gave us a bit of insight into wine blending.
One of the comments that I made to Ben during our conversations was how I really liked the use of the term 'wine farm' throughout the Cape Winelands; it's a term not often used in other wine making regions but I think it's a telling expression. We often think of wine making – and the tastings, pairings, and estates – as being something magical and glamorous on every level, but in its most fundamental form, it's agriculture. It's farming. There's certainly an art and finesse – and perhaps, yes, a bit of magic that's involved in the process – but as consumers I think we often forget the actual farming component that goes into wine growing. At the smaller farms in Stellenbosch, we were reminded of this; of the whole process of wine making from start to finish from the agricultural growing component, to the blending, to the tasting and pairings.
With our new crash course knowledge on wine blending, we were set up with bottles of Pinotage, Shiraz and Merlot (plus some oak and some sugar to craft more personalized blends) and were encouraged to test out a few options to find our perfect blend. We played with bases: a more Pinotage heavy blend, a more Shiraz-heavy blend, a bit of sugar here and taste of oak there, until we found something that satisfied us, a Cape-blend composed of 50% Pinotage, 25% Merlot and 25% Shiraz. Stay tuned for my next post on wine blending in Stellenbosch, where I did some blind tasting to challenge my preconceived ideas of which wines I did and did not like. The wine blending was a highlight for us and it's something I would absolutely recommend that everyone include in their itinerary for wine tasting in Stellenbosch. Your wine may not be competing with global vintners, but it's such a fun opportunity to test your skills and learn how each wine affects the overall taste of a blend. Following our wine blending it was time for lunch, a traditional South African braai.
I don't eat meat and that's a personal choice, so when we're dining like this I never expect the chef to cater for my dietary restrictions. I'm always perfectly content to eat sides, so when Middelvlei catered for my vegetarian diet I was wowed, and Scott was doubly excited that he still got to enjoy lamb skewers and boerewors. Y'all, this lunch was over the top. The potbread, the snoek paté (a smoked fish paté), the potato salad, the cous cous, and the pumpkin fritters (I had to hold myself back from eating all of them). After all of the eating done on this trip, I keep thinking it's probably a good thing that we don't live in Stellenbosch for the sake of my waistline.
To me, our time at Middelvlei felt like an authentically South African experience in every way. With the wine blending experience and the incredible braai, it's the absolute perfect place to stop for a mid-day meal and tasting!
FIND IT // Middelvlei Wine Farm
Flamingo St, Stellenbosch, 7600, South Africa

Delaire Graff // Wine Tasting with a View
Delaire Graff Estate was our final stop for the day, and a great way to end an exceptional day of wine tasting in Stellenbosch. Laurence Graff, founder of Graff Diamonds, opened the estate in 2009 with the same glamour that you would expect of a diamond and art enthusiast. As I mentioned above, I have a soft spot in my heart for family run wineries where you're able to have a really personal experience with the winemakers, but I do think there's something to be said about crafting a day of wine tasting that blends a range of experiences for contrast. Delaire Graff with its famous art on display and exquisite views was the glitziest of the estates that we visited. We opted for a smaller wine flight (after a day of tasting and dinner ahead, we didn't need much!), but took in the vistas from outside. For art lovers, there's an art tour available to scope out the curated collection on display.
FIND IT // Delaire Graff Estate
Helshoogte Rd, Stellenbosch, South Africa
Check out the video from our day:
For a single day of wine tasting in Stellenbosch, we couldn't have asked for a better experience with the perfect balance of small farms, larger estates, gorgeous views, great conversations, and exceptional wines. Visiting four estates was the perfect balance for us, and gave us time to enjoy lunch and go at a comfortable pace. For more information and inspiration, check out the Stellenbosch Wine Route website!
Have you been wine tasting in Stellenbosch? Which wine estates would you recommend?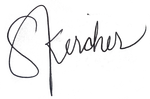 A big thank you to Stellenbosch Tourism Board for coordinating this itinerary and transportation. A big thank you to Adventure Shop and to all wineries for making the tastings and experiences possible. As always, all thoughts and photos – and video! – are my own and are genuine.