How to Explore The Cycladic Wine Road
"Wine is not a ladder to climb, as we're so often taught. Not even close. Wine is a maze, a labyrinth, one we gladly enter, embracing the fact that we don't know where it will take us, and that we'll likely never find our way out."  – Jason Wilson, Godforsaken Grapes
The grapes of Greece don't quite roll off the tongue like say, pinot noir or cabernet. There's the fairly well-known assyrtiko which hails most famously from Santorini and then the lesser-known though equally beloved xinomavro from Naoussa and agiorgitiko from Nemea, all three of which are covered as key regions for any wine student who's begun delving deeper into the world of wine. But Greek wines go far beyond that. Konstantinos Lazarakis, Greece's first official Master of Wine, shared in a podcast that there are at least 200 varieties in Greece alone, and possibly three times that many when it comes to obscure indigenous grapes. Ask an average wine consumer to name two, and you'd be met with raised eyebrows. We're nearing our WSET Level 3 exam which takes a much deeper dive into international varietals and I'll be honest: the wines of Greece and their respective regions had a harder time sticking for me. They're not as well known internationally (possibly because Greeks consume about 95% of what's made domestically) so our association with any of the varietals I've mentioned and what they actually are is tough to connect. And, if you're anything like us on our past trips to Greece, we end up with a carafe of perfectly good house wine, happily sipping while noshing on mezedes. This time around, one of my personal missions during our time in the Cyclades was to delve into what I'll call the Cycladic Wine Road, which goes far beyond Santorini and its vibrant assyrtiko. The islands I've included below are shown from north to south, in the order that we visited. Interested in wine tasting in the Cyclades and not sure exactly what to expect, where to start, or how to tour? Keep reading for insight into winemaking in the Cyclades from Mykonos down to Santorini with a handful of islands in between.
Looking for wine bars in the region to taste some local varietals? Check out my round-up of 7 wine bars in the Cyclades to try – these were hands down the best we found while tasting our way through the region.
You'll find links to specific wine tasting adventures with each so you can explore each experience if you have your heart set on just a couple of these islands! And, if you're thinking of planning a trip to Greece, I'd love to help with your trip planning! See more about my newly launched travel consulting business, Compass & Vine. 
Mykonos
Mykonos is home to just one commercial winery, though the tradition of winemaking is still celebrated in small scale productions in family vineyards. For wine lovers interested in wine tasting in the Cyclades, finding good wine bars that celebrate Greek varietals, in particular, can be tough, which may be due in part to the international clientele that you'll find in Mykonos. If you really want to try Myconian wine, you'll want to go straight to the source with the island's one commercial winery.
The Varietals

There are just a handful of varietals used in commercial wine production in Mykonos though the island conceivably grows a large range that isn't represented in commercial production. For whites, expect to see assyrtiko, malagousia, and athil, For rosé, you'll see mandilaria used (this is a commonly used red variety throughout the Cyclades). In red winemaking, mandilaria is used again along with agiannitis. Malagousia is arguably the most common varietal you'll see at bars across the island and it's a grape that's used in both dry white production and in sweet wine production (some wineries use late harvest malagousia for dessert wines).
The Wineries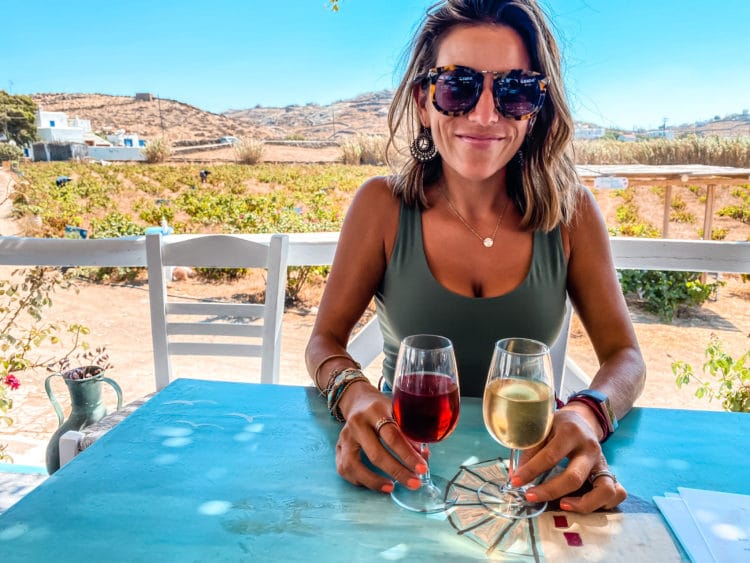 Unless you have a local Myconian friend that you can visit for a private vineyard tour, head to the island's only commercial winery, Vioma Organic Farm and Vineyard, which is producing wine in an organic and biodynamic way. Vioma produces four wines: a dry white, a dry rosé, a dry red, and a sweet wine. When we talk about 'commercial production' here, we're not talking Mondavi-scale production; we're talking about just enough to sell direct from the vineyard and locally on Mykonos to restaurants and shops. Even finding Vioma products outside of Mykonos is a challenge so if you like something, buy it! They produce about 8000 bottles of Paraportiano, their dry white, which is their highest production product. For red, there are about 5000 – 6000 bottles produced, and for rosé, there are about 3000 bottles produced. The dessert wines (we bought one!), are the smallest production with only 800 or so bottles produced annually. Bottles range from €8 – €16 per bottle.
How to Tour
Vioma is off-the-beaten-path as far as destinations go in Mykonos. You won't find an easy bus line to connect you from Mykonos town or the major beaches in the south. The best way to get around? Hire a quad and head out on an ATV tour of Mykonos! We kept our ATV for a day and a half and had a blast exploring – it's the best way to see the island!
To experience Vioma fully, go for their English tour, available at either 2PM or 4PM. The wine tasting isn't quite as descriptive/educational so the tour, which is great and informative, is the way to get insight into the farm's production and gives visitors a chance to ask questions. For the actual wine tasting, you'll be offered a variety of flights to choose from. It goes without saying that the DD should sip responsibly.
Wine Bars and Restaurants in Mykonos
As I referenced earlier, Mykonos is arguably the most international of the Cycladic islands and the bars and restaurants reflect that. You're generally more likely to see a great Bordeaux on a list over an interesting Greek varietal and that's to be expected based on the demand the island sees. One of our best wine experiences was at Kastro's Restaurant in Little Venice, where we chatted with the somm extensively (we're sitting the same WSET exam at the same time this year!) about wanting to taste some local favorites. We ended up with about 6 wines by the glass that we shared — and they have a Coravin for some extra-special bottles!
The Highlights
In Mykonos, you're a bit more limited in your sampling, but if you're a dessert wine lover, their late harvest malagousia is a fabulous wine to take home with you! Again, don't miss the tour to get a bit more insight into the labor and time that goes into producing an organic late harvest product.
Naxos
Naxos is the most agricultural island that we visited in the Cyclades with a tradition of farm-to-table that preceded the avant-garde movements we see today. The island is virtually self-sustaining with cheeses made locally, fruits and veg grown in abundance, and millennia-old olive trees covering large expanses of land. The legendary island of Dionysus, it comes as no surprise that winemaking is a traditional pursuit here. While there are some great wines coming out of Naxos, there is no commercial winery to speak of (yet).
The Varietals
Naxian winemakers work with a range of indigenous and international varieties, and rosé is queen here from a traditional winemaking perspective. Fokiano, an indigenous varietal, is used for rosé production, but you'll find a range of white and red varietals to sample as well.
For those that want something super Naxian, order a traditional rosé at a taverna and be prepared for something incredibly unique. It's not on every menu but you're most likely to find it at local tavernas. In old school winemaking on the island, the rosés showed a heavily oxidized characteristic — don't confuse it with a wine fault when you taste it, it's crafted that way intentionally. I actually really enjoyed my glass at To Kati Allo much to my waitress's surprise (she insisted I try it first), just know that it's not for everyone but absolutely worth a sip while you're on the island.
The Wineries
Naxos is the heart of the Cyclades, with a huge agricultural scene and a beautiful farm-to-table approach. It's hard to believe that the island doesn't have a single commercial winery… at least not yet. Naxos is very traditional and that mentality extends to winemaking. There are plenty of families privately making wine for their own consumption, but no one doing it on a commercial scale at all. That said, if you're a wine lover and if you plan right, you can build in a super special wine experience with a local winemaker.
How to Tour
When it comes to wine tasting in Naxos, this is where local knowledge and connections come in. With no commercial wineries, how do you visit a wine estate to try vino from local producers? Simple: you go with a local. We did a food and wine tour in Naxos with Philema Tours that ended up being one of our single best days during our month in the Cyclades. Eleni, the founder of Philema, helped us explore the island's history through food before we ultimately ended up exploring a vineyard and tasting wines with Konstantinos, a local vintner with a ton of creativity and a passion for Greek varietals. For wine lovers, you'll be hard-pressed to find a better and more authentic experience on the island.
Wine Bars and Restaurants in Naxos
There are two separate missions in Naxos: 1) try a traditional take on rosé, which you won't see anywhere else in the region, and 2) find a great wine bar serving up a range of Greece's finest (or at least the most unique). I ended up with my local fix at To Kati Allo, like I mentioned above, but you'd probably have luck at any traditional taverna (if it's not on the menu, it's worth asking about it).
When it comes to tried-and-true wine bars, you'll find a number of wine-focused restaurants and bars on the island. The best we experienced, hands down, was Oinohoros, a wine shop, and bar owned by Konstantinos from our wine tasting (that was pure serendipity since we didn't realize that when visited). Konstantinos is the wine list here. You'll explain what you typically enjoy and he'll match up wines with your taste to find some Greek varietals that'll wow you. Oinohoros sits between the Old Town and Agios Giorgios.
In Naxos' Old Town, you'll find a couple of wine bars/restaurants worth noting: La Vigne and Labyrinth. I found myself more impressed with wine at La Vigne than at Labyrinth despite the fact that Labyrinth's vibe felt more upscale. We opted for wines by the glass which could have been our demise. At Labyrinth, you'll find 3 whites, 3 reds, and 1 rosé by the glass (none of ours were particularly great) so perhaps opt for half bottles for a better range of wine. La Vigne is a cute little spot in town that spills into the street. At La Vigne, we tried a glass of the Gounemissa and Enipeas, two wines we hadn't seen on other menus. Both were great, unique, and reasonably priced at sub-€6.50/glass.
The Highlights
It's no secret that our food & wine tour in Naxos was our highlight. It was one of our highlights in general from our trip so it reigned supreme when it came to delving into Naxos' wine scene. You'll get to visit a vineyard, meet with a winemaker, try their wines, and talk about winemaking in Greece with a pro. Does it get better than that?
Paros
When it comes to wine tasting in the Cyclades, beyond Santorini, Paros is the only other Cycladic island with an established winery that feels commercial. Beyond Moraitis Winery, the island's big dog in terms of wine production and offerings, there are some smaller wineries as well, and some wine bars and restaurants offering up some great Greek wines by the glass or bottle.
The Varietals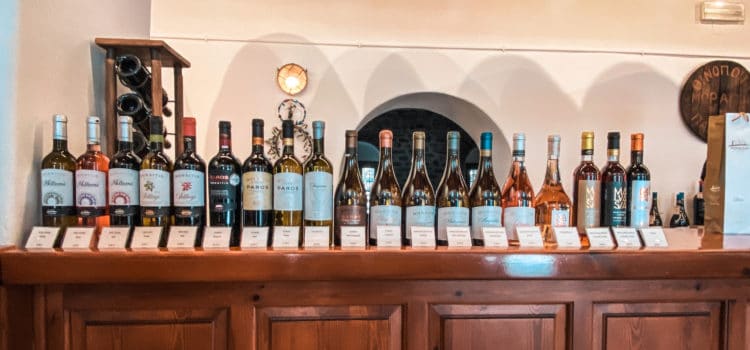 Paros is the home of Monemvasia (it's a PDO wine from here), but you'll find classic Greek grapes like Assyrtiko and Malagousia along with international varietals like Chardonnay used in white blends. For reds, Mandilaria is commonly used for regional winemaking, plus you'll see lesser-known grapes like Athiri Mavro.
The Wineries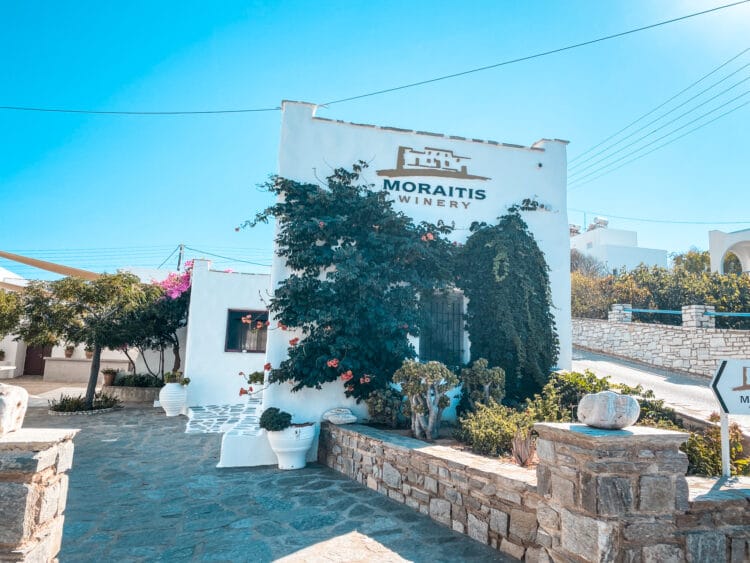 Moraitis Winery is the main winery to visit in Paros, the main player on the island with a gorgeous winery and a great tasting room. There are a couple of other small wineries, Asteras and Katikia, on the island that we tried to visit to no avail. Katikia is a charming farmhouse that feels super traditional and old-school. We headed there twice by ATV and were disappointed that it was closed both times (in normal non-COVID years perhaps it would have been open). For Katikia in particular I'd recommend having your concierge touch base with them in advance to schedule a tasting time. We met the same fate at Asteras. They were open, but as we were visiting during harvest there was no one to assist with any wine tasting. Depending on the year and season that you're visiting, this could be worth a drop in as well.
Moraitis has their main winery, which you'll want to visit, plus they have a wine bar in Naousa if you're just looking for a glass of wine in the evening.
How to Tour
Moraitis winery is in Naousa (pretty easily accessible) and is open for tastings from 12PM – 4PM. There's a booking form on their website but we just popped in sans reservations without any issues. You'll have options for a range of flights, and we each chose a different flight so we could share a few whites and a few reds. The staff is super informative and can help with making recommendations for flights if you're torn.
Paros Wine Bars and Restaurants
Naousa is Paros' wonderful, upscale hub, and a great place to center yourself for your time in Paros. In town, you'll find a range of wonderful dining options, a few of which have great wine lists, too. Three places to put on your radar: Koukos, a wine bar that sits right across the bridge in Naousa. Koukos was one of my favorite wine bars in the Cyclades, with a great list of wines by the glass and the option of 75ml pours or a DIY tasting! For restaurants in Naousa, try Yemeni Wine Restaurant, which offers 120 bottles with a focus on Greek varietals, plus Les Amis, a Mediterranean restaurant with a great wine focus.
Antiparos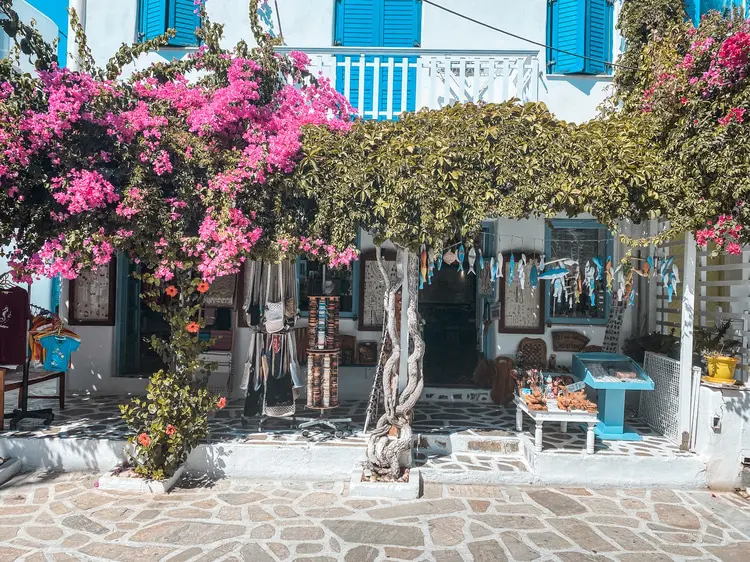 Antiparos, set just a quickie boat ride from neighboring Paros, is more of an extension of its larger neighbor in terms of wines and what's on offer. You won't find any wineries here but you will find some nice restaurants with fun wine lists if you're prepared to seek them out.
For wine and cocktails, check out Veranda, which is set at the top of the main thoroughfare in Antiparos town. Further down the way, you'll find Kalokeri, a beloved restaurant with an interesting wine list celebrating Greek varietals. Talk to the owner/operator about your preferences to find something new and interesting to test out!
Sifnos
Oh, Sifnos, the ultimate foodie island in the Cyclades… how the heck does this place not have a fab winery to pair with this insane food scene?! There's one winery on the island, Votsari, but you'll honestly not see it represented on many wine lists on the island. That said, Sifnos is a fabulous island as far as cuisine goes and all of the best restaurants have great wine lists to match so wine lovers will still be wowed by everything on offer.
The Varietals
While there's nothing specific to Sifnos as far as varietals are concerned, you'll find that most of the best restaurants offer wine lists focused on Greek varietals (hallelujah!) vs. international favorites. There's plenty that's centered around the Cyclades (think Assyrtiko, Malagousia, and Monemvasia) but also a great selection of Greek varietals from the mainland, like Syrahs from Evia and Xinomavros from Naousa (mainland Naousa, not to be confused with the town of Naousa in Paros). Plus, the well-curated wine lists are offering some super cool and funky incarnations of traditional Greek varieties, celebrating young winemakers who are putting their own spin on things.
Sifnos Wine Bars and Restaurants
If you're heading to Sifnos, do yourself a favor and put the following restaurants on your list: Omega 3, Maiolica, and Yialos. My absolute highlight was Omega 3 — in fact, it was so spectacular that we went for lunch and dinner. Honestly? I'd go back to Sifnos just to eat there again. It's that good. But good food needs good wine (or it deserves good wine, at least), and the somm there is as good as it gets. We shared our interest in wine and in learning more about off-beat Greek offerings and he spoiled us by offering to design a wine pairing for us. We chose a half dozen menu items to share and he paired up unique wines to go with them, like back-to-back Assyrtikos from different regions to get a feel for how they pair differently. If you don't consider yourself a foodie, this experience will pretty much convert you. Maiolica and Yialos also had great wines by the glass and wonderful food as well. All three of these spots are located on Platis Gialos, so staying nearby (we stayed at Verina Terra, which was lovely) means you can walk to and from dinner, no driving required.
Milos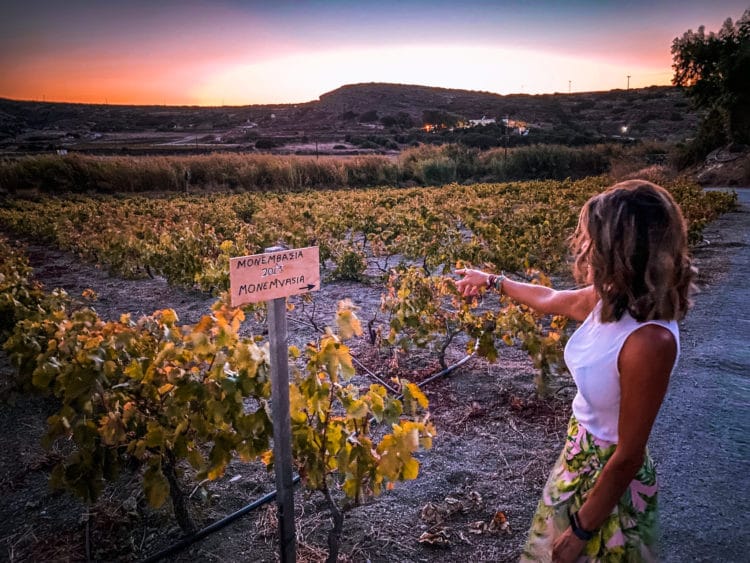 Milos took my breath away as soon as we landed on the island. It ended up being my favorite of the Cyclades in general, with its otherworldly landscapes, amazing boat scene (you can read about our boat trip to Kleftiko), and super friendly vibe. There are a few main towns in Milos but Apollonia is arguably where you'd want to be based for a variety of reasons. For wine lovers, two of Milos' premier wine experiences are walking distance if you're based in town: the island's only winery, plus a wine-focused restaurant offering a wonderful and educational tasting experience.
The Wineries
Kostantakis Cave Winery is Milos' only winery, and it embraces tradition with a cave-style setup and a family-run operation. Tastings and tours are available from 6 – 9PM at €5 per person, and you'll be treated to a flight of 6 wines in their collection. They offer a semi-sweet rosé and a retsina (a classic Greek offering with a bad rep) along with four dry wines that are part of their Spilia collection.
How to Tour
No reservations are required to tour and taste at Kostantakis, though I'd imagine during their busy seasons (in non-COVID year) an advanced call may serve you well. If you're staying in Apollonia, you can easily walk to the winery, which sits less than a mile from the center of town. We arrived at the end of sunset with just enough light to take in the vineyards. During our time in Milos, the winery was open from 6PM – 9PM for tastings (perfect for a pre-dinner stop) but I'd suggest going while the sun is up to really take in the scene. The tour is self-guided and allows you to see the vineyard and the cave cellar inside before you move on to the bar for a tasting. One of the family members conducted our tasting, which just added to the charm of the experience. The winery offers two whites, a red and a rosé as part of their Spilia collection, plus their semi-sweet offering and the Retsina. If you're interested in taking wines home with you, you'll find these all super reasonably priced (mostly sub-€15 per bottle).
Milos Wine Bars and Restaurants
If you want a broader wine fix that allows you to taste Greek wines not solely from Milos, Armenaki is your spot. Located on the main stretch in Apollonia, they offer a wonderful happy hour that offers tastings for two (6 wines) with a cheese and charcuterie platter for €35. The somm will gauge your preferences and knowledge of Greek wines and build upon that. We ended up with two rosés, two whites, and two reds during our tasting plus a bonus retsina. They provide a map of Greece with your pairing to point out where each wine is from and discuss how the terroir in each region creates the final product.
The Highlights
While I always find family-owned wineries super charming and fun to visit, I actually really loved our experience at Armenaki since we had access to a broader range of wines from regions in Greece that we hadn't yet tapped into (Heraklion, Xanthi and Imathia, for example).
Santorini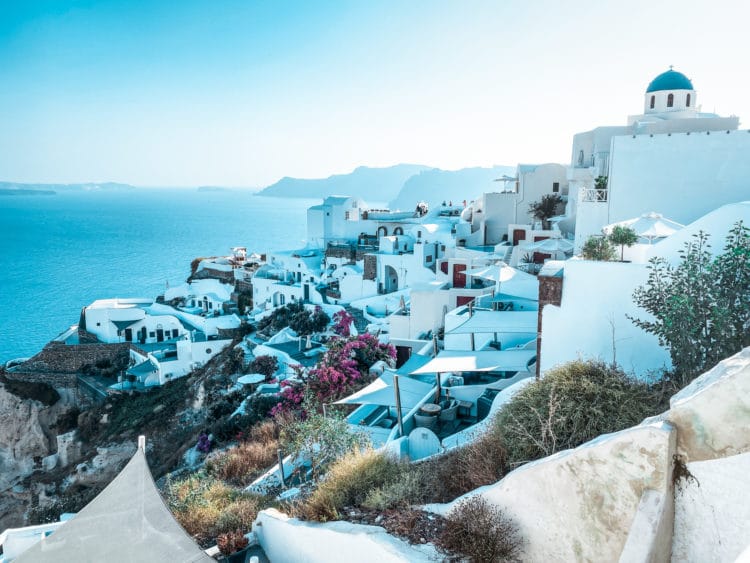 Santorini is the Cycladic star in terms of winemaking and has the greatest international reputation for its assyrtiko. When you travel throughout the Cyclades and seek out wine experiences, all of the sommeliers will be quick to tell you that wine in the region goes far beyond assyrtiko. That said, tasting Santorinian wines from the sources is a must, and seeing the terrain will give you more insight into what makes their wines unique. I was interested to see Santorini's growing method, with vines trained low to the ground shaped into baskets called kouloura which allow the vines to grow in the windy and hot limestone climate. You'll see these little baskets all over in the main wine region, so keep an eye out!
The Varietals
Santorini is most famously known for its indigenous white grape varieties assyrtiko, athiri and aidani, though you'll also find wines made from international varieties and indigenous red grapes such as mandilaria and mavrotragano. If you're wine tasting in Santorini, know that assyrtiko will be the island's mainstay with different winemakers producing their own incarnation – some done in steel, some in oak and some with lees contact for a variety of assyrtiko profiles. The volcanic soil in Santorini generally produces a bone-dry variety that has citrus aromas and often an aftertaste of mineral/stone (this is interesting to compare with assyrtikos produced elsewhere in Greece). Keep an eye out for Vinsanto, the island's famous dessert wine, which is produced from the trio of white grapes mentioned above.
The Wineries
Unless you have ample time on your side, visiting all of Santorini's 18 wineries is definitely a challenge. For most visitors to the island, the best approach is to pick a handful of wineries that most interest you, map them out, and prioritize them for tastings. Many wineries are concentrated in the Megalochori and Fira areas of Santorini, more or less in the center of the island not far from the ferry and air ports. From Fira or Imerovigli, you're in relatively close proximity, and if wine is your focus, you may want to consider basing yourselves in one of these locations.
Check out this comprehensive list of Santorini's wineries for some insight so you can prioritize a few places that most intrigue you!
How to Tour
There are a host of wonderful tours available in Santorini for wine tasting experiences if you're inclined for a guided tour. Unlike some of the other islands that we visited, the tourism infrastructure is robust in Santorini and that includes enotourism. During our visit in 2020, tour options were limited given COVID so we opted for a self-guided wine tasting tour in Santorini after mapping out some key wineries in close proximity to one another. We chose to visit a mix of wineries including Santo, the island's big dog in terms of production, to Gavalas, a smaller family-owned winery producing some great options. Separately, during our hike from Oia to Fira, we ended with a wine tasting at Avantis Winery, which was a great opportunity to try wines from Santorini and Evia for a broader selection of wines.
The Highlights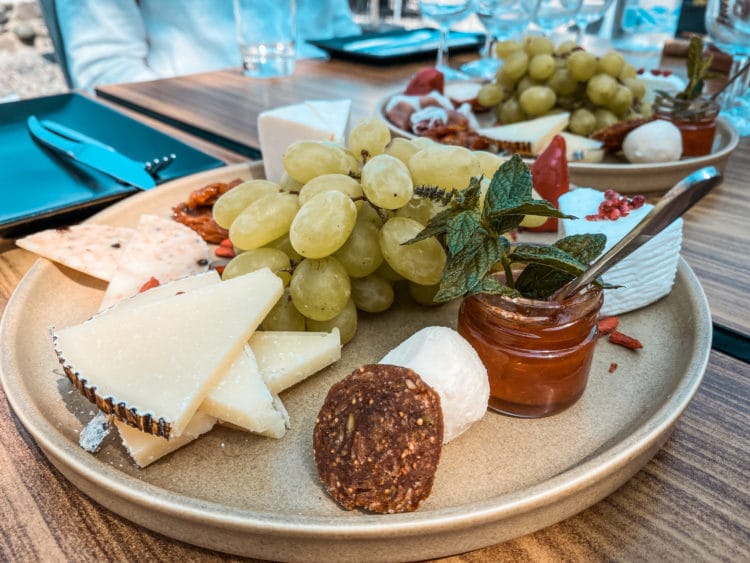 Overall, our wine tasting experience at Avantis Winery was arguably my favorite wine tasting since our tasting covered wines from Santorini and from their sister winery in Evia. Plus, the food at Avantis is fabulous so if you're looking for a pairing or a full meal, it's a great stop! We enjoyed all of our stops (including Avantis, Gavalas, Venetsanos, and Santo Wines) for different reasons, but on a return trip, I'd include other wineries that didn't make it into our agenda this go around that friends have spoken highly of: Volcanic Slopes Vineyards, Domaine Sigalas (in Oia!), and Hatzidakis Winery.
Technically there are 220 Cycladic islands (!) so this list is hardly comprehensive though I hope it helps with covering wine experiences in some of the primary islands in the heart of the chain. Have any favorites to add to this list? Please leave your comments below on other wineries to add to our future visits or other islands in the region with great wine scenes! ✧