Wednesday was our first full day in Lima. We arrived Tuesday night around 10PM and after a little luggage scare, we finally made it to the Westin about an hour and a half later. As a side note for travelers to the area, our hotel offered their shuttle from the airport for S/. 135. After a bit of research beforehand, we knew that that was an extremely inflated price and were able to easily find a cab driver that took us from Point A to Point B for S/. 45 (about US $18). We arrived to find out that we'd been upgraded (cha-ching!) and made our way up to the 29th floor where we had a killer view of Lima's busy streets.
First Day Sightseeing
As a woman cursed to wake up at 6:30AM every day, I was up bright and early, like clockwork, on Wednesday morning. Since it was our first day in Lima though, I was ready to explore. We headed downstairs, fueled up with breakfast and jumped in a cab to head to Plaza de Armas. In all honesty, we weren't 100% sure what we should be doing and seeing in Lima. We'd read the Frommer's guide and perused TripAdvisor and I was on the look out for pre-colonial buildings, museums (as a primer for our trip to Cusco) and local artisans.

For S/. 35, a cab drove us from San Isidro to Central Lima. At first I thought we may be getting seriously ripped off, but it turns out the city center is a fair jaunt from where we were staying. We made a first stop at the catacombs (S/. 7 per person for the guided tour) and the Franciscan church in Lima and explored the rest of the nearby areas on foot. Naturally, there were no pictures allowed in the catacombs, but I got a few snapshots of the inside of the church. Everything was incredibly ornate; very much what one would expect from a Latin American Catholic church.
From the church, we made our way to Plaza San Martin, passing by government buildings and a main shopping drag. We snapped a few photos, and decided to make our way to Museo Larco, a museum famed for its pre-Colombian artifacts; a place that was going to be a real primer/history lesson for us before our trip to Highlands. Entry was S/. 30 per person, but worth it. The museum was incredibly well done and comprehensive. Following our museum drop off, our cab driver was waiting for us. Before our museum stopover, we had agreed to a little sightseeing tour, making our way to the famed Pachacamac, the ruins of Incan and pre-Incan civilizations near Lima. The whole experience (including about an hour of drive time each way) was supposed to take about 3 hours, but we had the time and thought it a worthwhile way to spend our first day. Our cab fare? S/. 220 including the trip to the museum, the journey to Pachacamac and the trip back to the Westin. Even according to Peruvians, it was a steal.
Dinner in Lima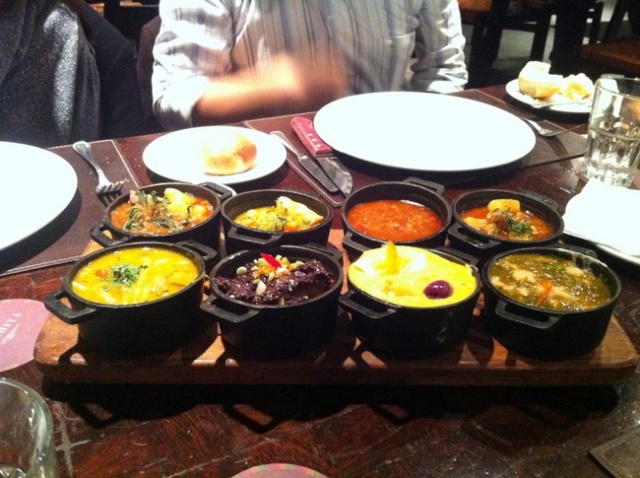 For our first dinner in Lima, we decided we wanted to try one of Gaston Acurio's restaurants, but agreed that Astrid y Gaston looked a bit too gourmet for our taste. We decided instead to head to the meat-heavy Peruvian Panchita, a restaurant with a menu that could have easily been created specifically for Scott (suckling pig, sweetbreads, blood sausage, etc.)
A few of my Peruvian friends from LSE met up with us for the evening, showing us around Miraflores and Barranco and dining with us at Panchita. We ended up splitting two main tasting courses, plus having a few drinks and three (yes, three) desserts. Our damage? S/. 150 including tip for the two of us (about $54). Needless to say, we were highly impressed and happy with our decision.
All in all, a great first day in Lima and a great introduction to Peru! We saw many of the hot spots and got a great first taste of Lima's famed gastronomic scene. I have more pictures to share as soon as my Mac SD card reader starts working.
xoxo from Lima,