As our final trekking hurrah of our time traveling in the Congo, we decided to embark on the Mt. Nyiragongo hike, a journey to the top of one of Virunga National Park's volcanoes where visitors can find the world's largest active lava lake. Despite the fact that we were both a bit anxious after hearing how strenuous this hike was, we felt more physically prepared after days of chimp trekking and gorilla trekking in Africa.
Starting at 1994 meters (about 6'500 feet), we set off to gain another 5000 feet in altitude until we reached the summit at around 11'500 feet. The trek is roughly 8 kilometers, not terribly long, which gives some indication as to how steep the hike is to allow you to gain that type of altitude in a short distance.
The trek is essentially divided into four sections, each marked by a rest stop. For anyone who's thinking about hiking it, here are some photos and recaps from each segment of the hike to give you an idea of what the trek entails. Keep in mind that weather plays a huge factor in your experience. During our hike in mid-September (the early part of the rainy season), we were hit with a rain and hail storm for about ¾ of our hike which made the experience a bit tougher than it would typically be. Our Congolese porters and rangers told us that we weathered some of the worst hiking conditions possible during our trek so for those trekking on a good weather day, it'll be a much more enjoyable hike!
Segment One (Base to Stop 1) // The Warm-up Trail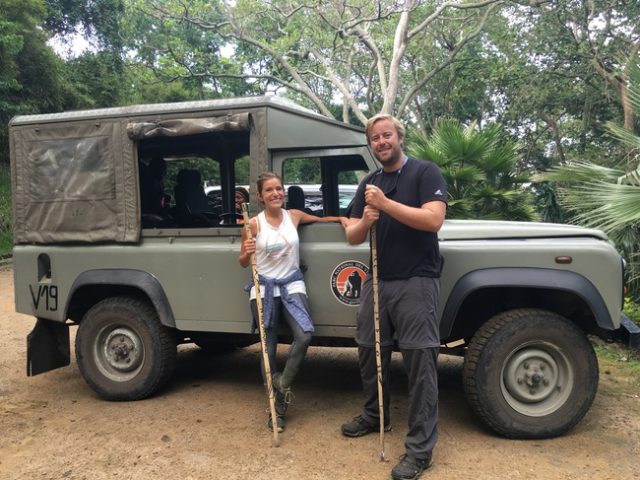 The first segment is a simple warm-up; essentially a long trail where you'll gain about 250 meters in altitude. It's very gradual and there's not a great deal of climbing except for a couple of notable spots. This stretch is one of the longest for distance so by the time you reach rest stop 1 you've gone about 25 – 30% of distance but made very little in altitude gains.
My advice would be this: if you ever are thinking about turning back for a sense of not being able to physically undertake the hike at this point, know that this the first segment is exceptionally easy as compared with the remainder of the hike. If you need to go back for fear of genuinely not being able to make it, talk to your ranger guide about returning now. Don't wait until you've gone further!
Segment Two (Stop 1 – Stop 2) // Lava Rock Road
The terrain changes dramatically in the second segment where a woodsy trail turns into loose lava rock. Essentially the entirety of the second segment is composed of this. The rocks are small and mostly loose so it's more of a balancing game. There are some altitude gains towards the end of this segment but most of the gains are gradual at the beginning. Your biggest risk here is slipping on the lava rocks since they'll be moving under your feet the entire stretch.
Segment Three (Stop 2 – Stop 3) // Some Lava Rock + Gaining Altitude
The terrain changes again during the third segment and the lava rock continues but in a different form. Instead of loose craggy rock pieces, there are longer stretches of smoother lava rock. There are still a number of loose stones so the biggest issue is discovering which rocks are loose under your feet and which are solid. I will say that the lava rocks look very smooth and slippery – we were especially concerned about this since we were hiking during a torrential downpour with rain and hail – but the lava rocks actually have a decent grip so you won't slip as much as you may think! Good hiking shoes are necessary to give you that grip though. Hiking boots aren't necessary, but decent hiking shoes will help you scale the lava rock more easily. Also do note that your Gore-Tex, 'waterproof' hiking shoes won't stand a chance if you're trekking in the rain during your Mt. Nyiragongo hike. The rain, if there is any, streams down the center of the trail (it looks like a stream or waterfall coming from the top and making its way to the bottom) and for stability's sake you'll find yourself putting your foot right in the middle of a deep puddle. Altitude gains are much more noticeable during this stretch but if you're moderately fit the pace should be fine. You'll be trekking relatively slowly and the focus is more on stability and watching your footing than it is an actual cardio or leg workout.
Segment Four (Stop 3 – Stop 4) // Long, Steep Stretch
This is the longest, continuously steep segment of the trek (minus the fifth segment which is a relatively short climb to the top). You'll be gaining significant altitude for the duration of this segment with large steps on lava rock as you continue towards the summit. The weather will continue to change fairly dramatically and get much colder as you continue upwards. Be prepared with layers, rain coats, etc. as you may need to pull them out at a moment's notice!
At the end of this segment, you'll reach the 4th rest stop; a little cabin that marks your last stop before you make the final climb to the top. If it's not raining, they recommend that you change into dry clothes at this point to avoid hypothermia when you reach the top. If it is raining, like it was in our case, we found it better to continue with our wet clothing and to change when we reached the top since we only had one pair of dry clothing with us. This seemed to work well in our case.
Segment Five (Stop 4 to Cabins + Summit) // The Climb
The final segment is a short but extremely steep climb. If you haven't already experienced any altitude issues in the third or fourth segments, you may find that you feel the thinning air more during this part of the trek. The cabins are within easy eyeshot (so close!) at this point and everyone can go at their own pace and continue towards the top for the most part. I personally had no issues with this segment in terms of it being strenuous or in dealing with altitude, but the rain was a challenge since I had to keep my head down the entire time. The guiding rule would probably be to go at your own pace for this section. I found it easier to continue using momentum, climbing as quickly as was reasonable considering the steep rock face. For others dealing with altitude-induced headaches and dizziness, a slow and steady pace proved better. Do what works for you and know that you are so close at this point!
The cabins are separated into a couple of rows with two cabins right at the top within a few feet of the volcano, and another set of cabins a few feet further down the mountain face. Either way you're not far from the top, but getting one of the two top cabins will allow you to go in and out more easily when you want to glimpse the lava lake. It is quite literally freezing at the top. Between wearing wet clothes and dealing with 30 degree temps and extreme wind, it can feel absolutely brutal and cutting. Change into warm and dry clothes immediately and try to warm up. We had genuine concerns of hypothermia and frostbite with our deadly rain + wind + freezing temps concoction but after changing and warming up, we were fine.
Our total time to the top: 5 hours
The Lava Lake
Once you've made it to the top, you'll have to see the lava lake to remember why you trekked in the first place. It's worth the steps – even in terrible weather! – to see the world's largest active lava lake boiling and bubbling. You can hear it, you can smell it, and sitting at the top you'll be able to watch the lava flow from a new fissure (the new fissure formed just last year) into the boiling cauldron of magma. It's spectacular to see in real life and pictures don't do it justice.
When we arrived to the top around 4PM there was still a bit of a mist hanging over the lake which obstructed the view slightly. By 7PM it was clear and the lake was vibrant neon orange, clearly visible from the bench viewing platform on the volcano's edge. We popped into our cabin when it started raining and then popped back out around 9:45PM to witness it again and watch the orange lava continued to pop and bubble.
The Cabins, Dining + Bathroom Breaks
The cabins at the top are within a few meters of the volcano so you'll be able to watch the lava show at any point from when you arrive. The cabins are extremely basic with two mats and two pillows in each room, but they do the job. You will have brought up a sleeping bag and a fleece liner for your bag to sleep in which will add necessary warmth. If your trek is cold and wet like ours, change into dry clothes immediately and get into your fleece to warm your body up so you can better enjoy your time at the top.
When you book your Mt. Nyiragongo hike through Virunga National Park, a cook will join you at the top. Martin was our cook, and he prepared dinner and breakfast for us in the comfort of a warm hut that he turned into a kitchen and living space for us. There were five of us on the Nyiragongo hike and the warm-up was a highlight of the evening. Once Martin had started a fire in his hut, we all headed down to warm our bodies with tea or coffee and tried to dry our shoes and clothing by the fire (this actually worked pretty well!). We spent hours around the warmth, exchanging stories and marveling at the fact that we were hanging out on a volcano. For dinner, Martin had a vegetarian soup for us, followed by ratatouille, rice, and a meat dish for the guys.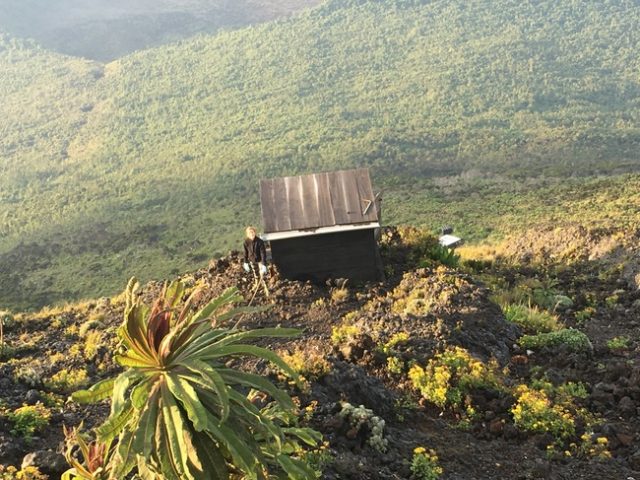 What about bathroom facilities, you're wondering? There is an outhouse, and it's precariously perched further down the mountain face. You'll have to rappel about 40 feet down the lava rock before reaching a little hut with two toilets. By day, it's totally fine and doable. By night, it's not worth the risk. The night sky is pitch black and even with a head torch or flashlight there's not enough light to sufficiently see. All things considered the bathrooms are actually pretty nice. Bring your own toilet paper. There was a roll of toilet paper at the bathroom stall but it was soaked after all of the rain.
The Descent
People warned us that the hike down wasn't any easier than the hike up. That's putting it lightly. For me, the hike down was a much more frightening endeavor that the hike up. Remember that whole part about the final stretch being super steep with craggly, sharp lava rock? Going up, those jagged edges act as a bit of a foot hold. Going down, you have to very slowly navigate to not take a tumble. I fell once (stumbled a number of times) and can attest to the fact that the rock can be extremely sharp.
The first section of the descent (summit down to stop 4) is the most precarious because of the footing and instability, but the second section of the descent (from the cabin at stop 4 down stop 3) is the longest continuously steep portion. You'll be navigating those same lava rocks at a heavy decline which is toughest on the joints. My legs and glutes didn't hurt at all during this trek but my knees and ankles could really feel it on the way down.
The loose lava rocks for the second segment are a pain but no more of a pain than they were on the way up. In fact, you'll be moving a bit more quickly since the angle isn't so terrible after you've completed the first couple of segments. Once you reach the flat trail, it's literally a walk in the park.
With stopping at each rest stop, we made it down in about 3 – 3 ½ hours. The trek down will likely be a lot faster than the hike up, but beware that it is tough on the joints!
Watch the video of our Mt. Nyiragongo hike here:
Five Tips for Embarking on the Mt. Nyiragongo Hike
Hire a Porter
1First and foremost, be prepared to hire a porter ($24 each round trip, plus extra for tip). Even if you're a hiker, taking a 25 – 30 pound backpack up this incline is extremely difficult. If you have bad weather like we did, it'd be near impossible. It's absolutely not worth it to find out half way through that you can't continue with the heavy load. To be honest, I think the park should make it mandatory to pay for a porter for the hike considering how dangerous and difficult it would be.
If you're like me, you'll feel bad having someone carrying your heavy load for this steep journey, but these guys are absolutely physically capable of doing this. We had three porters for our three bags: two young guys (one who legitimately looked like he was 10), and an older guy who was around 60. The older guy, dressed in a sweater and a sport coat, carried our backpack and carried a sack of food on his head during the climb. Our cook, many rangers and many porters make this hike as often as three times per week. One of our porters was carrying my load on the way down and still offered to take my hand to help guide me. They're exceptionally strong and able-bodied, and hiring them (and tipping them!) is a great way to infuse money into the local economy.
Take a Hiking Stick
2I've often said how I thought hiking sticks were the domain of Austrian trekkers but to be honest: they've got it right! With the steep nature of this hike, a hiking stick is exceptionally handy to help with stability and momentum as you gain altitude. Going down it was absolutely necessary for me to steady myself and make it down the jagged steep terrain. If you're staying at Mikeno Lodge before hand, they're provided.
Bring Warm Weather Gear
3I can't emphasize this enough: it is freezing at the top. Literally freezing. We had pockets of frost at our feet when we made it to the lava lake. If you've gotten wet, you'll risk hypothermia without the right gear. Over a sports bra and tank top I layered a zip up sweater and a thermal, plus put on a thick beanie and a scarf. I also had a few changes of dry socks and a change of dry pants. I was still freezing; often times too cold to go sit and just admire the lava lake. Take extra gear. I would advise a thermal top and long johns if you have them, plus dry pants, a thermal sweater plus at least one other long-sleeved top underneath. If you have a heavier down jacket, that may be useful, too. A beanie or something to cover your head and ears is essential. A scarf helped me a lot with covering more of my neck and face. I wish I would have thought of this before we left but it's also worth bringing those little heat packs you can buy for snowboarding and skiing (the kind that you can use in your mittens and on your feet). They'll help make it warm enough to bear the temps outside.
Acclimate to the Altitude Beforehand
4Including Scott and I, we were a group of five, all at about the same fitness level and comfortable with the same pace. Two of the guys in our group had come in straight from Goma (via Kigali) to begin this trek; straight from sea level, to 6500', then hiking up to 11,500'. That's a huge altitude change and altitude sickness is no joke (you'll remember Scott dealt with altitude sickness in Cusco during our honeymoon). One of the guys – clearly very physically fit – had some issues during the last couple of segments purely because of the altitude making it difficult for him to continue. He had to stop regularly to collect himself and continue on.
We had already been at a fairly high altitude (about 6000') for a week or so, so our bodies had time to acclimate to the elevation a bit more. While I did notice the altitude affecting me slightly at night (a touch of a headache but nothing major), it wasn't an issue. My major piece of advice here would be to not get off a plane and head directly for this hike. Give yourself a few days at the higher altitude. Perhaps do a chimp or gorilla trek beforehand to get your blood pumping and heart moving at the higher altitude. We had done chimp trekking in Rwanda and two gorilla treks at altitude before setting out on our Mt. Nyiragongo hike, and I think that played a huge part in making the journey much easier on us that it could have been.
Know Your Personal Limits
5Lastly, understand your limits and your body, and also undertand this hike. If you're moderately fit, you can do this hike. To be totally honest with you, I didn't find it physically that difficult, though it clearly is categorized as a strenuous hike. I think the bigger issues at hand are: how are you with weather? How does your body react to the extreme cold? How are your joints? The hike, especially the descent, will do a number on your knees and ankles. If you have issues with your knees, I would evaluate that element more critically than general physical fitness. I've never had issues with my knees before but did notice a bit of soreness in knees and ankles on the way down. There is a ton of pressure when you're descending a mountain as steep as this and the pain that you'll feel in general will be more joint related than it will be muscle related. Know that once you've made it to the third stop on your way up, turning around will be difficult if not impossible. You're with a group so it's not worth risking it for you or for your group if you don't think your joints will allow you to make it to the top.
If you're somewhat physically fit and determined you should have no issues and will be in for one of the coolest sights of your lifetime.
We made it! Despite the elements, we had a great group and make excellent time on the way up and down. The lava lake is absolutely spectacular and if you're visiting the Democratic Republic of Congo and are moderately fit, it's worth the time, energy and money to embark on this once-in-a-lifetime experience.
Saying goodbye to the DRC was terribly sad for me. Despite having nearly a week there, I could have spent many more days enjoying the Congo. It may seem counterintuitive, but there's this amazing sense of peace where we were: so much nature, such wonderful people, and such a tranquil essence.
What to Pack
Good Walking Shoes – Hiking boots aren't necessary but a good pair of hiking shoes are a must! I opted for my pair of Adidas AX2, which were comfortable from the get-go though they didn't do the greatest job at keeping water out.
Warm Clothes: To layer and to sleep in when you reach the top. Pack warm clothes and then pack EXTRA. You're better off having extra layers and warmth so you can comfortably enjoy watching the lava lake boil and bubble at night.
Rain Gear: A lightweight rain jacket with hood will help protect from potential downpours during your hike; a rain poncho is provided in the Virunga-provided volcano pack if you've opted for it.
Hat + Sunscreen: Sun protection – it's the jungle! Lots of sun and heat at the bottom, mixed with heavy showers for the ultimate packing conundrum.
Headlamp/Light: There's no light at the top as the camp is very basic – bring a headlamp or a flashlight to help light the way from your camp to the cooking hut to the lava lake.
Camera: A camera is a must for the journey and the lava lake though I found my iPhone did a great job of capturing images. Something to record movies is great, too, to capture movement in the evening.
Portable Chargers: There's no electricity (you already knew this), so bring pre-charged portable chargers to help boost the power of your mobile devices.
Change of Dry Clothes (In a Dry Bag): Between sweat and rain your hiking clothes will likely be extremely dirty and wet by the time you get to the top! Bring a change of dry clothes – including socks! – to change into. If you can, bring a dry bag to protect from the elements.
If you're traveling from Bukima Tented Camp or Mikeno Lodge, you'll be provided with a 'Volcano Pack' which includes a rain poncho, warm long-sleeved sweater, thermal sleeping bag, fleece liner for your sleeping bag, drinking water and a packed lunch. If you're not staying at one of the Virunga National Park accommodations, you'll want to pack those items on your own.
The trek is not easy but it's worth every step to get to see such an incredible natural wonder! If you're somewhat physically fit and determined you should have no issues and will be in for one of the coolest sights of your lifetime.
Have you hiked to the top of a volcano or done the Nyiragongo hike? What was your experience like?