Exploring Peter, Cooper, Norman and Salt Islands
Following two days on Jost Van Dyke and a day exploring The Baths at Virgin Gorda and the North Sound, we set off for some BVI island hopping around the islands that dot the south side of Tortola: Cooper, Salt, Peter and Norman Islands. We had mentally drawn up an itinerary that made sense to us, moving east to west across the island chain, stopping at a different island each night. Like with most adventures, the key to success is leaving room for flexibility and for the unknown, and we did just that. Cooper was our proposed first stop coming from Virgin Gorda but with all the moorings taken in the early afternoon, we instead headed to Norman Island, the furthest west in the chain with the most moorings available for incoming boats. Over the next three days, we worked our way back to Cooper Island via Peter Island, Salt Island, and the Indians.

Each island has a unique personality and draw, and being able to hop between them is a great way to get a taste of the islands and enjoy different landscapes just a short ride from one another. Below is my take on the cluster of small islands that dot the southern side of Tortola, plus some highlights at each.
Norman Island 〰️ The Real Treasure Island
Famed as the Robert Louis Stevenson's inspiration for Treasure Island, Norman Island is one of the places where the idea of pirates in the Caribbean feels more alive than anywhere else. There are no accommodation options on Norman Island; your boat is your home base, and the mooring field here is one of the largest.
Norman is a great place for paddleboarders to explore the coast by board, and offers excellent snorkeling opportunities for those looking to kick-start their underwater explorations. The Caves at Norman Island are a famous snorkeling draw within the region; a series of 3 – 4 caves surrounded by vibrant sea life.
Malcolm, our captain, advised that the area would be busy by day so we opted for a late afternoon/early evening snorkel, which ended up being an ideal time to avoid crowds with the sun still up. There's a dinghy mooring field right near the caves so snorkelers can jump right into the protected area from their dinghy. During our time there, the area was calm – easy for all snorkelers – and the caves are one of the more unique snorkeling opportunities where visitors can make their way through the dark caverns in addition to snorkeling around the facade. We didn't have a flashlight but wished we would have brought one to illuminate the caves as we made our way further back (it gets pitch black as you swim further in). Allocate about 45 minutes to an hour to snorkel through, and try for a later afternoon (or presumably, an early morning) to explore without being surrounded by other snorkelers. Major bonus? We saw a turtle as we climbed back into our dinghy which felt like an absolute success.
EATS + SIPS ON NORMAN: Despite not having any accommodations available on Norman Island, boaters have dining and drinking options on the beach. Willy T's, a boat-turned-bar, is one of the BVI's more famous beach bars where having a drink is a rite of passage for anyone passing through. By night, Pirate's Bight is a great place for dinner, live music, and dancing on the beach with surprisingly good food and a beautiful beach set up. One of my preconceptions going into this trip was that food would generally be mediocre and that the establishments themselves would be a bit ramshackle. I didn't see that as being a problem at all, just a reality for the area. What we found was something very different, and our night at Pirate's Bight was our first pleasant surprise. The restaurant is expansive and well-appointed, with a good menu and great food options.
The Indians 〰️ The Snorkeler's Paradise

If you couldn't tell by the photos, The Indians are a group of stunning islets that jut out of the sea. They're not considered part of Norman, though they're extremely close and are lumped in during most convos about where to go and what to see in the region. The name allegedly came from sailors in the past who thought the islands looked like Native American headdresses from a distance. As I shared in my round-up of must-have experiences in the BVI, one of the keys to enjoying the Indians is arriving early. Very early.
There are only about a half-dozen moorings near the Indians and if you're not there early enough to grab one, you'll miss out. We pulled in somewhere between 6AM and 6:30AM and a couple of boats had already beat us there. Stepping onto the deck with this as our morning view was one of the coolest AM experiences of our trip. My mom, still battling sea sickness, and the boys, tired from a long night at Willy T's, slept through most of our time here. With the help of our captain, my dad and I popped in for a morning snorkel.

Malcolm shared with us early on that he found the snorkeling near the Indians to be the best in the entire BVI. From our boat we hopped on a dinghy to get a bit closer and popped off right near the rocks to swim around the rock faces. It wasn't as calm as what we had experienced at the Caves at Norman the day before but it was still calm enough in the early morning to enjoy a thirty minute swim around while taking in the underwater landscape. In our experience, it was as good as the Caves (not necessarily better). Thinking we'd end up going in for a second snorkel when the rest of the group awoke (that didn't happen), we only snorkeled about half the expanse. For avid snorkelers and divers who want to allocate a bit more time, our captain has spotted seahorses in the past (!) along with sea life that you'd be hard pressed to find in other areas. By 9AM, the seas were beginning to get fairly rough which made snorkeling far less enticing, so we said our goodbyes to the Indians and made our move towards Peter Island with a cup of coffee in hand.
Peter Island 〰️ The Beach Lover's Dream
For me, Peter Island was an absolute gem and it was a totally different experience than what I had geared myself up for. In my mind, we'd spend an afternoon laying on the beach with a glass of rosé, plus an evening there, with one of our more gourmet dinners of the trip. On the day of, what we wanted was something different though. We pulled into the back side of Peter Island following a morning at The Indians. I'd started my day with a stunning snorkel but I didn't feel like I had gotten my fill quite yet. One of the biggest benefits of having an experienced captain is having a knowledgeable person on board who really knows the lay of the land. Malcolm surprised us by pulling into a somewhat secluded beach at Peter Island with an area that had the snorkeling we were looking for.
My mom was finally pulling through on her seasickness and was ready for a dip. Moored in the bay, Malcolm took us closer to shore on our dinghy where we popped off for some of the best snorkeling of the trip. After hearing about Peter Island, it was the beaches I was most prepared for, not the snorkeling, but our underwater experience surprised us more than nearly any other. It was honestly spectacular. We followed it up with a tour of the coastline as I paddle boarded around, pulling my mom aboard our inflatable flamingo, Frida.
After visiting the lesser known side of Peter Island we made our way to the iconic Deadman's Bay.
When it comes to pristine beaches, Peter Island takes the cake. The stretch of sand along Deadman's Bay is an absolute stunner, and it was a welcome sight after our snorkel and paddle. Peter Island Resort, one of the BVI's more exclusive hideaways, has palapas that dot the pristine stretch of sand, and Hobie Cats and kayaks add bright pops of color. It's a beach scene not unlike what we see in Anguilla and the stretch is absolutely on par with the top beaches here.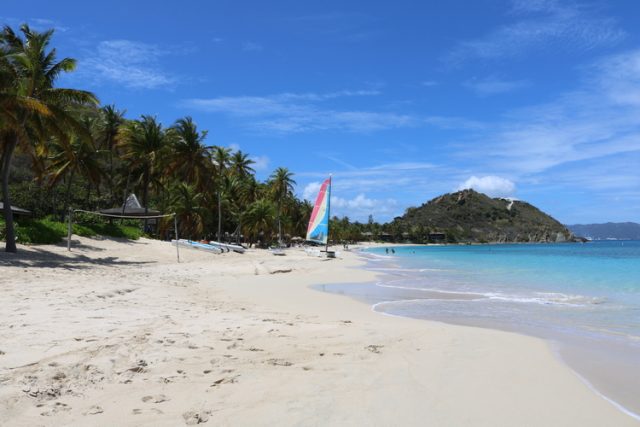 EATS + SIPS ON PETER ISLAND: We actually opted to not eat on Peter Island, but Peter Island Resort has a handful of restaurants offering up lounge vibes to more upscale nighttime dining for resort goers and visiting boaters.
Salt Island 〰️ The Desolate Beauty
One of the things I loved most about the BVI was our ability to pop from one island to the next quickly, swapping landscapes in a flash. We departed Peter Island with its powdery white sands and headed towards Salt Island, where the rugged landscape is home to a single person, craggy rock formations, and blanket of undeveloped green covering the island.
After spending the morning at the Indians and the day on Peter Island, we chose to spend the night on Salt Island, washed in the peacefulness of a stunning sunset and surrounded by very few other boats. There is nothing on Salt Island; no accommodations, no restaurants, no beach bar. There are moorings where boats can tie up for the night, and it was an evening that we absolutely loved. We floated, we talked, we listened to music, we took in the scenery (more SUP taxi services for mom, naturally), and we took a dinghy tour of the island to check out some rock formations along the coast.
Salt Island has a great history and story that adds to its allure. The moniker comes from its salt ponds and its history producing salt, which was cultivated by the residents on the island. Each year, a pound of salt was sent to the Queen as payment to the crown for Salt Island. The practice stopped for a while, but has become a tradition once again. There's one person that lives on the island now (they set up a polling station for him to vote there!), and each year a pound of salt is presented to the royal family in exchange for Salt Island. (As a side note, we rather ironically ran out of salt aboard the yacht that evening.)
We hadn't totally prepared to dine on board in the evenings, but we had provisioned in advance and had the boat stocked with plenty of food for a casual evening with our best tuna sandwiches washed down with a glass of Zin.
EATS + SIPS ON SALT: There are no dining establishments on Salt Island so come prepared! Plan to grill on board or opt for a simpler version like something we did with sandwiches, a cheese plate, and some wine.
Cooper Island 〰️ The Eco-Friendly Island
Cooper Island is kind of the cool hip millennial kid of the BVIs.
Cooper Island is kind of the cool hip millennial kid of the BVIs. It doesn't bring the posh exclusivity that you'd find on Peter or Guana Islands, and it doesn't have a party boy rep. It's a place where you can order a craft beer produced at their local brewery ($1 of each goes to turtle conservation), sip a cocktail at their rum room, pick up some cool swag at their gift shop, stroll through the eco-resort, and then paddleboard amidst turtles. It's just cool; not in a pretentious way, more in a I'm-not-trying-to-be-cool-I-just-am kind of way, which is precisely why we all really enjoyed our time there. My mom divulged that Cooper was her favorite of the islands that we visited during our BVI yachting adventure, mentioning that it's the island she'd probably be most likely to spend an extended amount of time on.
The beach is pretty (not Peter Island pretty but very pretty), and the resort is what I envision as being the perfect fit for the BVIs; boutique and lovely with a barefoot vibe. Malcolm, the ultimate Caribbean yachtsman and water enthusiast that he is, visits Cooper with the sea turtle program to mark the turtles for conservation purposes and mentioned that if we were going to see turtles, this would be the place. Sure enough, as we pulled up to our mooring, a turtle popped its head right in front of us. We were in for an awesome day. During the course of the day we saw about a dozen turtles popping their heads up in the water, and I was over-the-moon to be able to paddleboard and swim with them during our time there, an absolute highlight for me.
The calm waters surrounding Cooper were also the perfect place for a newbie to learn to paddleboard. My mom had been toying with the idea since our day on Norman when she saw me zipping around the bay, but never quite felt comfortable enough to try. Until we reached Cooper, that is. Armed with newfound confidence, we took the board to the beach and she practiced until she was finally able to paddle for 2- 3 minutes straight without flipping the board. Success, am I right?
EATS + SIPS ON COOPER: When I talk about that cool kid vibe, it doesn't hurt that Cooper Island is putting out excellent food in a pretty setting. There's one main restaurant, but there's also a coffee shop, rum bar and brewery on property for those spending the day there. Malcolm told us prior to our visit that he thought that Cooper Island could very well be putting out the best food in the entire BVI and I'd vouch that it's definitely got a fighting chance for that title. Great food, fun cocktails and a gorgeous setting are a tough combo to beat.
We followed our day of water sports with another stunning sunset, a great dinner, and an astoundingly starlit night as we said goodnight to the BVIs one last time. We had seen some gorgeous nights during our time aboard the boat, but the stars were the brightest on our final night and the sky was perfectly clear for stargazing. It's so easy to ignore something so simple, but for those doing a similar trip, you must make a point of laying on your deck and taking in the night sky; it's magic!
For those that have been to the BVI, which islands are your favorite? Any great secret spots that we missed?