Our entire trip to the BVI was slated to be a yachting trip. We had originally planned to spend seven days exploring the islands by boat until we ran into a snafu with our dates. Undeterred, we decided to take the four-day yacht charter with Virgin Motor Yachts and figure out a game plan for the first two nights. We narrowed it down to two options: Virgin Gorda (our first choice) or Jost van Dyke.
During the planning process I was convinced that Virgin Gorda would be the better of the two options; it's a bigger island with more to see and do, plus I'd never been which was enough reason for me to want to dedicate more time to exploring. Finding accommodations that fit the bill for the five of us proved more difficult than we expected though, and we decided to explore Plan B, Jost van Dyke.
I've been to Jost twice before, both times on day trips from the neighboring USVI. My memories – at least the bit that I do remember – are fond, with painkiller-fueled days on White Bay. During our first trip we met people who were staying on Jost and I vividly remember being stunned that people stayed on the island. For those that haven't overnighted there, it's easy to think of it as a day trip destination and little more.
Yet Jost's vibe, beaches and offerings provide enough for travelers to spend a few days on this little island paradise, and we were thrilled with our choice. In hindsight, we were all happy to have had a couple of days and nights to explore the parts of Jost than day trippers often don't see. 
On a traditional day trip from another island, what you'll likely see is White Bay by day. You'll miss out on the stunning sunsets, the nighttime activities at Foxy's, some fun dining, plus the peacefulness of the mornings before the crowds roll in.
Thinking of spending a few nights on Jost van Dyke? Check out what we did with two nights and two full days on the island:

To be honest, you could easily spend two full days lazing on White Bay, but there's more to Jost than just the dominant beach bar scene. We arrived in the early afternoon from Tortola on our first day, geared up for lunch and excited to explore the island. For those traveling from St. Thomas and Tortola, it's worth noting that the ferry schedules posted online are hardly accurate. There were a number of ferry times that we had banked on that were not active, which threw off our timing. Don't rely on what you see online; instead, call the company directly if your plans hinge on ferry times to confirm with someone directly.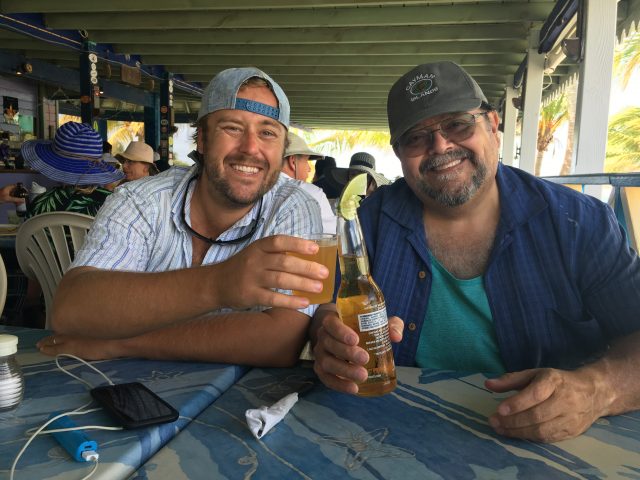 We arranged a rental car through Paradise Jeep Rentals, checked in at our villa, and headed immediately to Foxy's Taboo where we had our first lunch of the trip. The BVI aren't exactly reputed for their dining scene but we found ourselves impressed throughout our trip with the food options across the islands. Foxy's Taboo kickstarted that for us with gorgeous beach views, great salad options, healthy pitas, and sandwiches and burgers to round out the menu (far more than the typical beach bar fare you imagine in the Caribbean). Plus, when you can wash it down with a signature Bushwacker, it's all kinds of vacay mode.
The Bubbly Pool
Beyond the beach bar scene, one of the island's main draws is the Bubbly Pool, on Jost's east side. There's a small hike to reach the Bubbly Pool, which sits about 15 minutes from Foxy's Taboo. It's more of a walk than a hike, but those with mobility issues will have a tough time with some of the rocky steps that lead to the pool. The effect of the Bubbly Pool relies on the ferocity of the water and the tide; when we visited during low tide, we saw more of a small, still pool of water with lots of tourists trying to find their patch for wading. We stayed ten minutes tops before heading back, but in better conditions I imagine it's worth dedicating more time to enjoy. There's a patch of sand and boulders behind the pool that create a perfect backdrop for a daytime picnic.
White Bay, Jost Van Dyke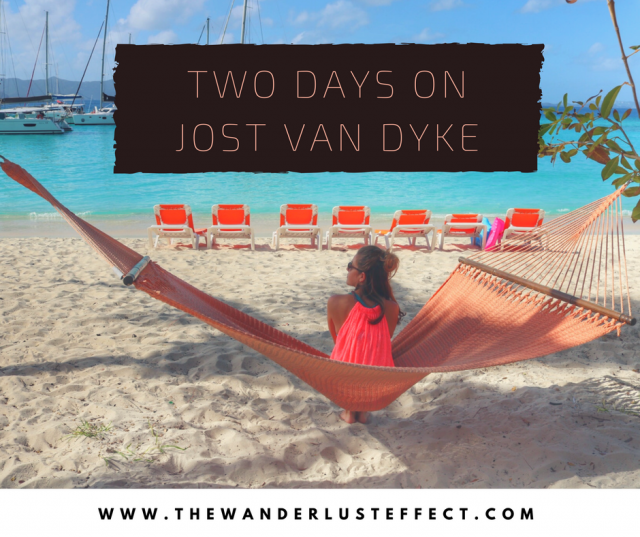 With our second full day, we had one objective: laze on White Bay. Scott and I headed down to Hendo's Hideout, White Bay's newest hotspot, where we secured chairs for the day. For a day of beach lazing, Hendo's takes the cake for us with a great beach set up that's perfect for those who are settling in. The beach has its fair share of drinking + dining establishments and each has its own following but the king of must-have drinks is the famous painkiller, which was originated at Soggy Dollar Bar (read up on my ultimate experiences in the BVI for more). For food, Hendo's Hideout wowed us with what they were putting out for lunch, and their new dinner menu looked like it was ready to draw a serious crowd (though they stopped serving a bit too early for our tastes).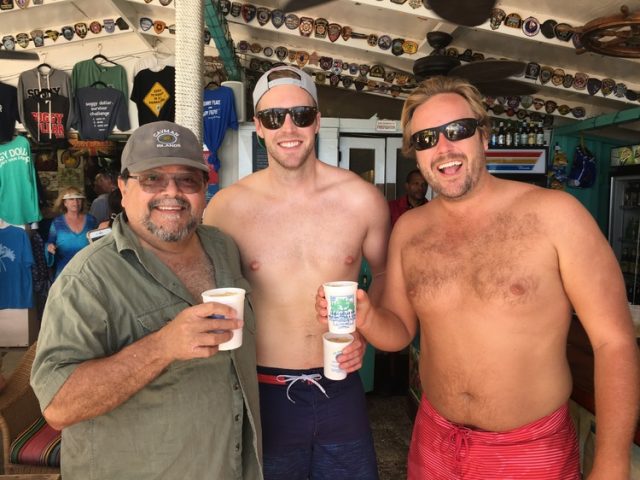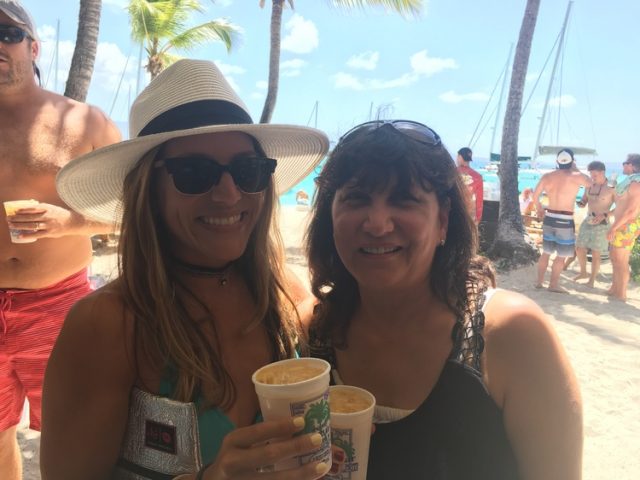 Be prepared with your fair share of sunscreen and you can easily spend a full day soaking up rays, bouncing between the sea and the sand along the beach. Hendo's offers corn hole, and many spots along the beach have the ring game and other bar activities for added entertainment. For us, intermittent cocktails, conversation, and beach loungers were the perfect combination.
One of my favorite aspects of overnighting on Jost Van Dyke was being able to take in the sunsets. On previous day trips, we only had a few hours on White Bay and always left before the sun began to set. We weren't in a hurry during our nights on the island, and it was a beautiful thing. We allowed ourselves to watch the sun go down over the beach while boats headed out of the harbor. When we could no longer see the sun, we headed up to our rooms at White Bay Villas, where we nabbed a new vantage point for the final stretches of sunset. In the same way that the early morning brought a sense of peace to the island, the sunset did the same. Fewer people, perfect lighting, and the sound of the sea.
Check out the time lapse below that captures the sunset on White Bay:
Dining + Nighttime Activities
The other missing element when you only visit Jost Van Dyke on a day trip? The nighttime scene on the island! We went in with the intention of dining at Corsair's our first evening and Hendo's Hideout our second evening but we loved the vibe at Corsair's so much that we couldn't help but go back for round two after our first experience. Hendo's dinner menu looked great but a 7:30PM reservation was the latest they could accommodate on the day we were there, which was a bit too early for the pace we were moving.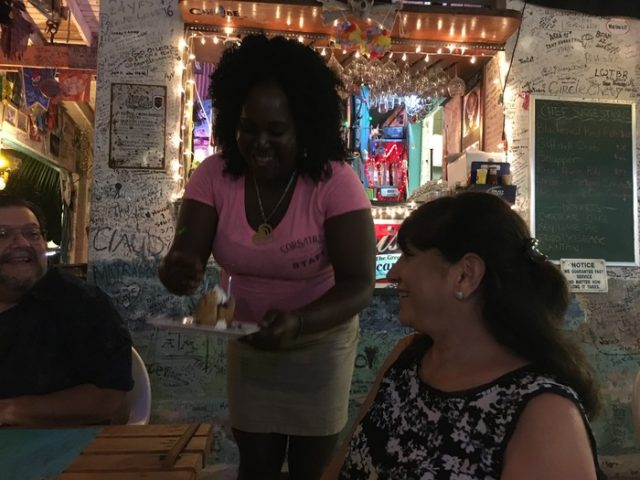 Corsair's is rated as one of the best – if not the best- dining in the BVI and while it's a bit pricey we decided it was worth a visit on our first night there. The vibe is perfect; casual but put together enough to feel like you're having a nice meal. Everyone raved about their food, from the conch fritters and lobster ceviche starters, to the standout scallops and Scott's whole red snapper that had us oohing and ahhing over the presentation (not the best order for those that don't like food that stares back at them). We loved it enough to go back for our second night, so that's a pretty solid testament to the perceived value.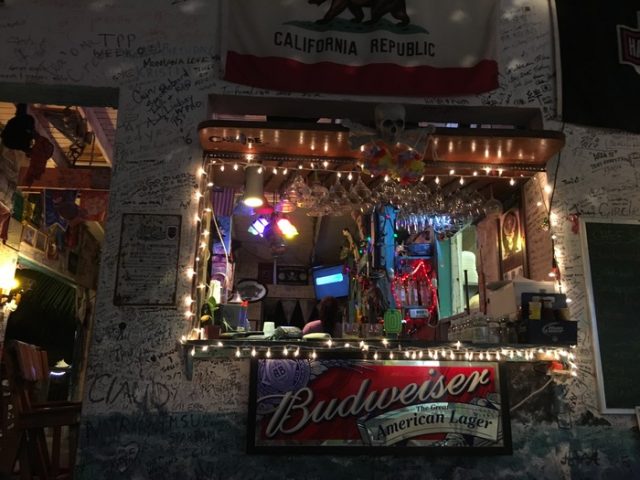 The other must after the sun has set on Jost? A visit to world-famous Foxy's, which is an entirely different and more alive place by night than it is by day. You can dine at Foxy's if you're so inclined but the real draw is for post-dinner cocktails and dancing. What the painkiller is to Soggy Dollar Bar, the bushwacker is to Foxy's. If you have room for the rum-infused milkshake, it's a must, and the mix of booze + sugar is a surefire way to get you dancing for the night. We found ourselves there until near midnight when the heady mix of daytime sun and rum cocktails caught up with us.
Reflecting on our trip and the time we dedicated to each place, we all collectively found that spending two nights on Jost was the best option for our group. It brought the perfect vibe, a more reasonable price point for accommodations (think $600/night on Jost Van Dyke vs. $2200+ per night in Virgin Gorda), and a fun kickstart for the week ahead. For those looking for accommodations, we stayed at White Bay Villas, a hilltop location that we loved, despite their wi-fi issues. I mean, can you beat this morning view?
Have you stayed on Jost Van Dyke or another one of the British Virgin Islands? Thoughts on land vs. sea for a BVI trip?