During our final day in St. John, we rented a car and headed out to explore. We wanted to get a sense of the island, to learn our way around, and discover the places that we'd want to revisit if we were to return. We'd gotten a decent feel for Cruz Bay by this point but hadn't ventured past Trunk Bay to explore.
Before booking the trip, I'd spoken with frequent visitors to St. John who had raved about how tranquil the island is, and how beautiful the landscape is with its stunning beaches and its national forest. Going in, I managed my expectations: sure, the beaches will be nice, but would they even compare to Anguilla's? I didn't want to get my hopes up. After exploring the beaches at Caneel Bay, plus undertaking our self-guided tour of the north shore, I was impressed.
Many of the beaches are stunningly gorgeous, and the silhouettes of neighboring islands make the landscape even more interesting. The only downside is that the beaches were far more crowded than what we've become accustomed to in Anguilla. We had to search for an open slice of sand on the beach when we wanted to settle in. Most of beaches were at least 10x more crowded than what we're used to on our home beaches. Even the 'local gems' that residents had told us about were busy.
Still, you can't argue with these views and the color of this water.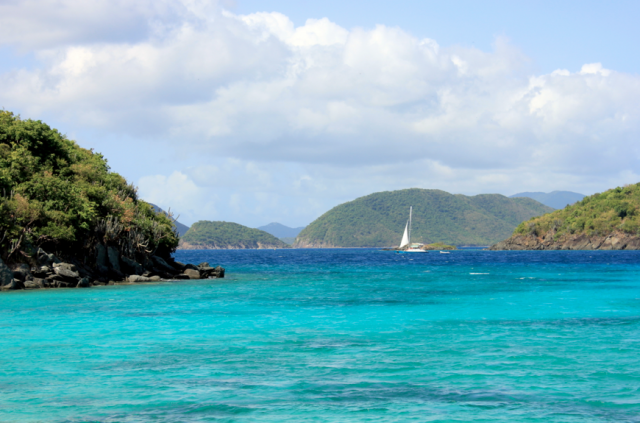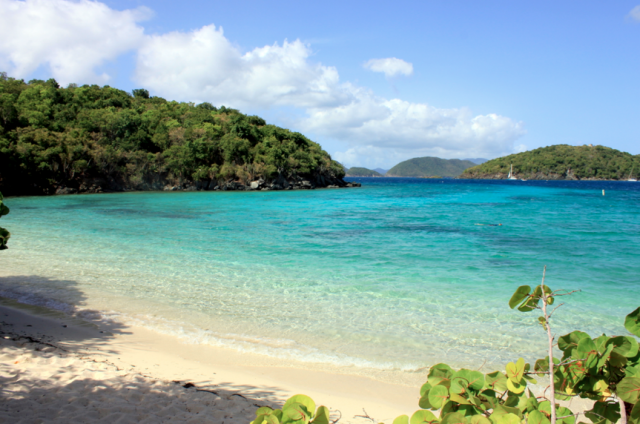 Our tour took us along the north coast road (there are basically two roads in St. John – one that goes along the coast, and one that cuts straight through the center), and spit us out at Coral Bay which had a markedly different feel than what we'd experienced in Cruz Bay.
The entire area is far less developed. There were a couple of distinct areas with quirky shops and casual eateries, but in general, the area felt much more bohemian to us. We dined at a lunch spot called Skinny Legs that was a refreshing no frills grill jam-packed with patrons (from what we could gather, a mix of locals and tourists). Meals are served on disposable plates with plasticware, and the menu offers favorites like burgers, wings, salads and frozen cocktails at reasonable prices. Despite the fact that St. John is a small island, Coral Bay felt far from Cruz Bay, both distance-wise and culturally. There was definitely a spirit and essence distinct to the island's eastern side. It was a place that felt like it would be the perfect home for artists, yogis and musicians vs. those looking for luxe pampering.
Snorkeling in St. John
During our north shore exploration, I petitioned to revisit Trunk Bay. We'd already gotten a brief taste of it but hadn't had a chance to snorkel during our first experience. Trunk Bay has a snorkel trail that visitors can follow, with signs on the sea floor that explain the sea life that you'll be seeing.
This time around we took our GoPro to capture a bit of what we were seeing below the surface. Check out video below for a brief 2 minute clip of some of what we encountered. Compared with what we see in Anguilla, the snorkeling here was great. We saw a few rays and lots of vibrant fish. We didn't glimpse any sea turtles at Trunk Bay but heard from a number of people that snorkeling at Leinster Bay and Waterlemon Cay provide great snorkeling with a decent chance of seeing sea turtles. Next time!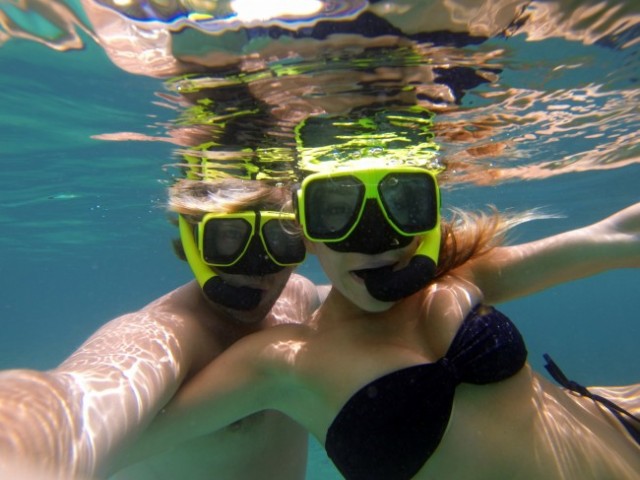 It was a great final day for us in St. John. We ended Sunday with a photoshoot (more on that to come) along with a final dinner at La Tapa before saying our goodbyes to Cruz Bay and St. John. Even in a brief three days, we could tell that this was a place that people revisit. There's enough to keep you entertained along with some of the comforts of home that American and European travelers are used to, but with a dose of island spirit and a backdrop that is decidedly Caribbean.
For those that have visited St. John, do you have any thoughts or tips to share with future visitors to the island? Any favorite spots or hidden gems?
xo from the islands,