Waking up at Bukima Tented Camp, we were at the starting point for gorilla trekking in the DRC. In fact, Bukima is in the thick of gorilla territory with some families even making their way into the campsite on the odd occasion. After an awe-inspiring breakfast set-up, we headed to the ranger meeting post in a building on site where we would meet other trekkers and be briefed on safety and gorillas by our ranger/guide. There were four of us on this particular day, Scott and I plus a father-daughter duo from the UK on an adventurous bonding trip.
A whiteboard hung on a blank white wall, next to a map of the park. On the board was information about a number of gorilla families in the area. Each family has its own name, a name that comes as homage to a fallen ranger, and the ranger jotted down details about how many individuals are in the family, the breakdown of family members (e.g. number of silverbacks, black backs, babies, females, etc.), where they're located on a particular day along with rough trekking time to reach them (anywhere from 50 minutes to a couple of hours).
For our first experience gorilla trekking in Africa, we visited the Rugendo family, a gorilla family with nine individuals: 3 silverbacks, 1 black back male, 1 adult female, 2 silverback adult females and 2 babies. We were briefed on gorilla safety, about wearing masks in their presence so we don't transfer any diseases to them, and about being quiet, staying in a group, not pointing at babies (or making sudden movements), not using flash, and about staying at least 7 meters, about 20 feet, away.
We set out on a trek that would take about 1 hour and 45 minutes each way, 6 miles roundtrip of trekking. On our first day of gorilla trekking, half of it was an easy to moderate walk through fields with stunning vistas of the park around us. With us was our ranger, Peter, and a tracker who set the pace and led us to the park boundary, which is marked by three wires to create a barricade. For the record, the top wire is electric. (Scott learned this the hard way on our way out of the jungle.)
We crossed through the wires into dense forest where our tracker used his machete to clear a path for us. About a half hour later, we had arrived at the family. Masks on and cameras at the ready, we were escorted into the gorillas' lair.
I had expected to be twenty feet or more from the family, but this wasn't the case. We were in the thick of it, a silverback within a few feet of us. We were already in awe to be so close, and a healthy respect set in. We continued on where the rest of the family was playing; a baby bounced around the trees and ran right up to us, ready to touch my leg out of curiosity. There were many times that we were within a few feet of the gorillas, but were sure to back up and stay out-of-the-way as to not startle them or the silverbacks.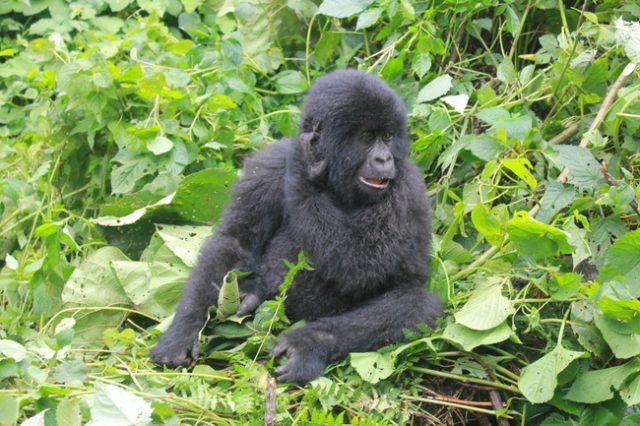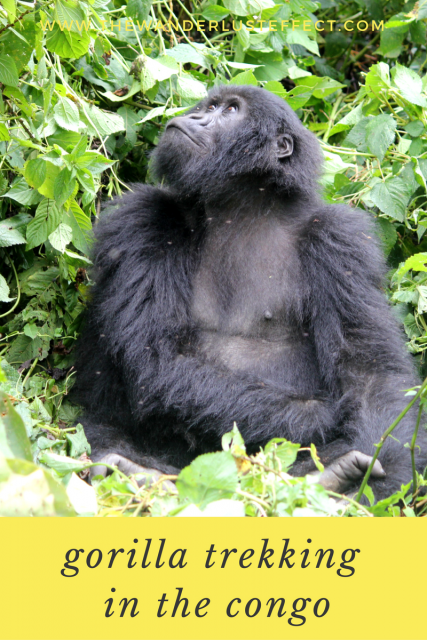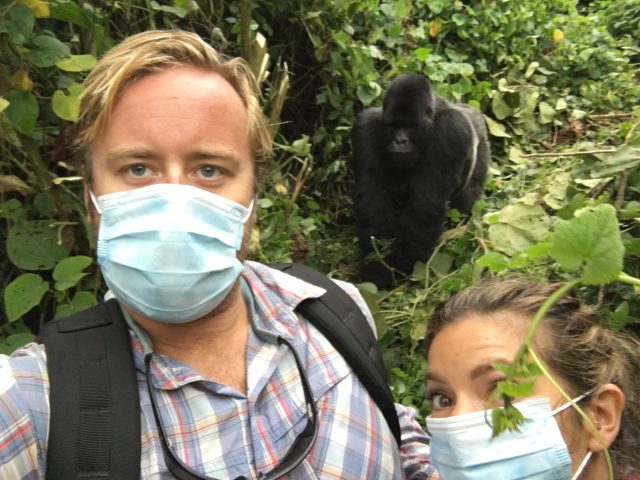 We had an hour with the gorillas and we cherished every moment of that hour. Watching the family interact was absolutely one of the coolest wildlife experiences I could imagine. It felt different from our previous safari where we were observers in the distance. Here we felt like we were in it; like we were invisible onlookers watching intimate family interactions between the gorillas. The babies wrestled with the juveniles, the adult female watched as the younger gorillas played, the silverbacks alternated between relaxing and surveying their surroundings. Being so close and being able to watch them so intently really made us all realize how human-like these animals are. Their interactions, their faces, their expressions. There were a number of times that the babies looked at us with the same curiosity and interest that we looked back at them.
"Watching the family interact was absolutely one of the coolest wildlife experiences I could imagine."
If a picture is worth a thousand words, then videos are absolutely priceless and in this instance that's absolutely true. I loved being able to capture some images of the Rugendo family playing, but the videos instantly take us back to being there, feet away from the gorillas, watching them play tag, swing on trees, and gobble up leaves. (Be sure to watch at the best available quality so it's not too grainy.)
Stay tuned for photos, videos and a recap from our second day of gorilla trekking in the Congo! I couldn't be happier with our decision to come here and to experience this first hand.
Have you been gorilla trekking in Africa? What was your experience like?