It's been another amazing year of memories and it's difficult to believe that 2014 is coming to a close so quickly. As someone who holds down a full-time gig (with a few part-time gigs sprinkled in), I would say that our year of travel was a rather exceptional one, with some really incredible opportunities to see some bucket list destinations. It's pretty hard to rank experiences as they're all different and offer fulfillment in different ways, but this list represents my best attempt.
So, for the 2014 year, my Top 10 Travel Moments:
Celebrating 1 Year in St. John, USVI
10. St. John was a rather impromptu trip planned by yours truly in an attempt to surprise Scott for our one-year anniversary. The surprise actually worked (yay!) and we had a brilliant four-day getaway in the USVI. St. John was lovely, a pleasant mix of Caribbean and American, but the most memorable day was our day-trip to Jost Van Dyke in the BVIs. Read about our trip to St. John here.
24 Hours Gallivanting around Paris
9. It's amazing how a single day in Paris can be a wonderful enough memory to stand out in a great set of travel experiences. It's true, there's something about Paris that's utterly magical. Luckily Scott and I had been to Paris before (independently) so we were able to enjoy our day there rather than rushing around from sight to sight. Definitely a beautifully romantic city, and a reminder that we must get back for a longer stint! Read about our day in Paris here.
A Wedding-Filled West Coast Adventure
8. Oh, California. For so many people this is a #1 travel experience but we're a bit jaded since we're from the Golden State. Going back was a major reminder for us though that California, despite being 'home' is a pretty amazing place. To top off the fact that our West Coast trip took us to Santa Barbara (stunning) to Vegas (always a blast) and San Francisco (one of the world's best cities), the icing was watching family and friends tie the knot. Read more about our West Coast trip here.
A Pre-Christmas City Fix in NYC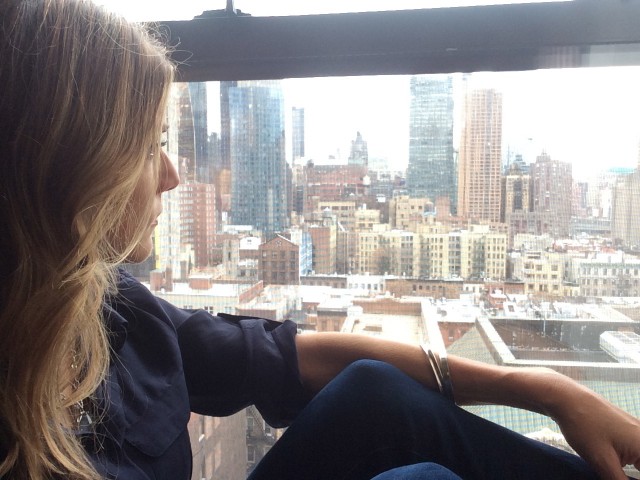 7. We just returned from NYC for a pre-holiday getaway, giving us our fix of winter weather, holiday shopping, anonymity, delicious dining, plus an opportunity to catch up with friends. I'll be honest: I've long taken New York for granted, not because I'm from there (I'm not), but because it's a US city. Somehow visiting London, Paris, Rome, etc. seems so much more exotic and glamorous but being in New York was a great reminder that NYC really is fairly unique in the global landscape. There are a few other cities in the world that may be able to compete but it really is the ultimate city fix, and a great contrast to island life.
A Nature Rush in Dominica, West Indies
6. Our time in Dominica brought us face-to-face with one of the most lush and raw islands in the Caribbean. We survived the Boiling Lake hike (barely) and spent the night at gorgeous Jungle Bay where we were one with nature for a few days. Morning yoga, fresh coconut water, and the ultimate in farm-to-table (more like island-to-table), Dominica was a great mix of outdoorsy activity and R&R. Read about our time in Dominica – and all of our fun activities! – here.
Spending the Night in a Bedouin Camp
5. Seriously, spending the night at a Bedouin Camp was my accommodation highlight of the year. Yes, we certainly stayed at nicer places during 2014 but spending the night at the Seven Wonders Camp was incredibly memorable. Entering to a glowing mountainside and getting a brief taste of Bedouin life (perhaps slightly more sophisticated that it would have been centuries ago) while knowing we were prepping for a day in Petra was a bucket list experience. I wish we could have spent longer there but I'm grateful for the brief experience! Fabulous. Read about it here.
Exploring the West Bank
4. Where do I start? Running across tucked away monasteries while off-roading in the Judean Desert; visiting the Church of the Nativity to see where Jesus was born; overlooking Jericho, the world's oldest city; coming face-to-face with the stark realities of Hebron — I don't think words can accurately describe the mix of emotions and genuine awe that I felt visiting places in the West Bank. Had we only visited Israel and bypassed the Palestinian Territories, I wouldn't have felt nearly as fulfilled. Our experience delving deeper culturally and hearing the Palestinian perspective left my heart insanely full. A big thank you to the team at Abraham Tours for helping us make this a reality – we would have never had these experiences without the hardworking team that puts these truly amazing tours together. A great reminder to be a true traveler, not just a tourist. Read about the West Bank here.
My First Brush with Africa – 8 Days in Kenya
3. Isn't an African safari on everyone's bucket list? It was certainly on mine and it was high on the list (pretty much neck-in-neck with the Holy Land). Somehow, rather unexpectedly, a trip to Kenya became a reality in March and it was the experience of a lifetime. Our two-day safari in Tsavo East was enough to make me want to return for more, and our time snorkeling off the Kenyan Coast and deep-sea fishing in the Indian Ocean were surprising highlights, too. The best part? Being with my second family (my in-laws) to celebrate my mother-in-law's birthday. Truly a memory for the books. Read about our time in Kenya here.
Standing in front of the Treasury in Petra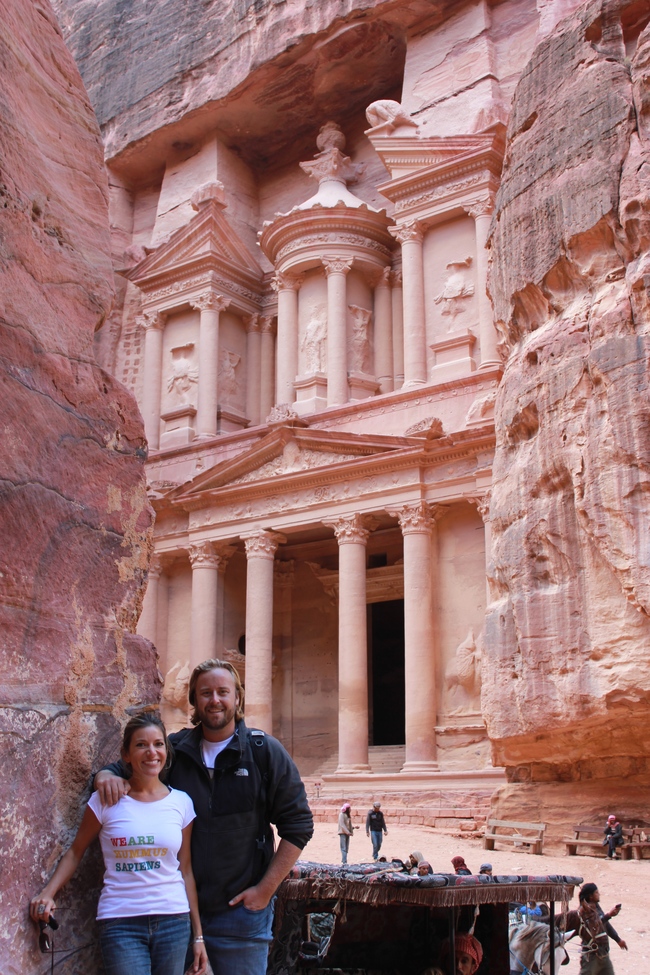 2. A World Wonder and a site as iconic as Machu Picchu or the Great Wall, Petra was a major bucket list item for me, too (lots of bucket list trips this year!). I'd seen the photos and read others' experiences but being there and seeing it first-hand left me absolutely inspired. It's no wonder Petra keeps travelers coming from around the globe, it's amazing and deserving of more than a single day. A big thank you to our lovely guide, Rania, and our protector, Malek, who warmly welcomed us and shared stories of their homeland with us. Read about Petra here.

The Holy Land – Exploring Jerusalem + Northern Israel
1. How can this not be #1? Even if you're not a religious person, visits to Jerusalem (and other sites in Northern Israel) will leave you feeling so humbled and awe-inspired. For me, it was absolutely surreal and incredible beyond words. Jerusalem is quite possibly one of my favorite cities in the world for a few reasons, and being able to explore with family was extra special. Being able to put everything into context – all of the stories from the Bible alongside of the traditions held holy by Islam and Judaism – was pretty spectacular. I would recommend this trip to everyone, but for those looking to make religious pilgrimages, don't wait – your experience will likely be one of life's most indelible memories. Read about our time in Jerusalem's Old City.
---
Putting this list together annually is a highlight for me, and it's something that I think is worthwhile for everyone. Whether it's travel-related or just reviewing your top memories from the year, it's a great exercise in recalling those moments that make life extra special. This year, travel played a huge part in forming some of my most special memories, and I'm forever grateful for the opportunity to continue to see the world and better understand humankind. It's such a blessing and I'm looking forward to another year of memory-making in 2015!
What were your top travel memories of 2014?