We've arrived in the Middle East and today marked our first real day of exploring in the region. We decided to hit the ground running and embarked on a Judean Desert Tour with Nir Friedman of Hidden Valley Tours, a company that works with Abraham Tours to provide visitors a deeper look at the region. This hadn't been on my radar initially but I was intrigued by seeing a different part of the country and the opportunity to visit some sights that are off-the-beaten-path. The tour took us from our home base in Jerusalem east into the Judean Desert (sometimes referred to as the Judean Wilderness), the land that stretches from Israel to the Dead Sea bordering the Hashemite Kingdom of Jordan.
Mount Azazel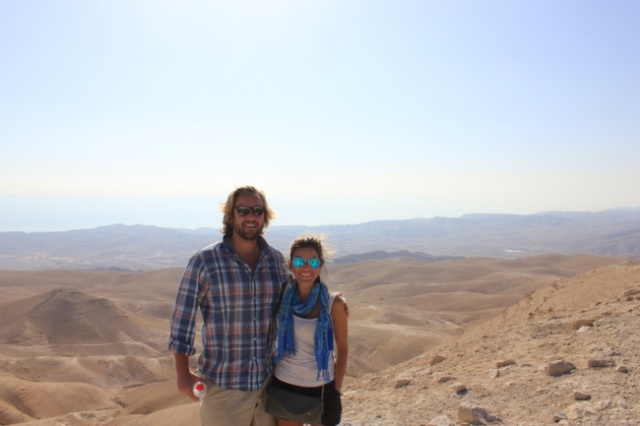 Our first stop on our Judean Desert Tour journey was Mount Azazel, a location referenced by all Abrahamic religions. According to tradition, a goat was selected annually, taken up to this mountain and thrown over the edge on the Day of Atonement (Yom Kippur). This was our first brush with the desert and the vistas were stunning; rolling sandy hills with a scent that reminded me in many ways of dry California days. Today marked a holiday in Israel and the area was a bit busier than it would be on any other week (though not congested by any means). Cyclists braved the rough terrain and families walked around the mountain top, catching views of Jerusalem and Herodian in the distance.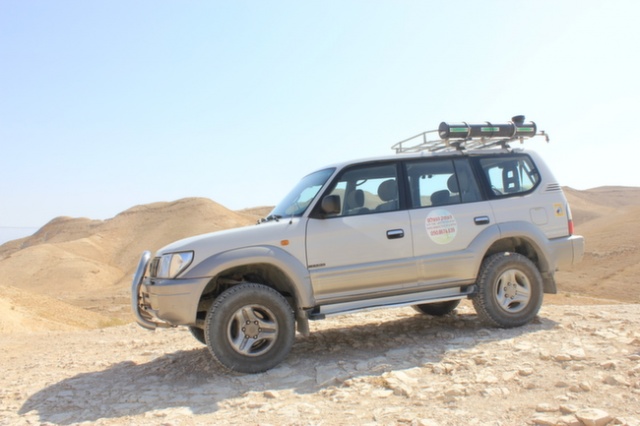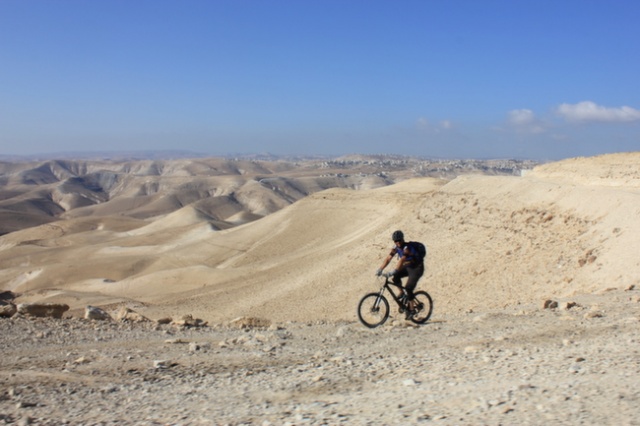 Mar Saba Monastery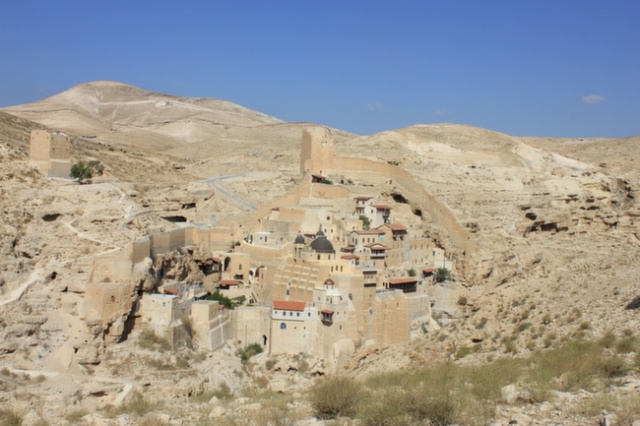 When it comes to best kept secrets in the Judean Desert, Mar Saba may top the list. The road to the monastery brings rather rough and difficult terrain that can be tough to negotiate which is a deterrent for visitors (how Nir's SUV made it, I'm still amazed). Though the ride may be rough, it's worth the work. Mar Saba is over 1500 years old and is the oldest inhabited monastery in the world, currently the home for a small collection of Greek Orthodox monks. Surrounding the monastery is a cliff side with what appeared to be caves or dwellings carved into the face. Nir explained that there are essentially three categories of monks that reside here: the most conservative who choose to live in the caves at all times, jettisoning any little luxuries and comforts; those who reside in the caves during the week and spend weekends in 'town' (the monastery); and the least conservative who reside fully within the monastery space.
The site is unbelievable to see first hand. Nir explained the history of the space, of the people and of the dynamic environment while we sipped on freshly brewed herbal tea, taking it all in. The monastery and all of the sites we visited are in the West Bank. While Israelis are allowed to visit, many haven't for a variety of reasons, making us some of the few lucky enough to see the site first hand.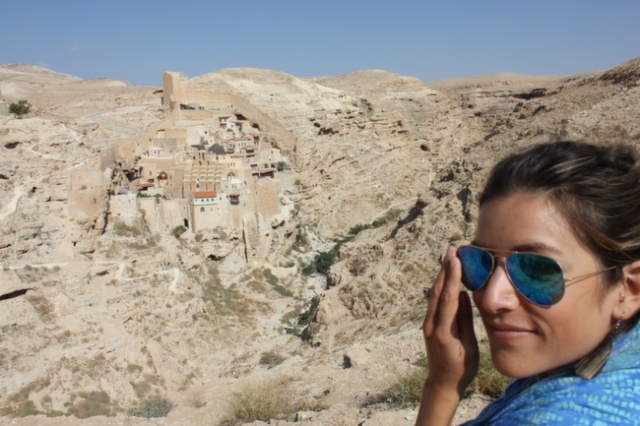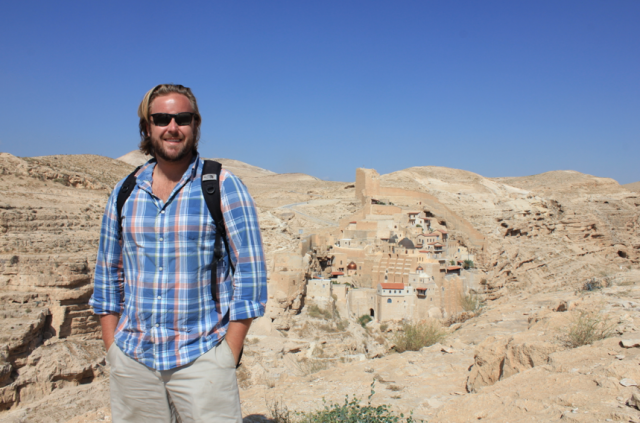 Wadi Qelt and St. George's Monastery
Wadi Qelt is a valley in the Judean Desert that is home to monasteries, an incredible landscape and sparkling springs called Ein Qelt. St. George's Monastery, a Greek Orthodox monastery built in the 5th century, calls Wadi Qelt home. Like Mar Saba, it's a spectacular sight to see, though the area wasn't quite as peaceful. In Mar Saba, it felt like we were alone with the world, listening to the sounds of the desert and taking in the details around us. At St. George's Monastery, locals were selling jewellery and kaffiyehs to tourists and, perhaps because of the smaller vista point, it felt a bit more crowded.
We were there to take in a quick glimpse and a quick snapshot, which is really all you need. Ten minutes later, we hopped in the SUV and made our way to our final destination: Ein Qelt, the natural spring just a short drive away. Unlike the sandy desertscapes that we'd seen all day, our walk to Ein Qelt (about 15 minutes on foot) brought a much lusher environment. Colorful flowers and trees sprouted everywhere; a veritable oasis in the desert. Finally, we reached the springs, a refreshing place for a quick dip. As we discovered, it's also a great place for a pedicure – don't be surprised when you feel little fish nibbling at your toes!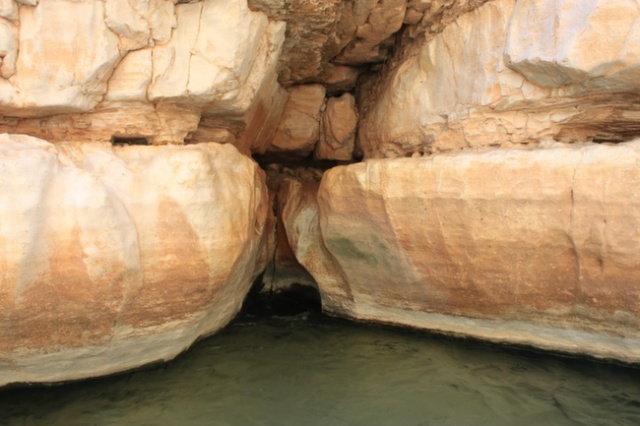 Walking just 20 or so feet into the shallow pools brought us to an opening where we watched the water flow in. Nir, whose background is in geomorphology, mentioned that research done in the area showed that the water flowing from this spring was actually 100 years old, originating in Jerusalem, and running off into the spring. Pretty incredible to think about (it's also incredible to think that there are scientists researching these things). While we waded, we watched nearby locals sit by the water, grilling chicken, the scent of BBQ floating our way.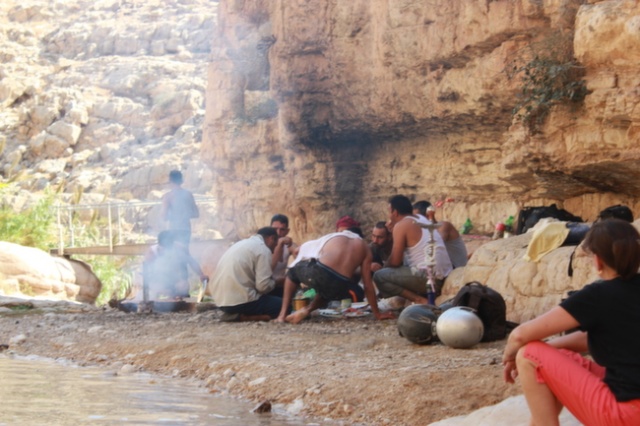 The one thing not pictured here: the trash. It wasn't as bad as we've seen in some other places, but it was still a bit disheartening to see plastic bags and empty bottles tucked into this beautiful formation. As visitors to the area, we can't help but be absolutely awe-inspired seeing such natural beauty so it's saddening to think that frequenters to places like this take it for granted.
Beyond the Tour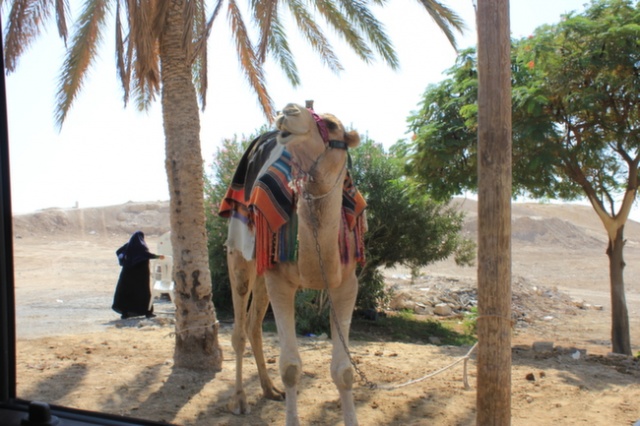 The tour itself was spectacular. The sites were brilliant from start to finish and it's really incredible to be standing in places that have been inhabited for such a great amount of time. The fact that many of these buildings were constructed and have withstood the test of time is mind-blowing. For me, the tour ended up being about so much more than the sites. We started the day as seven strangers and ended up leaving as a little group of friends, all of us from different backgrounds and bringing such different experiences to the table. Our guide, Nir, was particularly wonderful. His insight – beyond the tour itself – was deep, and his personal background and travel experiences helped in providing us with great perspective. His own journeys (there are many of them – ask him about backpacking in South America or riding a motorbike through India on his honeymoon) added a really amazing layer of complexity and depth to our experience, evident in the way that he explained sites and in his palpable passion for his country. By the end of the day, we felt comfortable asking questions, not just about history and sites, but about life in Israel and growing up in a kibbutz. We were also able to see his relationship with Palestinians that we encountered, which I particularly took to heart.
At one point during the day, we pulled into a mosque in Nabi Musa (نبي موسى), the area where Arab tradition tells us that Moses is buried. Palestinians were leaving the mosque and getting into their cars — cars bearing Palestinian license plates. We were in an SUV with an Israeli license plate. I asked plainly if that was an issue, if there are perhaps unspoken tensions that exist in a situation like this. His brief pause and expression before answering told me that the thought of tensions between him – an Israeli – and the Palestinians standing before us didn't exist. He explained that while there are certainly political issues, that same mentality doesn't permeate day-to-day relationships between open-minded Israelis and Palestinians. As we drove out, he chatted with a Palestinian in Arabic and said goodbye, clearly a standing friendship between them.
Before heading into this tour, I wondered what it would be like. Would we feel totally safe? Would there be a clear division when we entered the West Bank? I was actually surprised to see how fluid the movement was from Israel to the West Bank. Beyond crossing a checkpoint and seeing some signs mentioning the fact that Israelis aren't allowed in certain areas (I'll explain this more in a future post), nothing felt different. I felt 100% safe from start to finish, and having a guide who knew the lay of the land was instrumental in that experience.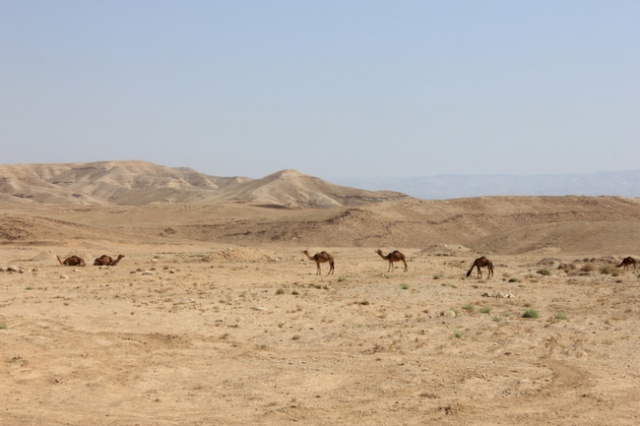 What to Bring
As you can imagine, an off-road adventure in the desert is a warm proposition, even in October (I imagine it's impossibly hot during the summer months). We were surprised by the warmth considering the weather at night in Jerusalem was actually brisk (65 degrees, perhaps). If you're headed on this excursion, I would bring the following items to keep you comfortable and fueled throughout the day:
SPF > Put a bit of SPF on before you head out but you'll likely need to reapply with a full day tour. If you're wearing a tank (which is totally acceptable), those shoulders may crisp up in the sun.
A Hat > The sun and heat can be brutal during a full day of exploring, so bring a hat or a cap with you to protect your face and stay cool. I didn't bring one and while I didn't burn, I did find myself squinting a fair bit.
Sunglasses > These are obviously a must. If you don't want to be squinting and don't want dirt in your eyes, bring sunnies to protect your peepers.
Comfortable Shoes > I initially thought that tennis shoes would be a requirement for this but that's totally not the case. Scott and I both wore comfortable flip-flops and fared perfectly fine. The biggest walk is a 15 minute hike to Ein Qelt through some rocks and dust; nothing major. Hiking shoes are not required.
Bathing Suit > The springs at Wadi Qelt provide a great opportunity to take a dip and cool off! Bring your bathing suit so you can pop in. I brought a two-piece which was acceptable in this environment.
Water + Snacks > You'll be out exploring all day – water is a must! There is a stop for lunch during the day, but bring an easy-to-pack snack if you think you'll need fuel throughout the day (nothing that needs to stay cool).
For anyone interested in this tour, here's the link to this particular tour option, which I highly recommend if you want to see a different side of Israel. The tour and the guide (hopefully you also get Nir!), were amazingly memorable.
Have you toured the Judean Desert at all? What sites inspired you?
xo from the Middle East,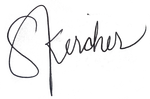 A big thank you to Abraham Tours, Abraham Hostel and Tourist Israel for making this trip possible. As always, all thoughts and photos are my own and are genuine.