We landed in Dominica on Wednesday night after a quick (albeit delayed) one-hour flight from St. Maarten on Winair. We were headed to Jungle Bay, on Dominica's Southeastern side, about a two hour drive from Melville Hall Airport. The roads were dark, the night was crisp and I was dozing in and out while we journeyed to our cottage, zipping by the National Park, Kalinago Territory and small villages along the way. When we arrived at our hotel, somewhere between 10 and 11PM, we quickly fell asleep to the scent of Bay Oil and the sound of the Atlantic Ocean crashing against the beach outside of our bungalow.
Neither Scott nor I had been to Dominica, so we tempered our somewhat ambitious goals with managed expectations. We bound ourselves to a no alarm rule during the trip (sans one notable day), sleeping in until the sun woke us through our windows. We woke up on our first day at around 7:30AM, too late for me to join Jungle Bay's morning yoga class, but early enough for us to fuel with a healthy morning meal and get a good start on the day. After breakfast to kick-start our morning, we headed to the lobby to retrieve our rental car, a two-door RAV4 with 220,000 miles on it – perfect for getting through the rugged terrain of the island while still small enough to zip around the tight corners fairly easily.
We set off, map in hand and iPhone compass at the ready to help us explore the island. I'd read tales about the potholes in Dominica's roads being big enough to practically swallow a small goat. That's only a slight exaggeration. The roads are windy and narrow – sometimes big enough for a single car, and dodging the potholes is like playing a game of Mario Kart. Throw in left hand driving with a right hand drive car and people naturally get a little intimidated about exploring solo. Still, there are so few other cars on the roads that it's not as horrendous as it may sound. Plus, you'll have the ability to really get to know the island and what it offers – it's extremely spread out and even by road it's not overly well connected.
Trafalgar Falls

I had created a list of places I had dubbed a priority for sightseeing in Dominica. Trafalgar Falls was one of those priorities. After looking at a map, we decided to head west from Jungle Bay, past Grand Bay, through Roseau and off to Trafalgar Falls, nearly an hour and a half drive in total. We chose to purchase a week-long multisite pass for $12 per person in lieu of the $5 site fee that's traditionally imposed for a single site. If you're planning in visiting at least 3 sites, this is totally worth it (we used our passes four times each). Sites include Trafalgar Falls, the Emerald Pool, the Boiling Lake, Boeri Falls, Sari Sari Falls, Soufriere Hot Springs and others.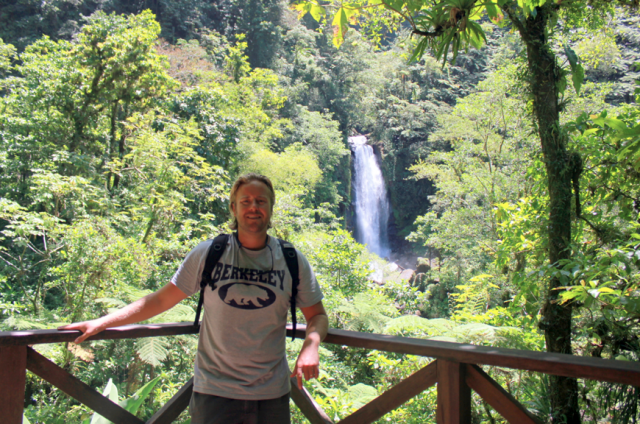 Trafalgar Falls is a must for any visitor to Dominica. It's a simple 10-minute hike ('hike' is a stretch; it's really a simple walk) to reach the twin falls of Trafalgar, the father and the mother. The mother is about 75' and the father is 125', making a pretty captivating duo. Both falls pool into a stunning rocky enclave that visitors can climb around. About 5 minutes into the hike, there's a great viewing platform where you can capture both falls in one shot. This was undoubtedly a great way to start our trip, a hefty – and stunning! – dose of nature to inspire us and increase our excitement for the rest of the adventures ahead.
Note about Trafalgar Falls: We both wore sandals, which was totally fine. Hiking shoes aren't needed and even a less active person can reach Trafalgar fairly easily. Regardless of your fitness level, this is totally doable.
 Emerald Pool
After our time taking in Trafalgar Falls, we headed north by way of Roseau, and up to Mero Beach where we had lunch in one of Dominica's seaside towns. In many ways it reminded us of a small surf town in Southern California; a narrow road, salt-blasted wooden buildings, and palm trees lining the beach. After surveying the landscape, we headed to Romance Café just a few steps down the beach. The vibe was perfect, the food was good and the service was exceptionally friendly.
After a stop at the Macoucherie Rum Factory (more on that in my next post), we headed to the Emerald Pool, one of the other locales on my must-see list. Looking at a map, the Emerald Pool is at the top of Morne Trois Pitons National Park, a long drive from Trafalgar Falls. When we headed off on our drive in the morning, I had my doubts that we would be able to fit all of these sites in during a single, but we ended up timing our day out perfectly. From Roseau, we drove down a main road headed to Rosalie Bay, with a small, well-marked turn off for the Emerald Pool. We were one of the last groups to gain entrance before they closed their doors for the night (slightly before 4PM). This was another simple walk, about 15 minutes through mostly flat forrested land before running into the Emerald Pool.
The pool was shallow and reflected with a touch of emerald green from the flora and fauna overhead. It was the picture of paradise – untouched; a waterfall draping into the shallow pool, and greenery and vines hanging down from above. Just like Trafalgar Falls, this is a great hike for even the less mobile/active traveler. The walk is simple (we saw parents with young children walking in) and the end result is breathtaking.
We zipped back to Jungle Bay, our first day's adventures mostly behind us, prepping for day two. Day two's adventure was perhaps the most anticipated with both excitement and a tinge of uncertainty. We were heading to the Boiling Lake on Friday for a 13+ mile trek through Dominica's rugged terrain. Stay tuned to see photos from that experience and see how we fared!
Have you been to Dominica? Which sites do you think are must-sees for visitors to the island? 
xoxo from the islands,