6 Reasons to Visit Santa Barbara
Santa Barbara has long been one of my favorite cities in California, and our time spent there over the course of five days reinforced my love for the quaint seaside town. We flew directly into Santa Barbara airport, a tiny little building with classic Santa Barbara architecture (Santa Barbara is heavily dominated by a Spanish/Mission-style architecture) located about 20 minutes from State Street and the harbor.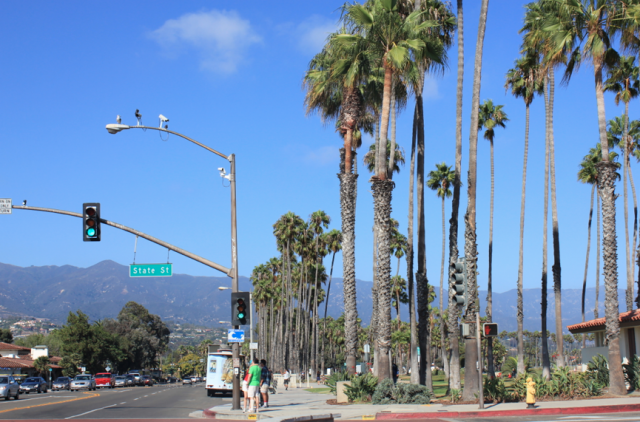 So, what is it that makes Santa Barbara extra special? It is California. That is to say, Santa Barbara arguably embodies the essence of California – or at least the way California is perceived by most – more than any other city in the state. Here are six reasons to visit Santa Barbara to get a hearty taste for California livin'.
The Weather is Perfect.
1. When visitors to California dream up what their experience in the state will be, this is likely it. By most standards, the weather is perfect. A steady 65 – 75 most of the year, the mornings bring in cool, fresh air; the days are sunny without being too steamy; and the nights are crisp. It's weather that makes you want to walk all day and explore on foot.
There's the Beach + So Much More.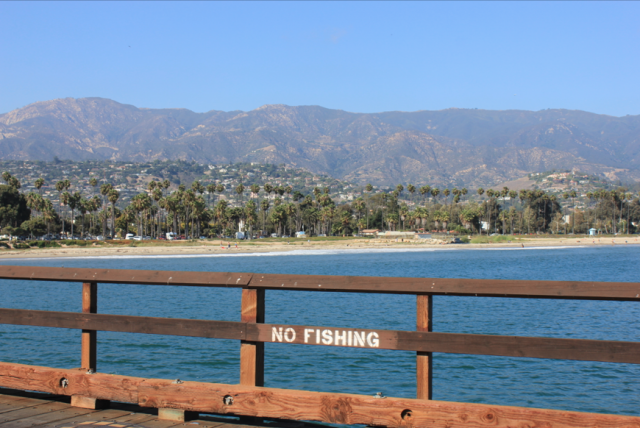 2. Though California beaches aren't generally the world's best, seaside towns remain the hallmark of California. Surrounded by picture-perfect palm trees,  you're just as likely to see college-aged kids lounging on the beach as you are to see older SB residents taking a nap on a towel. The sand is classically Californian; golden hued with remnants of palms dotting the sand.
Beyond the beach, Santa Barbara also embodies other quintessentially Californian elements: you can wine taste in the region, pick fresh berries at a local ranch, and horseback ride in the hills.
It's clean with Postcard Perfect Architecture.
3. One thing that strikes me about Santa Barbara is how clean it is. No, it's not the size or type of city that San Francisco or LA are, but many seaside towns do inherently have a bit of a grunge/beach bum factor. Not that you're not going to find that in Santa Barbara (there's definitely a bit of that), but it remains strikingly clean and has a palpable dose of luxe infused into the main areas. In terms of similar vibe/cleanliness (on a smaller scale with lower temperatures), Carmel-by-the-Sea, on the California Central Coast has a similar feel.
As I briefly alluded to, while the architecture that you'll see in Santa Barbara isn't necessarily representative of California as a whole, it certainly looks like the paragon of Californian perfection. Spanish and Mission-style architecture is everywhere. From homes to shops, you'll see terracotta roofing and whitewashed facades all around.
Hotels are Quaint.
4. We stayed at a little hotel called Brisas del Mar, part of the Santa Barbara Hotel Group. Lavender Inn sat across the street, the Eagle Inn was a couple of blocks away, and Hotel Milo and Harbor View Inn were around the corner. That represents perhaps a quarter of the hotel offerings within a mile of State Street. None of these hotels are big; rather, most of the best located properties have a warm, homey feel and serve as a home base for exploring SB's biggest draws. Our hotel could use a bit of updating, but the location and service were great, plus they offered complimentary bike rentals, breakfast, wine + cheese in the afternoon, and cookies and milk in the evening. There's no debate on this front: Santa Barbara is an expensive city. Even a smaller, mid-range hotel will run you $250+ per night, with many going far beyond that.
For larger hotels, check out the Four Seasons, Bacara (located in Goleta) and Belmond El Encanto.
Great Boutique + Department Store Shopping.
5. If I have four days in Santa Barbara, I could peruse State Street each and every day and not be tired of doing so. Sure, there's way more to SB than shopping, but if you like shopping (ladies, are ya with me?), this is heaven. There are the usual suspects (Nordstrom, H&M, Sephora, etc.), but there are also loads of boutiques for clothing, accessories, housewares, jewelry, and more. Last year, I picked up an awesome necklace from Afghanistan in a rather nondescript boutique. As someone who lives outside of the US now, I can appreciate being in a place with solid shopping options to get my fill before heading back home.
It's Active.
6. This is something that I fundamentally associate with California living, and an element that I greatly appreciate: active lifestyles are encouraged. Head into Santa Barbara (or any number of other towns in CA), and you're likely to see people kayaking, surfing, running, biking, rollerblading or skateboarding. Head down to the beach, and you'll see people throwing a frisbee or playing volleyball in the sand. Perhaps it's the weather that begs people to be outdoors, but it's fabulously wonderful to see people enjoying their environment.
Have you been to Santa Barbara? Do you love it as much as I do? 
xo from the West Coast,