Part I: Bethlehem + the Jordan River
All my life was in Jerusalem! I was there daily: I worked there at a school as a volunteer and all my friends live there. I used to belong to the Anglican Church in Jerusalem and was a volunteer there. I arranged the flowers and was active with the other women. I rented a flat but I was not allowed to stay because I do not have a Jerusalem ID card.Now I cannot go to Jerusalem; the Wall separates me from my church, from my life. We are imprisoned here in Bethlehem. All my relationships with Jerusalem are dead. I am a dying woman. – Antoinette from Bethlehem
This quote, along with a myriad of other personal stories, are secured to the Separation Wall in Bethlehem. Amidst the street art showing the Palestinian flag, notable figures, illustrations depicting the struggle, and text (thoughts and messages), the wall acts as a museum, attempting to relay the Palestinian narrative and showcasing a lesser-known perspective. The stories are heartbreaking, to be sure, but I was pleasantly surprised to see that much of the writing – many of illustrations that we saw – weren't expressing violence, rather a fair amount of optimism and hope for a solution. At some points, we saw a glimpse of the sadness and desperation felt by those longing to be reunited with their homes.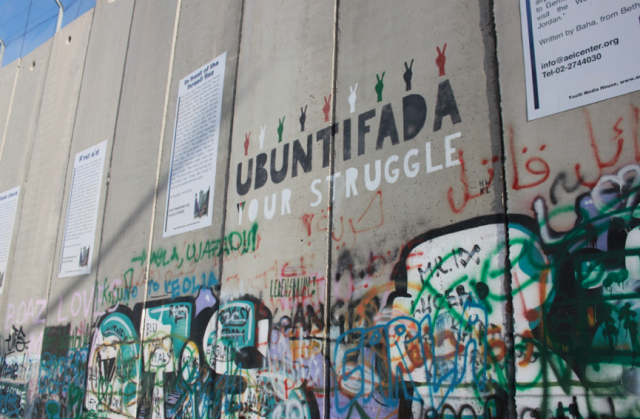 The Separation Wall was our first stop during our tour of the West Bank. We departed Jerusalem at 8AM and made our way across the Green Line to the Occupied Territories. An Israeli tour guide met us at Abraham Hostel in Jerusalem and escorted us part way, at which point she exited (forbidden from going any further), and our Palestinian guide, Tamer, boarded the bus. His approach was light-hearted as a way of helping us broach areas and ideas surrounding incredibly complex political and social dynamics.
'Welcome to terrorist country', he began jokingly, referencing the sentiments and assumptions of many around the globe who don't have a real grasp of the area's complexities.  Standing beside the Separation Wall, he explained to us in brief the issues and the five primary reasons behind Palestinian struggle: Jerusalem, refugees (and the right of return), water sources, the Separation Wall, and checkpoints. I would go further into depth on all of those points but it would take a hundred posts to begin to address each of these with any real accuracy and fairness. In dealing with a larger group of visitors (there were roughly 20 of us), this was essentially Palestine 101, a primer on the region, providing a bit of insight and perspective without getting too deeply political. Still, the content was rich and helped us gain a better understanding of a different point of view, one that many around the world don't get to hear first-hand.
Bethlehem, the city that all of Christendom sees as the holy site of Jesus' birth, is such a dichotomous place. Our walk down the street near the Separation Wall brought us to what locals refer to as 'Shit Street', where a chemical smelling like sewage is literally sprayed from a gun on top of the wall into the area. On the day of our tour the scent was barely noticeable, but we were warned that some days the stench is thick. From there, after a solemn start to the day, we made our way to a different side of Bethlehem, home to the Church of the Nativity.
Exiting the bus, it was is if we'd entered a different city entirely. The architecture and design work were stunning, reminiscent  of a clean Mediterranean village. Rugged beige stones made up the buildings, rustic faded green doors lined the streets, and tiny balconies were covered with blooming flowers. A Palestinian woman walked by us on the street, 'Where are you from?' she asked, to which people responded with their home countries. 'Welcome, welcome! Please enjoy!', she said, blowing us kisses as we walked by. In all honesty, it reminded me of my time in Malta with this incredible warmth exuding from people, welcoming us to their land, excited to share their story and their perspective with us. We made our way down corridors lined with vendors serving up freshly fried falafel and schwarma, until we hit Manger Square, home of the Church of the Nativity.
According to Christian tradition, this is the site of Jesus' birth, one of the holiest of holy sites, surpassed only by the Church of the Holy Sepulchre in Jerusalem. We entered through a teensy tiny door, just a few feet high, and walked into the main sanctuary of the church. The inside was incredibly ornate, a stunning eclectic collection of chandeliers and multicolored lighting hanging from above. The church that stands today was built in the 500s, and has gone through a few incarnations. It houses three different denominations: Roman Catholic, Greek Orthodox, and Armenian Orthodox, all of which are allowed to perform services in the cave where Jesus was born. At the time we arrived, the Armenian Orthodox service was coming to a close and we were able to catch a glimpse of the service through a small doorway.
We didn't make it inside of the cave (the lines were long and we had limited time), but we did have an opportunity to peer inside from a few different angles; first, during the Armenian Orthodox service, and second, by peeping through holes in a door from within the Catholic church. A big surprise to us was the cave itself, this underground structure that hasn't changed all that much since Jesus' time (except for adding some modern elements like lights). After entering the Catholic church, the Church of St. Catherine, we descended down into an underground space. When I had envisioned the site of Jesus' birth, I had always imagined something that resembles the nativity sets that we put up at Christmas: a simple structure with a pitched roof, resembling a poorly constructed barn. In actuality, the backdrop was a cave where sheep and goats had been held. On the ground, in this sacred cave, there is a star that marks the place that Jesus was born, and a marked area nearby that shows where the manger would have existed, the warmest spot in the cave to keep the baby from freezing during cold nights in December.
The space is incredible, cruicifixes on the wall, writing on columns, beautiful stained glass. We exited back through the Catholic church where people stopped to pray and light candles before exiting.
After our time in Bethlehem, we boarded the buses once again for an hour-long journey to the Jordan River, the border of Jordan and the West Bank. The Jordan River is the famed holy site where Jesus was baptized by John the Baptist and continues to be a mecca for those looking to be baptized themselves. The river is much smaller than I imagined; more like a murky stream lined with reeds and brush. Visitors are meant to stay within the designated spaces as there are concerns of land mines in surrounded areas that haven't been fully combed. Whether we happened upon the river on a special day or whether this is a somewhat normal occurrence I can't be sure, but we descended into a space with loads of people being baptized, specifically a huge collection of Eritreans that had made the pilgrimage, both adults and children being baptized. Looking across the river  – this tiny water source – we could see the other side just a few hundred feet away. The other side marked the border of Jordan and the presence of IDF forces on the Israeli/Palestinian side was notable. The West Bank, the land we were standing on, was once part of Jordan and it was easy to see how close this connection was. The West Bank is named as such because it lies on the west bank of the Jordan River in relation to the Hashemite Kingdom of Jordan. Since the Six Day War in 1967, the land has been occupied by Israel.
Following our time in Bethlehem and the Jordan River, we made our way to Jericho and to Ramallah, two areas that I'll touch on in Part II of this post (there's just too much to put into a single post). I'll also go into more detail on my thoughts and takeaways in my next instalment, but suffice it to say the West Bank is an extremely interesting region, with astonishingly paradoxical elements. Our experience was nothing short of wonderful and it's one that I would recommend to anyone wanting a more in-depth view of the region.
Worth knowing: The areas in the West Bank essentially fall into one of three categories, designated as A, B, and C. Areas with an A designation are fully under Palestinian control, both administratively and with respect to security. Israelis are strictly banned and IDF Forces can only enter with a notable reason (e.g. whereabouts of a fugitive are known within the area). Area B is a mix: the area is administered by Palestine, but overseen militarily by Israel. Area C is under total Israeli control, and accounts for upwards 60% of the West Bank, perhaps more. Figures that I've seen and facts that I've heard first-hand vary, though they're all relatively high.
Stay tuned for Part II of our tour of the West Bank, with photos from Jericho and Ramallah.
Warm wishes from Jerusalem,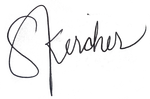 A big thank you to Abraham Tours, Abraham Hostel and Tourist Israel for making this trip possible. As always, all thoughts and photos are my own and are genuine.