Following our morning at Skellig Michael, we took the afternoon to slowly make our way back to our home base of Kenmare, exploring the colorful towns and stone forts that dotted the road. In total, three of our six days in County Kerry were spent exploring the Ring of Kerry but we barely scratched the surface of what there is to uncover.
Our first day, we had explored Killarney National Park on horseback, meandered around some of the park's key sites, and explored the town of Killarney. For our second day on the Ring of Kerry, we focused on the southern side of the peninsula, beginning in Portmagee after finishing our Skellig Michael tour, heading counterclockwise.
We returned from Skellig Michael around 2PM and had lunch at The Bridge Bar in Portmagee. By the time we had devoured our fish and chips nearly an hour had passed, leaving us relatively little time to stop along the way to explore (this is a common theme, isn't it?). I had a few things on my agenda: St. Finian's Bay and Skelligs Chocolate being amongst the first two stops. I'm not entirely sure where we diverted but I think we ended up taking the road to Waterville – the shorter route – instead of weaving our way around the jagged peninsula to get to our destinations.
No matter. We were still enjoying the views and were keen to explore as much as possible during our day.
Waterville
We came across the town of Waterville, which was anchored by the Waterville Craft Market sitting on the main road. Many shops that we came across in County Kerry had similar items: lots of locally crafted sweaters, gloves and scarves; Celtic-inspired jewelry, whisky-infused chocolate, and artisanal soaps. Still, I love popping into markets, especially those that have a sense of an independent spirit (read: not the mega-souvenir shops with row after row of kitschy magnets and pens). Outside of the shop is a heritage trail, a series of stones detailing historic events and Irish tradition.
Though bigger than many of the towns we came across on the Ring of Kerry, Waterville is a relatively small town. Despite its size and location, it boasts one surprising claim to fame which golf lovers will appreciate: it's home to a championship golf course that's consistently ranked amongst the best courses in the world. Who knew?
Loher Stone Fort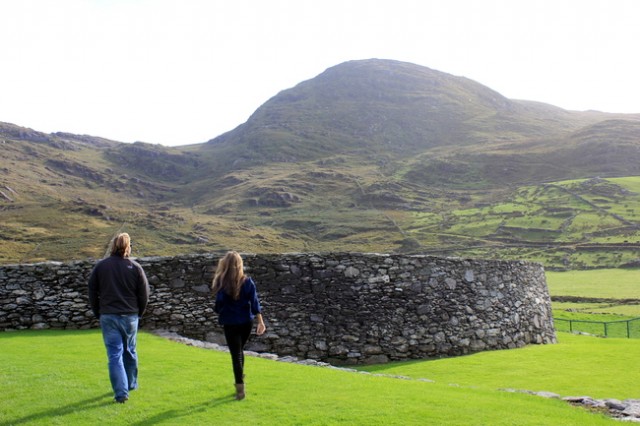 Leaving Waterville, we saw signs for Loher Stone Fort nearby. Up until this point we hadn't seen a stone fort during our drive, and with the sun shining it seemed like the perfect opportunity to go on an adventure. So we followed the signs, and continued down a narrow road until we began to think we had lost our way. Do we know what a stone fort looks like? Maybe we passed it?
And then, out of nowhere, we realized we hadn't lost our way at all. In the middle of the sea of green, there was clearly a stone fort in the distance, a circular ring made of stacked stones to create a compound of sorts. We parked our car near the a flock of sheep and made our way down a gravel path to the fort.
The fort, which dates back to the 9th century, was well-marked once we entered the main area, with a sign providing the fort's history in English and in Gaelic. While we didn't realize it at the time, the two stone forts that we would see during our drive represented two of the best preserved and largest stone forts in the country. This particular fort was recently reconstructed which is why the interior rooms are still clearly delineated and the outer perimeter, around two meters high, is still in good shape. Like many places we visited, we were the only visitors in sight, free to explore at our leisure and drink in the views.
Keep reading to see photos and recaps of other spots along the Ring of Kerry including Kenmare and Staigue Stone Fort!
Sneem
The day was wearing on by the time we had reached the colorful town of Sneem. We ended up driving by a few smaller towns, knowing we'd have to play that time management game again. When we had driven by Sneem in the morning on our way to Skellig Michael, we all commented on how charming the tiny town was and made a mental note to come back later in the day. In the evening, the weather was perfect for strolling by the independent shops. We had reservations for dinner later that evening and were beginning to feel rushed. We decided to cancel our reservations and load up on cheese, crackers, wine and other miscellaneous treats to take back to the villa for the evening. While I love eating out and delving into the local food scene, there's something to be said about those cozy nights in, especially with a group, and especially with a group and Scattergories.
Armed with that new knowledge, we popped into a couple of shops to pick up fresh meats, chunks of Irish cheeses, bars of dark locally crafted chocolate, and craft ciders from the area. As a side note, can I comment on how many ice cream shops each of these small towns have? Seriously, there are more ice cream shops that residents. We were constantly amazed by the handcrafted ice cream signs every ten steps. In a country that's famed for their drizzly grey weather, at what point does ice cream seem like the hot seller? In their defense, I had ice cream twice during this trip, but one was brown bread flavored and one was gin flavored so how could I pass those up?!
Staigue Stone Fort
We were on our way back at this point, a bit tired after our long day and early wake up call for Skellig Michael that morning. When we came across the sign for Staigue Fort we knew we had to stop and explore. Stone Forts admittedly aren't the most interactive of experiences but they still hold a special history.
We drove for what seemed like miles after we had seen the first sign. Just like the first stone fort, we were weaving around endlessly and beginning to think we were never going to find this place. Then we found the entrance; an open gate and a rock path leading to the fort. Staigue Fort is considered one of the largest and well-kept ring forts in the whole of Ireland and it hasn't had the reconstruction work that Loher Stone Fort has had. They believe the fort could have functioned as a tribal center when it was originally built, and the strong stonework has withstood many centuries of inclement Irish weather. For us, it was another brief opportunity to explore and admire the views from the tops of the walls.
Kenmare
We made our way back to Kenmare, our home for the week. Kenmare itself is worth mentioning and discussing as a key town along the Ring of Kerry. When we booked our trip initially, we knew nothing about Kenmare. When we referenced the town to people who had traveling around County Kerry, everyone would go gaga over how fabulous it was; utterly charming with great food and an iconic main thoroughfare.
Indeed, after seeing some of the towns along the Ring of Kerry, I would argue that Kenmare is the ideal home base with a bit of that Goldilocks charm. Killarney is a great town, with more charm than I would have expected for being the biggest town on the peninsula, but Kenmare provides a more quaint small town feel with the options you'd want from a larger town. The other small towns we drove through were almost too small to stay in with few options for dining, nightlife and music. If you're staying in Kenmare, even for a night, you'll be utterly spoiled for choice when it comes to dining options. As it was explained to us, Kenmare benefits from the fact that restaurants are run predominantly by chef-proprietors (same as for us in Anguilla), which means that there's a palpable sense of pride in everything being produced and a true focus on service that's a product of owner buy-in and the amiable Irish spirit.
We did a pub crawl on our final night that took us to six or seven bars on the town's two main streets; all of which were great with unique vibes. Our food was fabulous, with standout dinners at Packie's (a local favorite!), and The Mews.
If you're trying to choose a town to stay in along the Ring of Kerry, you'll love Kenmare's feel and location – perfect for exploring the Ring of Kerry (including Killarney National Park), the Ring of Beara, and with easy access to the Dingle Peninsula.
What We Missed
While we missed the entire northern part of the Ring of Kerry, my only real regret is missing Valentia Island this time around, especially since we were so close. Unlike some other islands along the ring, you can access Valentia Island by bridge from Portmagee. Our driver in Kenmare, not knowing what we'd seen or where we had been, shared that he found Valentia Island to be a key site along the ring, convinced that folks hadn't really seen the Ring of Kerry until they had visited Valentia Island. If that's the case, it looks like I'll need to book my return trip soon!
Have you driven the Ring of Kerry? What were your highlights? Any towns or sights that are must-sees for those visiting the area?