An Anguilla Bucket List for Visitors
UPDATE: This post originally appeared in June 2017 at 25 Things to Do in Anguilla, then again in July 2018 after Hurricane Irma. In honor of our reopening in November 2021, I'm sharing even more activities to put on your list as Anguilla opens up with new, loosened COVID-19 protocols in place. 
You've seen the images: powdery white sand, turquoise blue waters, the bright burst of color from the ever-present rum punch. For those that have daydreamed about a Caribbean island experience, Anguilla is a postcard. If you can believe it, despite its jaw-dropping natural beauty, there's much more than meets the eye. For most repeat guests to Anguilla, a relationship with the island goes far beyond the superficial. The best memories are from casual conversations with fellow visitors, a day on the boat exploring the island by water, having a drink with newfound friends at your favorite toes-in-the-sand beach bar, or noshing on local BBQ while listening to live music. There are few people who visit Anguilla just once. With that in mind, you can go through my list of 30 things to do in Anguilla and know that it's okay if you can't get through this list on your first trip… if I were a betting gal, I'd say there's a solid chance that you'll be back for another opportunity to delve into these experiences.
Scope Out Anguilla's Top 3 Beaches
1Let's start with the basics. If you're coming to Anguilla, you're a beach person. Good news: you picked the right island. Bad news: the chances are very slim that you'll visit all 33 beaches in one trip (truth be told there are still many I haven't seen). Don't fret because the reality is that there are a handful of beaches that stand out on the island as must-visits for visitors to AXA. Your first mission? Check out three of Anguilla's most famous beaches to get a feel for how they differ. Each beach really has its own feel and personality and many guests come to develop an affinity for one particular beach after years on the island. Spend time on Meads Bay, Rendezvous Bay and Shoal Bay and you'll have a great start to your beach hopping. Meads Bay has the highest concentration of high-end resorts and upscale restaurants. Rendezvous has that gorgeous view of St. Martin and, like Meads, is a lovely long stretch for a beach walk. Shoal Bay is iconic and perfect for that white sand meets turquoise water photo-op. Have time to add a couple of more to your daytime excursions? Check out Maundays Bay and Shoal Bay West, two of my other favorites on the island.
Visit Little Bay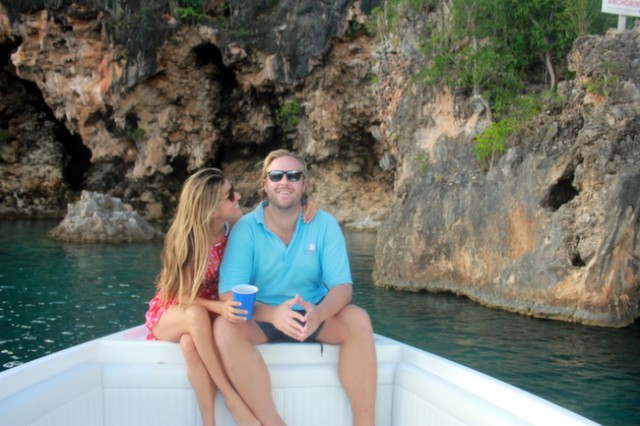 2If you've been planning your trip, you've probably seen mention of Little Bay, a stunning little cove that brings major drama with its rugged cliffs and perfectly hidden slice of sand. When it comes to things to do in Anguilla, Little Bay always tops the list for me. While Anguilla is by no means famous for its snorkeling, Little Bay is a marine preserve so snorkeling can be better here than in other places on the island. Plus, it's peaceful and serene and many times it feels like it's just you and the world.
The kicker of course is that Little Bay is really only accessible by water but for a rope that drops down the cliffside to the beach. Rappelling isn't a terrible option (we've done it fairly easily) but finding the rope can be a challenge. If you're looking to reach Little Bay by water, here are some options:
Look at joining a boat trip (Tradition Sailing or hotels like Frangipani Beach Resort offer beach hopping trips for this)
 Rent a kayak or stand up paddleboard from nearby da'Vida Restaurant located at Crocus Bay and make your way to Little Bay on your own
Link up with Calvin, a boat operator that runs trips to Little Bay from Crocus Bay. Not to go totally islandy on you, but to find him, look for him sitting under the tree on your way to da'Vida Restaurant (you'll see signs).
If you're looking to score extra points, climb the rock at Little Bay — and jump off! It's practically a rite of passage. Check out this post from a previous boat trip to Little Bay.
Do the Beach Bar Scene
3If you have one night to go out and experience the evening beach bar scene, your go-to area is Sandy Ground, which has the highest concentration of restaurants and nightlife on the island alongside of Meads Bay. A few beach bars to put on your radar in SG? Elvis' Beach Bar, Lit Lounge and Johnno's, which are all within walking distance of one another.
During my first ever trip to Anguilla, I remember being really taken with Sandy Ground's scene. The island has plenty of elevated, chic offerings available as well, but Sandy Ground offers a more traditional barefoot vibe that embodies the Caribbean spirit.  The island has changed in the last decade as we've weathered storms, both literal and figurative. Fortunately, the island has emerged more energized than ever with new offerings in many facets of tourism, including the dining and bar scenes.
Elvis' Beach Bar is Sandy Ground's best toes-in-the-sand beach bar experience. The bar is a converted boat that brings loads of Caribbean charm, and Elvis himself will likely be slingin' drinks from behind the bar (look for the guy wearing a basketball jersey). Elvis' becomes livelier in the evening hours so if you go before 7PM you may have the bar to yourself. Cozy on up to the bar with a cocktail or grab a rum punch and tackle a game of corn hole with your group.
On Rendezvous Bay, check out Bankie Banx's Dune Preserve for a Robinson Crusoe-inspired beach bar vibe. Bankie plays twice weekly, typically Wednesday and Friday with a $20pp cover, or head there on Sunday afternoon for Sunday School, which brings locals, tourists and expats together for Sunday Funday.
Enjoy the Perfect Picnic Lunch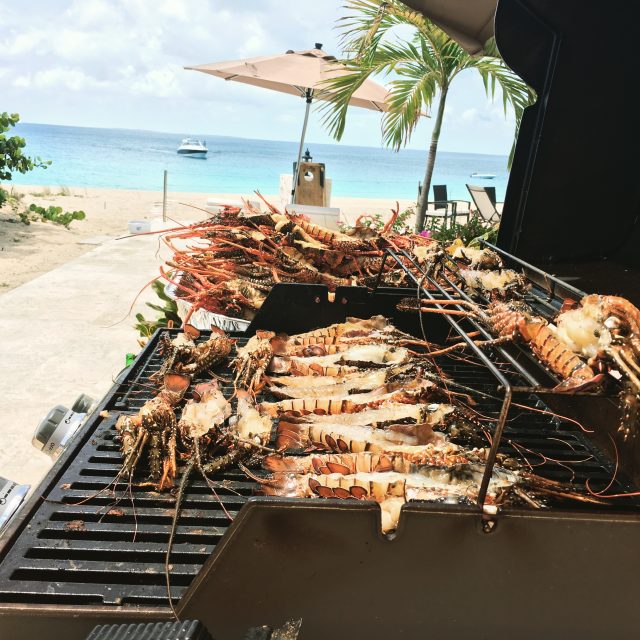 4I was just chatting with a friend on the island and we were discussing parks; good old green spaces where people can go and play and have a picnic on the lawn. Wouldn't it be nice if Anguilla had more of that, we thought.
Uhhh… wait. WE HAVE BEACHES. Beaches are our parks; they're our equivalent of green spaces, where we lunch and where kids can run freely and play. Who's heading to the park for a picnic when you can head to the beach, right? Pack your own picnic or head to a local bakery like The Village Bakehouse where you can pick up sandwiches, wraps and sweet treats for a perfect picnic lunch.While you're at it, pop in to Grands Vins de France next door to Village Bakehouse to pick up a bottle of wine (or two!) for the afternoon. Geraud's lovers, they may no longer have a brick and mortar establishment, but fret not. You can order online for villa catering and prepared meals on their website.
Shop for Anguilla Favorites
5Anguilla gets a bad rap on the shopping front and I GET IT. It's not St. Barths, guys, so don't expect upmarket stores or a 'downtown' area for shopping. That being said, the island has a handful of great boutiques to stock up on your Anguilla favorites. Pick up locally crafted soaps and bath products from Caribbean Soaps and Sundries, or grab the requisite hat, shirt or Anguilla-imbued jewelry. For reasonably priced shops carrying a great range of Anguilla items, check out Petals Boutique (yes, this is our boutique so come say hello to me if you pop by!), Sea Spray Boutique, and Irie Life. Anguilla Salts & Sands offers some – you guessed it! – salt and sand-based items that make great gifts. For high-end jewelry and spendy designer items, check out the boutiques at Four Seasons, Cap Juluca, and Malliouhana but be prepared to splurge.
Get Your History Fix at the Heritage Museum
6For history buffs wanting to learn a bit more about Anguillian history and the revolution, head to the Heritage Museum on the island's eastern side. The museum includes artifacts that have been curated by Colville Petty, who himself runs the museum and provides tours. Call first as opening hours can vary.
Visit Anguilla's Off Island Cays
7You thought Anguilla was small? Ha. 
Check out Anguilla's off-island cays for the ultimate desert island experience and it'll give 'tiny island' a whole new meaning. There are three main off-island cays worth considering and each has its own flair:
Scilly Cay is our personal favorite with its drool-worthy lobster and conch-shell-lined facade. It's a dream, and it's a must-visit when we have friends and family in town. No one has ever been disappointed. Part of the beauty here is in the simplicity of the menu: chicken, lobster, crayfish, or fish, or a combo of two of those items. They do a few items, and they do them extremely well. Plus, their famous rum punch is worth a sip. Scilly Cay is only open on Wednesdays and Sundays and offers a $5 ferry service from the pier in Island Harbour.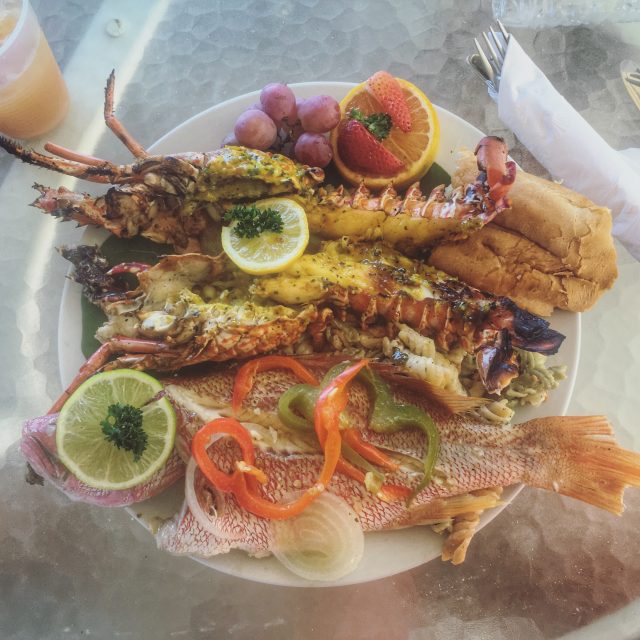 Sandy Island (pictured above from our Vineyard Vines shoot) is Instagram-worthy for sure. With its colorful restaurant, gorgeous stretch of sand, and perfectly placed hammock, it's practically an ad. The restaurant is open most days of the week and serves up Caribbean fare. Ferries are available from Sandy Ground for $10 per person. Be aware that chair rentals on the island are at a cost so be prepared to see that on your final bill if you're looking to laze for the day.
Prickly Pear is one of my favorite beaches on the island. Prickly's only challenge is that it's a bit harder to reach since it's further offshore. For those that do make it there, it's a little island paradise. You'll need to be part of an organized boat trip or will need to charter a boat to make it out to the islands. There are two restaurants on-site: Prickly Pear Restaurant, which serves up great and reasonably priced food and drinks, plus Johnno's, a satellite of its main restaurant which is located in Sandy Ground.
Give Water Sports a Go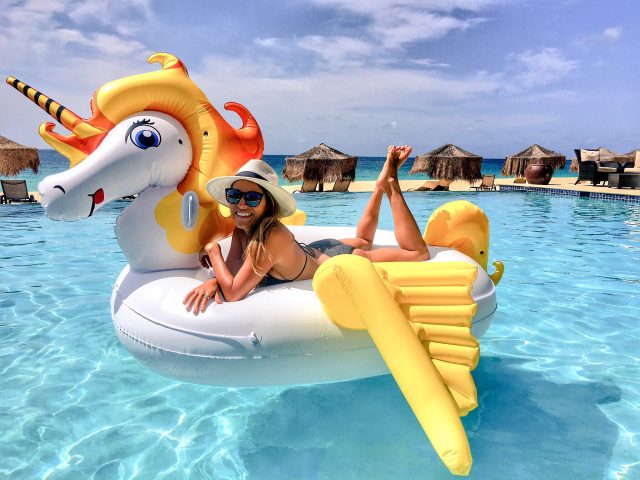 8For the more active of the bunch, Anguilla is a great destination to try your hand at water sports. If you're staying at Frangipani Beach Resort you'll benefit from complimentary motorized and non-motorized water sports so you'll have plenty of opportunities to test your stand-up paddleboarding, wake boarding, and sailing skills. If you're staying at a hotel that doesn't have water sports on offer, you still have options! Anguilla Watersports offers kite surfing lessons, stand-up paddleboard lessons, and SUP rentals for guests wanting to stay active or looking for new things to do in Anguilla.
Get a Taste of Local BBQ
9If you're looking for local fare, BBQ is where it's at. On the weekends The Strip (a row of restaurants and shacks in The Valley) is dotted with vendors doling out slow-cooked chicken and ribs, loading up plates that are smothered in BBQ sauce and paired with traditional accompaniments like coleslaw, rice and peas, and fries. For dinner, Ken's Pork in The Valley and B&D's near Meads Bay are the go-tos on the weekends. For lunch, head to the Sunshine Shack on Rendezvous Bay where Garvey serves up chicken and ribs along with the occasional fish option.
Go Horseback Riding on the Beach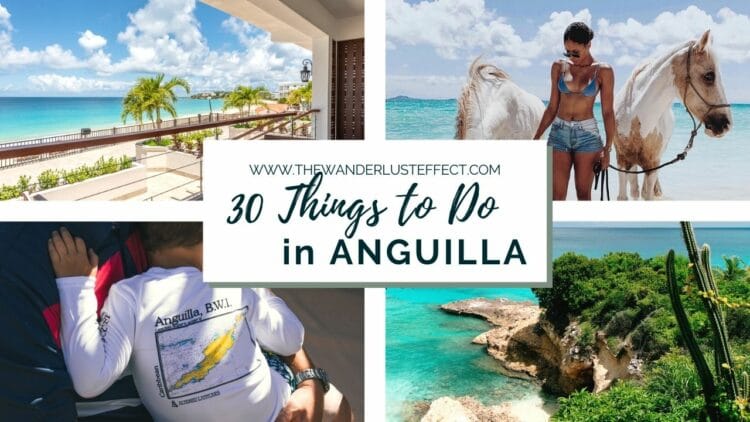 10Horseback riding at sunset on the beach – I mean, does it get any more romantic? Seaside Stables offers horseback riding experiences throughout the day, and offers packages that range from an hour-long ride to a longer session. Rides can be private (wedding proposal, anyone?) or can be group sessions depending on what you're looking for and what you'd like to spend. Riding is suitable for most, including children.
Zen Out with a Spa Day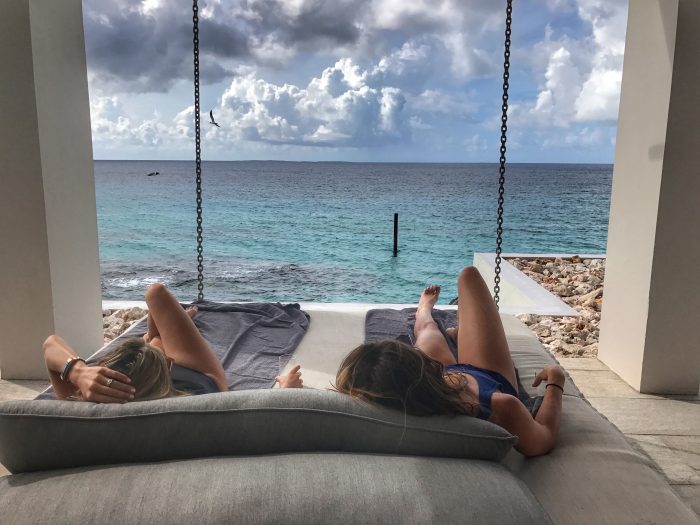 11When it comes to R&R-focused things to do in Anguilla, a spa day is practically a requirement to enter full decompression mode. Fortunately, Anguilla's larger resort properties have great spa facilities for a perfect day of massages, manis, and facials. I've never visited Cap Juluca's spa before so can't speak to their facility, but my top spa experiences are in the following order: Zemi Beach House, Four Seasons, Cuisinart Resort (now Aurora Anguilla), and Malliouhana. I loved Zemi's hour-long pre-service Taino ritual, and Four Season's plunge pool and relaxation space makes for a spectacular place to lounge. Malliouhana's spa is on the small side and doesn't offer a view. If I'm going to spend the money on a full-fledged spa day, I want all of the gratuitous amenities and small touches… can you blame me?
If a full spa day outing isn't your thing and you're staying at a smaller property that doesn't have a spa on-site, talk to the concierge about bringing a massage therapist to the hotel for an in-room massage at your leisure.
Explore the Island By Boat
12From my personal experience at our resort, boat trips are an absolute highlight for guests. Anguilla's a tiny island, only 16 miles long x 3 miles wide, and seeing the island by water is a great way to get the lay of the land and see the island from a different perspective. A beach hopping trip can take many forms, but most of ours include stops at Little Bay and Shoal Bay, two places that most guests are interested in seeing, and often includes a quick stop at Sandy Island.
For boat charter experiences (if your hotel doesn't offer them), reach out to Calypso Charters to discover their day trips.
Read about our beach hopping trip in Anguilla here.
Enjoy Drinks with a View
13Isn't a drink with a view a must on any great trip? Anguilla's no exception and if there's one thing the island does really well, it's views. Head on up to the bar and take in the sunset or enjoy the beauty of one of the island's beaches by day. If you're looking for a snazzy place for a cocktail, check out Four Seasons' Sunset Lounge for the crème de la crème. Drinks are a splurge, but they're well crafted and the view is spectacular, especially at sunset (as the moniker implies). If you're a fan of the frosé trend, you'll be happy to know they have you covered. Quintessence Hotel, 'The Q' as it's known locally, opened in 2018 and is arguably my favorite place for a swanky pre-dinner cocktail (pictured above). Surrounded by lush gardens, a life-size chess set, and next-level touches, you'll feel like you're truly in a tropical mansion. If you're staying on the island's eastern side, head to Zemi Beach House for a drink at their beach bar, tucked right into the sands of Shoal Bay.
If daytime drinks are your thing, skip Four Seasons and Malli and head to the beach where you can sip a rum punch or a frozen concoction beachside. My tops for a drink with a view pairing? Try an Aperol Spritz at Trattoria Tramonto on Shoal Bay West, a glass of rosé at Jacala on Meads Bay, or a Cool Me Off at Straw Hat Restaurant on Meads Bay. 
Visit Furry Friends at AARF
14The Anguilla Animal Rescue Foundation (AARF) is arguably the most supported non-profit on the island. Through donations and volunteers, AARF is able to bring abandoned dogs and cats into the shelter, provide immunizations, and assist with spaying and neutering. Our dog, Atlas (shown above as a newly adopted pup), was adopted from AARF over eight years ago, and since then we've taken three puppies into the shelter for care and for assistance with finding a permanent placement. How do you get involved as a visitor? If you're looking for a way to help, there are a couple of opportunities to give back. First off, you may be drawn enough to one of these little guys to take them home with you. AARF can help with that entire process if you're an animal lover interested in the ultimate Anguilla souvenir. If adopting isn't in the cards, there are times when the shelter needs assistance with transport only. Through partnerships with US-based shelters, AARF is able to place some of the puppies in the US to increase their chances of adoption. There are also folks in the US who have committed to adopting pets through AARF but need the animal to be transported to the mainland. In any of these cases AARF covers the cost of transport and assists with getting you through the process. If you're up for it, it's an amazing way to do something impactful for an animal and for the island!
Hit the Links
15Golfers will be happy to know that Anguilla has a Greg Norman Signature Course for those wanting to hit the links during their stay on the island. The golf course – there's only one on the island is located at Aurora Anguilla (formerly Cuisinart Resort) on Rendezvous Bay. Be prepared to splurge a bit – the rates are what you'd expect to pay at some of the world's top courses – but the Aurora team has invested a huge amount on the course's revamp. It's scheduled to debut in 2022!
Explore the Local Art Scene
16Anguilla may be tiny, but there are a number of artists that call this island home and a range of great galleries to check out if you're an art lover or if you're interested in taking home a one-of-a-kind piece from the island.
Lynne Bernbaum, shown above, has her gallery in Sandy Ground but you're also like to see her paintings at restaurants across the island where she has them featured. She put together a gorgeous hat-themed series for Straw Hat Restaurant that guests love! Lynne will be featured at Art Basel in Miami in December!
Hibernia Restaurant, located in Island Harbour, has a great gallery with items curated from Southeast Asia. The owners spend their time in the off-season exploring the region, with a special interest in Myanmar where they work with a local orphanage to give back. If you're looking for something super unique with an Asian twist, this is a great place to check out!
Pineapple Gallery, located in Sandy Ground, has a gorgeous selection of Caribbean art with a heavy focus on Haitian artists. In fact, when Scott and I moved to the island, we almost splurged on a statement piece for our house. It's worth stopping in to take a peek at the collection!
Savannah Gallery, located in the Lower Valley, has some great Caribbean artwork by local artists plus regional talent.
For those looking for a unique piece of driftwood art for their home, Cheddie's Carving Studio houses a range of driftwood pieces hand carved by Anguillian artist, Cheddie.
Courtney Devonish is a sculptor and potter who originally hails from Barbados. Devonish Gallery, located on the western side of the island, houses a range from his collection including pots and vases locally crafted on the island.
Get Your Fitness Fix
17Some of you are gonna gloss over this one (I mean, fitness on vacation?!) but I know fitness matters for many people and keeping a consistent routine can be key! Many high-end resorts offer fitness facilities for guest use which is a good way to start, but there are other options if you want to up the ante or switch up your routine a bit. For private yoga sessions for example, reach out to Sammi Green, our resident yogi who offers private or semi-private sessions. During the season, Sammi offers yoga classes at The Dungeon and a range of resorts for those wanting a yoga fix (schedules are updated regularly so reach out to her for the most updated info).
If it's personal training that you're after, Joe Pradel of La Severin Fitness is a great go-to on the island for personal training sessions and he can join you at your villa or at your resort to whip you into shape. Scott and I worked with Joe for a year and he kept us on our toes!
Go Deep Sea Fishing
18If you're the fishing type, this is your opportunity to head out to sea with local fishermen who know the lay of the land… or sea, rather. There are a few operators based in Anguilla but one of our go-tos is Scilly Cay Fishing Charters, where Alexander Wallace runs the operation. His family owns Scilly Cay and he was born and raised in Island Harbour, the island's fishing village. Head out to catch kingfish, wahoo, mahi and tuna on a half day or full day fishing charter. Calypso also offers deep sea fishing charters.
Have a Splurge-Worthy Lunch
19Here's a little secret: to me, a perfect afternoon on vacation is as simple as a gorgeous long lunch with a great view and exceptional company. Does it really get any better than that? Lunch, when experienced properly, is my favorite meal of the day. By that I mean gimme a couple of hours, a bottle of wine, and a coursed out meal a lá the French, and I'm golden. Speaking of France, leave it to the French to do it best. In my opinion, Jacala Restaurant on Meads Bay (operated by Alain and his daughter Angelique beginning fall 2021) is the best lunch on the island. No, no. Jacala lunch is probably my favorite meal on the island. In fact, when it was my 30th birthday and we were celebrating in Anguilla, I wanted one thing. You guessed it – lunch at Jacala – and lunch there is always one of my favorite things to do in Anguilla with friends and family in town.
It's a place that's worth a splurge. Enjoy an appetizer, a bottle of rosé, and a lovely lunch with a stunning view of Meads Bay. I'm a simple woman. Give me their shrimp caesar or a classic Niçoise and I'm content. For those wanting something heavier, their lobster tortilla (a Spanish-style tortilla, which is more of a frittata) is fabulous, plus their lobster club is out of this world. Make a reservation (yes, even for lunch) to get prime seating. In high season, lunch reservations are practically mandatory.
In case you missed it, check out my post on the best beaches for lunchtime lazing in Anguilla. I've highlighted a few places where you can get a complimentary beach chair while enjoying a beachside lunch. It's a great way to explore the island's beaches!
… and a World-Class Dinner
20Many will argue that Anguilla is the culinary capital of the Caribbean. Guests who aren't aware of that are often overwhelmed by the incredible dining scene in Anguilla. It's more than beach shacks for BBQ. Many of the fine dining establishments here rival the world's best, and even our mid-range dining leaves visitors in awe. There are too many incredible restaurants to include, but you can check out my round-up for Top Dining in Anguilla for Every Traveler to begin with. I'll be updating that with a new version for the 2021/2022 season since some of those restaurants are now defunct and there are some lovely new offerings available.
Quick rundown if I had to pick 5 dinner restaurants to visit during my time on island: Picante Restaurant for Mexican cuisine ($$), Ember Restaurant for wood-fired specialties ($$$), Straw Hat Restaurant for upscale Caribbean fare on the beach ($$$), Blanchard's for beachfront small plates with a Mediterranean twist ($$$), and Jacala for beachfront French fare ($$$$, though I honestly prefer their lunch).
Go Birding with Nature Explorers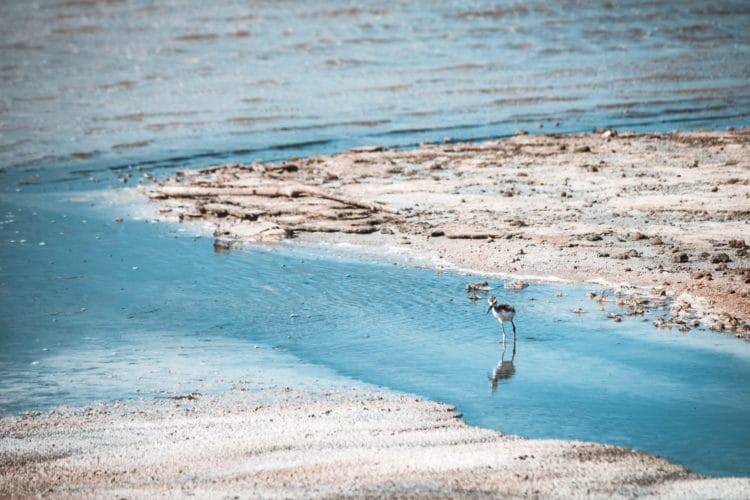 21For bird lovers, Anguilla offers some unique opportunities including a range of restricted species and 20 wetlands on the island, 11 of which are Important Bird and Biodiversity Areas (IBAs). For those intrigued by the idea of bird watching in Anguilla (or just interested in trying something new on a return trip to the island!), head out with resident expert Jackie Cestero for an experience bird watching in Anguilla.
Check out a Hidden Beach
22So you've checked out some of Anguilla's go-to hotspots but want a more local experience? Get off the beaten path and settle into a lesser known beach to enjoy a beach to yourself! Places like Savannah Bay, Sandy Hill Bay, and Dropsey Bay (amongst MANY others) are little secluded gems where you'll often times find that it's just you and the sea. Grab a map of the island and just go.  Plan on bringing your own chairs, towels, and food + beverages (maybe combine this with #4 above) since many of the lesser trafficked beaches don't have dining establishments on site.
Go on a Night Kayak Tour
23I have yet to do this but find this idea magical. Kayaking can be a beautifully peaceful experience out at sea, but kayaking at night with the evening silence? Pretty special. Liquid Glow in Anguilla offers daytime kayak rentals and a Little Bay daytime tour, but their most unique experience? The night tour, where your kayak will illuminate the water as you explore and take a glimpse into the seas by night.
Go on a Search for the Best Rum Punch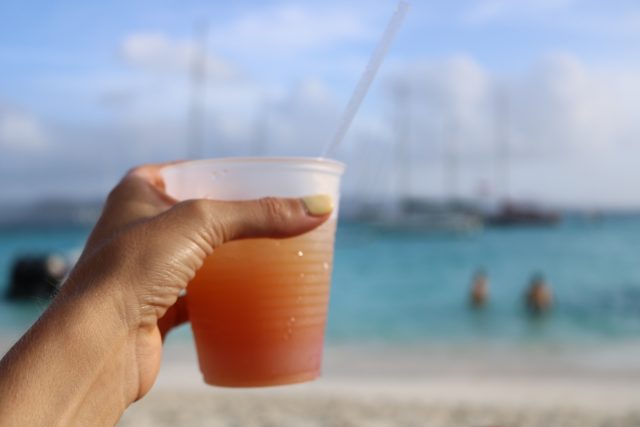 24Rum punch is the de facto national drink of Anguilla. It seems simple enough – rum plus punch – but there's an art to mixing up a perfect rum cocktail. Whether it's Scilly Cay's extra-potent version or Ocean Echo's peach-y take on the drink, every establishment on the island is serving up their own take. Most people who visit have their favorite, so it's time to find yours! Need some guidance on where to start? Here are my favorites on the island:
The rum punch at Sea Spray Boutique is probably my favorite rum punch on the island, and there's such a beauty to this little purple-hued establishment near the Sandy Ground round about. Everything about this captures the easy spirit of Anguilla: walk on up to the shop, chat with Pam (the owner), take a peek at the boutique, and order a rum punch for the road.
When it comes to potency, the rum punch at Scilly Cay has no equal. Watch them pour one and you'll get an idea of their generous rum-to-punch ratio. The scary part is that it actually tastes really good and at $6 a pop you'll be tempted to order them by the handfuls, so pace yourself and enjoy responsibly!
For one of the more unique rum punches that I've had on the island, try Ocean Echo's Rumzie, one of my favorite rum punches and arguably the most unique flavor-wise. It's a bit more peachy than the others so be careful – it goes down extra easily (I dare you to not have two). Taste one for yourself and let me know if you agree!
Enjoy a Special Sunset Experience
25A beautiful sunset on the island can be a really magical experience. As the summer progresses, we see more of the purple and pink hued skies that really do take your breath away. If you want to up the ante on a sunset experience, enjoy a sunset sail with Tradition Sailing Charters. You'll board a classic West Indian sloop and head to sea, often positioned at Little Bay to watch the sun set while enjoying small plates and a rum punch. The sunset gives way to a star-filled night as you make your way back; the perfect mix of luxury and simplicity.
Read about our sunset tapas cruise on Tradition Sailing Charters.
Tour the Island by Moke
26In St. Barths, I'm a Moke devotee. To me, there's nothing that makes the island feel more like a playground that zipping around by Moke. In the past couple of years, Mokes have been introduced in Anguilla so visitors can up the ante on their rentals with a candy-colored vehicle to explore the island! You can rent them for multiple days or opt for a half-day experience.
Learn How to Kite Surf
27This connects with point #8 above but really deserves its own bullet point. Headed by Judd Burdon and team, Anguilla Watersports offers the island's only Kitesurfing Academy, on an island primed for the sport. Total novices can do the Zero to Hero program which offers a bundle of hours at a discounted rate to get the hang of kite surfing.
Try Your Hand at Painting
28Whether you consider yourself an artist or not, AnguillArts' paint parties will bring out your inner painter. I've always been a fan of the arts but my husband was certain that his artwork would be suspect. Fast forward a few hours and a few morning mimosas, and everyone had gorgeous paintings to take home… plus many laughs along the way. Karen Venditti, who owns and operates AnguillArts directs the class and helps provide some guidance. You can see her schedule here or can reach out for a private session!
Explore with the Anguilla National Trust
29The Anguilla National Trust offers a wide selection of nature, heritage and walking tours that go beyond the typical. They have a Sea Turtle Monitoring Program which accepts volunteers, plus offerings like walking tours, nature hikes and tours to off-island cays to Sombrero Island and Prickly Pear.
Listen to Live Music
30Last but certainly not least, live music is abundant in Anguilla and no trip to the island is complete without listening to some local artists over dinner or over a drink on the beach. In season, there's music every single day, and even into our slower season in the summer months, you're likely to find a local artist playing somewhere each day. If you're a music person though and planning your itinerary, the big day for live music is Sunday, when many restaurants and beach bars have daytime music to maximize #SundayFunday. A few places to check out on a Sunday include Scilly Cay, Sunday School at the Dune Preserve, Gwen's Reggae Grill to listen to the string band, Ocean Echo, and Sunshine Shack where they have reggae & sax on Sundays.
✧ ✧ ✧
Alright, you're primed and ready for an incredibly memorable trip to Anguilla. The island is so special to so many because it can be whatever you want: if you're someone who wants to do absolutely nothing and spend days on end lounging on the beach, that's absolutely 100% acceptable. If you're someone who's more on the active side, you're now armed with plenty to keep you busy for an extended stay! Want help planning your trip to Anguilla? Reach out so I can help with crafting your itinerary.
Anguilla lovers, chime in! What are your favorite experiences when you're on the island?