After looking through my camera recently, I realized that I never uploaded photos from our final day in Rio de Janeiro! We didn't do much of anything which is perhaps why these pictures fell to the wayside, but doing next to nothing was exactly what we wanted for our final day. I have this major problem when I'm traveling: I feel like I must always be engaged in something; some activity, some sightseeing, some tour, some conversation… just something. I've begun to value a teensy bit of downtime though and the pleasures of simply marinating in a new locale, taking in the sights, scents and sounds with zero agenda.
That was our last day in Rio to a tee. No plans, no itinerary. The only thing loosely on our to-do list was to enjoy the rooftop pool at the Miramar Windsor hotel on Copacabana beach before we had to say our goodbyes to this lovely city. Our first few days in Rio (in Brazil in general) were a bit meh on the weather front. The last two days, by contrast, were sunny perfection, begging for us to laze by the pool or on the golden sand.
Who are we to ignore that calling?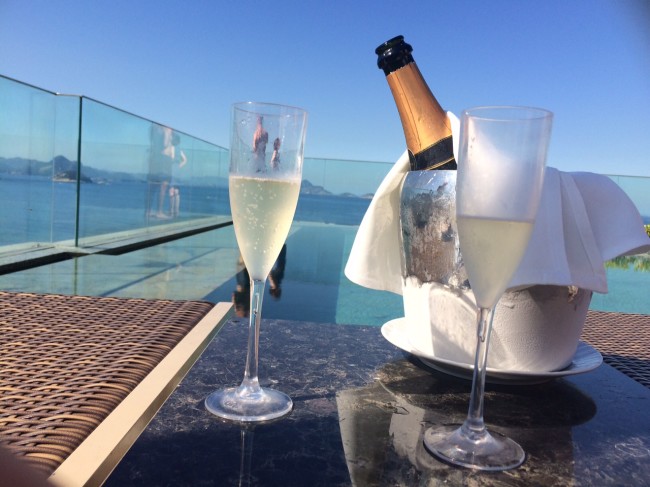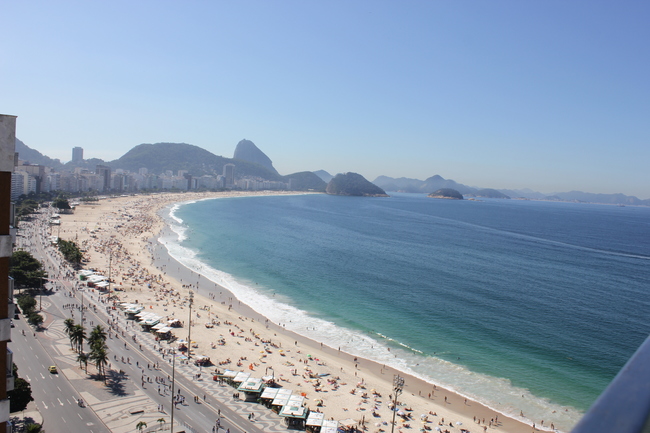 After an early morning breakfast, we made our way to the pool to grab four seats together. I'll be honest: I love the rooftop pool concept in Rio – and these views are second to none! – but the pool wasn't the biggest when you take the size of the hotel into consideration (everything else about this hotel was absolute 5* so it didn't matter all that much). Perhaps the thought is that visitors to Rio will opt for beach vs. pool on a sunny day? Whatever the logic, if you want a chair, you do need to head upstairs early to secure your position. We ended up with four chairs facing the pool + beach, overlooking the long swathe of sand that is Copacabana. It was a holiday weekend in Brazil and visitors were coming in from other parts of the country to enjoy the metropolitan beaches, plus the sun had beckoned international visitors to the area.
Scoping out Praia de Copacabana
In the early afternoon, after a decent dose of rooftop sunshine and a champagne toast, we headed down to the beach to bury our feet in the sand. After all, can you really go to Rio and not set foot on the beach when you're thisclose? It seemed utterly wrong, so we made our way to the umbrella-dotted beach and secured four little beach chairs a few feet from the water. Most major hotels near the beach will offer chairs for their guests (though I'm sure they have a set number available) which is much more convenient than trying to finagle a few feet of sand for a towel. The beaches were crowded when we made our way down – I can't even imagine how sardine-like people must feel in the winter months when the masses descend upon the city.

The Rio beach scene is basically the opposite of Anguilla's beach scene: totally crowded with vendors selling everything under the sun to any visitor who will bite (think bathing suits, fish, bracelets, temporary tattoos, etc.). On the bright side, this meant that caipirinha vendors were on patrol, doling out the cachaca-based drink for anyone in need. These ones were sugary and more like a big gulp than a cocktail, but they were also only a few dollars each so we had to imbibe.
We walked the promenade, grabbed tapas in Copacabana, and watched the sun set in the city before we had to say our final goodbyes and head to the airport.
So, would I go back after those eight days in Brazil?
Definitely. The city is vibrant and the landscape is one of the most naturally beautiful settings imaginable. Compared to Lima, another coastal South American city where we spent a number of days during our honeymoon, Rio is the indisputable winner for me. Where Lima sort of felt like any busy international city, Rio had a vibe that was a bit more distinct with a culture entirely its own (the volleyball playing cariocas are a testament to this). It's not my favorite city in the world (I know it earns that position for many that have visited), but I can definitely understand how Rio de Janeiro leaves its mark on everyone who visits.
Have you been to Rio? What were your favorite elements of Brazil's famous coastal city?
xo,