We just returned from an anniversary trip to Procida, a teensy tiny colorful island in the Bay of Naples, which is oft-overshadowed by its more famous neighbors, Capri and Ischia. Capri has long been a fan favorite and while the other islands in the bay have their growing charm and unique identities, Capri's luxury slant and well-trodden tourist route make it a draw for a reason. I love enjoying the old-world Italian feel of less-touristed destinations, but for me, Capri is an island that's incomparable within the Italian island landscape (Sardinia has its own amazing qualities, though a much larger island). It's polished with a healthy dose of glitz and glam paired with sea and alt air, making it a summer destination that continues to draw crowds from around the globe. Thinking of heading to this famous Italian enclave? Here are 5 things to do in Capri for the ultimate getaway.
Enjoy a Boat Day Around Capri
1If the weather allows, a boat day in Capri, is a must for visitors to the area. Carve out the space in your budget (or join a small group tour if that's a better fit) to get to see some of the beauty of the landscapes surrounding the island. The Blue Grotto, or Grotta Azzurra, is a must-visit and one of Capri's most famous natural spaces. This sea cave is famous for its otherworldly blue glow.
Glimpse the Faraglioni Rocks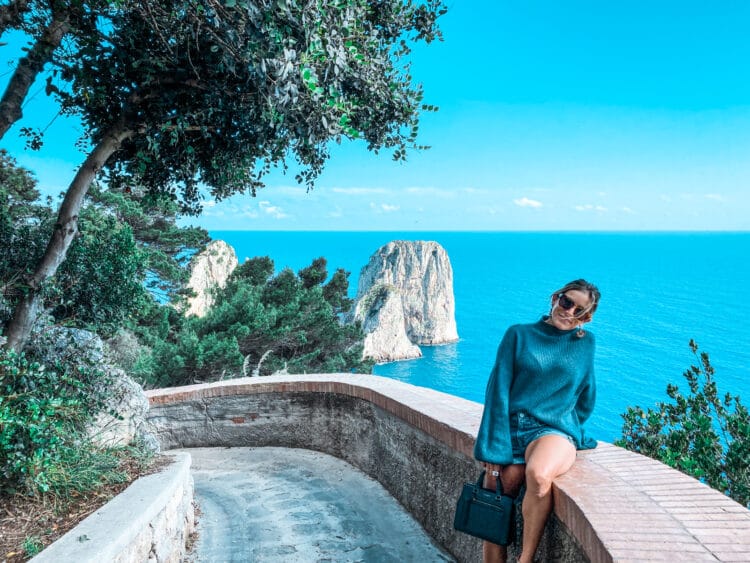 2These iconic rock formations rise majestically from the sea and are one of the most recognizable landmarks in Capri. You can enjoy them up close on your boat tour (see point #1 above!) or take in the views from Pizzolungo, Capri's most famous hiking path that offers wow-worthy views of the sea and landscape.
Enjoy a Long Lunch at a Day Club or Lunch Outpost
3Nothing screams vacay to me like a long lunch, and let's be real — there's no better place for a drawn-out mid-day meal than the Med where slowed-down moments and la dolce vita are a way of life, particularly in the summer. For a classic day club in Capri, don't miss La Fontelina, the iconic island outpost that draws the jetset crowd. Alternatively, head to Da Gioia by La Palma (now part of Oetker), or for something slightly more laid back, head to Bagni Tiberio, an outpost perched upon ruins, which can be reached by a small boat from Marina Grande.
Want more inspo? Read my article on 3 Days in Capri for more!
Capri Town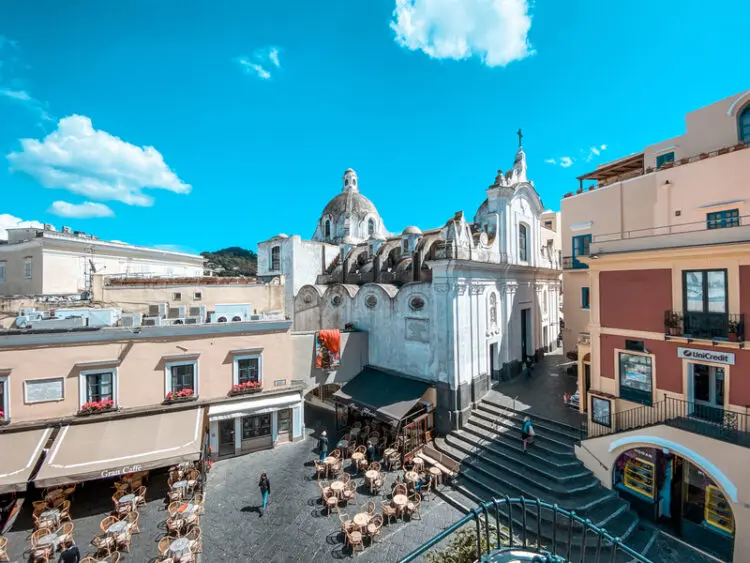 4Capri's main Piazzetta is one of its most endearing aspects, a charming, pedestrianized space with gorgeous views, manicured landscaping, and upscale shopping. Stroll through the picturesque Piazzetta, a lively square filled with cafes, shops, and restaurants. Indulge in some serious designer shopping, or enjoy a drink with some serious people watching. For those that know and love Capri, one of the common threads is being in Capri at night being the standout. By day, Capri welcomes hordes of daytrippers, cruisers as well as people coming in from the coast for the day. By night, when things have cleared out, there's a magic about this little island and more to love with fewer people to contend with.
Anacapri
5Lest we overlook 'the other side' of Capri, take a trip to Anacapri, a picturesque town located on the western part of the island. Taxis are available at the edge of Capri Town for around 20EUR each way. This side of the island offers a more relaxed and authentic experience compared to the bustling Capri Town. Visit Villa San Michele, explore the enchanting Gardens of Augustus, and take the funicular to the top of Monte Solaro for panoramic views of the island.
Capri lovers, what are your must-have experiences in Capri?