Anguilla is famed for its culinary scene but with dozens of restaurants available within the island's 33 square miles, which is right for you? While the foodiest of foodies would be perfectly content spending weeks dining on island, we find that most guests prefer a mix of flavors and vibes: a few fine-dining experiences alongside more casual spots and local establishments. My top recs for great dining in Anguilla for every traveler:
For Romance
When it comes to romantic dining locales, there's absolutely no shortage on Anguilla. With stunning, perfectly-lit beachfront restaurants serving up world-class cuisine, how do you possibly pick? Well, the beauty is that with so many island favorites, it's hard to go wrong even for the gourmands in the group.
For a romantic seaside dinner a deux, try Mango's for seafood, Dolce Vita for Italian (the gorgonzola gnocchi is a must), Straw Hat for upscale Caribbean fare, or Jacala for authentic French cuisine. Better yet: try them all and report back!
For the Family
For families with young children, the dining scene can seem overwhelming. The best bets seem to be restaurants that serve up great cuisine, offer kid-friendly options, and a setting that will allow restless little ones to run around in the sand without anyone looking twice. Smokey's at the Cove ticks all of the boxes, and does so better than I remember. We recently had dinner at Smokey's (normally a favorite of ours for lunch), and left impressed. The setting is great at night and offers the right casual edge to allow kids the freedom to run around on the beach (within parents' eyeshot) while the adults enjoy seaside cocktails. They offer music a few nights during the week, so live music lovers will do well to plan wisely!
Also great for families? Picante and Sandbar, both casual enough for kids to be kids, with enough options to let little ones find something they love.
For a Beachy Lunch Break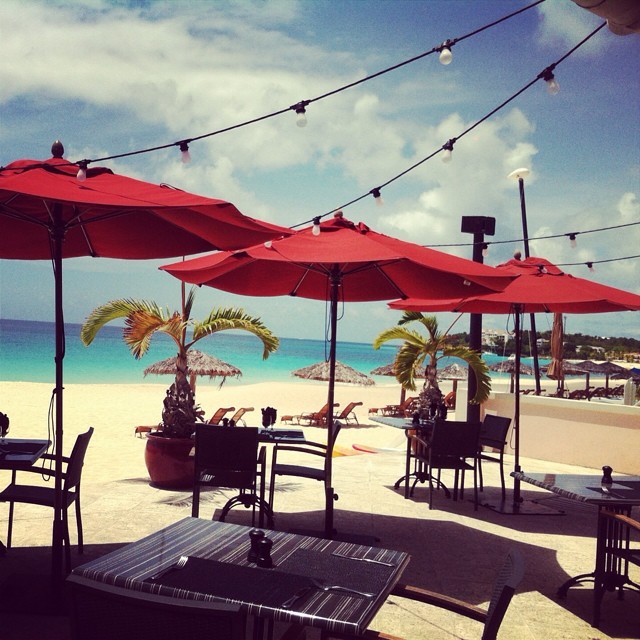 With so much great dining on the island, lunch becomes strategic for many diners. It's a great way to try a new restaurant (in some cases, places that me a bit beyond budget for dinner), while scoping out different beach scenes. Natural bias aside, my favorite lunch spot on the island for both food and setting is Straw Hat Restaurant on Meads Bay. Their spicy fish sandwich may be the best iteration on the island, and their tuna flatbread takes the cake for appetizers in Anguilla.
Read my full right of for best beaches for lunchtime lazing in Anguilla to find great lunch locales for a weeklong stay on the island.
Runner Up: da 'Vida on Crocus Bay (the seafood wrap and mahi salad at da 'Vida are great!)
For BBQ
'Rice and peas', served together as a single side, is technically the national food of Anguilla but it would be a sin to eat it solo. The ever-present BBQ, typically chicken or ribs, is the island's national de fact cuisine, and there's no shortage of great places to get your fix. The go-to for the island's best? Ken's Pork in the Valley, a restaurant that operates on 'the Strip' (a small stretch in the Valley) under a tent on the weekends. Watch their team work and you'll see the machine in action: Racks and racks of ribs are lined up on one super-sized grill, with chicken roasting away nearby. A line of locals, tourists, and expats will attest to the fact that these guys do it right, and they have been for years. A heaping container of chicken, ribs, or a combo of the two will typically cost you less than $10, and you can finish it off with rice and peas, or with their buttery garlic bread. Take it to go, or sit on their picnic tables to take it all in.
Vegetarians and pescetarians, unless you're okay with a range of sides, you're going to be hard-pressed to find an option at Ken's that works. Luckily, many tents and food trucks have cropped up nearby on the Strip, many of which offer options that will satisfy veg lovers' needs.
For Seafood
Every restaurant on the island will have seafood on the menu (crayfish pastas, poached lobster, grilled snapper, tuna tartare, etc.), and many restaurants do seafood very well. Even with that fierce competition, Mango's Seaside Grill arguably does seafood the best. What makes the restaurant a standout for something so ever-present? It's simple approach and consistent execution. I still dream about the wahoo tartare I had there years ago (I seriously still talk about it when people mention Mango's), and for wonderfully done fresh fish, you simply can't go wrong. Seafood lovers, rejoice!
For Great Local Cuisine
When it comes to great local cuisine in an established restaurant (this excludes those great roadside stands and food trucks), there are just a few restaurants that have really established themselves as must-tries for the average tourist to the island but it would be unfair of me to highlight just one! Our go-to for local cuisine is typically Tasty's Restaurant, a charming purple-hued establishment that sits on the Main Road. Dale Carty, the chef-proprietor is arguably one of Anguilla's most famous, and he serves up local fare with pride. Scott's a big fan of the curried goat (a local must have!), while I bounce between the seafood salad and snapper or mahi – you can't go wrong with either! Other favorite local spots include E's Oven (beloved by many of Frangipani staff), and Sarjai's is gaining traction as a favorite newcomer to the local food scene.
For a Unique Setting
How can you not be intrigued by a restaurant best described as a 'treehouse-style' setting. On an island where seaside dining is often a prerequisite on diners' checklists, Veya challenges the notion that you have to be water front to be a fabulous five-star setting. En route to Sandy Ground – but not on the water – Veya's setting is one of the island's most unique and captivating. Diners sit outside along a wood balcony surrounded by landscaping or inside in a warmly lit space. The restaurant has music playing downstairs (at Meze Restaurant, their loungey counterpart) most nights of the week, and the local sounds make their way upstairs for ideal volume control. Consistently ranked amongst the island's best restaurants, Veya's reputation precedes itself. Their layered salad starter is fabulous, and their tuna entree (served with pineapple and a rum sauce for the ultimate island inspired meal) is a standout.
For the Best in Fun, Casual Dinners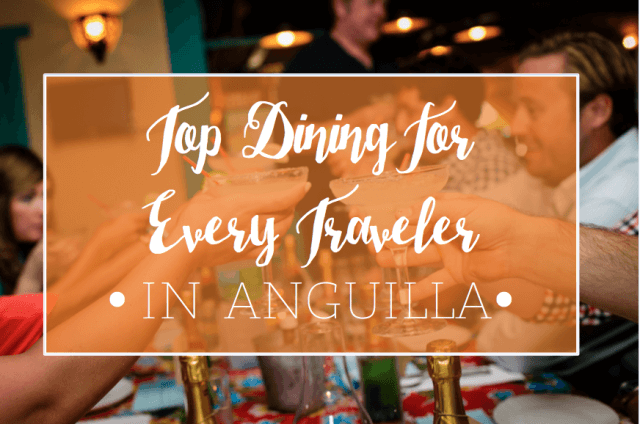 Leave it to the Californians to admit that amidst this incredible island dining scene, there's one restaurant that reigns supreme: Picante. A casual Mexican restaurant with a Caribbean twist, Picante is an expat and local go-to, and consistently a tourist favorite. What's not to love about fresh grilled fish tacos, Mexican-style street corn, and serrano chili margaritas? The food is fabulous (if you disagree we're going to have to have a serious come-to-Jesus), and the setting can only be described as fun. It's what I think most people truly want in an evening out: not the slightest bit pretentious, with food that leaves you wanting more.
For a Fabulous Lunch
A great lunch on the island can take many forms: toes-in-the-sand BBQ, fish sandwiches on the beach, a to-go picnic lunch at your favorite hidden cove, but the most fabulous of island lunches imaginable? Jacala. Most people include Jacala in their must-visit dinner list for a weeklong escape to Anguilla but if I'm being honest, I prefer it for lunch. The setting at Jacala on stunning Meads Bay is breathtaking, and the colors are made more awe-inspiring by day when the sun is shining. Equipped with a bottle of crisp rose and a coursed out lunch that will transport you to the South of France, there's hardly anything better. Don't miss their tuna carpaccio to start, and be sure to try their spicy rum for a zesty finish.
For Small Plates
I'm a huge fan of small plates, especially as far as groups are concerned. They're a great way to sample a range of flavors in just a few bites, plus there's typically something to satisfy all palates and dietary restrictions. Sandbar Restaurant, located in the heart of Sandy Ground, takes the cake for shareable plates, and it doesn't hurt that their perfectly lit beachfronts setting serves up great cocktails to go with your bites. Their menu truly offers something for everyone: our must-haves are the zucchini carpaccio and tuna poke, but other table favorites include the pork sliders and spicy edamame!
Best Newcomer to the Restaurant Block
On an island jam-packed with culinary hotspots, breaking in can be a tough task. Fortunately for island residents and frequent visitors to the island, the high level of competition on Anguilla keeps the food game fierce. The newest standout addition to the culinary scene? The Restaurant at Cove Castles. Despite the scope of this list, we try to keep eating out to a minimum. Yet we couldn't help but visit Cove Castles' Restaurant three times in the six weeks following its January opening. With Chef Marc Alvarez at the helm, the food is unique, delicious and five-star from start to finish. For vegetarians, the cauliflower entree is a must-have. (Even our carnivorous counterparts would agree.)
Runner Up: De Cuisine is another relative newcomer that's disrupting the established food scene in Anguilla. With 10 seats per night, the atmosphere is the most intimate dining experience one can imagine outside of a private chef. The three-course prix fixe is the way to go. 
For a Pre-Dinner Cocktail
As far as great bars are concerned, Viceroy's Sunset Lounge is a favorite for a pre-dinner cocktail. As the name implies, it's a great place to catch the sunset, especially as the summer wears on and days get longer. The setting brings some serious wow-factor and while the drink prices aren't for the faint of heart, the drink selection is one of the best on Anguilla. With offerings like a spicy daiquiris on the rocks, a mojito selection, and great takes on classic cocktails, there is something to satisfy everyone's boozy desires. Looking for an after-dinner spot? Your best bet is to go on a Friday night when they have live music to really maximize the experience!
Did your favorite make the list? What's your dining style? Any favorites that are musts when your on island?