We always encourage our guests to get out on the water to see Anguilla from a different perspective. The off island cays are gems, plus the rugged landscape of Little Bay and pristine beaches lining the island are mesmerizing by water. When we began planning our weeklong event, we knew that we had to include one day of beach hopping for the full island experience.
With 20+ of us in tow, there was no way we were going to squeeze onto our boat for the day so we partnered with Anguilla-based Funtime Charters to join us in escorting people from one postcard-perfect locale to the next. The weather this week has been absolutely brilliant which just added to the overall wow factor of the experience.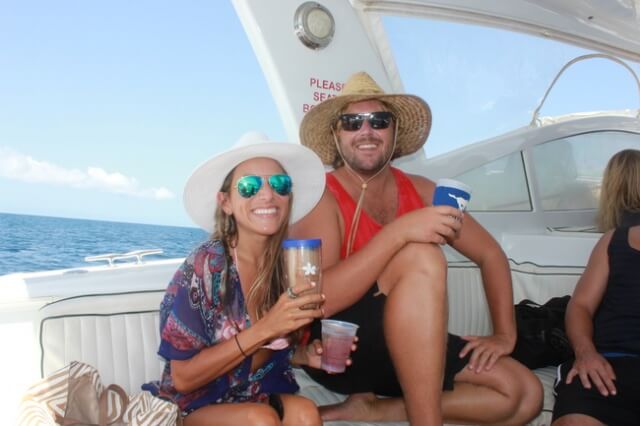 Stop 1: Prickly Pear
We had originally discussed doing lunch at Prickly Pear but options were limited with the off-season schedule. Regardless, we knew that a stop here was non-negotiable. The beach at Prickly Pear is one of my favorites in the whole of Anguilla; pristine white sand against a near neon shade of turquoise with perfectly-placed pops of green dotting the island. It was the ideal place for a first stop; we floated, chatted, sipped and explored until the earliest part of the afternoon.
Stop 2: Lunch at Sandy Island
Sandy Island is a postcard. I'd actually never eaten there before, but I'm always in utter awe as we pull up to this little spit of sand in the middle of the sea. This time we opted for a Caribbean buffet for our group to ensure that we were all eating at the same time. Shrimp skewers, fresh grouper, BBQ ribs and chicken made their way to the table in a family-style fashion, accompanied by a slew of traditional Caribbean sides (think rice & peas, and pasta salad). Washed down with painkillers and rum punch, it was absolute perfection. The view here always urges me to just stop and stare for a moment to take it all in.
Stop 3: Shoal Bay (not featured) + Little Bay
We still had hours left after lunch and there was more on our agenda to see. With time for about two more stops, Shoal Bay and Little Bay were musts. Shoal Bay isn't featured in any of these photos, but it is a lovely stretch of beach and is arguably the most famous beach in Anguilla. To be honest, I've never quite understood what makes Shoal Bay 'better' than Meads Bay or any of the other world-class beaches on the island, but its fame makes it a must-see for most guests.
On the other hand, it's clear what keeps Little Bay top of mind for visitors to the island. The tiny, protected cove is only accessible by boat (or by a rope that you can climb down), and the dramatic cliffs and landscape are relatively unique on the island. The rugged terrain reminds me more of an image out of Southeast Asia than it does the Caribbean, and the craggy face of the cliff surrounding the cove is breathtaking. Plus, there's the famous Little Bay rock that's a veritable rite of passage for many.
After a day of sun, sand and sea, we enjoyed a slow cruise into Sandy Ground while the sun was setting. We spent the remainder of our evening there, casually dining on Mexican fare at Elvis' on the beach.

In hindsight, this was a highlight for me from our event week, perhaps the highlight. How do you beat cruising from one beautiful locale to the next with great people in tow? Perfection.
xo from Anguilla,