Mesmerizing Little Bay & Prickly Pear Cays
As I mentioned last week, my mom and dad joined us in Anguilla along with my aunt and uncle for a 9-day getaway in honor of my mom's birthday (this is becoming a bit of a tradition for her). My parents have been to Anguilla a few times each and have a fair understanding of the island, how to get around, and the most awe-inspiring spots. They've joined us for beach hopping boat trips before, but never have we enjoyed a private experience boating in Anguilla with them. This go-around, with my aunt and uncle in tow, we headed off to explore Anguilla's off-island cays in honor of my mom's big day.
Her one request: a picnic lunch complete with traditional Maltese fare.
We departed from Sandy Ground around 11AM and made our way to Little Bay to start the day. I've talked about Little Bay a number of times before (here, here and here, for example), but it's truly one of those spots that takes most visitors' breath away. It's a stunningly dramatic backdrop, and perhaps more importantly for my mom, it's a pretty good snorkeling spot with its calm, crystal waters. The visibility was great on the day we visited and there were a number of brightly colored fish swimming near a rugged rock face by the beach. For an extra touch, starfish and a stingray joined us as we were finishing up our afternoon snorkel. Of course my GoPro decided to stop working so naturally I have zero footage of our underwater adventures. Ugh.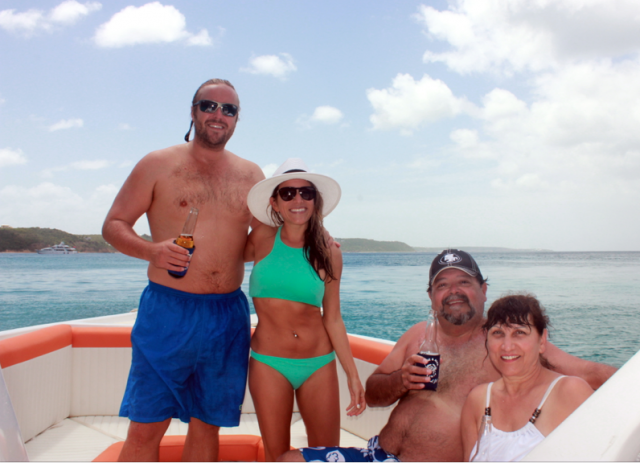 After Little Bay, we made our way to Prickly Pear Cay. Some of the coolest snorkeling I'd ever done in Anguilla was on the south side of Prickly Pear where the rugged underwater terrain provides some gorgeous glimpses into underwater life. The floor was littered with sand dollars, and brightly colored sea fans waved all around us. The current was a bit stronger at Prickly Pear (Little Bay is always super calm), so heading back to the boat had us swimming against the current; a hearty pre-lunch workout that left everyone ready for an ice-cold beer and sustenance.
Prickly Pear Cays
Now, if you haven't been to Prickly Pear, it's a pretty spectacular sight. The majority of Anguilla's beaches are mind-blowingly beautiful, but the beach at Prickly Pear really is one for the books. Bright white, powdery sand abuts the brilliant turquoise water, and the majority of the time the beach is sparsely populated. It really is a postcard.
And of course we had to honor my mother's one request: a traditional Maltese lunch on a beach to ourselves. As some of you know, the majority of my family, including my mom, aunt and uncle, were born and raised in Malta. Being on an island – any island – seems to transport them back home: the hot sun, the salty water, the fresh air. A traditional lunch was easy enough: crunchy bread, tuna, capers, tomato paste, anchovies, olives and a hearty dose of olive oil smashed together on a plate, traditionally eaten bruschetta-style, but in our case as sandwiches (here's a glimpse into how to prepare it in a snap). It was utterly simple and perfect. By the time we were done, our hands covered in oil and tomato paste, it was the perfect time for a dip in the sea to cool off and clean up.
I can't speak for my mom entirely, but I think our birthday boating in Anguilla was a success. After a day of sun, sand, and salt, we were perfectly happy to sail home and finish the night with some classic BBQ. Does a birthday get any better?
xo from the islands,