The majority of the time my travels are kept pretty low-key when it comes to dining. Generally, if I'm traveling on a budget, I allot much more to doing than to eating. However, if there ever was a place to call that logic into question it would be in Anguilla. Scott had mentioned that Anguilla is heavily regarded as the unofficial culinary capital of the Caribbean. It's a small island — 3 miles x 17 miles — but houses over 70 eateries. Dining on the island is certainly not for the faint of heart; the majority of restaurants we popped into ran around $25 – $40 for entrees, $10 – $15 for appetizers and $7 – $10 for drinks. There are, of course, ways to eat on a budget: there are a few grocery stores where you can buy necessities (cereal, milk, bread, peanut butter, snacks, etc.) and there are quite a few local joints where you can nab seriously authentic BBQ for a reasonable price (think two people for under $20). Generally, though, if you're eating out at proper sit-down restaurants, it's something you'd seriously have to factor in to your plans. I have a condensed version of the reviews housed under 'The Buzz' along with reviews from other cities around the world. Since Anguilla is such a foodie paradise though, I thought I'd give a little run-down on some of the places we hit up during our time on the island.
[Listed in alphabetical order]
B & D's BBQ, Meads Bay, Anguilla, BWI
Average Price Range // Full plate of BBQ'd goodness: $10
Great little roadside BBQ joint open on the weekends down the street from Jacala, Blanchard's, et al. It's clearly locally run and you can nosh on your fill of ribs, chicken or fish + cole slaw and rice & peas for under $10 per person. Great place to grab lunch and fill up on some local delights!
Da Vida, Crocus Bay, Anguilla, BWI
Average Price Range // Appetizers: $14 – $20; Entrees: $25 – $40
The meal we had at Da Vida was arguably the best meal we had on the island. The food is definitely pricey, but it was one of the first times I've walked away from a fine dining experience and thought the pricing seemed 100% justified. Wonderful food, incredible service and an amazing location right on the water. I'm not generally a dessert person (read: I normally salivate over the menu but try to exert a little self-control), but the bite I had of the banana spring rolls was heavenly. Also, try the frozen mojito. If mojito's weren't already amazing enough, they blend this bad boy up! Mmm. Bonus: it's Anguillan-owned and operated — gotta support that!
Dune Preserve, Rendezvous Bay, Anguilla, BWI

I believe they offer lunch at Dune Preserve, but rum punch and beer comprised the extent of our order. Food and drinks aside, I think this is one of the coolest places I've seen on the island. The set-up is awesome; it feels like you're in an old, abandoned tree house. They have live music (though they didn't when we were there) and some pretty stellar shows on-site. Apparently Jimmy Buffet's Live in Anguilla show was held there!
Elvis' Beach Bar, Sandy Ground, Anguilla, BWI
Word on the street is that Elvis' has food, too, but we never actually ate there. We did manage to hit up Elvis' five or so times during our stay and it never got old. Such a cool place on the beach with a fun vibe and areas for lounging and dancing.
Gwen's Reggae Grill, Shoal Bay, Anguilla, BWI
Awesome, awesome beach bar. If I were to design my own bar in the Caribbean, it'd probably be kind of like this. When we were there (on a Sunday), there was a local scratch band playing and there were loads of people posted up on the beach sipping on rum punch and Caribs and noshing on BBQ. We didn't eat there, so I can't vouch for the food, but from what I saw, it looked delish! If the vibe wasn't great enough already, they also have hammocks! Keep an eye out for them, though — there are only a few and they filled up quickly!
Jacala, Meads Bay, Anguilla, BWI
Average Price Range // Appetizers: $10 – $16; Entrees: $28 – $40
Looking for a great date night for our first evening together in Anguilla, Jacala was our first dinner together on the island. The reviews were great and the menu looked pretty spectacular. Our food was definitely good — the terrine appetizer was absolutely amazing and my seared tuna entree was pretty remarkable (especially after having not eaten for a good 24 hours prior). While the service was fair, I found the overall experience a touch overpriced for what it was. Great food, yes, but it didn't stand out to me in the same way that, say, Da Vida did. Conclusion: Yum, but save your money and spend it at Oliver's or Da Vida for a romantic rendezvous.
Oliver's Seaside Grill, Long Bay, Anguilla
Average Price Range // Appetizers: $8 – $14; Entrees: $25 – $35; Prix Fixe: $40
Love this place! Boat Shoe Boy and I headed to dinner at Oliver's for our last night together on the island. Why this place doesn't get a bit more recognition, I'm not quite sure. The food was remarkable (the stingray was surprisingly amazing) and the service and ambiance were also wonderful. If you can't eat downstairs, grab a drink and enjoy the views before sitting down for dinner. Without a doubt, this is definitely a place I'd go back to again!
Picante's, West End, Anguilla, BWI
Average Price Range // Appetizers: $7 – $10; Entrees: $10 – $20

Before we arrived in Anguilla, Boat Shoe Boy had mentioned that his favourite restaurnt in the world — yes, in the world! — was Picante's in Anguilla. Considering the places he's been and his foodie-esque palate, I thought that was a bit of a bold statement. No doubt though, this is definitely the best Mexican food I've had in my life (which is saying something when you're from California). The service is also incredible — and prompt! — which I found to be more of the exception than the rule across the island. Their chili queso corn on the cob is quite possibly the best thing I've eaten in my life. I know corn-on-the-cob typically doesn't tantalize the taste buds but this rendition is suspiciously delectable and addicting. Their margaritas are incredibly strong, so I would order one pitcher at a time in a group… we went through two pitchers for a group of six and all left feeling pretty good!
Roti Hut, George Hill, Anguilla, BWI
Average Price Range // Your Choice of Roti: $10ish

A little local joint that ranks high on the 'bang-for-your-buck' scale. It's definitely off the beaten path and wouldn't be listed in any Anguillan dining guides, but the food is great and authentic! Great rotis (Caribbean crepes of sorts) with prawns, chicken, goat, conch, etc. Also, while I'm not a big spice person, their hot sauce is the best! Best part? Two rotis, three beers and a water ran us under $30. Steal.
Roy's Bayside Grill, Sandy Ground, Anguilla, BWI
Average Price // Lunch: $13 – $22

These guys are famous for their fish and chips for a reason. Sooo good. While I can't attest to this, the ribs seemed to also get rave reviews. Great views from the deck and a pretty stellar selection of blended drinks!
Scilly Cay, Anguilla, BWI

More than a meal — this place is an experience, through and through. The coolest little secluded area on the island (you can access it by boat from Island Harbor). The food is undeniably wonderful, the rum punches are incredibly strong and there's a great local scratch band that plays on Sundays. The plates are huge so plan on sharing!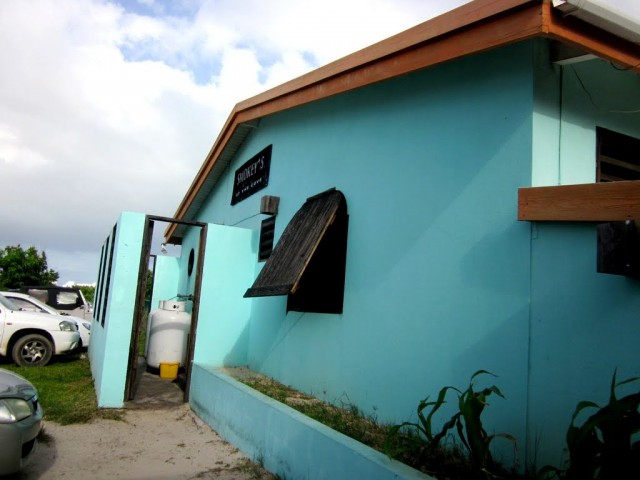 Smokey's at the Cove, Cove Bay, Anguilla, BWI
Average Price Range // Lunch: $14 – $22
Another amazing little spot on the beach. We made it to Smokey's twice during our trip (both Saturdays) to check out the live music, courtesy of The Musical Brothers, and to have lunch on the beach. The lunch selection is great (the fish sandwich is a winner), and the setting is gorgeous. Pack a towel and some sunscreen so you can lay out afterwards!
Straw Hat Restaurant, Frangipani Beach Resort, Meads Bay
Average Price Range // Appetizers: $10 – $16; Entrees: $25 – $35

You can't really beat having a restaurant of this caliber on site at the property you're staying at. If the Frangipani weren't amazing enough as is, having awesome breakfast, lunch or dinner in your backyard definitely boosts the appeal. The restaurant sits right on the beach where you can snag a pretty amazing sunset view if you time your visit properly. If you pop in at dinner, try their lobster rolls as an appetizer — sooo delicious. For meat-eaters out there: word on the street is that the curried goat is pretty stellar.
Tasty's, South Hill, Anguilla, BWI

I accepted the fact that service on the island was (generally) pretty slow, but Tasty's took service to a whole new level. The food was good, yes, but based on the service that we received, I would hesitate to recommend it for a large party. We had a group of ten so that could have easily been a big part of the issue. 
All around, some amazing dining experiences in Anguilla! Big shout out to Boat Shoe Boy  & his family for making all of this possible — definitely one of the greatest experiences ever!
For anyone out there that has been to Anguilla, what's your favorite restaurant?
Any suggestions for our next go around?
Lots of love,