I spoke about Anguilla being Vineyard Vines' featured destination for their spring catalogues, and we were thrilled to have the opportunity to be featured in print and online! The brand's guiding philosophy, Every Day Should Feel This Good, captures the essence of island living. Our life revolves around the resort when we're on the island, but when your work involves making people happy in a location that you love, how can life not be great? We've made a conscious effort to try to take the occasional day on island away from work so we can truly appreciate the utter beauty of the place we get to call home. This weekend we had one of those days: a morning workout, followed by a day soaking up sun at the beach, caipirinhas at our home bar, and a dinner at a world-class restaurant. Yeah, every day should feel this good. 
The third and final installment of Vineyard Vines Anguilla series just hit stores and we're so excited to be profiled! You can see our write-up, along with other featured island residents, on the Vineyard Vines website. We've had many of our guests email us with snapshots in front of the storefronts where Anguilla images are front and center, and it's been so much fun having friends and family see the feature organically!
Have you seen Anguilla featured in print or in store where you live?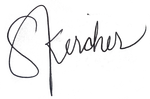 Check out our feature in the first installment from Vineyard Vines in Anguilla.