When we learned that Vineyard Vines was coming to Anguilla to shoot their spring catalogues, we were thrilled! To see the island highlighted is a huge honor, and Vineyard Vines' target market is so absolutely in line with ours at the Frangipani that we were excited about the boost in exposure and to see a major brand's take on the island landscape.
When we were invited to be featured in the catalogue, we were over the moon! Us? Modeling in a Vineyard Vines catalogue? To say we were excited is an understatement. The first of three Anguilla-focused catalogues was just released, and we're honored to be featured in two of them, the January edition and the upcoming March catalogue. I haven't actually seen the catalogue yet (mailing time to Anguilla can take a while!), but my parents were quick to call and text when they opened the catalogue and saw familiar faces! Take a peek at this month's feature: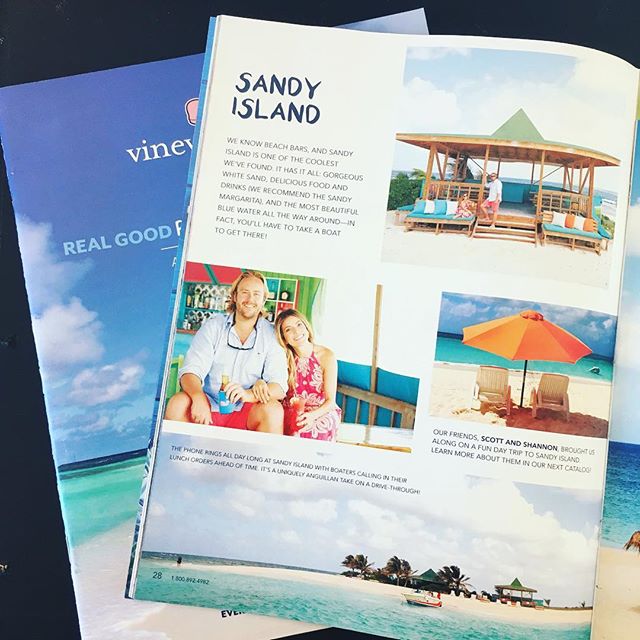 You'll see more in the coming months, but head over the Vineyard Vines' website to see profiles on other islanders including Peter and Anne, the owners of Straw Hat Restaurant; Nori of Anguilla-Beaches.com; and singer/songwriter Bankie Banx.
Behind the Scenes
So, what's it like to play model for a day?
It's just as much fun as it seems! The Vineyard Vines crew came with a full team: marketing, stylists, photographers, videographers, staging, plus hair and make-up. I half-expected a full glam squad to make us camera ready, but in reality the focus was far more of a natural approach: a swipe of colored lip balm and mascara, a quick touch up of the hair and a few dots of concealer. It mirrored the island vibe that Anguilla exudes – just easy, beautiful living.
To be honest, the experience felt totally glamorous, and was an absolute blast. Part of the shoot took place at Frangipani, where our guests looked on while the production team held umbrellas over us to keep us from sweating. The make up artist and stylist would come over and touch us up: a flick of the hair here and a touch of lip gloss there. For a moment, I was convinced that we were actually real models. Plus, the team at Vineyard Vines is made up of the most approachable and easy-going people imaginable; as we often say, people that we would be friends with in real life. We're excited to get our hands on the real catalogues soon enough!
Cheers from Anguilla,