World-class beaches, fabulous restaurants, a vibrant music scene; there are a number of reasons that Anguilla ranks as one of the most beloved Caribbean islands, with many guests re-visiting the island year after year. For those venturing to the Caribbean interested in flora and fauna, the underwater world is probably what comes to mind, with the Caribbean offering some great snorkel and SCUBA locales. Jackie Cestero, founder + operator of Nature Explorers took us out for a morning of bird watching in Anguilla to challenge our ideas of what makes the island unique. For those who prefer their adventures on land, it turns out that Anguilla offers some unique opportunities for bird lovers, including a range of restricted species and 20 wetlands on the island, 11 of which are Important Bird and Biodiversity Areas (IBAs). For those intrigued by the idea of bird watching in Anguilla (or just interested in trying something new on a return trip to the island!), read on to learn about a typical day, who goes on these birdwatching excursions, what options exist, and what to expect by season.
---
Jackie parlayed her love of bird and wildlife photography into a career leading bird watching tours in Anguilla, an island she's called home for decades. I'll shoot it to you straight though: I love safaris and wildlife adventures but I've never considered birdwatching my thing. We're heading on a trip to Sri Lanka this fall though, where we'll be spending a few days on safari in Yala National Park, part of the focus being on scoping out birds and smaller resident animals. On previous adventures, I'd been so focused on the Big 5 and other exotic wildlife that birds sort of fell to the wayside. I was ready to shift gears though and learn a bit from Jackie about birdwatching before our international adventure to gain a better appreciation for the practice and to learn a bit more about the island we call home.
The Experience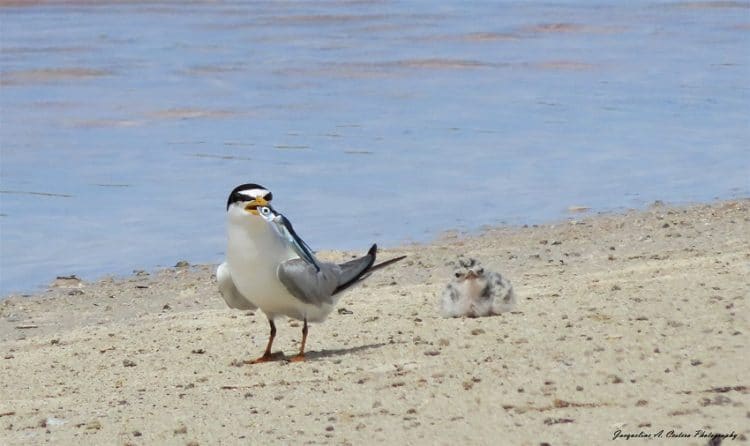 During our 3+ hour tour, we visited 4 wetlands on the island, including Long Pond, which I'd never explored previously. Anguilla's home to some 130 bird species, though depending on your season you'll find that certain species pop up most often. During our summer tour, black-necked stilts, terns, and willets were commonly seen, though we saw around two dozen different species over the course of the day.
During our first stop, we walked around the pond to scope out the birds in the early morning, some soaring overhead, some sifting through the seaweed for a morning bite, and many sitting in a closeby pond guarding their eggs. Unless you're an avid bird watcher, the most exciting moments come from seeing newborn babies or watching birds in action, like the dad (above) feeing his baby. For most of us, it's a glimpse into a world that co-exists with us all the time; one that we've never really taken the time to appreciate. For me, it was a bit of a forced slow down, noticing these tiny peaceful moments in Anguilla that I'd never taken the time to focus on before.
We continued on to the Sandy Ground salt pond, which any visitor to Anguilla has probably passed before without much notice. There were still a few active nests in Sandy Ground at the time of our visit, and babies explored the little streams of saltwater, picking at the earth and sifting through mounds of salt. From there, we continued on to two other areas: Cove Pond (near Cap Juluca) and West End Pond (near Shoal Bay West).
Cove Pond is the largest salt pond on the island and visitors will recognize it for the frothy salt that washes up to shore looking like piled up snow in winter. It's home to a range of birds that call the pond home, including a few nests being fervently guarded by their mothers. For serious bird watchers, talk with Jackie about what you're particularly interested in seeing if you have an area of interest. Her knowledge of each pond and the families that live in each is impressive. As the grand finale, we ended with the West End Pond, which was a particularly poignant way to finish our day. Jackie's connection to the West End Pond started following Hurricane Irma when she founded an initiative to rehabilitate the area devastated by the storm to keep the flora and fauna alive for future generations (read more on this below).
The bird areas selected will depend on the time of year, particular happenings on the island (as I mentioned, Jackie is particularly aware of what's going on at each site), and which tour you've chosen (read more on the tours below).
What Time of Year is Best?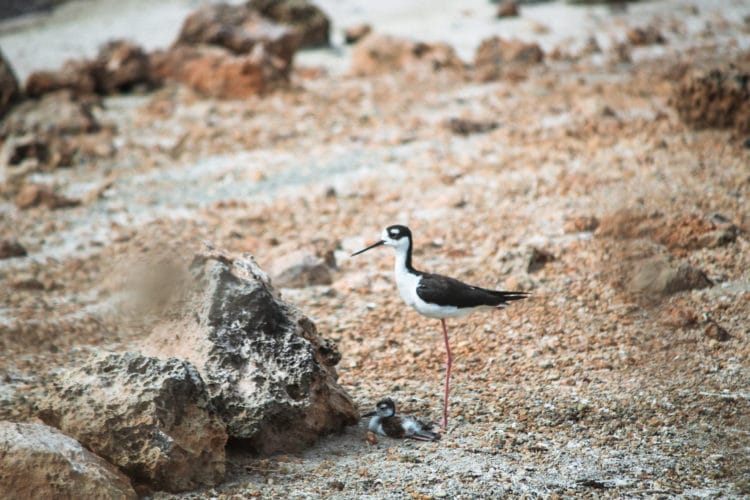 During our tour in early July 2020, we were in season (perhaps a touch on the later side) for scoping out baby birds. Now, whether you consider yourself a bird watcher or not, baby animals are always the cutest things to see. The summer season brings the highest likelihood of scoping out babies (no doubt a highlight for kids on tours, too!), but each season brings its own benefits. Regardless of the time of year you visit Anguilla, tours are available and catered to the season's offerings.
The Tours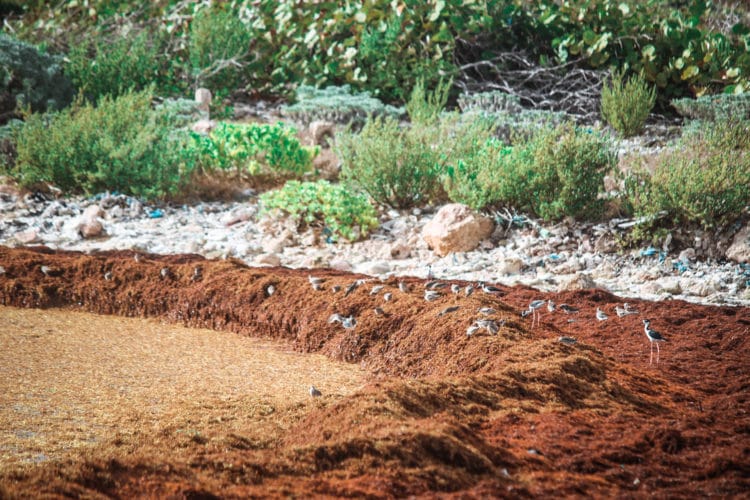 Nature Explorers offers a range of tours, but Scott and I opted for her most requested option: the Early Bird Tour, which traditionally starts at around 6:30AM and lasts for 3 1/2 hours or so ($65pp). If waking up at 6:30AM is far from your idea of vacay, she also offers a slightly shorter later morning option which starts at 8AM (the 'Late Riser Tour') for those that prefer an extra hour of beauty sleep in the morning ($55). If photography is your focus, let the team know so they can help highlight photo ops along the way.
For travelers not renting a car in Anguilla, no issue there – Jackie handles pick up and drop off, plus stocks the car with water and offers binoculars for your excursion. All tours are private, whether you're a single traveler or traveling with a family group (usually up to 4 guests is the ideal setup). For any frequent travelers out there who typically travel solo, you'll know the age-old supplement that you often have to fork over for private tours, but Nature Explorer's philosophy is that all travelers, regardless of their group size, should have the benefit of a private experience without paying a premium for it.
For those who are intrigued by bird watching but want something more to round out the day experience, check out her full-day Wetland, Beach & History Tour from 8AM – 4PM ($165pp, this is the one I would choose!), which offers a bit of bird watching, mixed in with beach time and beach lunch on Shoal Bay, snorkeling, and a hearty dose of Anguillian history; a great option for first-timers getting to know the island or repeat guests who want to delve in a bit deeper.
For those wanting to check out Anguilla's Dog Island, a bird sanctuary ripe for exploring and bird watching, talk with Nature Explorers about options for investingating one of the region's more unique habitats.
Who Can Go on the Tours?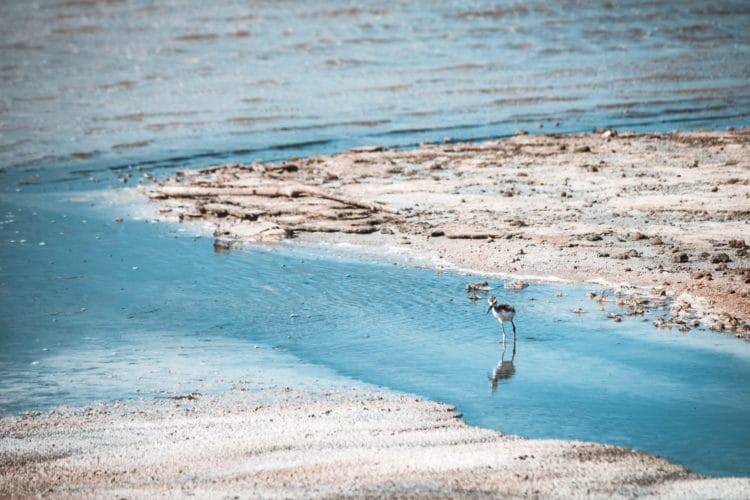 The tours are private, so they can be easily catered to your group dynamics. Kids are absolutely allowed and the Nature Explorers' team has them covered with age-appropriate materials to keep them engaged along the way. For folks with mobility issues, talk with the team about options. We found that many of the spots we visited didn't require getting out of the car – with a set of binoculars you can see most of the key wildlife from the backseat without an issue.
In terms of interests, we've had a range of our resort guests out on the tours previously, from outdoorsy folks who simply enjoy being out in nature to take in some unique spots on the island, to 'twitchers' who prefer to spend hours on end focused on scoping out bird species on the island. If you're a photographer interested in photographing wildlife and island scenes, you could easily work that into your day as well. For history lovers, the full-day tour can be tailored to fit in a bit of nature, a dose of history and a bit of beach time.
Commitment to Anguilla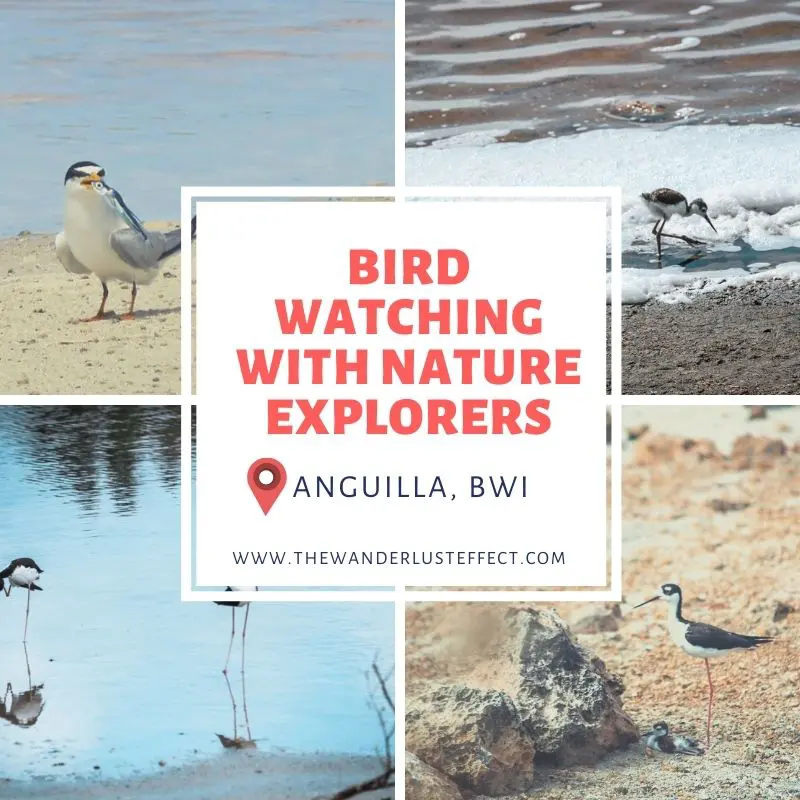 After a morning of bird watching and exploring new-to-me places in Anguilla, there was one element that stood out most from our day: Jackie's commitment to Anguilla's habitats. During our stop at the West End Pond, we got a glimpse into the project that Jackie pioneered in Anguilla: 'Bring Back the Buttonwoods,' a rehab project to bring back mangroves and buttonwoods that once flourished before Hurricane Irma. When the area was decimated, Jackie secured funding to help plant over 200 buttonwoods around the pond, and brought in a mangrove specialist to help rehabilitate the area. Fundraising continues through the sale of her books and funds raised through tours, and visitors and locals alike are involved with the physical replanting of buttonwoods. Want to get involved? Reach out to Jackie if you're interested in learning more.
Learn more about Nature Explorers, and read 25 Things to Do in Anguilla for your upcoming trip.
Have you done a bird watching or wildlife spotting tour before? Anguilla lovers, which of Nature Explorer's tours would you be most intrigued with?