For most travelers, the mere mention of the Greek Isles evokes images of the Cyclades. There are six island chains that make up Greece's spattering of islands (only a fraction of which are inhabited), but long-time favorites like Mykonos and Santorini along with up-and-coming favorites like Naxos and Paros dominate most traveler's Greek island fantasies. With a month in the Cyclades dedicated to exploring, we worked our way from Mykonos down to Santorini stopping at a handful of islands along the way. For anyone with the time to dedicate, our monthlong itinerary included well-known go-tos along with off-the-beaten-path locales and gave us the contrast of rustic Greek life alongside some glitzy, international pockets. In all, we adored our itinerary and found aspects of every island that we resonated with. I'll be sharing some shorter sample itineraries shortly with ways to pair islands together seamlessly without losing too much time in transit. Below, I'm sharing our island visits in the order that we experienced them from north to south.
👉🏼  If you're looking to planning a Greek escape, let me help with your planning! Head over to Compass & Vine to say hello so I can help you pick and choose which islands will best match your personality.
Mykonos ✧ 5 nights
Mykonos was our starting point for our month in the Cyclades and was the perfect way to kickstart our getaway. There are direct flights internationally into Mykonos though we traveled via Athens due to flight availability. The island's international airport makes it a wonderful starting point for a Cycladic itinerary. Mykonos is undoubtedly the most international, glitzy, and high-energy locale of the island destinations we visited but it can also very much be what you make of it. We visited when tourism was slashed due to COVID (down 70 – 80% vs. normal years) which meant we were fortunate enough to experience Mykonos sans crowds, a rarity in summer months to say the least. If day clubs and late nights are your things, you'll absolutely find that here, but simultaneously you can also find quiet, removed beaches, quaint tavernas on the sand, or enjoy wine tasting at the island's only organic winery. Explore Mykonos by ATV for the ultimate island playground escape!
Read up on 4 Days in Mykonos for more island inspiration!
ACCOMMODATIONS: Nissaki Boutique Hotel, Platis Gialos, Mykonos
Nissaki was one of my favorite hotel properties of our entire month in the Cyclades. Nestled between Platis Gialos and Psarou and perched overlooking Nammos, the location is absolutely perfect for exploring nearby beaches while also allowing for easy access to Mykonos Town by bus. Mykonos is home to dozens of stunning five-star properties (Bill & Coo, Branco, and Kensho to name a few), but I'd find it extremely difficult to not stay at Nissaki again on a repeat visit. I loved the boutique vibe, the views, the amenities, and the incredible team.
---
TRANSFER METHOD TO NAXOS: Ferry.
Ferries take about an hour from Mykonos to Naxos depending on the operator (some fast ferries are available to zip you to Naxos more quickly). Worth noting is that earlier ferries are likelier to be on time. Our 10:30 AM ferry to Naxos left closer to noon due to morning delays, which left us waiting at the ferry dock for over an hour for our departure.
---
Naxos ✧ 4 nights
Naxos took a day to grow on me, but when it did I was completely sold. Naxos is a complete contrast to Mykonos which makes it a great pairing. The island is hugely agricultural and is largely self-sustaining with locally grown veggies, farm-fresh cheese, local wines, and fresh seafood dominating menus. The island is rawer and less glitzy than Mykonos, but also has a greater sense of place in my opinion. Some beaches (Plaka, in particular) are nearly Caribbean postcard-worthy, the ruins that dot the island are fabulous for history lovers, and the old town is the most charming old town you'll find in the Cyclades apart from Mykonos'. Delving into the island's vibes and exploring further afield will make you fall in love. For us, a food and wine tour in Naxos with Philema Tours really made our experience a stand out. After all, aren't relationships and people what really make you fall in love with a destination?
ACCOMMODATIONS: Nissaki Beach Hotel, Agios Giorgios
Nissaki (not related to the Nissaki in Mykonos) is walkable from the ferry port. The walk will take 10 – 15 minutes so if you have a large amount of luggage a cab may be a simpler proposition. The hotel is charming and food is wonderful, though slightly more bare bones, but the nearby beach leaves something to be desired (though families may like the shallowness of the sea here).
---
TRANSFER METHOD TO PAROS: Ferry.
The ferry from Naxos to Paros is quick; less than 45 minutes without any stops along the way.
---
Paros ✧ 4 nights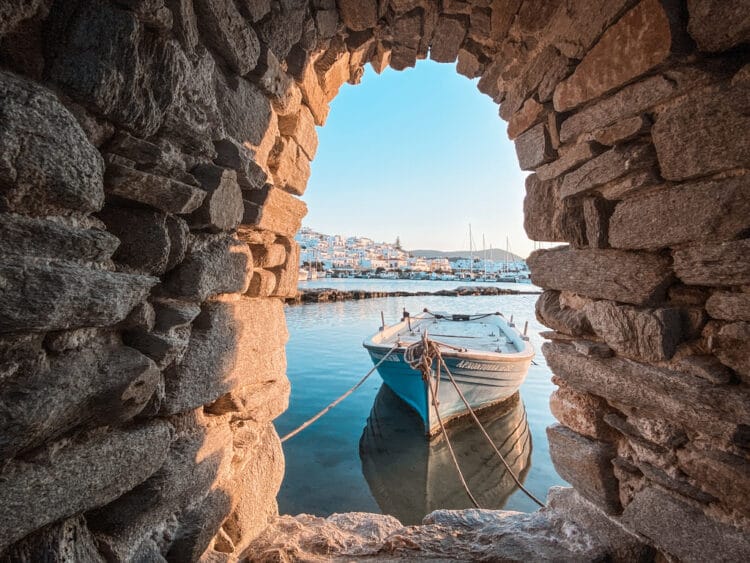 Paros has gotten some serious love over the past 5 – 10 years as it transformed from a fishing village into the glamorous island go-to for shoppers and upmarket travelers. For those debating on where to stay in Paros, Naoussa is the spot (especially for first-time visitors). The main port town of Parikia has options and is worth visiting, but lacks the upmarket flair that Naoussa possesses. By day, rent an ATV or car to get out and explore hidden coves like Kolimbthres and charming towns like Lefkes; by night, wander Naoussa's picturesque streets to find independent boutiques and stunning restaurants.
ACCOMMODATIONS: Mr. and Mrs. White, Naoussa, Paros
Set less than a kilometer from Naoussa, Mr. and Mrs. White is set close enough to the heart of Naoussa to walk into town, though it's a bit of a trek by night. During the day we found it completely doable but it becomes slightly more challenging when dressed up for an evening out (800km quickly feels like 3 miles).  The property, part of Small Luxury Hotels of the World, is lovely though a bit minimalist in its design. Hyatt members, you can use points for this booking which adds to its appeal.
---
TRANSFER METHOD TO ANTIPAROS: Ferry from Pounda.
The boat from Paros to Antiparos takes a mere 7 minutes from Pounda. Keep in mind that Pounda is accessible from Naoussa with a 30+ minute cab which will set you back €30 – 40, but the boats are very frequent from Pounda to Antiparos and are incredibly inexpensive. If you're considering a day trip to Antiparos, I'd suggest renting a car in Paros and taking it over on the ferry for the day so you can explore at leisure and drive yourself to/from the Pounda ferry port (you'll pay a slight premium for the car on the ferry).
---
Antiparos ✧ 3 nights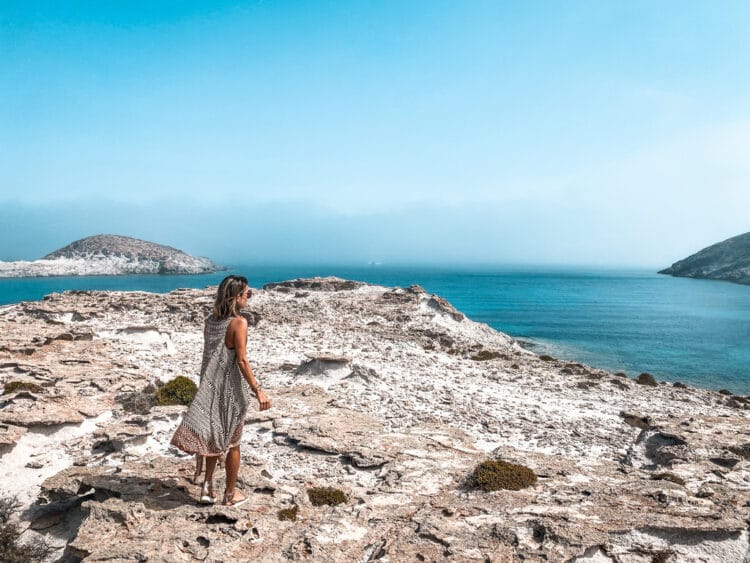 Set just a short ferry ride away from Paros, Antiparos is the sleepier sister to Paros' more glamorous vibe. Don't get me wrong – for a tiny island that's less than 15 square miles, Antiparos Town offers some fabulous shopping, dining, and post-dinner enjoyment, but on a more petite scale. We spent the shortest amount of time on Antiparos, just three nights, and while we could have spent longer we felt like we got a great taste for the tiny island with that shorter amount of time. We stayed near Antiparos Town, which is what I would recommend as a first time visitor. Proximity to Antiparos Town will mean the ability to walk in for dinners, drinks, and shopping at leisure, without having to worry about driving and parking. It'll come as no surprise that we rented an ATV on Antiparos as well to explore further afield. The island has rugged enclaves that will require a heartier vehicle so if you're renting, plan accordingly so you can explore the island's nooks and crannies.
ACCOMMODATIONS: Kastro Boutique Resort, Antiparos
Antiparos' low key vibe means that there aren't any glitzy five-star offerings on the island, which was particularly true during our visit during summer 2020 when many places were shut down due to COVID. That said, Kastro Antiparos was perfect for us. A family-owned and operated boutique hotel, it provides a warm atmosphere, great locale, comfortable rooms, and lovely pool views.
---
TRANSFER METHOD TO SIFNOS: Private boat charter with Aegean Thesaurus Travel
Generally speaking journeys from Antiparos involve heading back to Paros to the primary ferry hub for onward travel. With our journey continuing on to Sifnos, we instead opted to charter a boat for the hour-long journey from Antiparos to Sifnos. The private boat allowed us to board in Antiparos and head directly to Sifnos without any stops along the way. It was a breeze, we got to hear about Sifnian life, and we had time to stop for a swim en route.
---
Sifnos ✧ 4 nights
Foodies, this one's for you! To be honest: I went into this trip thinking that Sifnos could be my favorite island; relatively under-the-radar with a bit of a cult following for those in the know. My Instagram poll revealed that 92% of respondents hadn't even heard of Sifnos… and honestly, it was unknown to me until I started digging and compiling this itinerary. Sifnos is a foodie hotspot and people raved about the charming enclaves on the island, along with the beaches and hippie vibe. I liked it a lot, but I didn't completely fall in love. What I did fall in love with in Sifnos, though, is the dining. We stayed on Platis Gialos at Verina Terra, a gorgeous boutique property in close proximity to a number of the island's hottest eateries. In my book, Greek food is always fabulous and I adore the taverna-style casual dining, but Sifnos ups the ante on food with super gastronomic experiences on the beach. Omega 3 is an absolute standout – amazing for lunch and dinner – but other spots like Yialos! and Maiolica are also worth putting on the radar for incredible cuisine. With our four days, dining was really the highlight but we also enjoyed renting an ATV and exploring the charming town of Apollonia, visiting Chrysopigi, and venturing to Kastro, an ancient town that's been inhabited for over 3000 years.
ACCOMMODATIONS: Verina Terra, Sifnos
For proximity to Platis Gialos, Verina Terra reigns supreme, and boutique hotel lovers will love the boho-chic vibe of this property, not to mention the fabulous cuisine on offer. Verina Terra's sister property, Verina Astra, is situated in Poulati, just 3km away from the picturesque village of Artemonas.
---
TRANSFER METHOD TO MILOS: Ferry.
SeaJets offers a quick transfer from Sifnos to Milos in just 40 minutes – a total breeze! You can buy tickets for your ferry in Kamares, Sifnos right near the ferry dock.
---
Milos ✧ 4 nights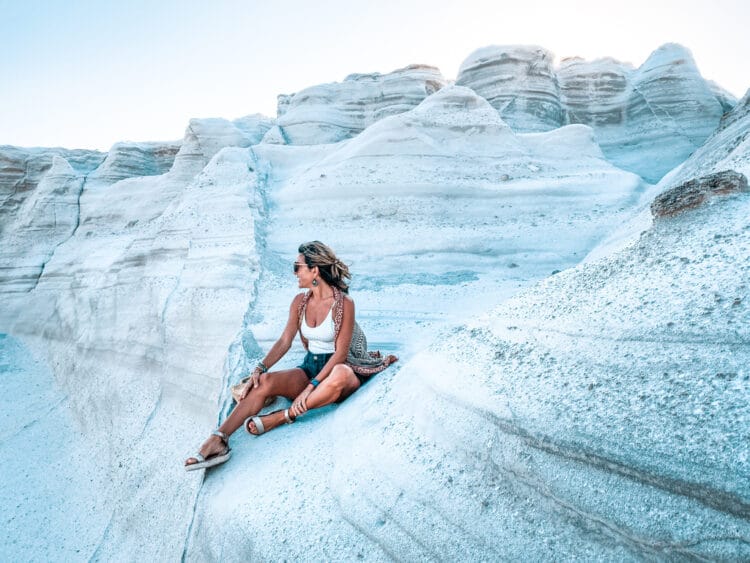 It's no wonder that Milos has climbed up lists like Travel + Leisure's World's Best Awards as a firm fan favorite in the Cyclades. Milos is unique in the island chain with its stunning landscapes and a focus on the sea. What Milos lacks in Cycladic charm (you won't find those picturesque architectural enclaves like Mykonos town), it makes up for with the most jaw-dropping coastline in the region. We allocated just four nights in Milos but could easily have added on another few. Scott and I independently found that Milos was our favorite island in terms of scenery, vibe, and offerings and was probably the island we'd be most adamant about returning to. We found Pollonia the perfect home base on the island but as with all of the islands, rent a car or ATV and explore to dig into the hidden gems. Sarakaniko offers incredible lunar landscapes and the colorful town of Klima will charm you from the get-go. If you spend money on one activity, put your funds towards a day at sea – a boat trip to Kleftiko is a must for any visitor!
ACCOMMODATIONS: En Milo, Pollonia, Milos
En Milo was a surprise for us and exceeded our expectations in every way. Rooms are bright and perfectly appointed with everything you need and nothing that you don't. A pool is available for poolside relaxation, the beach is just steps away, and the heart of Pollonia is just a short stroll from your room, making access to great restaurants and bars a breeze.
---
TRANSFER METHOD TO KIMOLOS: Ferry.
Ferries are readily available in Pollonia to transit from Milos to Kimolos and fares are extremely reasonable. You can buy your ticket the day before or the day of your journey just steps from the dock.
---
Kimolos ✧ Day Trip from Milos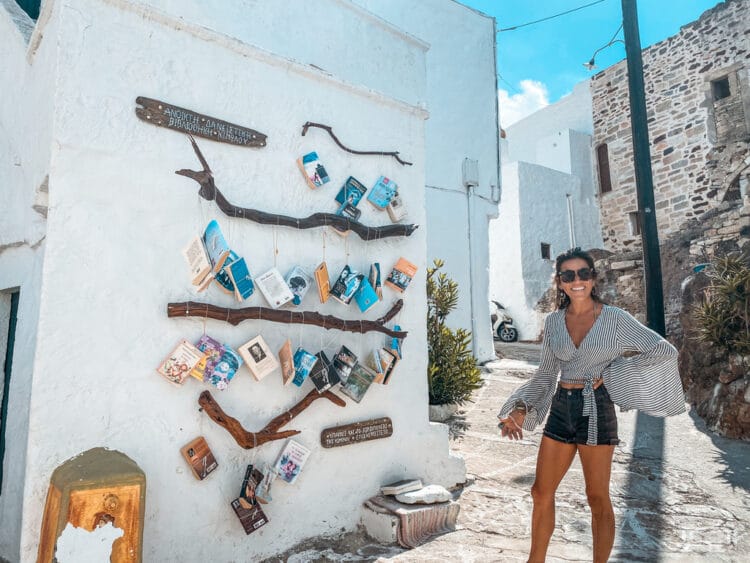 Unless you charter a boat privately, the best way to reach Kimolos is via Milos on a ferry that transits from one island to the other multiple times per day. And let's be real: with a month in the Cyclades, you'll have the time to explore some of the off-the-beaten-path gems that you have the time to get to know along the way. We had an ATV for a few days in Milos and took it over with us on the car ferry to Kimolos so we could easily explore for our day on the island. At 15 square miles, Kimolos is perfect for a day of discovery but there's more to do and see than meets the eye. We could have easily spent 2 – 3 nights in Kimolos and enjoyed the wandering, beaching, and dining on offer. Prassa ended up being one of my favorite beaches in the Cyclades; home to a great little day club and calm turquoise waters (but no restrooms, which is a bit of a drag if you want to spend the entire day here). Keep an eye out as you wander the island – you'll see their open-air library popping up in random locales, like the one shown above.
---
TRANSFER METHOD TO SANTORINI (from Milos): Ferry.
The ferry from Milos to Santorini ended up being our longest journey of the trip, taking around two and a half hours for the passage. Depending on how you're designing your month in the Cyclades, you could do this itinerary in reverse and begin with Santorini, which is another large international hub for travelers.
---
Santorini ✧ 5 nights
A month in the Cyclades isn't complete without adding Santorini to the list, especially for first-time visitors to the region. We were incredibly fortunate to be visiting in 2020 when we were able to enjoy the island without the crowds, which is no small feat. Santorini is incredibly polarizing and generally overrun with tourists in the summer months; so much so, that many of our friends who'd visited previously had advised us to steer clear. Our experience offered something different as we were able to drive around sans traffic, enjoy Oia in the evenings without hordes of tourists, and delve into wine tasting in Santorini to cap off our experience wine tasting in the Cyclades. The island is beautiful, iconic, and unique in the region, but if you can go in the shoulder seasons (September and October, for example) you may enjoy fewer crowds while still having shops and experiences on offer. Give yourself time to explore the island. Five days was hardly enough, and I could have easily spent a week seeking out more local hot spots in addition to the traditional tourist locales. If time and budget permit, don't miss a chance to enjoy boating in Santorini. Our daytime exploration with Caldera Yachting was a great way to enjoy a day!
ACCOMMODATIONS: Mystique, a Luxury Collection Hotel, Oia 
There's no shortage of five-star accommodations in Santorini, especially in Oia, but our stay at Mystique wowed us from start to finish. At 40+ rooms, Mystique is considered a larger property, with the hotel rooms spilling down the inside of the caldera, all offering spectacular views of the water and sunset. For anyone that prefers to steer clear of Oia during busy months, consider Imerovigli, which offers a more central location for exploring with lovely views.
---
With 220 islands in the Cyclades, our itinerary was hardly comprehensive but it was a great start for exploring deeper into the region. Given more time, we would have added on Tinos, Folegandros and Amorgos, and will undoubtedly incorporate others on a future trip to the island chain. That said, our itinerary felt perfectly paced, with enough time to get a feel for each island's unique vibe, and it also provided us with contrasts which was refreshing during a month of exploring. I'll be sharing a post soon on recommendations for islands to pair together and one of the things that I think works best with limited time to explore is experiencing the contrasts to really understand the differences and unique qualities of each island. For example, Paros' glam edge is a gorgeous contrast to Naxos' agriculture and rustic attraction. Milos' stunning landscapes and boating slant are a perfect pairing with Santorini's upmarket draw. My one major piece of advice is to not move too quickly. We generally had 4 – 5 nights on each island, which we thought of as a taster; enough time to get to know each island and get a better feel for which destinations we would happily return to. The exciting part? While there were a few islands that were standouts to me, each island had something that would keep me coming back.
Do you have a favorite island in the Cyclades? Any islands you would add for a month in the region?