My last visit to Mykonos was in the summer of 2010, a grad student on a budget staying near Paraga Beach. My memories of it are thin, bursts of windmills and the brightly colored Chora that was precisely what I'd envisioned of a Cycladic island. I'd spent the summer traveling around some dreamy destinations in Europe and ultimately they all blended together a bit. I wasn't as experienced at seeking out memory-making moments at the time so each destination, while beautiful, felt like part of this undefined summer. This time around, we spent four days in Mykonos (five total nights) and set out to explore. With a month in the Cyclades, I've been focused on not letting things meld together but instead finding ways that each island is unique and celebrating that. Mykonos is an interesting island because it's easy to glimpse only the surface: designer shops, some of Europe's most famous day clubs, a super-charged party scene, and a whirlwind of beautiful people gathering in the main town during the summer months. Many of the iconic sights in Mykonos are iconic for a reason but there are a number of hidden gems and lovely beaches to escape if you're so inclined. Read up for some inspiration for 4 days in Mykonos, plus some tips on where to stay, public transport options, etc.
Day 1 ✧ Soak Up the Sun + Explore Mykonos Town
You've arrived! If it's your first time on the island, your first of 4 days in Mykonos will likely be dedicated to soaking up some highlights: sunshine for one, plus visiting super photogenic Mykonos Town.
Let's start with some basics: WHERE TO STAY. We stayed at Nissaki Boutique Hotel on Platis Gialos, which I'd recommend whole-heartedly. Beyond the hotel itself (which we loved), the location is perfect for island explorations. There's a bus route that travels from Platis Gialos to town regularly (€1.80 per person each way), plus you'll be near the port for water taxi explorations (more on that below). We debated whether to stay in town and visit beaches daily or to stay on a beach and head into town. I think we chose well for a great mix of relaxing pool and beach days, plus evenings easily visiting town when it becomes energized.
I find myself more of a pool person and that was true for me in Mykonos as well. Many of the most famous beaches (Platis Gialos, Paradise Beach, Super Paradise, Paraga, etc.) are covered in sunbeds for rent. Partly due to COVID and partly because we're spoiled with empty beaches in Anguilla, the thought of jammed beaches wasn't really vibing on this trip. If you're planning on heading to one of the busier beaches, you can take a towel and post up but I'd budget for sunbeds for a more comfortable daytime experience. Many beach restaurants will have beds available for rent and pricing will vary depending on the establishment.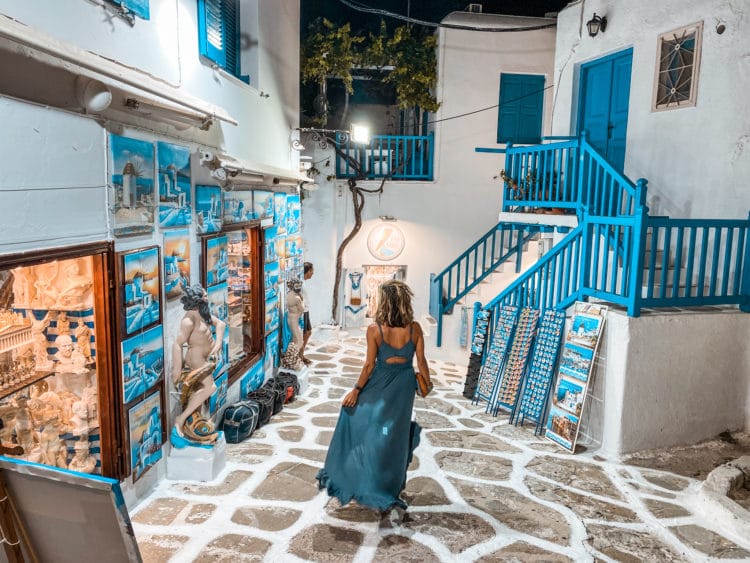 In the evening, head to Mykonos Town to get a glimpse of the picture-perfect Cycladic architecture. After spending a month in the Cyclades, I still think Mykonos Town is one of the most charming and photogenic of the bunch. The caveat of course is that it can get busy in the summer months. We were there during COVID when tourism was slashed by about 80% on the island and it still felt buzzy. During normal summers (July and August in particular), the main town is heaving with tourists so be prepared. Most visitors to the island are at beaches during the day so the town doesn't really start getting busy until sunset time (around 8PM in August). We routinely went to town a bit earlier (between 6:30 and 7:30PM) to explore the maze of streets sans crowds. The town itself is a draw as are the nearby windmills, which have become a must-see on the island. For sunset, stay tuned on my round-up of 10 places to enjoy the sunset in Mykonos!
?? DINING IN GREECE: Wondering what's 'normal' for dining time in Greece? There is no 'normal' in the sense that tourists come from everywhere with their own schedules but if you want to get on Greek island time, dining is late. During our time in Mykonos there were curfews on food & beverage facilities due to COVID so restaurants mandatorily closed at midnight. If that weren't the case, we would have easily seen people having dinner at that point. We routinely made dinner reservations for around 10PM, which seemed like a sweet spot, giving us time for sunset/pre-dinner cocktails. If in doubt, a 9:30 or 10PM reservation is a solid choice!
Day 2 ✧ Self-Guided ATV Tour of the Island
One of our most fun and memorable days on the island was our self-guided ATV tour of Mykonos, which took us beyond touristed beaches and into the island to explore a bit deeper. We toured Armenistis Lighthouse, headed to Ano Mera, Mykonos' second town (which is tiny), scoped out north shore beaches, lunched at a cozy taverna, enjoyed some wine tasting at Mykonos' only commercial winery, and enjoyed a gorgeous sunset at Agios Ioannis.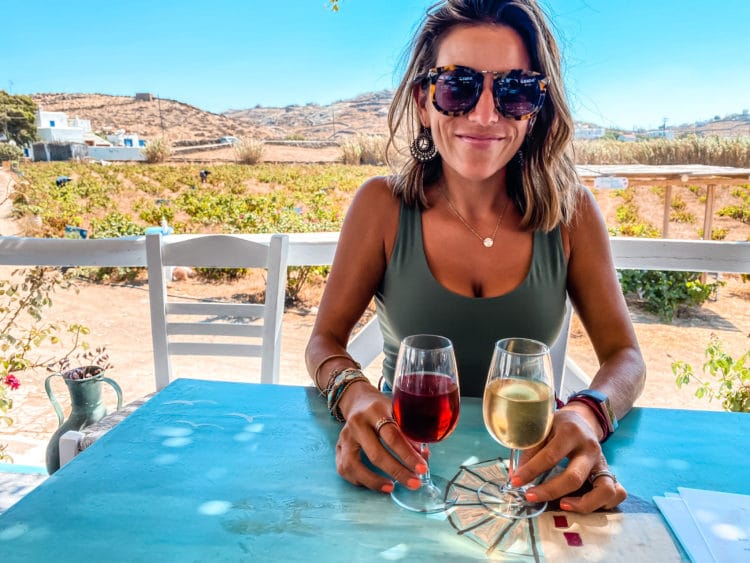 If an ATV isn't your thing, rent a car to explore, though I find ATVs 1000x more fun! If you're adept with a scooter then those are options as well. Remember: the smaller the vehicle, the easier it is to park!
Read about our ATV tour of Mykonos for an itinerary for exploring!
Day 3 ✧ Beach Day, Day Club, or Beach Hopping by Water Taxi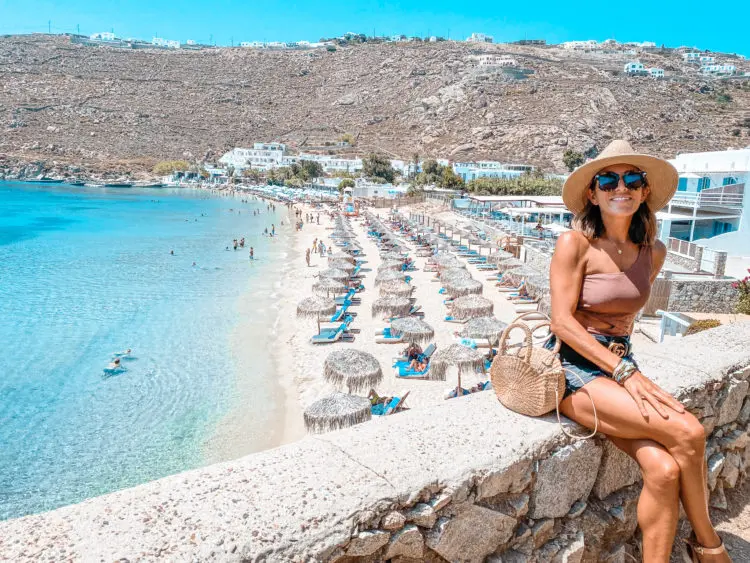 If you're heading to the Cyclades, you're probably looking for sun, sand, and sea. We ended up keeping our ATV for half of a second day since we enjoyed the autonomy and flexibility of exploring. If you find yourself in the same situation and prefer quiet stretches to party vibes, you can explore any beach your heart desires in Mykonos! We headed to Agios Sostis, an off-the-beaten-path enclave that gets a lot of love from locals. You won't find a sunbed there, just a sandy stretch that you can post up with a towel to enjoy. Bonus: the famous Kiki's Taverna is situated on Agios Sostis so if enjoying lunch there is on your agenda get there early! They start seating at 12:30PM (no reservations taken) so get there around 11:45AM or 12PM to make the first seating.
Now, if exploring some of Mykonos' famous beaches is on your agenda, check out the island's water taxi system to explore from the seaside. From Platis Gialos, boats head to the beaches of Elia, Agrari, Super Paradise, Paraga, and Paradise. Boats also depart from Ornos if you're starting there. The boats depart from each beach hourly so you'll have time to enjoy a single beach for the day or beach hop to check out a range of famous beach scenes. Tickets are €10 for a single trip or €20 for a beach hopping pass for the day. If you're planning on beach hopping, head out early (the first boat leaves Platis Gialos at 10:20AM) and choose a few beaches that pique your interest and a place on your radar for lunch! A quick tip if you're going this route: the folks at Mykonos Sea Transfer suggested starting at the furthest point (Elia) and working our way back.
If a day club scene is more up your alley, the island is bursting with internationally beloved options, though you should expect to pay a premium for the exclusive upmarket locales. Most places have a cost for day beds and/or a minimum spend required and costs vary. Head to Panormos to visit Principote (the shop there is worth the trip!), Nammos on Psarou Beach, Scorpios on Paraga Beach, or Alemagou on Ftelia for day club vibes. That round-up is by no means inclusive – there are many! – but those were my favorites for overall vibe.
Day 4 ✧ Further Island Exploration or Day Trip to Delos
I'll be honest, we started our month in the Cyclades with four days in Mykonos so we were acclimating a bit to our time zone and enjoying the simple pleasure of sunshine and Greek island views! We opted for a reprise of our first day with pool/beach time and a final evening in town which I think is 100% acceptable! If, however, you want to add another adventure to your list, consider a morning trip to Delos, a sacred island that's a short journey away from Mykonos.
Even though it is one of the smallest islands in the Aegean, Delos (just 6.85 km2) was the most famous and sacred of all islands in antiquity, since, according to the legend, it was there that Apollo-Helios, god of daylight, and Artemis-Selene, goddess of night light, were born – it was, in short, the birthplace of Light, which the Greeks always regarded as precious.
Delos Tours offers trips from Mykonos to the neighboring island of Delos, and you can opt for the English speaking tour (10AM on most days) if you want a bit more insight into Delos' history and importance in the region. If the tour isn't your thing, you can use their sea bus service sans guide for €20 round trip.
Check out our 4 days in Mykonos in this three-minute clip! ?
---
Have you been to Mykonos? What would you add to an itinerary for the island?