We made it! After our journey on the Hiram Bingham train, we checked into the Sanctuary Lodge and headed into the gates of Machu Picchu with three other guests and our guide, Nery. We hadn't anticipated having a guide, but Nery ended up being the most valuable resource we could have had during our first few hours exploring the citadel. Like most, I had an appreciation for Machu Picchu and it's significance in history, however the input of our guide helped us really understand each piece of the citadel and gain a greater appreciation for Incan history and culture.
I'd seen pictures of Machu Picchu in the past. Everyone had mentioned what a great experience it was and that it's an incomparable trip. In all honesty, part of me was a bit fearful that we'd arrive and it would be a bit anticlimactic; so built up and it would be just like every picture I'd seen (I felt a bit like that in Pisa, in Stonehenge and in other acclaimed places). This place was entirely different. It was magical. The landscape was breathtaking just driving from Aguas Calientes to Machu Picchu's gates, but the view upon entering is absolutely stunning. The mountains, the skies, the citadel — standing amidst everything made me feel… small. Not in an insignificant way; in a sort of wonderful, I'm-part-of-something-so-much-greater way. I have a few hundred photos from the area, many of which are the same shot over and over. Literally every step you take inspires you to take photographs and breathe everything in, knowing that the likelihood of returning and experiencing this piece of the world again is slim. Here are a few snapshots from our day, plus some interesting insight that Nery imparted that made us value this experience so much more.
The Citadel from different angles at different times of day:
So you've likely seen pictures of the Citadel before — I have, too — but wow. I asked the guide one question midway through our sightseeing tour and was dying to know the answer: when this place was 'discovered' by Hiram Bingham in 1911, was it intact like this or was this partially reconstructed to show visitors what it would have looked like? Nery busted out her photo album to show us snapshots from 1911 and 1912 — it was nearly in the same condition. Once the jungle was cut away, the city was exposed in this condition, more or less. After all this time and after the earthquakes that Peru frequently experiences, this place is still intact. When you see this architecture up close, it really is magnificent. Even in the 15th century, the Incas knew how to build for their environment. Doors were built in trapezoidal shapes and walls were built at slight angles to withstand seismic activity.
So, this sundial business was actually pretty amazing, too. The rock points perfectly North, South, East and West and acted as a compass for the residents. Huayna Picchu ('Young Mountain' in Quechua), the big mountain associated with Machu Picchu's backdrop, marks the north point perfectly. I even whipped out my compass to verify that this wasn't just mystical hype and sure enough, it was at 0°N on my iPhone compass. Nery also mentioned that the sundial's existence shows that the Incas understood when the sun reached its zenith and would also then understand the idea of an anti zenith (all of this is a bit of jargon to me that's way over my head), but the down and dirty: they always knew the world to be round based on this information. For them, the world was never a flat place.
We saw a few visitors putting their hands near the sundial as if to gather its energy. The guide mentioned that the Dalai Lama had identified two points in the world with special energies: the Andes and the Himalayas. While the Himalayas represent the masculine and material things, the Andes represent the feminine and the spiritual world. This particular point was an area where people often mentioned feeling a special energy in the compound.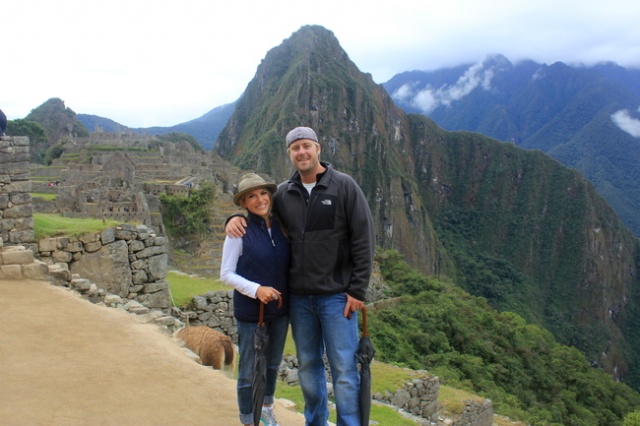 There was so much more amazing information during the tour and as I mentioned, the guide is critical. There are guides that offer their services at the entrance to the gate and hiring one is so important to gaining insight into what you're actually seeing. The temples, the terraces, the aqueducts, the alignment of the structures with Mother Earth (Pachamama in Quechua), was all incredibly interesting and mystical.
I have to take a moment and give a serious shout out to my in-laws who made this entire experience possible. The whole trip has been hugely memorable, but it was walking into Machu Picchu, climbing around and taking it all in that made us so grateful that Peru was our honeymoon destination. The fact that we're young enough, fit enough and always awe-inspired at every turn — I don't know that the trip would have been the same had we gone in 10 or 20 years. It was the perfect thing for us to do at this very point in life.
xoxo from Peru,