Exuma Exploration with Sugar Adventure Company
Virtually all of my posts related to visiting the Exumas have mentioned one common theme: if you go, you must boat. It's really the only way to get a glimpse into the true beauty of this island chain, and so many of the most magical moments are made zipping by tiny nameless cays that are mind-blowingly beautiful. If you only had one day to get out on the water and haven't been to this part of the Bahamas before, I'd suggest the itinerary ('The Highlights Tour') from our first day boating in the Exumas. We saw all of the traditional highlights from the region but since we crafted it as a private trip it still felt small-scale and special.
For our second day with Sugar Adventures, we opted for a slightly different itinerary; something that felt off-the-beaten-path for us, though I'm sure Exuma veterans have done this route many times. After having seen the highlights, we explored Stocking Island and Sandy Cay by boat, and added in stops at a few stretches of sand that seemed totally deserted but for our group. This was less of a 'checklist' approach to our day; less about seeing specific highlights and more about simply taking in the beauty of the Exumas with plenty of sun, sea and views.
Press play ▶️ to watch our two minute video from our day exploring with Sugar Adventures! 
Angelfish Blue Hole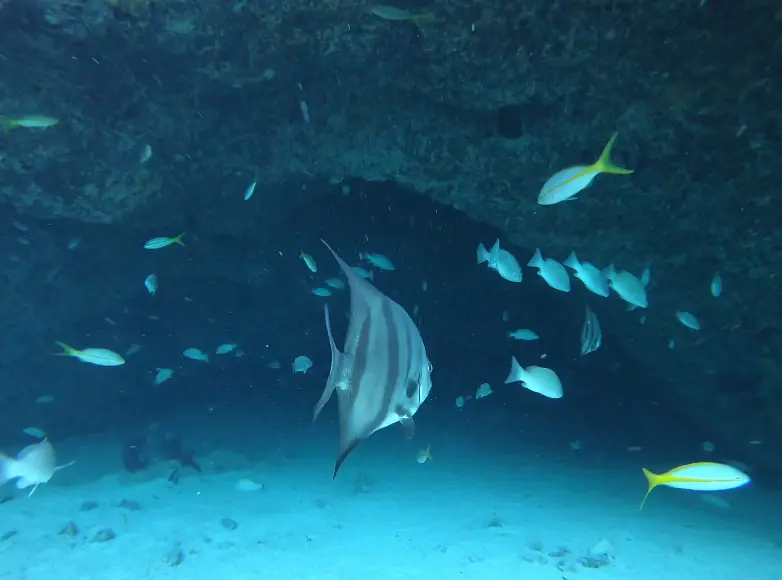 One of Scott's main requests for our second day of boating in the Exumas was snorkeling, and we started off our day with that focus in mind. First stop: Angelfish Blue Hole off of Stocking Island. For divers, the blue hole goes up to 90+ feet deep and tidal shifts have to be kept in mind. As snorkelers, we were just peeping in from the surface mostly, with Scott scurrying to the furthest depths he could reach free diving to take in the sea life. It's hard to capture the depth of color in a so-called 'blue hole' when you're at surface level but from above the abrupt drop into the cave means that the turquoise waters have an inky blue center where the caves are at their deepest. My biggest surprise was the shark swimming gracefully from the hole to the shallows.
If you read about our first day boating in the Exumas with Sugar Adventure Co., you know we stopped at Compass Cay to swim with the sharks. That was different though. We had electively gone to a place known for sharks and hopped in the sea to see them up close. This was one of those surprise moments of seeing a shark at random and – perhaps because I'd be swimming with them a few days prior – I found myself way more excited than nervous.
We spent about 10 – 15 minutes swimming and snorkeling before we'd felt fulfilled by our stop. Wet and salty, we hopped back on the boat, this time heading south hugging the coast line of Little Exuma all the way down to Sandy Cay, the furthest reaches of the Exumas.
Sandy Cay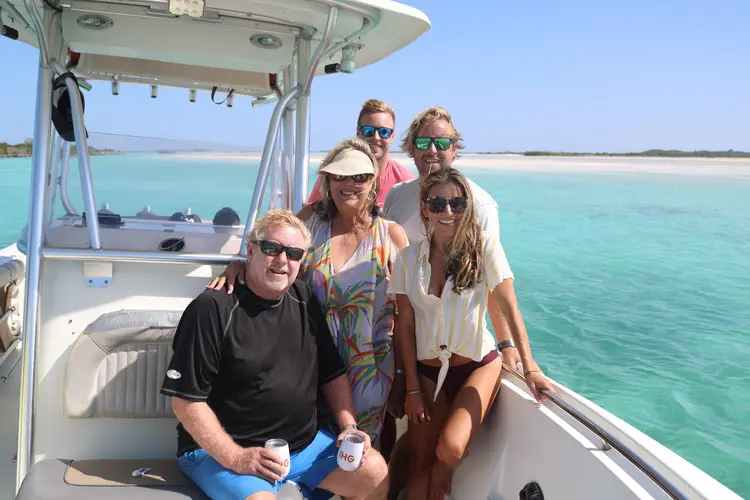 We'd heard of Sandy Cay, a beautiful untouched island at the southernmost part of the Exumas island chain. On a mission to see something different during our second day of boating, going south from Great Exuma seemed like precisely the adventure we'd hoped for. We zipped through the shallows – and make no mistake, the water in the Bahamas is shallow – along the coastline of Little Exuma, taking in the island by water. For those spending time on land, Great Exuma and Little Exuma are connected by a bridge so you don't need a boat to explore Little Exuma's famous landmarks (like Tropic of Cancer Beach), though boating does give you a pretty cool perspective.
We passed by stretches where the color of the water seemed impossibly beautiful before we arrived. And man, did we arrive. 
There are some places and some moments that seem absolutely unreal and Sandy Cay was one of those places. We pulled up to a long stretch of sand surrounded by unimaginably turquoise sparkling seas. The wind and water left ripples on the sand and there wasn't a footprint in sight. There are probably many people reading this who've been to Sandy Cay and have seen this first-hand, but for me it felt like the beauty of discovery; of finding a place off-the-beaten path where few people venture. We all agreed that it was one of the prettiest stretches on the planet. Not that the water may not be similarly beautiful in places like the Maldives or French Polynesia, but to be in the thick of such beauty with zero development in sight is a rarity, one that I find myself cherishing more and more.
Then we frolicked. Well, I frolicked at least, because a stretch like this deserves frolicking, especially when you have it to yourselves. We sat in the shallows surrounding the island, floating, sipping our Sugar Smash, and noshing on freshly prepared conch salad.
As I mentioned earlier, exploring Stocking Island, Little Exuma, and Sandy Cay by boat during our second charter day was more about just enjoying the beauty of seeing the Exumas by water and less about any highlight reel or check list of things to do and see. We settled into a Bahamian pace and spent a few hours just soaking up the sun with no one else in sight.
We also had the opportunity to fly our drone at Sandy Cay and our videos capture some of the color and clarity of the water in the Exumas! Scroll to the top to watch the video above ?? to see captures from our day exploring Sandy Cay by boat! 
Stocking Island
After our morning at Sandy Cay, we ventured back and opted to have lunch at Chat n' Chill, which I had heard about for years from Scott and his family who had fond memories of the food being put out by the famous Bahamian beach bar. For those that aren't exploring by boat, you can reach Stocking Island by ferry from Georgetown for about $15 R/T per person. It made my list of 10 Things to Do in the Exumas because dining there is practically a rite of passage for anyone visiting the island chain.
Their conch burger is a fan favorite (they were out when we arrived in the latter part of the afternoon), best washed down with an icy Goombay Smash, the defacto national drink of the region. We settled in under the pines for lunch before lazing in the waters around Stocking Island. Side note: I was curious about the pine trees, which seemed wholly out of place in the Caribbean. How did they get here? How do they survive here? Well, it turns out that the pines are rather invasive; originally from Australia but they've spread quickly so you'll see them quite often in the Exumas where they leave their prickly pine needles everywhere they sprout.
Stingray lovers will be in absolute heaven here. You're surrounded by them at Stocking Island gliding along the sandy sea floor right in front of Chat n' Chill. I threw on a mask and snorkel to swim up close to them, and if you time it correctly you may have a chance to feed them. At the tiny colorful conch shack on the beach you'll see a Bahamian local pulling up fresh conch to prepare conch salad for visitors looking for a fresh bite. With leftover bits of conch to feed the stingrays, they'll swim right up and suction the conch from your hand.
And somehow, just like that, our day was coming to a close. We'd manage to pass a day simply being in the Bahamas, enjoying the simple pleasures of island life that we rarely make the time to enjoy at home in Anguilla. As I've said a bazillion times, boating is the way to experience the beauty of the Exumas fully. Our first day was a fabulous intro but our second day was equally memorable in a totally different way. If your timing and budget allow, opt for two boat days to really maximize your time and make the most of your Bahamian escape.
For those that have been to the Exumas, how would you spend a day boating in the region for a more off-the-beaten-path adventure? Has anyone else been to Sandy Cay by boat?